As a competitor of Google Maps, Waze is a free interactive navigation app for Android and iOS. On one hand, it provides users with real-time information about traffic conditions and road structures. On the other hand, it partners with a range of music streaming services to make your journey rock, such as Spotify, Tidal, Apple Music, Amazon Music, etc.
If you are a Spotify user, then this article is just for you. This article will cover the official ways to set up Spotify and Waze integration and connect Spotify to Waze. Plus, you can find a perfect solution to play Spotify offline for free while using the Waze app to make commuting fun and rewarding.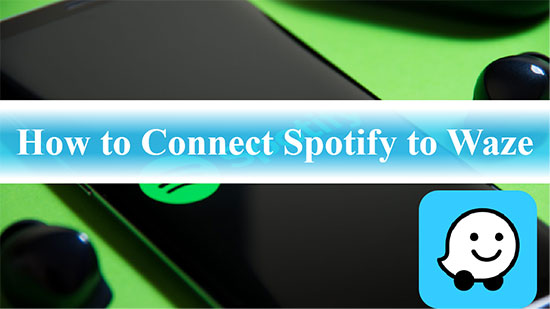 Part 1. How to Enable Spotify and Waze Integration
Thanks to the partnership between Spotify and Waze, you can play favorite artists and music from Spotify in the Waze app directly. Without switching to the Spotify app, you can skip, pause or change the song you're playing in the Waze app. Let's take a look at how to connect your Spotify account to Waze on for music control.
Step 1. Download and install the Spotify and Waze apps on your mobile device.
Step 2. Open the Spotify app, then select the Home section in the bottom left corner.
Step 3. Tap the Gear icon in the top right corner to go to the Settings window.
Step 4. Scroll down to Social and enable Waze Navigation.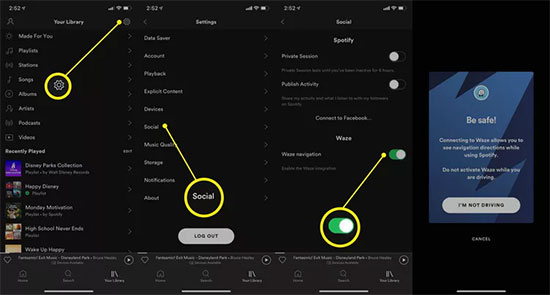 📝 Tips: While the car is in motion, you can't view Spotify content in the Waze app unless you tell Waze you're a passenger.
Part 2. How to Connect Spotify to Waze
In fact, you can also link spotify to waze directly within the Waze app. Ready to get started? Follow the steps below to launch your favorite playlist with Spotify and Waze on a road trip.
Step 1. Open the Waze app and tap My Waze in the bottom left corner of the map.
Step 2. Select the Gear icon in the upper left corner to open the Settings. Then select "Audio player" under "Driving preferences".
Step 3. In the "Audio player apps", tap the green Spotify icon.
Step 4. It will prompt you to select the option to connect your Spotify account to Waze.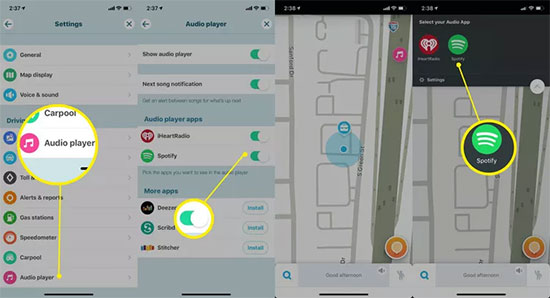 Step 5. The Spotify icon will now appear at the top of the Waze navigation screen. You can quickly play, skip, rewind or pause the current song in the simplified Spotify menu.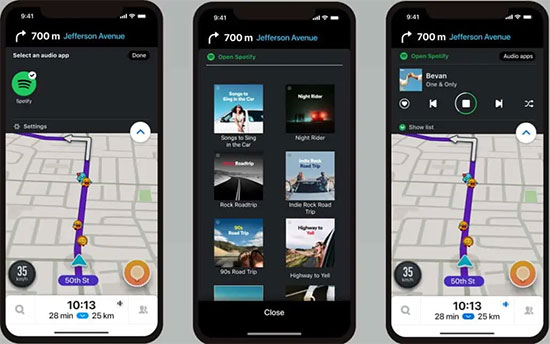 Part 3. How to Play Spotify Music Offline for Free While Using Waze App
You can connect your mobile device to your vehicle with a USB cable and have the Waze app work with Android Auto and Apple CarPlay. However, you can only use Waze with Spotify online in the car. Is it possible to stream Spotify songs offline while using Waze?
AudFree Spotify Music Converter is here to help you. It can download and convert Spotify music to MP3, WAV, FLAC, etc. without premium subscription. The ID3 tag information of songs such as name, album, artist will be fully retained during the conversion process. Then you can transfer Spotify songs to a USB drive for offline playback in your car while you are navigating with the Waze app. Of course, you can also sync Spotify to your mobile device directly for free offline enjoyment.
AudFree Spotify Music Downloader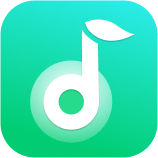 Batch download Spotify songs and playlist locally without premium
Convert Spotify songs to MP3, AAC, WAV, FLAC, etc.
Play Spotify Music in car offline free while using Waze app
Keep original Spotify Music sound quality and ID3 tags
Step 1. lick the Download button above to download and install AudFree Spotify Music Converter. Select your favorite songs, albums or playlists from the Spotify app. Copy the target track link to the search box and press the + icon next to it.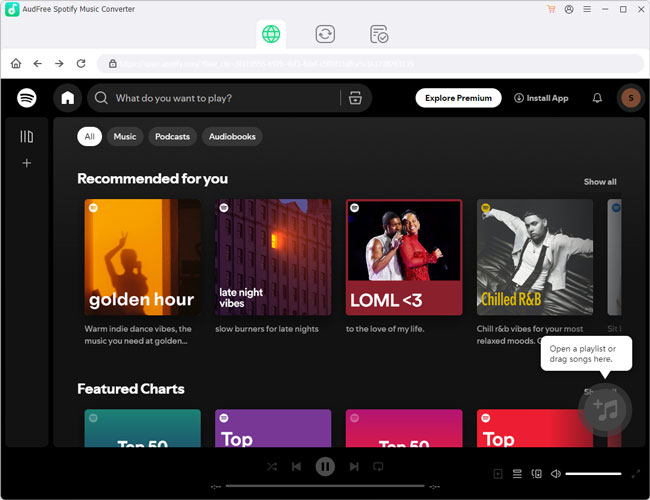 Step 2. Once the selected music tracks are added, click the Menu icon on the top right corner, then hit Preferences > Convert options. In the settings window, it is recommended that you choose Spotify output format as MP3 for more compatibility. You can also edit other output parameters such as bit rate, sample rate, etc. if needed.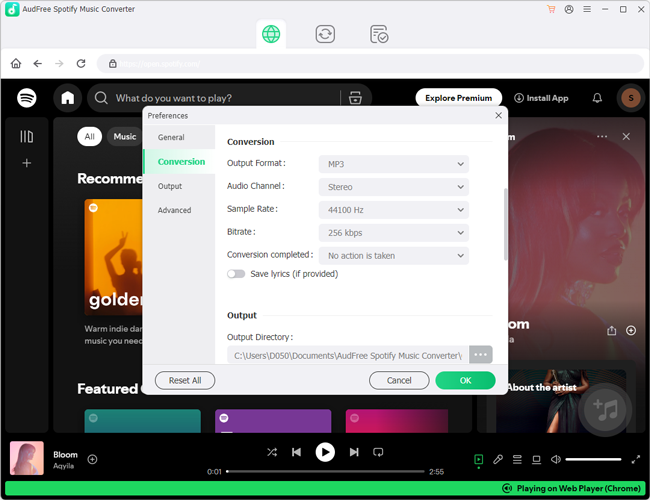 Tap the Convert button at the bottom right to start the conversion process at 5X super fast speed. You can hit the Converted button to check the converted Spotify music files in your local folder. In this way, you have smoothly downloaded Spotify songs without premium for offline playback anytime and anywhere.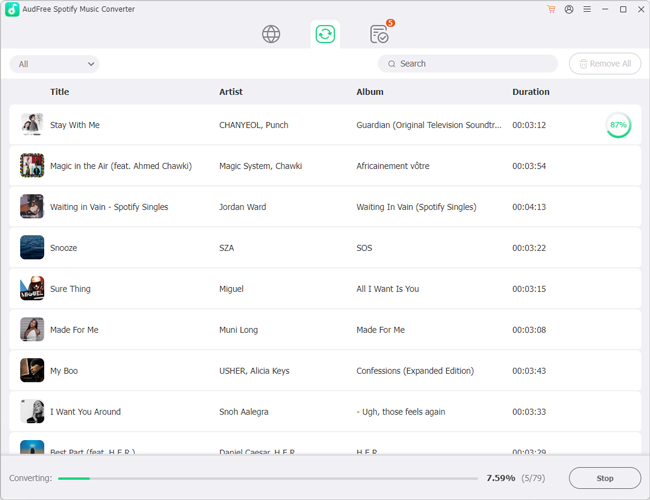 Step 4. Now, copy the Spotify songs to a USB stick and connect it to your car device. In turn, you can use the Waze app for navigation while listening to Spotify music offline for free on a long journey.
Part 4. How to Fix Waze Spotify Not Working
It seems that it is quite common that Waze can't connect to Spotify because of many uncertainties. If you are facing the problem of Spotify not working on Waze, then make sure to follow this troubleshooting guide below.
1. Restart Your Phone. It's likely that system cache data or a glitch is preventing Spotify from working properly on the Waze app. You can simply reboot your phone and try to enable Spotify on Waze afterwards.
2. Check the Network Status. Remember that the Waze app application relies on an active Internet connection to help you navigate. If your network is in poor condition, Waze will not be able to serve, let alone play Spotify music.
3. Update the Spotify and Waze Apps. Sometimes your device software becomes outdated or corrupted for some reason, try updating the Spotify and Waze apps on your mobile device to the latest versions.
4. Clear Waze App Cache. Waze may have an error on your phone that prevents the Spotify service from working. Try clearing the Waze app cache to eliminate possible data glitches or temporary cached data issues. Then see if you can connect Waze to Spotify without a hitch.
Part 5. Conclusion
Spotify Waze integration allows you to play Spotify music while navigating on Waze. Follow this article to learn how to connect Spotify to Waze. In addition, if you are eager to find a way to stream Spotify songs on Waze offline for free, then you can't miss AudFree Spotify Music Converter. Just go ahead and enjoy your favorite Spotify tracks with Waze app on the go.