Over the years, Spotify has become the ultimate go-to for music lovers worldwide, offering an incredible library of songs, playlists, and podcasts right at our fingertips. But wait, there's a catch! Many users have been pulling their hair out over the persistent "Spotify Keeps Saying Offline" problem. A lot of Spotify users experience this problem where they can't listen to their favorite songs, even when they have a good internet connection. It happens often, and it can be really confusing. So, how to solve it?
Don't worry, we've got solutions for you. In this article, we'll find out why does Spotify say offline and show you practical steps to fix it. We even have a special solution to help you solve it once and for all. Let's go!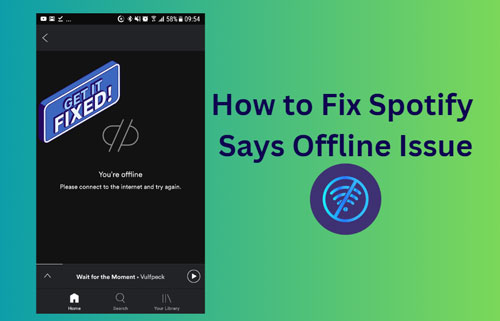 Part 1. Why Does Spotify Say Offline
In general, when you have a WiFi or wired internet connection available, you should be able to stream your preferred music on Spotify seamlessly. However, there are specific instances where Spotify inaccurately displays the "Offline" status. When this happens, understanding the underlying cause is crucial. Here we will illustrate some of them below.
First and foremost, network issues, including poor Wi-Fi connectivity or network disruptions, can trigger this error. Additionally, firewall restrictions on your device or network can inadvertently block Spotify's access to the internet, leading to offline messages. Furthermore, it's essential to check if the Spotify app itself has been toggled into offline mode, as user settings can sometimes lead to this miscommunication. Besides these, the outdated Spotify app, Spotify cache files and more can also cause the Spotify says no internet connection error.
Part 2. How to Fix Spotify Says Offline Issue
As we know why Spotify keeps saying offline above, what to do next? It is easy. Now, let's look at some of the fixes to the Spotify says offline Android/iPhone/Windows/Mac issue.
1. Check Your Device Internet Connection
If you want to know how fast your internet is, you can visit some internet speed testing websites to test your internet speed. These websites will help you determine how fast your internet is and whether it's capable of playing Spotify music on your devices. It's a good way to ensure internet connection is working properly. Besides, you can switch to another network connection for your device if possible.
At times, users are unaware that their Spotify is already in offline mode. If so, this doesn't let users play online music. Now, follow the below steps to ensure that offline mode is turned off on your Spotify app on the device.
On iOS: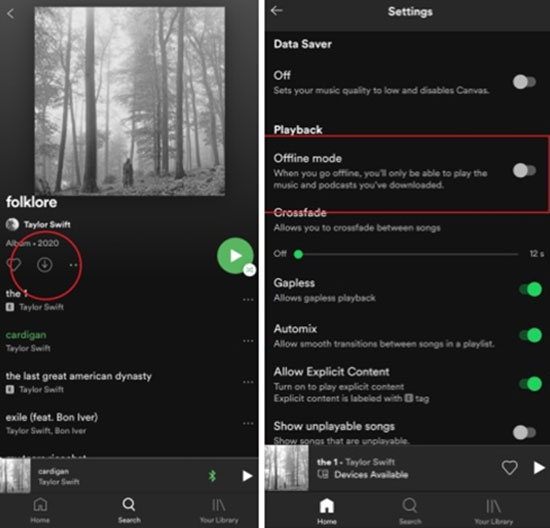 Step 1: Select the Settings option in the Spotify app.
Step 2: Toggle the offline mode switch to Off in the settings page.
On Android: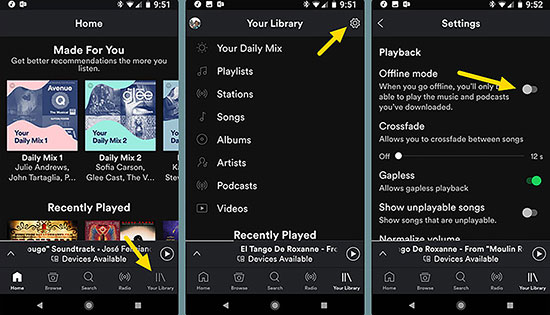 Step 1: On your Spotify app, go to More and navigate to the Settings menu.
Step 2: Turn off the offline mode to disable it to enjoy Spotify online.
On Windows: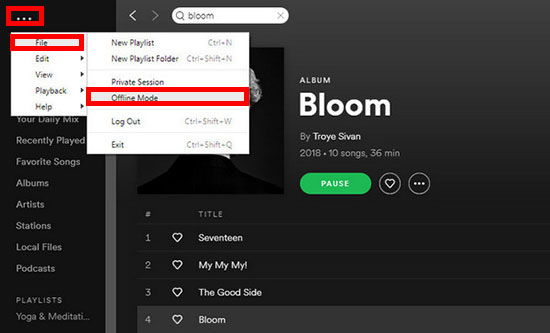 Step 1: Hit on the Settings option from your profile section in the Spotify app.
Step 2: Look for the Offline Mode and click on it to deactivate it.
On Mac:
Step 1: Open the Spotify app and hit on 'Spotify' from the top left of your Apple system.
Step 2: Pick up 'Offline Mode' from the list to uncheck it if it is enabled.
After these steps, start the Spotify app and try playing music to see if Spotify keeps saying offline.
The simplest solution to fix Spotify says offline is to re-login to your Spotify account. This will help you restart things and start afresh. Here's how to re-login Spotify on different devices.
On Windows/Mac: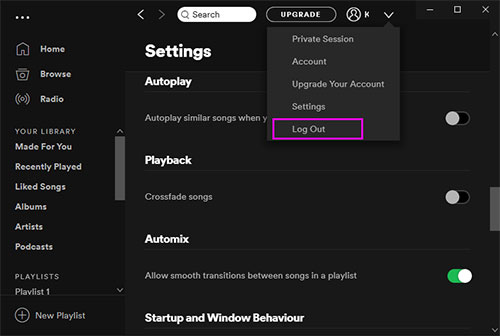 Head over to your profile icon in the menu bar and select "Log Out" in the upper right corner of the Spotify app's or Spotify web player screen. Then log back in by re-entering your Spotify ID and password.
On Android/iOS: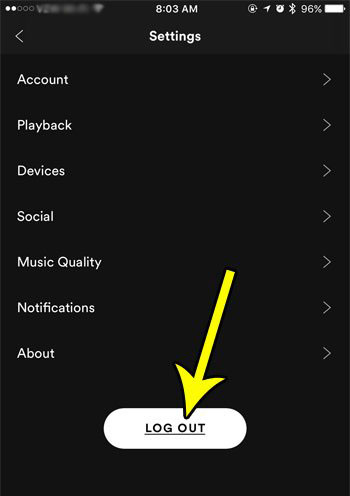 Press Home > Your Library > Settings on Spotify app, then scroll to the bottom and press "Log out" before logging back in with your Spotify ID and password.
4. Reinstall the Spotify App on Your Device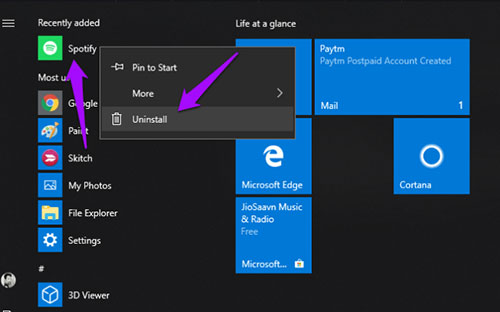 You can also try reinstalling the Spotify software to solve Spotify says offline issue. This helps reset the settings and ensure typical repairs. To reinstall, you need to uninstall the Spotify app on your desktop or mobile device first. You can do that via the Apps section in the Settings app. After that, you can go to the Spotify official website, app store, google store to download and reinstall Spotify app on your device. After that, open the Spotify app and log in to your account. Then play any track to check if the Spotify keeps saying offline issue is fixed or not.
5. Check Firewall Settings on Windows/Mac
To solve Spotify says no internet connection problem, it's smart to check your network and firewall settings as well. Since a computer firewall will prevent any program from harming your computer, it can be a reason that Spotify has been put in offline mode. Do the steps below on Windows and Mac to check firewall settings.
On Windows: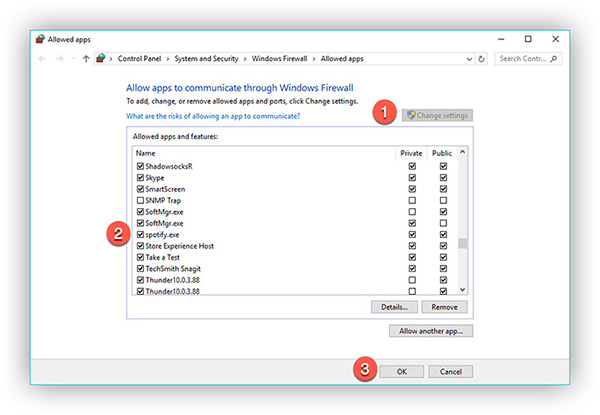 Step 1: In the Control Panel, go to System and Security > Windows Defender Firewall > Allowed apps and choose Change Settings.
Step 2: Then, next to Spotify, check the box. Finally, press the OK button.
On Mac: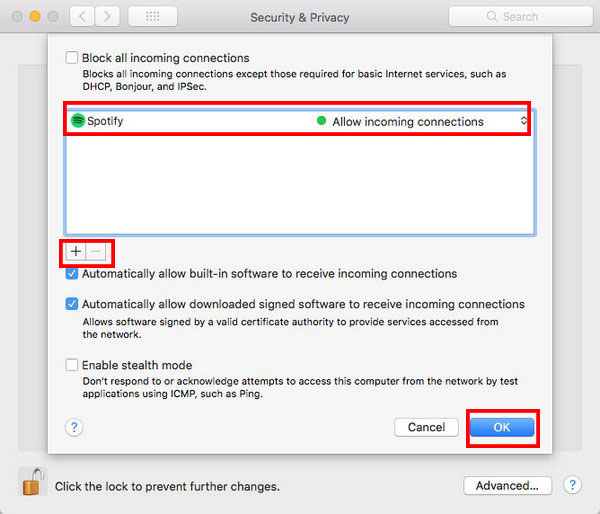 Step 1: Launch the Firewall on your Mac and click the lock symbol. Your administrator username and password must be entered.
Step 2: When you click Advanced, a firewall security dialog box will appear. Then click the plus button to the right.
Step 3: Later, choose Spotify from the dialog box and press Add.
6. Check VPN Connection
If Spotify is not accessible in your area, you must use a VPN to access it. But in case the VPN isn't working, you need to ensure the connection is strong so that you can play Spotify music properly. Otherwise, you need to change to another VPN service to connect to Spotify and enjoy music online.
Cache data is often overlooked yet a substantial source of app failure. Sometimes, you might find cache data to be more than 3-4 GBs even. What you need to do to clear cache data to fix Spotify says offline issue is as follows that case.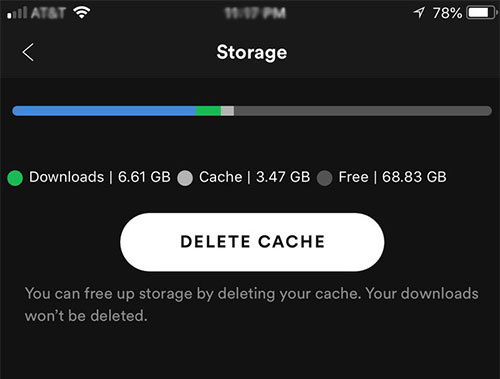 For Android:
Step 1: Navigate to the Settings menu on your device. Scroll down and choose Apps.
Step 2: Select Spotify and then Storage. The Clear cache option is available under Cache data. Then hit on it to clear Spotify app cache.
For iOS:
Step 1: Navigate to the Settings > General.
Step 2: Select iPhone Storage. Tap the Spotify icon and Offload the app. It's the same as clearing the cache.
8. Update Spotify App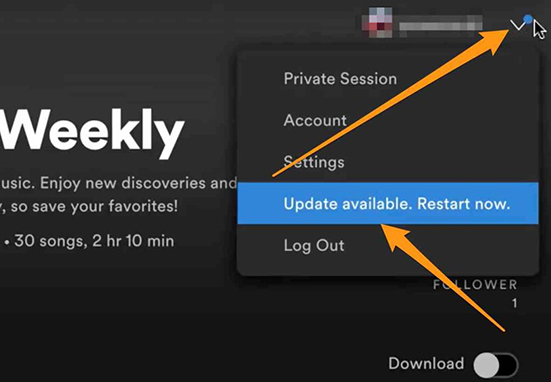 Sometimes, an outdated software can lead to compatibility issues, causing unexpected errors, including offline glitches. To address this, it's advisable to regularly check for and install any available updates for the Spotify app on your device.
To update your Spotify app, access your device's app store or Spotify's official website, and follow the prompts to install any pending updates.
9. Turn off the Power-saving Mode
To quickly turn off the power-saving mode, here's what you need to do. Here we will take Windows laptop as an example to show you how to make it.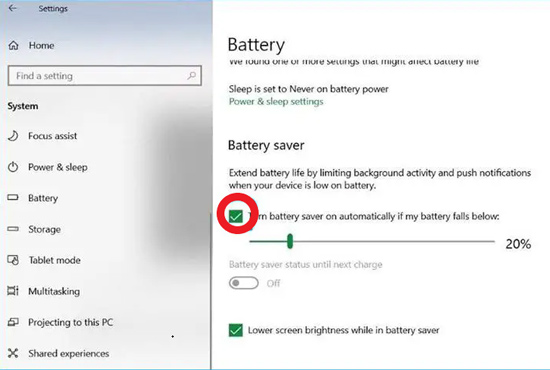 Step 1: On the right side of the Taskbar on your Windows laptop, click the battery symbol.
Step 2: Choose Battery settings.
Step 3: Scroll down to the 'Battery Saver' section and uncheck the option next to Turn Battery Saver on automatically if my battery falls below a certain level.
Part 3. How to Listen to Spotify Music Offline with Ease
You can follow the steps above to solve Spotify says offline issue. By the way, unlocking the potential of Spotify music offline has never been easier thanks to the remarkable features of the AudFree Spotify Music Converter. With AudFree Spotify Music Converter, you can download Spotify songs, playlists, and albums and play offline anytime anywhere.
You can choose from various output formats, including MP3, FLAC, WAV, AAC, and more, ensuring compatibility with any device or music player. AudFree is committed to maintaining the original ID3 tags for Spotify music, such as song title, artist, album, and cover art. Moreover, with a lightning-fast 5X conversion speed, you won't have to wait long to convert Spotify music and enjoy your converted Spotify tracks offline, making the process seamless and time-efficient.
Converting and Playing Spotify Music Offline via AudFree Spotify Music Converter
Step 1: Download and launch AudFree Spotify Music Converter on your Windows or Mac computer.
Step 2: From Spotify music library, right-click on a song to copy its URL, paste it into the AudFree Spotify Music Converter search box, and hit the '+' option. Or, you can drag and drop music tracks from Spotify app to AudFree tool.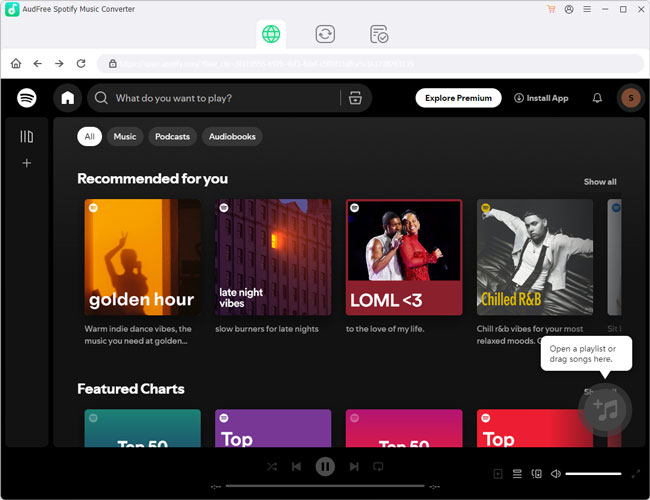 Step 3: Next, choose Preferences from the menu bar to open a new window where you can select your preferred output format from MP3, FLAC, M4A, AAC, M4B, and WAV. Besides, audio channel, sample rate and more parameters can be altered.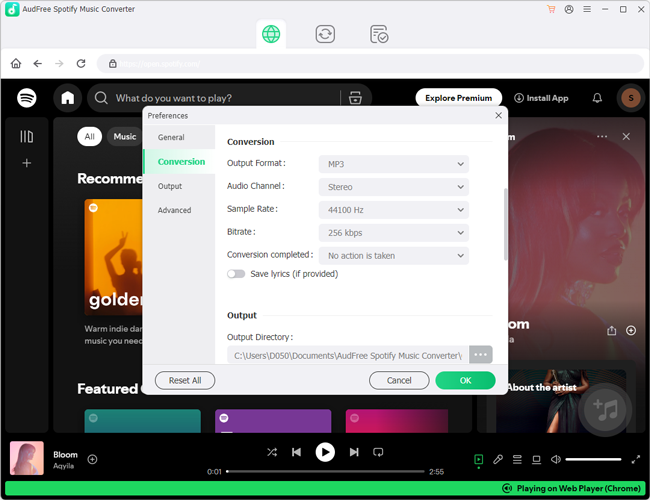 Step 4: Click the 'Convert' button to begin converting. AudFree Spotify Music Converter for Windows and Mac can automatically download and convert Spotify songs to MP3 audio files. Later, you can find the local Spotify audio on your computer and move them to other devices for playing offline.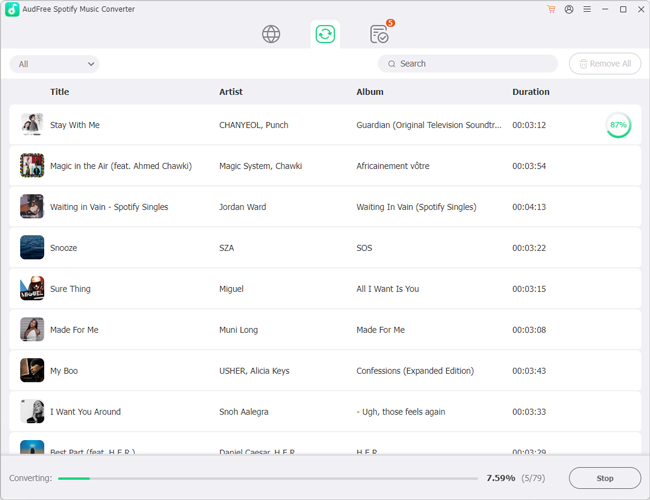 Part 4. In Conclusion
To wrap it up, if you've been frustrated by Spotify constantly saying it's offline, don't worry. We've explained why it happens and shared easy solutions to fix it. From checking your internet connection to using AudFree Spotify Music Converter for offline listening, we've got your back. With all these fixes above, you can say goodbye to offline issues and enjoy your Spotify music hassle-free!