"Why does my Spotify premium not work offline?" Spotify premium not working offline is one of the most common problem that you will face while using Spotify. Spotify is a service that allows you to play songs offline once you paid for the service or go premium to be precise. Yet, the offline listening with premium plan issue can be hampered for several reasons. But no worries. This guide will show you some reasons and all the possible solutions that can be applied to get the issue fixed. If you are now facing this problem, then don't worry at all as we have got you covered completely here.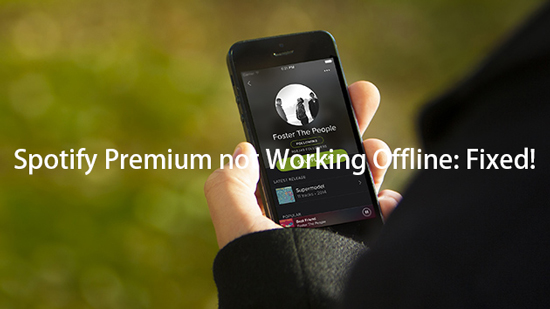 Part 1. Why Is My Spotify Premium Not Working Offline
There are several reasons for which the Spotify premium is not working offline. The most important reasons for this issue will be mentioned in this section in detail.
🧐1. Expiration of Your Spotify Premium Subscription
If your Spotify individual, student, family or other premium plan was expired, then you may not play Spotify music offline anymore.
🧐2. Your Spotify Downloads Was Gone
Spotify requires you to keep your downloads active by listening to Spotify music online at least once every 30 days. If you don't do that, your downloads from Spotify will be expire and you will get Spotify offline problem.
🧐3. Poor or Unstable Internet Network Connection
When you use Spotify with poor internet network, then you may not get Spotify downloads on your device successfully. Or you may face other problems with Spotify premium offline.
🧐4. Spotify Offline Mode Is Not Enabled
To listen to Spotify offline with premium, you need to turn on the offline mode in Spotify first. If you disable it, then you will meet the Spotify not working offline issue.
🧐5. Device or the Spotify App Corrupted
If your device has something wrong or there is bugs in the Spotify app, it may cause the Spotify premium not working offline problem.
🧐6. Reach the Devices Limit
There is a device limit for Spotify premium account. You can only log in to 5 devices with the same account only. If the device exceeds the limit, then you will get Spotify offline not working.
🧐7. No Enough Storage Space on Your Device
When your device is run out of space, then there is no space for saving Spotify downloads. And you will face Spotify premium download not working.
Part 2. How to Fix Spotify Premium Not Working Offline - General Methods
After learning the reasons for Spotify premium offline not working above, several methods can be applied to get rid of Spotify won't play offline error. This section will deal with all such errors and get you an idea about the issue.
✔Fix 1. Check Your Spotify Premium Account Status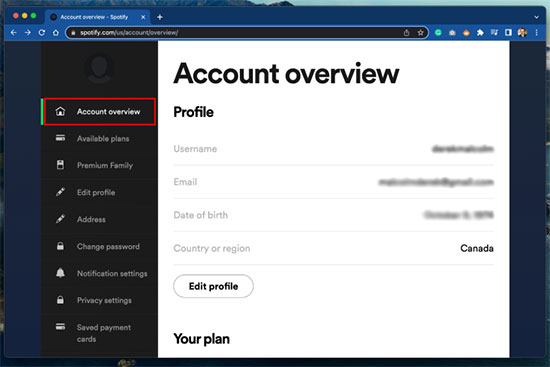 First, you should go to check whether your Spotify premium subscription is still valid. Please open the Spotify app and head to profile > Account. Or you can go to Spotify Account webpage via the web browser. Then you can check your subscription's status. If it is expired, you need to renew it at once.
View also: How to Hack Free Spotify Premium
✔Fix 2. Ensure the Connection of Internet Network
Please go to check the internet connection is stable or not on your device. If not, then you can try to turn off and turn on WiFi or cellular data to reset the network.
✔Fix 3. Re-download Spotify Tracks/Playlists
If you haven't downloaded Spotify songs completely due to unstable network connection or else, then your Spotify downloads not working offline. In this case, you should go to search for them in the Spotify platform and download them again. But please connect to a strong internet network to do that.
✔Fix 4. Check Offline Mode on Spotify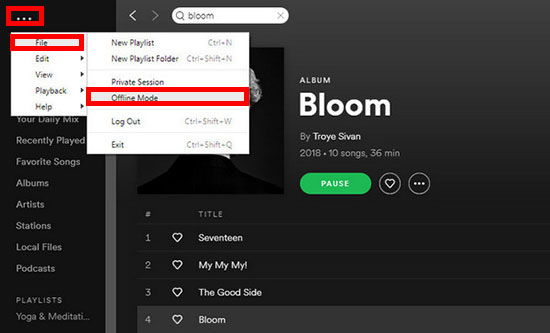 It is noted that you need to turn on the Spotify Offline Mode to play music offline. If you meet the Spotify not playing downloaded songs offline issue, then you can go to check if you had enabled this feature or not. If not, then go to the Spotify app on your device. Next, head to the Settings section and turn on Offline Mode. Or if it is on, then you can turn it off and turn on again. At last, try to play your Spotify downloaded songs to see if the issue get fixed or not.
While you listen to Spotify music, there will be lots of cache files stored on your device. Gradually, your device will run out of storage and it won't work well. So, you need to clear Spotify app cache and free up space for your device. Just go to the Settings app on your mobile device. Then head to the Apps section and pick up Spotify. Later, you can click on the Clear Cache button to clear cache of Spotify app.
✔Fix 6. Log out and Log in Spotify Account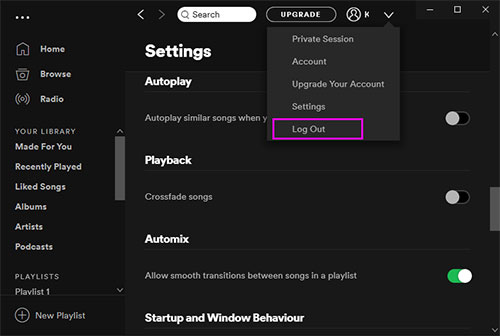 You can also try the easy solution. Just go to the Spotify app on your Android, iOS, Windows or Mac device to log out your account. Later, open the app and log in it again. And then start playing your downloaded Spotify songs offline to check whether the problem is solved or not.
✔Fix 7. Restart the Spotify App and Your Mobile/Desktop Device
Or, you can force quit the Spotify app on your device or power off and power on your device to give them a refresh. A while later, reopen your device and relaunch the app and see if it can play Spotify downloads offline well. If not, then please try the next solution.
✔Fix 8. Update the Spotify App & Your Device's System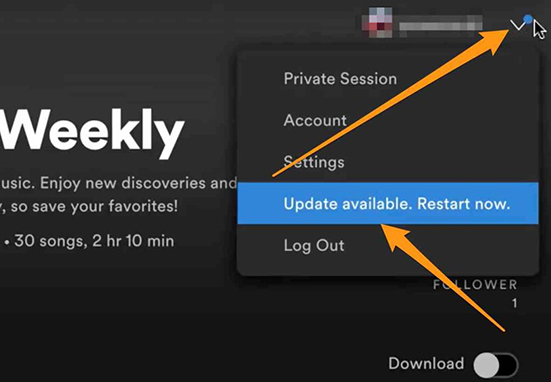 If you use the older version of the Spotify app and device's system, the Spotify offline problem will occur. In this case, you can go to the app store or the Spotify app on your device to update the Spotify app. Also, head to the Settings app to update your device OS. After that, try playing Spotify songs offline.
Part 3. How to Fix Spotify Downloads Not Working Offline - Effective Way
When meeting the Spotify Premium offline not working issue, then you can refer to the solutions above to fix it. If all of them can't work, then you can try the best method here. AudFree Spotify Music Converter is among the most effective ways. It is not only easy to use but it also allows you to download and convert the Spotify songs without even buying the premium subscription. The output audio formats that are supported include MP3, FLAC, AAC, WAV and so on.
Also, the conversion speed of this tool is up to 5X which won't take you much time to do the conversion. By the way, it will preserve the original quality and full ID3 tags after the conversion. By using this tool you can easily download any playlist or song from Spotify to computer that you wish for. It is available for both Mac and Windows operating systems. Now, you can check the section below to see how this tool work.
How to Use AudFree Spotify Music Converter
Step 1

Download the Program

First of all, you need to download the official Spotify application on your computer. The AudFree Spotify Music Converter is fully compatible with this. Once done, download the AudFree Spotify Music Converter based on your OS and run the exe file to install the program. Once done, start it.
Step 2

Import Audio Files from Spotify to AudFree Software

There are 2 methods can be used to import the media into the AudFree program. It includes "drag and drop" or copying and pasting the URL of the media at the top bar on the AudFree tool and then press "+". You can pick up one of the method to load Spotify music to the program.
Step 3

Choose Settings for Spotify Output Music

Click the menu bar > Preference to open the window to choose the output format and other settings. The default output format is MP3 which can be changed to other formats which the program supports. The other settings such as bitrate, sample rate audio levels, and channels can also be customized as per the requirements.
Step 4

Start Downloading and Converting Spotify Music for Use Offline

Click Convert at the bottom right corner to start the download and conversion of the Spotify media. Once the conversion has been finished, you can use the songs to be played on any device whatsoever without any issue and error.
Part 4. In Conclusion
With over 100 million songs, Spotify has been one of the best and the most used music streaming service. Yet, sometimes it may not work well and you will get issue like Spotify Premium not working offline or else. Here you can check the above solutions to resolve this issue. Also, with the Spotify OGG Vorbis format, the downloaded files can't be played outside the Spotify app. Instead of getting into issues, it is strongly advised to get AudFree Spotify Music Converter to make sure that you never get into trouble.
With this tool, you can change the format from Spotify to MP3 which is the most common one. And it can run fast but with original output quality kept. You can also save Spotify songs to other audio formats and reset audio parameters for them. In a word, AudFree Spotify Music Converter is hence a choice that will save both time and effort and offer flawless performance at the same time.