Most Spotify users have stuck up with Spotify black screen issues at some point in time. Why is my Spotify screen black? It could be caused by a software glitch. But you may not know when this issue occurs, and how to deal with it precisely.
Do you want to discover the effective methods to overcome this black screen issue? Then take a look here. This article summarizes 20 effective solutions to fix Spotify black screen on Mac, Windows, Android, iOS, etc.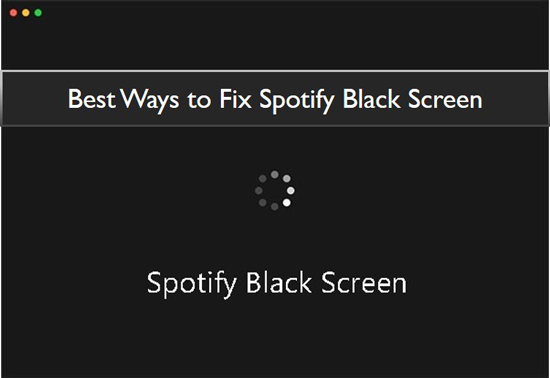 Part 1. Fix Spotify Black Screen Mac/Windows 10 - 6 Ways
You can surf through 6 common methods to fix Spotify desktop black screen issues. You can try one method after another as discussed below to explore the perfect way to troubleshoot this Spotify blank screen issue.
💡 Fix 1. Check Network Connection
You must ensure the internet connection is available flawlessly and in a continuous mode to avoid the Spotify black screen Windows 10/Mac problem. When the Spotify app detects that there is no Internet connection on your device, it blanks out without any alert message. Follow these steps to resolve the Internet connection issue.
For Windows: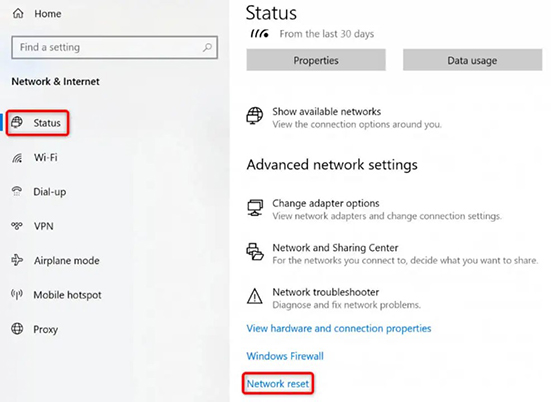 Step 1. Click the Start button in the lower left corner and select Settings.
Step 2. In the new pop-up window, click on Network & Internet.
Step 3. Click the Status button to check the status of your current network connection.
For Mac: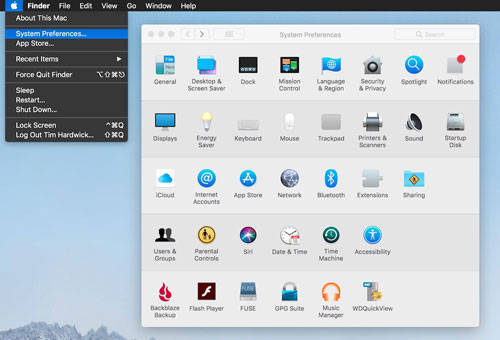 Step 1. Click Menu > System Preferences on Mac.
Step 2. Select Network and check the target network connection in the list on the left.
Step 3. Make sure the status indicator next to the connection is showing green.
💡 Fix 2. Uninstall and Reinstall the Spotify App
Sometimes the Spotify PC black screen problem occurs due to the malfunctioning of the software. You can uninstall the app and then try to reinstall it to overcome this issue. You should delete the Spotify app and its related files and then install it again to troubleshoot the black screen issues precisely.
💡 Fix 3. Disable Hardware Acceleration
To run the API smoothly with the Spotify app, make use of the hardware acceleration feature. The black screen Spotify Mac may be caused by a loading graphic design error. It is advisable to disable and then enable the 'Hardware Acceleration' feature to fix the unknown issues with the Spotify app. Please follow the steps below.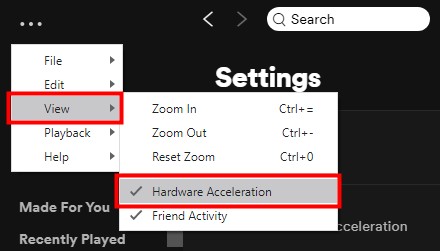 Step 1. Go to the Spotify app and click on your account name.
Step 2. Select Settings and scroll down to select Show Advanced Settings.
Step 3. Look for the Enable Hardware Acceleration toggle under Compatibility, then you have to turn it off and then on again to fix this problem.
💡 Fix 4. Delete Spotify AppData Folder
In a certain scenario, the Spotify app becomes inactive and displays a black screen if there is an issue with the AppData folder. If there are lots of data stored locally in this folder, it may have Spotify app black screen problem due to lack of storage space. You can resolve this problem by following the tutorial below to delete the AppData folder in the Spotify application.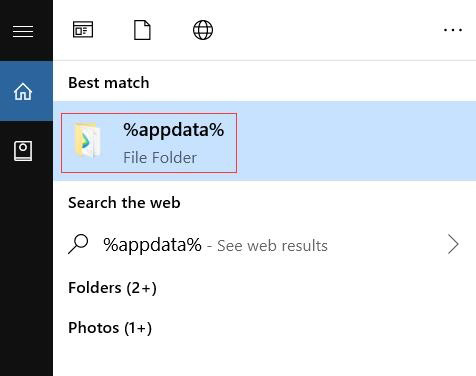 Step 1. Locate "C:\Users\#USERNAME\\\AppData\Local\Spotify" in the file browser.
Step 2. Find and delete the entire AppData folder in the Spotify application.
💡 Fix 5. Delete Redundant Spotify Processes
When you open the Spotify application many times, too many windows appear, which may show a black screen for no reason. It's time to remove the duplicate windows to fix Spotify black screen on startup. The following steps will be helpful.
For Windows: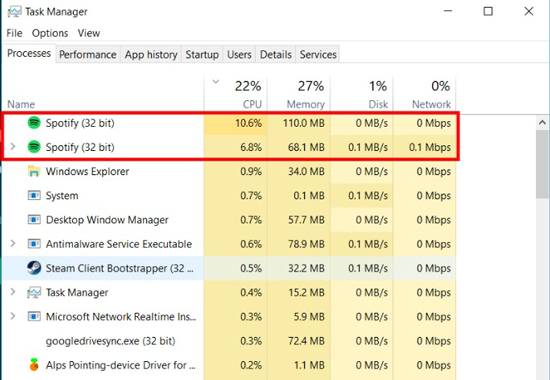 Step 1. Open the Task Manager window and you can press "Alt-Ctrl-Delete" or "Ctrl-Shift-Esc".
Step 2. Click the Process tab and right-click Spotify.
Step 3. Click the End Process button in the task list.
For Mac: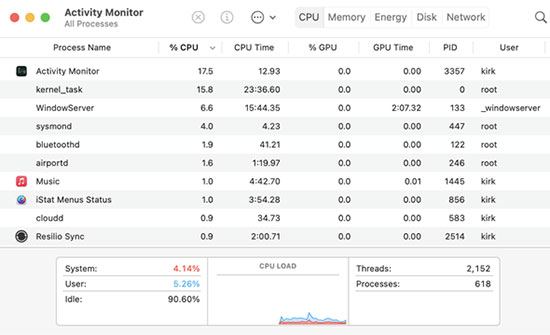 Step 1. Search for Activity Monitor by pressing Command + Space.
Step 2. Go to the Activity Monitor application and select Spotify under the list of Process Name.
Step 3. Select Stop in the upper left corner and click the Quit button.
💡 Fix 6. Run Spotify App as Administrator
Running Spotify as administrator can sometimes solve the Spotify windows black screen problem on the app. This is because it grants higher permissions to the application, which can help it run properly. You can do this by following these steps.
Step 1. Right-click on the Spotify shortcut or executable file.
Step 2. Select Run as administrator from the context menu.
Step 3. If prompted, click Yes to allow the application to make changes to your device.
Step 4. Wait for Spotify to go live and see if the black screen issue has been resolved.
Part 2. Resolve Spotify Black Screen Android/iOS - 6 Ways
If you encounter the problem of Spotify stuck on black screen on Android or iOS devices, you can refer to the following 6 solutions.
💡 Fix 1. Log Out and Sign In to Spotify Account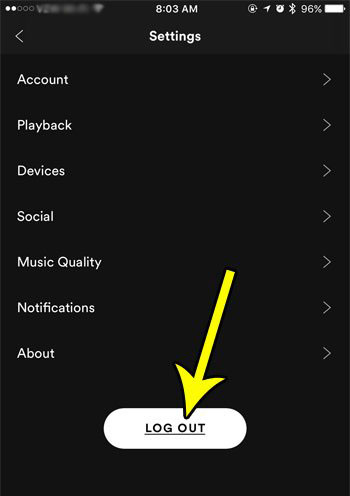 Sometimes, logging out of your Spotify account and then logging back in can solve the black screen problem. To do this, open the Spotify app, go to the "Your Library" tab, click the gear icon in the upper right corner, scroll down to "Log out", and then log in again.
💡 Fix 2. Restart the Device and Spotify App
Restarting your device and the Spotify app can help clear up any temporary glitches that may be causing black screen Spotify issues. To do this, simply turn off your device, wait a few seconds, and then turn it back on. Then, open the Spotify app and see if the problem has been resolved.
💡 Fix 3. Update the Spotify App
If you are using an outdated version of the Spotify app, it may cause Spotify black screen. To update the app, go to the App Store (iOS) or Google Play Store (Android), search for "Spotify", and click "Update" (if an update is available).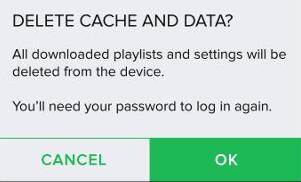 Clearing the Spotify app's cache and data can help resolve any issues that may be causing the black screen. To do this, go to your device's settings, find "Apps" or "Application Manager", locate Spotify, then click on "Clear Cache" and "Clear data".
💡 Fix 5. Disable Battery Optimization
Battery optimization is an Android/iOS feature that extends battery life by limiting the power of apps running in the background. However, this feature can sometimes interfere with Spotify's performance and cause black screen problems. So you'd better disable Spotify's battery optimization.
💡 Fix 6. Free up Storage Space on Your Device
If your device is running low on storage space, it can cause problems with application performance, including Spotify. By freeing up storage space, you can help ensure that Spotify has the resources it needs to function properly and avoid black screen issues.
Part 3. Solve Spotify Web Player Black Screen - 7 Ways
Please try these solutions below to fix the black screen issue with Spotify Web Player.
💡 Fix 1. Check Network Connection
A weak or unstable Internet connection can cause problems with Spotify Web Player not working, including black screen issues. Make sure you have a stable Internet connection.
💡 Fix 2. Restart the Browser
Restarting your browser can sometimes help with temporary problems with Spotify Web Player. Close the browser and reopen it.
💡 Fix 3. Update Your Browser
Outdated browsers can cause compatibility issues with the Spotify Web Player, which can lead to Spotify black screen problems. Make sure your browser is up to date.
💡 Fix 4. Clear Cache and Cookies

Clearing your browser's cache and cookies can help with a variety of issues, including black screen issues with Spotify Web Player. To clear the cache and cookies, go to your browser's settings and find the option to clear browsing data.
💡 Fix 5. Use a Different Browser
If the problem persists, try accessing Spotify Web Player using another browser. This will help determine if the problem is specific to your browser.
💡 Fix 6. Disable Browser Extensions
Browser extensions can sometimes interfere with the functionality of the Spotify Web Player. Try disabling any extensions you have installed and see if that fixes the problem.
💡 Fix 7. Disable Hardware Acceleration
Hardware acceleration is a feature in some browsers that uses the device's graphics card to improve performance. However, this feature can sometimes cause problems with Spotify Web Player. To disable hardware acceleration, go to your browser's settings and find the option to disable it.
Part 4. Ultimate Method to Fix Spotify Black Screen Issue
The best and a perfect partner of Spotify app is AudFree Spotify Music Converter tool. It is a reliable Spotify download and conversion program specially designed to solve any problem with Spotify app flawlessly. To understand it better, it's time to check its fabulous features in detail.
✔️ This application is available for both Windows and Mac systems.
✔️ Convert Spotify music to MP3, and other desired file formats without any data loss.
✔️ Download the Spotify music effortlessly even by making use of a free account.
✔️ Convert the Spotify songs at a faster rate retaining the audio quality.
✔️ Customize the audio files to the desired output quality and organize the converted music files precisely for ease access.
You can use this incredible tool to perfectly backup Spotify music for offline listening without any regrets. No need to worry about any black screen issues anymore because it is the ultimate software to deal with any Spotify problem effectively. Follow the below steps to use AudFree Spotify Music Converter tool for uninterrupted Spotify soundtracks for your needs.
Step 1

Add songs into AudFree Spotify Music Converter

Launch AudFree Spotify Music Converter, then drag and drop the Spotify songs into the working area of the tool. Copy the URL of your favourite soundtrack from the Spotify app and paste it in the address bar. Then, hit '+' icon nearby the address bar to add the desired audio files.
Step 2

Customize the Spotify conversion settings

You must press the 'Preferences' icon at the right top of the screen displaying three horizontal lines. Click on the 'Convert' bar to edit the parameters listed in the pop-up window. You can change the attributes like file format, conversion speed, bit rate, sample rate, etc. depending on your requirement and save the changes by tapping the 'OK' button.
Finally hit the 'Convert' button at the right bottom of the screen and wait for some time until the conversion completes successfully. The converted files will be available in the local drive of your PC and you can access Spotify music tracks without the Spotify app.
Part 5. In Conclusion
Thus, it is high time to end the discussion about the Spotify black screen and its related effective methods to overcome it. You can choose the desired way to fix the black screen issue with the Spotify app from the above discussion.
Choose AudFree Spotify Music Converter program to enjoy the Spotify music tracks flawlessly. It is a user-friendly program and you can optimally download and convert Spotify music. Connect with this article to discover the perfect ways to access the Spotify songs and play them on any desired devices easily.