Q: "I am looking for how to import Spotify playlists to PCDJ DEX 3. I have subscribed to Spotify music for many years, thus almost all of my music collection is from Spotify. PCDJ DEX 3 is a new thing for me to learn. When I tried to import my downloaded Spotify songs into it, however, there is no audio on my computer."
The termination of Pulselocker made an impact on the DJ industry in 2017. The lack of this DJ-centric music subscription service has gradually filled with audience-oriented streaming music service like Spotify, Pandora, etc. However, these two music services are totally from different worlds. In the following paragraphs, I am going to show you why they are different and give you a reliable tutorial on how to use Spotify music with PCDJ DEX 3.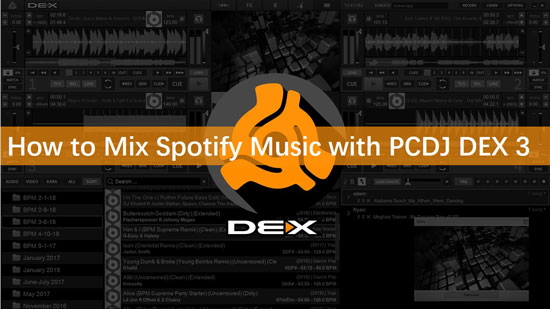 Part 1. Import Spotify Music to PCDJ DEX 3: Solution
Let' s come straight to the point. The majority of streaming music service is not available for commercial use and Spotify is no exception. In consequence, music downloaded from Spotify is saved in special OGG Vorbis, technically protected from mixing or editing. If you would like to get Spotify music for commercial use, here I suggest you skip to part 3, where you can find a list of DJ record pools as the substitute of Pulselocker.
If mixing music is your hobby and just for private use, here I would like to introduce a practical method to you to transfer Spotify music to PCDJ DEX 3. It requires an assist from AudFree Spotify Music Converter , which has been rated the top 1 specific Spotify music converter for many years.
Based on the innovative design and excellent technology, this smart tool for Spotify music converting can unlock the format protection from Spotify tracks, and convert Spotify to MP3, FLAC, WAV, AAC, M4A, M4B, and various common formats with simple clicks. All converted audio files keep 100% lossless quality and 100% raw metadata, containing artists, titles, albums, track numbers, album art, and so forth.
AudFree Spotify Music Converter provides DJ with an inexpensive method for acquiring large collections of Spotify music. With its powerful support, you can simply convert Spotify songs to MP3, AAC, FLAC, which are absolutely supported by PCDJ for mixing.
Part 2. How to Add Spotify Music to PCDJ DEX 3
Step 1

Add playlists from Spotify to AudFree

Download and open AudFree Spotify Music Converter on the desktop. In the auto-opened Spotify app, select the playlist that you want to download. Then copy and paste the link of it to the search box in AudFree. Click on the '+' icon to add it to AudFree. Or you can just drag and drop it to the main interface of AudFree.
Step 2

Customize the output settings for PCDJ DEX 3

On the Windows computer, please go to the right title bar of AudFree. Find and click the menu icon > "Preferences" > "Convert" tab. On the Mac computer, please direct to Mac's system menu > "AudFree Spotify Music Converter" > "Preferences" > "Convert" option. Now, you can reset the output settings for your PCDJ DEX 3.
Step 3

Download Spotify music for PCDJ DEX 3

Tap on the "Convert" button to get started converting. When the conversion is finished, please follow the on-screen instructions to locate the local "Converted" folder. There, you can check if all added files are converted.
Step 4

Import Spotify playlists to PCDJ DEX 3

The latest version of the DEX 3 supports to add files directly. Just open PCDJ DEX 3 and the "Converted" folder. Then drag and drop the local audio files into the active lists or the automix list. You can also add the audios from Finder on Mac computer or from Explorer in Windows computer. Now just start to mix your favorite Spotify tracks with PCDJ DEX 3.
Tips: DJ Record Pools - Get DJ Music For Commercial Use
DJ record pool services offer DJs plenty of new music in a legal way. Record companies put albums into record pool for DJs using and DJs play music to help the records sell better.
But record pools also exist the main limit: DJs normally can't download music released over 2 years. If you are looking for an old song for DJing, it is better to take the method mentioned in Part 2.
Here are some popular record pool services for reference (in alphabetical order):
1. BPM Supreme: www.bpmsupreme.com
2. Club Killers DJ Pool: www.clubkillers.com
3. Digital DJ Pool: www.digitaldjpool.com
4. Direct Music Service: www.directmusicservice.com
5. DJCity: www.djcity.com
6. IDJPool: www.idjpool.com
7. Live DJ Service:  www.livedjservice.com
8. POOL by Promo Only:  www.promoonly.com
9. ZipDJ: www.zipdj.com