Q: Does Rekordbox work with Spotify? Recently, I wanted to use the popular DJ software Rekordbox to stream Spotify Music because of its rich library of tunes. But when I tried to import music from Spotify to Rekordbox, I unfortunately found it difficult to do so. Any advice?
In fact, it is important to know which music streaming services are compatible with our DJ sets. Truth be told, Rekordbox Spotify integration is not yet a reality. Fortunately, this article has found a simple solution to connect Spotify to Rekordbox, which in turn makes Spotify Rekordbox possible.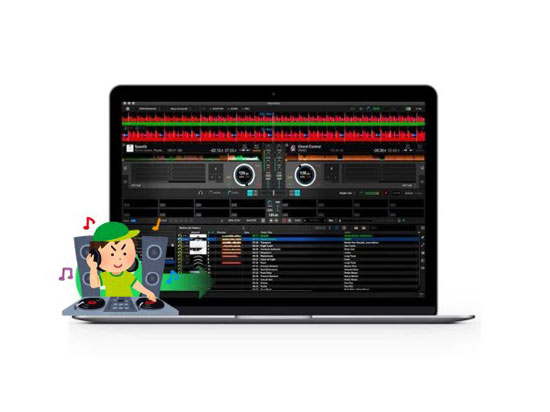 Part 1. How to Connect Spotify to Rekordbox - Tool Needed
As you probably know, Spotify Premium users can download Spotify Music for offline listening. However, you are still not entitled to use Spotify on Rekordbox directly because Spotify songs are encoded in the unique OGG Vorbis format. This is a special audio format that can only be read by the Spotify app. And it prevents users from using Spotify on any unauthorized device, including Pioneer Rekordbox.
But don't worry, Rekordbox supports FLAC, MP3, ALAC and other formats, all you need is to use third party software to convert Spotify tracks to Rekordbox compatible formats. After comparing the top best Spotify converters on the market, AudFree Spotify Music Converter stands out.
It is a smart tool designed to solve various Spotify compatibility issues. This great AudFree Spotify to Rekordbox converter can convert Spotify to MP3, FLAC, WAV, etc. at 5X speed. It is also smart enough to detect and retain all Spotify Music metadata such as artist, genre, album artwork. Afterwards, when you use Rekordbox with Spotify, you will see all the information displayed and organized.
How to Download Music from Spotify to Rekordbox
Now let's learn how to download and convert Spotify for Rekordbox so you can get Rekordbox DJ Spotify started.
Step 1

Import Music to AudFree Spotify to Rekordbox Converter

Launch this professional Spotify to Rekordbox converter, then the Spotify app will automatically open at the same time. Find the Spotify track/album/playlist you want to play on Rekordbox. You can add Spotify Music for use on Rekordbox by dragging and dropping actions. Alternatively, you can copy the Spotify URL and paste it into the search bar, then click the '+' icon next to it.
Step 2

Select Spotify Output Format for Rekordbox

Go to the menu from the top right corner and click on "Preferences" to open the settings window. Hit on the 'Convert' section where you can select the output format to make it compatible with Rekordbox, which supports FLAC, WAV, MP3, AAC and other formats. Then you can choose one of these formats and customize other Spotify output parameters if you wish.
Step 3

Download and Convert Spotify for Rekordbox

You can click on the large "Convert" button to start the conversion. After the conversion, simply tap to the Converted icon to open the history list. You can find all Spotify Music files in the output folder. Now the pioneer Rekordbox Spotify is able to work perfectly.
Part 2. How to Use Spotify with Rekordbox for PC/Mac
Congratulations! There is only one final step left to get Spotify on Rekordbox and DJ with Spotify. There are 3 ways to transfer music from Spotify to Rekordbox on your computer. You can follow the instructions below.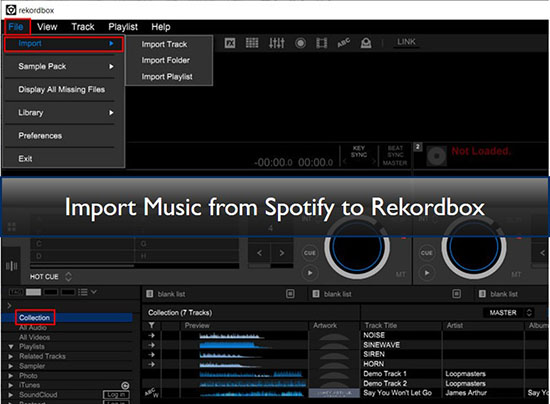 Import Spotify Playlist to Rekordbox from Hard Drive
Step 1. Open the target music folder on your computer in which you keep the converted Spotify files.
Step 2. Please open the Rekordbox DJ software and highlight the "Collection" icon on the left side of the playlist tree. Afterwards, drag the converted Spotify Music file into the track window of Rekordbox.
Step 3. After Rekordbox has analyzed the track data, you are free to use Spotify on Rekordbox. You can also modify the grid, set cue points and more for free.
Get Spotify on Rekordbox from iTunes
Step 1. Make sure you have transferred Spotify Music to iTunes in advance, then launch the Rekordbox DJ program.
Step 2. Navigate to the "iTunes" option, it will expand the tree to add Spotify Music from the entire track connection or iTunes playlist.
Step 3. Select the Spotify songs you'd like to add and Rekordbox will automatically import them. After that, you can play Spotify on Rekordbox or edit them in your wanted way.
Add Spotify to Rekordbox via File Importing Option
Step 1. Launch the Rekordbox DJ program and click on the "File" > "Import" option in the top left corner.
Step 2. Tap on the 'Import tracks/folders/playlists' section to add Spotify Music files. It will bring up a window for you to browse and select the local files on your computer.
Step 3. Once you have selected your songs, click the 'OK' button. You can then mix Spotify Music in Rekordbox as desired.
Part 3. How to Link Spotify to Rekordbox on Android/iPhone
In addition to Windows and Mac devices, Rekordbox also supports Android and iOS phones. Therefore, please refer to the following steps to connect Spotify to Rekordbox on your mobile device.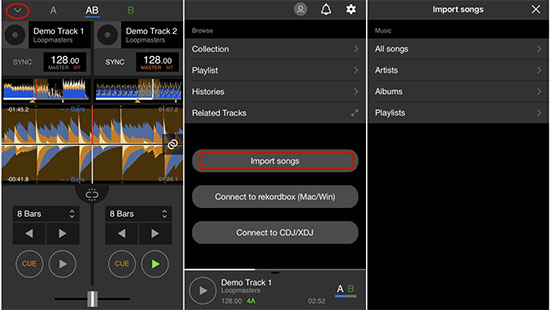 Step 1. Transfer Spotify Music from computer to your Android or iOS device via USB cable.
Step 2. Launch the Rekordbox software on your mobile device and log in to your account. Tap the Arrow icon in the top left corner of the screen.
Step 3. Select the Import songs and All songs options to browse your local Spotify Music files that you have transferred to your device.
Step 4. Select your favorite Spotify Music and import it to Rekordbox. Go to the Collections section where you can start to mix and create personal Spotify music tracks using Rekordbox DJ tool.
Part 4. How to Export Spotify Music from Rekordbox
As for exporting mixed Spotify tracks from Rekordbox to your local device, you can follow the methods below to export single or multiple Spotify songs.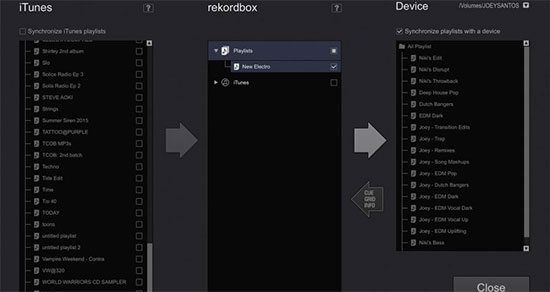 Export All Spotify Songs in a Playlist from Rekordbox
Step 1. Insert your USB stick into your computer and click on the 'Sync Manager' button at the bottom left of the Rekordbox screen.
Step 2. Select a preferred Spotify playlist and touch the 'Playlists' option at the top of the screen.
Step 3. Tap the 'Export Playlist' button and hit on the option for your USB drive.
Export Single or Multiple Spotify Songs from Rekordbox
Step 1. Plug your USB flash drive into your computer. Open the Rekordbox software and select the Sync Manager option on the bottom left.
Step 2. Search for the Spotify song you want to export in your playlist. If you want to select multiple songs, simply press and hold the 'Shift' keyboard.
Step 3. Right-click on one of the selected tracks and select the Export tracks option, then choose your USB drive to export Spotify songs to USB.
Part 5. In Conclusion
That's all about how to get Rekordbox Spotify connected. To be honest, with AudFree Spotify to Rekordbox converter, you can easily use Spotify with Rekordbox. What's more, you can mix Spotify songs with other DJ software, such as iMovie, Virtual DJ, Traktor DJ and many more. Have fun DJing with Rekordbox and Spotify. If you have any other useful tips on this topic, please leave a comment down below to share with us!