Jooki serves as the one and only Spotify speaker for kids aged 3-year-old and above. It is also a premium music and stories player that allows children to safely stream educational or entertaining audio content. This no-screen player device uses accessory physical tokens and cute figurines to add and play audio from Spotify. It's easier for children to control audio playback on Jooki autonomy without a phone or tablet.
With a Spotify Premium account, kids can stream tracks, playlists, audiobooks, podcasts, and more friendly content for studying or relaxing at bedtime. Thankfully, this smart player also supports local files through its Jooki app. Thus, in this article, we will introduce one official way and also a free way to get safe access to Spotify on Jooki. If you want to acquire more details, please come with us to read on!

Part 1. Something You Need to Know About Jooki Spotify
First, let's have a look at some frequently asked questions about using Spotify with Jooki, which facilitates a good command of the integration.
Q1: Does Jooki Work with Spotify
Yes. Jooki cooperates with two music streaming services currently: Spotify and Deezer, among which it works with Spotify Premium and Spotify Premium for family accounts. It is also the only Spotify Connect children's speaker with advanced NFC ToyTouch® Technology. Little kids can play audio from Spotify on Jooki at their fingertips without watching a smartphone, which is quite healthy for their eyes.
Q2: Do you need Spotify Premium for Jooki
In fact, on the one hand, this audio player supports streaming Spotify OGG Vorbis audio on it directly provided that you are a Spotify subscriber. On the other hand, however, this speaker also allows adding local music files in AAC, MP3, FLAC, and OGG formats to it using a web dashboard. Therefore, you are empowered to download Spotify music as local files and then transfer the downloads to Jooki for offline playback for free with a Spotify playlist downloader. This is also what we will present later in Part 3.
Q3: What Are Jooki Token and Jooki Figurines
The digital Jooki figurines are collectible and can work to program favorite songs from Spotify or .mp3 files. Different figurine includes different genre of music. Once put into the specific place on Jooki, the audio will auto-play without the need for a screen.
The programmable Jooki token for this music player serves as a type of cryptocurrency. It works to buy the Jooki figurines.
Part 2. Official Way to Add Spotify Playlists to Jooki with Premium
Thanks to the Jooki Spotify Connect partnership, this wonderful player enables you to connect your Spotify account to its exclusive app and listen to Spotify playlists, audiobooks, or podcasts via Spotify Connect. Please subscribe to Spotify Premium in advance. Then you can refer to the how-to guide to play Spotify playlists on Jooki.
Step 1. Install the companion Jooki app on your device from Apple Store or Google Play.
Step 2. Set up your Jooki as per the instructions of the product. Then press the Power button on Jooki to turn on it until the logo on it lights up and the side light turns white. That means your smart player has been connected to Wi-Fi.
Step 3. Connect your phone or computer and Jooki to the same Wi-Fi network. Also, turn on your Bluetooth on your phone or tablet.
Step 4. Open the Jooki app on your device and check for the player's updates.
Step 5. Then on the Spotify app, play a song and tap on the 'Device Available' icon from the bottom playing bar.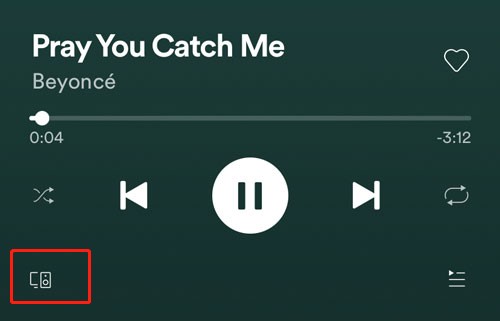 Step 6. Choose Jooki-xx such as Jooki-1FA0. Then the Spotify music will come out from the smart kid's speaker.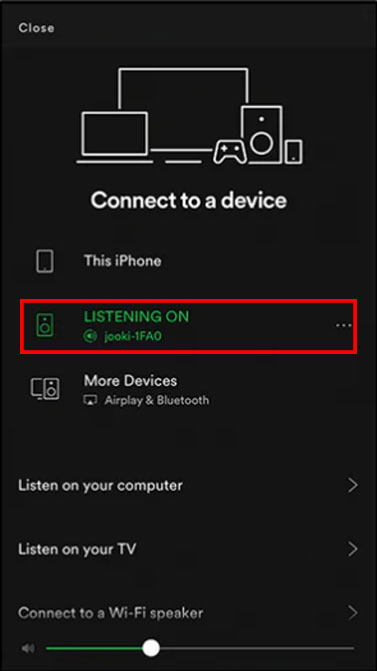 Note: After this step, if you place the Jooki figurines or tokens on Jooki, the token icons will show on the Jooki app as displayed in the below picture. Then play a song from Spotify and go back to the Jooki app. Select the icon of figurines or tokens you would like to associate this Spotify content with and the Spotify songs will be added to those toy-shaped vehicles.
Later, place the associated figurines or tokens on Jooki, and the Spotify playlists will be activated as long as you connect Jooki to Wi-Fi. Afterward, your kids can play Spotify playlists on Jooki without the need for Spotify and a phone.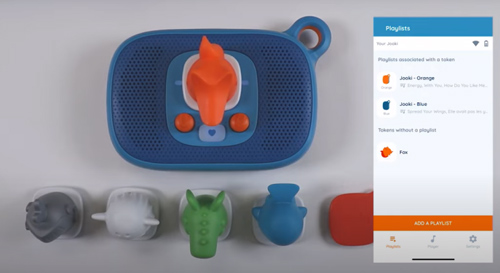 Part 3. Advanced Way to Play Spotify on Jooki Offline for Free
In fact, without a Wi-Fi network, you cannot connect Spotify to Jooki, which is inconvenient for kids to play Spotify music or audiobooks outdoors. And what you download from Spotify is only temporary cache files that will disappear from your library once you get Spotify Premium canceled or expired. Thankfully, as we state above, Jooki endows you with the ability to transfer local music MP3 files to it. Thus, you need a professional gadget to download Spotify music locally first.
Here, we'd like to introduce AudFree Spotify Music Converter, an all-in-one tool designed for both Spotify Free users and Premium subscribers. It is capable of batch downloading and converting all types of Spotify audio as permanent local files in common formats that are compatible with Jooki Music & Story Player. Even if you don't get an active Spotify Premium account, you can make it.
And with expert decode technology and fast 5X speed, this powerful software has the ability to keep the original quality and ID3 tags for Spotify music. Most importantly, it enables you to play converted Spotify audio on Jooki and any of your devices or players without phones.
How to Download Spotify to MP3 for Jooki Player
If you are new to AudFree Spotify Music Converter, you can install it on your PC or Mac by clicking the above green 'Download' button and have a try. It is a completely safe application for personal and educational use. And here is a step-by-step instruction to guide you to convert Spotify songs to MP3 for playing on Jooki.
Step 1

Put Spotify Audio Files to AudFree Spodable

When you open the AudFree Spotify Music Converter on your computer, the Spotify app will launch at the same time. Drag the songs or playlists from Spotify and drop them to the main interface of AudFree Spodable, which is the most commonly-used way to add files. Also, this software allows you to copy and paste the link of Spotify music to the search bar of the tool and then tap on the '+' icon.
Step 2

Define Spotify Music Output Settings to MP3 for Jooki

For compatibility with Spotify downloads on Jooki, please head over to the upper-right toolbar to pull down the setting menu. From the list, choose 'Preferences' > 'Convert' where you can select the output format as DRM-free MP3 for the Spotify tracks you will add to Jooki for your kids. Besides, you can also opt to convert Spotify music to WAV or FLAC as the export settings. And you are allowed to change the bit rate, sample rate, or audio channel to get lossless Spotify audio quality.
Step 3

Export Spotify Tracks as Local Files for Jooki Speaker

Hit the lower-right 'Convert' icon, then you can kick off the conversion process. This software will work to output the selected playlists or audiobooks you choose for your children in batches and saves them to your computer. By touching the 'Converted' tab at the bottom, you can access and check the Spotify downloaded tracks. Subsequently, you can upload them to the Jooki.
Video Demo: How to Convert Spotify Song to MP3 Online
How to Link Spotify Playlists to Jooki with Jooki App
Once you download Spotify music to your computer for free, please note that if you attempt to add and play more downloaded MP3 Spotify tracks on Jooki Player, you may need a micro-SD card on Jooki. Then please look into the below steps:
Step 1. Visit this official website to install the Jooki desktop app on your computer. And connect your computer to the same Wi-Fi as Jooki Audio Speaker.
Step 2. Then open the app and click on 'Add playlist' and the 'List of tracks' option.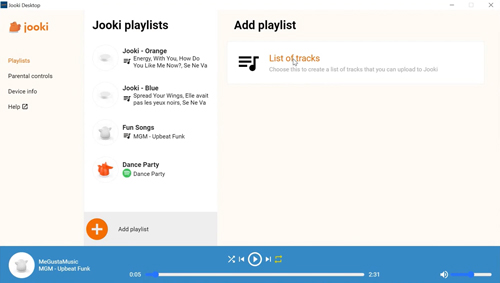 Step 3. Proceed to drag and drop your Spotify MP3 audio files to the 'Drag tracks here' section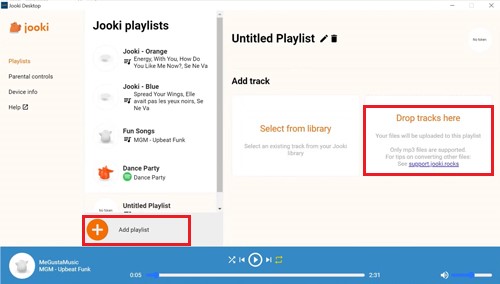 Step 4. Launch the Jooki mobile app on your phone, tap on the 'Playlist' section from the bottom toolbar, and scroll down to the 'Playlists without a token' option.
Step 5. From the option, select 'Untitled Playlist' and choose the icon of the token you want to associate with the Spotify playlists from the bottom bar. Here, you can rename the playlist according to your needs.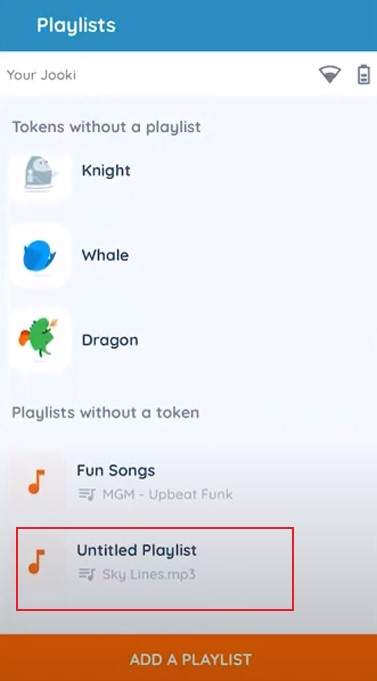 Step 6. Next, click 'Add Tracks' from the bottom to select tracks from the Spotify playlist you want to play by touching the right 'Add' button on each item.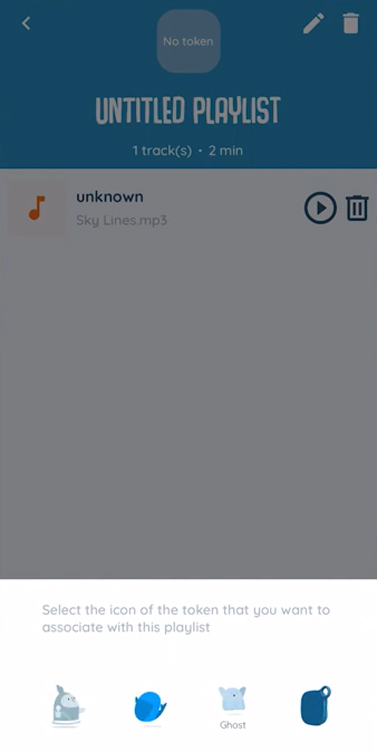 Step 7. Place the associated token or figurine on your Jooki Music & Stories Player. Now, you can listen to the MP3 Spotify files offline without connecting to the Wi-Fi network or needing the Spotify app.
Part 4. Fix Jooki Spotify Playback Failed Issue
Some issues with Spotify playback on Jooki are quite frustrating and anticlimactic while enjoying music on this speaker. But how to fix it? Here are some steps you can try to fix the issue:
Check if there are any pending updates for your Jooki and install them if there are.
Restart your Jooki and try playing Spotify again.
If the issue persists, try resetting your Jooki to its factory settings. Please note that this will erase all data on your Jooki, so make sure to back up any important files before resetting.
If none of the above steps works, you may need to contact Jooki's customer support for further assistance or utilize the advanced way: Download and transfer Spotify music to Jooki for offline playback without hassle through AudFree Spotify Music Converter.
Wrapping Up
An official way and advanced workaround have been displayed above, which can facilitate the Jooki Spotify integration. We highly recommend using AudFree Spotify Music Converter. Because it contributes to downloading and uploading permanent Spotify local files to your Jooki Player or any other children's players, like Yoto Player or Toniebox Player for offline listening without Spotify Premium. Beyond this, you can use Jooki without Spotify since then. Now, give it a shot and spark your kids' imagination!