Q: "It could be too big and inconvenient to carry a smartphone to listen to Spotify music when I'm running outside. So, I'm thinking of purchasing a Spotify MP3 player to substitute my phone. Is there a detailed list of the best MP3 player compatible with Spotify?"
Spotify is fully compatible with Internet-connected platforms, such as Mac, Windows, iOS, Android, and more. However, traditional MP3 players don't have the ability to run a Spotify application. Fortunately, in order to appeal the tastes of users, some of MP3 players can work with Spotify now.
Here, we will collect the top 5 best MP3 player with Spotify for your references. You can select your favorite Spotify compatible MP3 player and play Spotify offline on MP3 player on the go without Wi-Fi or a smartphone.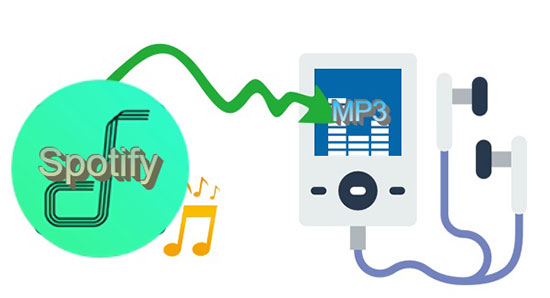 Note: If you had already a MP3 player but it doesn't support Spotify, you can skip to the last part. It convers an amazing solution to convert Spotify to MP3 and listen to Spotify music on your MP3 player offline.
#Top 1. Mighty Spotify Music Player
As Spotify's first partner in the offline streaming music space, Mighty Audio is trying to sell die-hard Spotify fans a portable Spotify player, Mighty. The highlight feature of this portable MP3 player could be playing Spotify music offline without a phone.
Featuring with 8GB of internal storage, Mighty Spotify MP3 player is able to store about 1000 songs at Spotify Premium's highest quality audio and wok well at up to 15 hours of continuous playback. As a professional yet small MP3 player, it also enables users to sync local MP3 files for playback.
The Mighty music player is not only a MP3 player with Bluetooth and Spotify but also a WiFi MP3 player with Spotify. Mighty Audio officially provides a mobile app for Android and iOS, which allows users to transfer songs and playlists from Spotify to Mighty via the Bluetooth and Wi-Fi connection.
It's easy to play Spotify music offline on the best protable Spotify MP3 player. You need to install the app to your phone and link your Spotify account, connect Mighty and your phone to the same Wi-Fi. And then, you can choose favorite Spotify playlist that you'd like to play on Mighty.
Once playlists from Spotify are synced over Wi-Fi through the phone app, you can start to play Spotify music on Mighty Spotify portable player without an Internet-connected smartphone.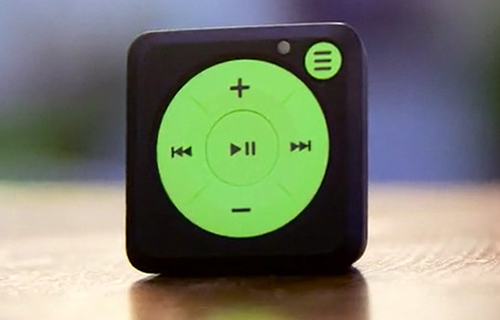 #Top 2. Samsung Gear S3 Spotify Portable Player
Samsung is the other one of two official partners of Spotify for playing music offline on an MP3 player with Spotify. With the release of Gear S2, Samsung Watch has been supporting Spotify music streaming service. But you can only use Samsung Gear S2 as a remote controller to control the Spotify music playback.
Fortunately, Samsung Gear S3, the better Spotify enabled MP3 player has made great progress in playing Spotify tracks. It offers users to download and store songs, playlists or albums from Spotify offline. With the 4GB of internal storage, Smasung Gear S3 can download a decent amount of Spotify music offline and you can play them without a near-by phone.
To get Spotify on Samsung Gear S3, you should know that Spotify app is not well-installed on your Watch by default, you need to install it by yourself. Only if you have done it well, you can start to use the Samsung Gear S3 to play Spotify music in 'Offline Mode' without being connecting to the phone with subscribing Spotify Premium plan.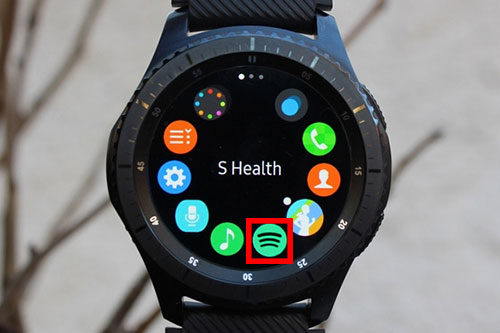 #Top 3. iPod Touch
With a touchscreen display, iPod Touch is an iOS-based mobile device that is designed as a portable music player, digital camera, etc. One of the amazing features of iPod Touch compared to other common MP3 players is that it connects to the Wi-Fi Internet. To Spotify music lovers' satisfactory, Spotify app is available on 5th generation iPod Touch or above according to Spotify community.
To use Spotify on iPod Touch, you just need to download the third-party Spotify app from Apple's App Store and then you can play Spotify songs on iPod Touch as you do on iPhone. But please be well noted that with a free Spotify account, you can only shuffle play Spotify music files with ads.
To gain access to more special features, such as downloading Spotify music for offline playback and unlimited song skips, you're required to upgrade to Spotify Premium with charging $9.99 per month.
View Also: How to Sync Spotify to iPod Nano/Shuffle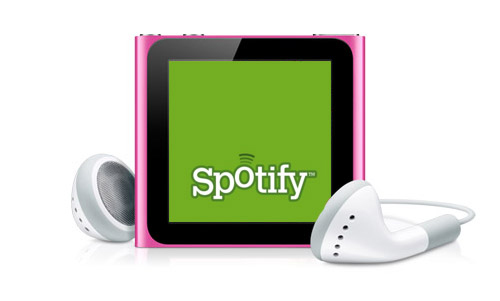 #Top 4. Fitbit Versa 2
A few months ago, you will get a negative answer when it comes to playing Spotify on Fitbit Versa 2. There was no 'Spotify on Fitbit' app to play Spotify offline on Fitbit Versa MP3 player. But the good news from the official voice is here that Spotify music on Fitbit is to our ears. Put it another way, now Fitbit and Spotify work together to offer a nice mood for exercise.
Fitbit Versa 2 comes with lots of powerful features, such as lower price, built-in GPS, cool and friendly design, long life battery, etc. There is no doubt that it's one of the recommended MP3 player that work with Spotify. The working mechanism of this device is using the Spotify Connection function. So if you choose Fitbit Versa 2 as your portable music player with Spotify, please make sure you have updated to a plus account.
Besides, it's important to note that since there is no offline mode, you need to connect your phone to the internet and keep it nearby with the Fitbit app.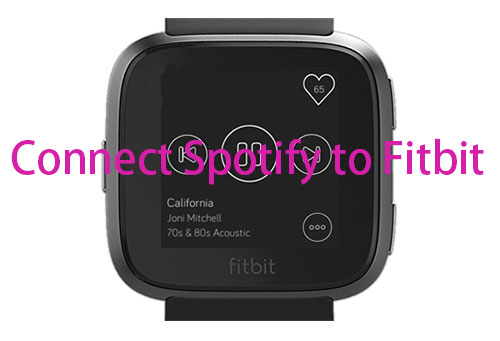 #Top 5. Astell & Kern Music player
With the function-first design, Astell & Kern devices alwasys have unexpected price. But to be honest, it really deserves it. The line-out ports, USB ports, headphone jacks, memory card slots all have double optionsin Astell & Kern music player . What's more, it have a 6,200mAh battery, which enables users to listen to music in days without charge.
Here, the reason we also put Astell & Kern MP3 player in the Spotify MP3 player list is that it can support directly installing the Spotify app. Astell & Kern devices allows users to drag downloaded APK files from your computer to it, including Spotify APK version. But it's worth mentioning that there will be compatibility issues with Spotify and the current APK version. Anyway, you can also stream your Spotify music to Astell & Kern music player via the Bluetooth for playback.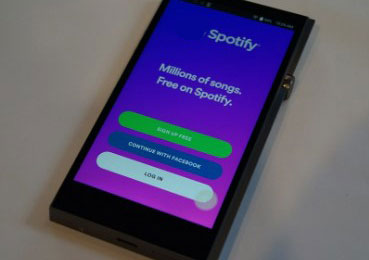 How to Play Spotify Offline on All Portable MP3 Players
Obviously, there is no Internet connection and built-in Spotify app on traditional MP3 players. We can't play Spotify offline on MP3 players directly that don't have a Spotify app. What if you have a MP3 player on hand but it can't recognize Spotify playlist?
As everyone knows, almost all MP3 player supports for uploading local files for playback. So, all you need to do is to download Spotify files offline on local folder on your computer, convert Spotify music to MP3, and then transfer them to your MP3 player for offline paying.
Here, we can meet AudFree Spotify Music Converter, which can help you get Spotify MP3 files with a few clicks. After conversion, you can make all MP3 players as portable Spotify players, such as Sony Walkman, Sandisk, Creative Zen, Zune, and more.
How to Convert Spotify Music for MP3 Player
Step 1. Fire up the AudFree SpoDable on your laptop and then log in to your Spotify account in the openning Spotify app.
Step 2. Drag and drop Spotify songs that you'd like to play on MP3 players to the main interface of AudFree SpoDable. Or you can copy and paste the URL of Spotify playlist to the address bar at the top and hit on the '+' button to load them.
Step 3. Click the 'Convert' button to 5X download Spotify playlists to MP3 files that can be uploaded to all portable MP3 players with ease.
How to Play Spotify on MP3 Player Offline
Please connect your MP3 player to your computer that stores Spotify MP3 downloads. And then you can transfer Spotify MP3 tracks to your Spotify MP3 player for offline playback.
In Conclusion
Now, you can make the final decision to purchase a new Spotify MP3 player that supports Spotify app or convert Spotify music to MP3 player-compatible audio files for enjoying Spotify streams with ease. No matter which way you choose to achieve this goal, you can freely listen to Spotify on your MP3 players without limits on the go.