Songs can help you deal with anxiety or depression. When sitting alone in a room or on a trip with friends or family members, you may crave music. Plus, a good collection of songs can also keep you motivated during gym sessions. In short, songs are needed in different situations, from working hours to your leisure time on weekends.
Spotify is one of the best platforms where you can find a vast collection of digital songs. So, millions of songs are available on this audio streaming and video services platform. However, you need a music player to access music libraries on Spotify. Mighty Spotify enables you to carry your Spotify music collection anywhere. It lets you sync your Spotify music playlists. So, all your favorite music stays within your reach. If you want to learn how to use Mighty to play Spotify music, we got you covered. Let's begin!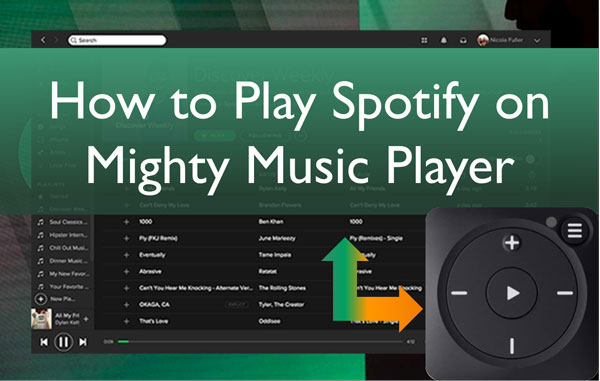 Part 1. Best Mighty Spotify Music Player Review
Mighty Spotify
Mighty Spotify allows you to download any podcast or song from Spotify. It comes with Bluetooth wireless connectivity. It is the most famous music player to play Spotify songs. Mighty is a smart and compact device with a plastic case. It is also lightweight. So, you carry the music of your choice wherever you go. The following Mighty Spotify player review will help you know more about it.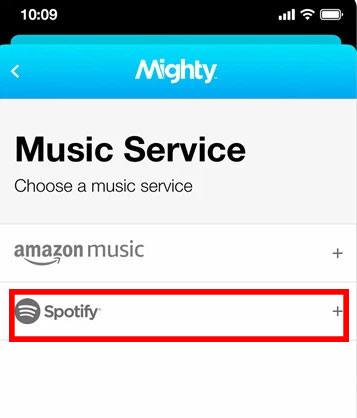 Key Features
Allows access to Spotify songs without internet connectivity
Enables syncing Spotify playlists
It comes with a capacity to store 1000 songs
Equipped with volume keys to facilitate music lovers
Pros
Easy switching between playlists
The mighty app is compatible with both Android and iOS
Good battery life
Cons
Premium Spotify subscription is required
Part 2. How to Play Spotify on Mighty Music Player Directly
When you have a premium Spotify membership, you can directly sync Spotify songs, and that too in a hassle-free process. Moreover, all premium plans are supported by Mighty. So, it does not matter if you have a Spotify Premium Family plan or Spotify Premium Student plan.
In short, Spotify music is accessible with a premium subscription. If you want to know how to play Spotify on Mighty, we have summarized the process in easy steps.
Step 1. Download and launch the Mighty Audio app
Install Mighty Audio application from Google Play Store and launch it.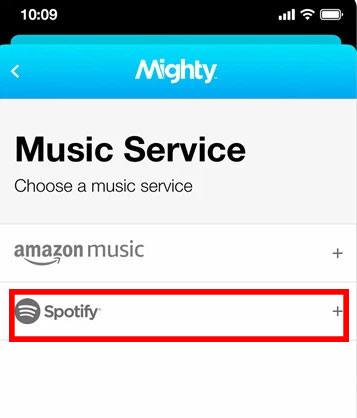 Step 2. Choose music service
Select Spotify from the options appearing in the music service tab.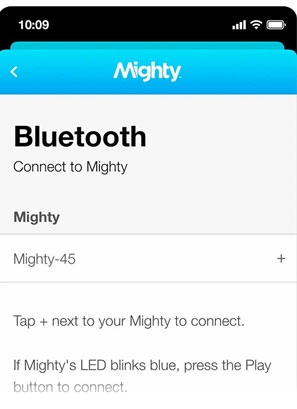 Note: Make certain that your device is connected to the internet. The Mighty Audio application allows you to connect to a Wi-Fi network.
Step 3. Sync Spotify songs to Mighty
Click on the + button in the browse section to select the desired playlists. Press the sync now button at the top to start the syncing process.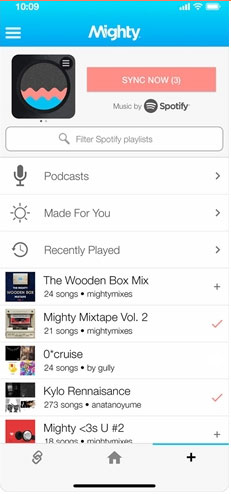 Part 3. How to Play Spotify on Mighty Offline without Premium
Mighty music player is a portable device that enables you to listen to songs without a phone or internet connectivity. This means Mighty Spotify Player lets you enjoy songs offline. However, only the members having premium subscriptions of Spotify can sync music albums to Mighty.
AudFree SpoDable Music Converter is one of the notable Mighty Spotify alternatives that can help you enjoy Spotify music offline on Mighty without Premium. It allows you to convert Spotify songs to MP3 and other formats without quality loss.
Moreover, the application is capable of batch converting Spotify songs at 5X lightning speed, whether on Windows or Mac operating systems. Do you want to know how to use AudFree SpoDable for Spotify? If yes, check the following step-by-step guide.
Step 1

Download and launch AudFree SpoDable application

Download the right version of the software from the developer's official website. Double-click on the app's icon after the downloading is finished.
Step 2

Add Spotify songs to AudFree

Drag and drop the songs or albums from the Spotify library to the AudFree conversion window.
Note: You can also copy-paste the URL in the bar at the top of the conversion window and click on the + to add the song.
Step 3

Edit the Spotify output settings for Mighty
Step 4

Convert Spotify songs and transfer them to Mighty

Click on the Convert button to initiate the process. Once the conversion is done, click on the History to enter the local files menu. Navigate to the folder where the MP3 files are saved. Click on the file you want to add and import them to Mighty.
Part 4. Mighty Spotify Alternative - Top 2 Best
Mighty Spotify is undeniably a fantastic device to access anything on Spotify. However, this is not the only viable option used for playing music. Few other portable devices are also known for playing Spotify music. So, if you are looking for a Mighty Spotify alternative, we have reviewed the following two best choices.
1. Apple Watch
The obsession with Apple gadgets is not new. Apple Watch is a high-tech portable gadget that enables you to play all your favorite soundtracks. Spotify songs are no exception, so they are easily accessible with Apple Watch tied on your wrist. Let's have an insight into its key features, pros, and cons.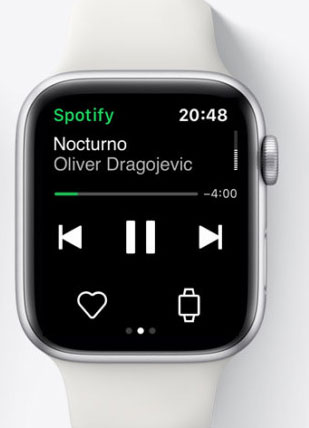 Key Features
Equipped with additional features such as fitness and health tracking
Allows manually adding songs by navigating artist or playlist
Soundtracks can be changed from the touch display
Pros
High mobility
Trendy
iPhone does not need to be in the range
LED light
Cons
2. Fitbit Watch
Fitbit offers a wide range of products to its users. Fitbit watch is one of its core products designed to facilitate you during workouts and short trips. It comes with a simple yet intuitive interface. Moreover, the in-built Bluetooth module in the Fitbit watch makes it a perfect fit for music lovers. Last but not least, the Fitbit watch is also linkable to all mainstream music services, especially Spotify. Let's explore more about the specifications, pros, and cons of this gadget.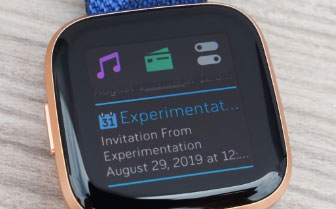 Key Features
Equipped with sports mode
It can be upgraded to a premium version to enjoy health and fitness monitoring
Users can easily search for Spotify songs on the watch
Pros
Wearable
Free app
Automatic sync
Cons
Some users may find the band uncomfortable
Part 5. Conclusion
Music lovers are everywhere, and who does not want to have the all-time favorite music app in his pocket, just one click away. Mighty Spotify has made Spotify music accessible at all times. It's a travel partner for all people willing to access their Spotify tracks anywhere on the planet. So, we have reviewed Mighty to help you choose a music player. The review also includes other considerable intelligent music gadgets to play Spotify playlists.