Last.fm serves as a music streaming platform that empowers you to create your own profile. It's main feature is to track your listening habits from multiple music services. That includes Spotify, Tidal, Deezer, YouTube, SoundCloud, and so on. Today, we will focus on scrobbling Spotify with Last.fm.
Last FM is dedicated to recommending music from Spotify based on your streaming history. Also, it is capable of controlling your Spotify music experience on other devices or other Last FM-supported players. So how scrobble Spotify with Last FM? Today, in this article, you will know about how Last.FM and Spotify work, get a thorough method to scrobble Spotify music by Last.FM. Most importantly, learn the best way to download Spotify scrobbling with a few clicks.

Part 1. What Is Last FM Scrobbling on Spotify
What does scrobble mean on Spotify? In other words, what is Scrobbling on Spotify with Last FM? Scrobble is a behavior of tracking the music that you have played on Spotify and can add those songs to your profile. This is what Last.FM mainly focuses on. Last FM uses its scrobbling feature to track and keep your listening history from Spotify on desktops, iOS devices, or Android phones. Afterward, it will store such information in its powerful database.
On top of that, this platform for music lovers provides collage music and taste-based recommendations tailored for you. In this way, it can help you discover new music from Spotify. Besides, your listening habits and history on Spotify will be recorded and displayed on your profile. Surprisingly, you can even view your friends' music experience on Spotify from their profiles with Last.fm. It gets you closer to your friends and other music enthusiasts in the music world.
Part 2. Best Way to Scrobble Spotify with Last FM
Last.FM works great across so many popular streaming music services. But the strange thing is that you will find certain apps such as Apple Music disappeared from Last FM, which is annoying. And the Last FM is not always stable while connecting to Spotify. In case Spotify disappear from the platform someday, it is better to have a plan B. Fortunately, Last.fm supports scrobbling local music. So, you can download the entire Spotify tracks as local files and store music data. It's more than just keep tracking the listening history of Spotify.
Spotify offers a premium plan for music lovers to download songs. But we all know that the downloaded tracks will disappear from your library once you cancel the subscriptions. Because they are stored as temporary cache files by Spotify. To truly download Spotify songs, you need help from a third-party music downloader. That is AudFree Spotify Music Downloader. Specialized in unlocking limits from Spotify tracks, this smart tool can download and convert Spotify OGG to local common files for free. It provides 6 output formats: MP3, FLAC, WAV, AAC, M4A, and M4B.
Particularly, with professional converting technology, the AudFree software has the ability to retain the original sound quality of Spotify music. Also, it keeps full ID3 tags embracing title, year, album, track number, etc. Amid such benefits, you can play Spotify tunes on all devices or platforms offline in previous orders on Spotify without quality loss.
Adopting the latest converting technology, AudFree Spotify Music Downloader works at 5X super-fast speed. It can download a batch of songs from Spotify with 100% original metadata saved. ID3 tags like Artist, title, album art, etc. will be stored in the converted files for easy management.
How to Scrobble Spotify Music by AudFree
To download and convert Spotify tracks to MP3 or other formats for Spotify scrobbling, please follow the steps below.
Step 1

Stream and input songs from Spotify to AudFree Spodable

Launch AudFree Spotify Music Downloader. And the Spotify desktop app will be auto-opened. Directly drag and drop the track from Spotify to the main blank of AudFree Spodable. Subsequently, tap on the '+' button to add it to the AudFree software. Or you can copy the relevant URL and paste it to the search bar on the top of the software. Wait until all the music files are added successfully.
Step 2

Change the output options for Spotify music on Last.fm

Windows users please click on the menu icon (looks like three paralleled lines) on the top line of AudFree Spodable. Then choose 'Preferences' to open the 'Convert' tab. Mac users please find the menu tab of the Mac, which is on the top left corner of the entire screen. Then tap on AudFree Spotify Music Converter. After that, you are entering in the settings page. Here, you can reset the output options like format, bit rate, sample rate, channel, etc. For wide availability of converted Spotify music, we recommend you to download Spotify playlists to MP3 since it is compatible with almost all Last FM-connected players.
Step 3

Download Spotify songs for scrobbling locally

When you are satisfied with the settings, please press on the 'Save' tab to commit to the setting process. Then hit on 'Convert' to start downloading and converting. After the conversion is over, please follow the on-screen prompts to check the destinated folder where all the local Spotify tracks are stored.

Since June 2018, the Last.FM has also been used to scrobble local songs that you play. It is still available to use Last.FM scrobbler to track your local Spotify streams.
Part 3. Official Way to Connect Last FM to Spotify for Scrobbling
On the ground that Spotify works with Last FM, there is an official way of scrobbling Spotify online. The 'Connect Last.FM' option is no longer on the Spotify app, whether on the desktop app or mobile app. Now you have to connect Spotify to your Last.Fm account by authorizing Last.fm to access your Spotify stats in advance.
Thus, before we get Spotify scrobbled, let's start with the set-up process: Please go to the Last.FM website and type in your ID info. Once you've logged in to your account, there are 2 methods to connect Last.FM to Spotify, which are available on both desktops and phones.
Method 1
Step 1. On the Last FM app, find and tap on your profile picture which is in the upper right corner of the website. And click on Settings to open the Applications option.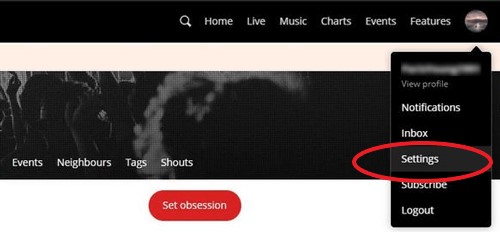 Step 2. To start the scrobbling, you need to click the Connect bar to the Spotify Scrobbling logo. If this is your first time making the connection, you will be required to sign in to your Spotify account by entering the username and password.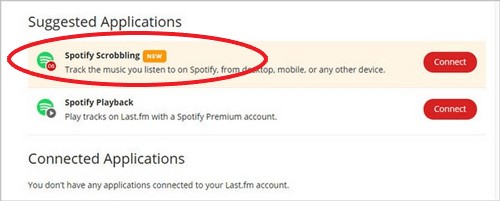 Method 2
Step 1. Navigate to the Last.FM About page. Then hit on the Track My Music tab in the top of the page.
Step 2. Scroll down until you see the Spotify Scrobbling logo. Enter it and click to Connect tab next to it.
Part 4. Last FM Spotify Not Scrobbling
"My scrobbles from what I listen in Spotify have been lost since last Monday. Any tip or suggestion to try?"
Some users respond that they run into the Last FM not scrobbling Spotify issue but they don't know how to fix it. Some factors may play significant roles in it. It includes the issues of firmware, connection problems of Spotify and Last FM, the scrobbling limit of Last FM, etc.
So, you can try the following methods:
1) Disconnect and reconnect Spotify to Last FM
2) Check your firmaware
3) Scrobble no more than 50 Spotify tracks each day
4) Use a mannual Last FM Scrobbler to put Spotify scrobbles to Last.fm
If none of them works still, please try using AudFree Spotify Music Converter. It can download Spotify music as local files and scrobble local muskic with the Last FM.
Part 5. Pros and Cons of Spotify Scrobble
You may don't figure out why people choose to scrobble Spotify on Last.FM. Please read the pros and cons as follows to decide whether you need this function.
Pro: Offline scrobbling. Last.FM can scrobble the last 50 songs that you played on Spotify before you connect to the internet.
Con: Lacking privacy. Last.FM is owned by CBS Interactive. This is an big entertainment company that runs various network brands such as CNET, CBS News, MetroLyrics, GameSpot, and ZDNet. Your personal data on music listening may be used by CBS to further refine the profile.
Part 6. More FAQs about Spotify Last FM Scrobbling
Q1: Is Last FM safe?
Of course. Last FM works with many music streaming services officially such as Tidal, Spotify, etc. There is no doubt that it is safe to use.
Q2: Does Last FM work with Spotify?
As we state above, Spotify works with Last FM. But there is no Last.fm option on the Spotify app now.
Q3: How to check Scrobbles on Spotify?
Just tap on your profile picture on Last FM to drop down a new menu and then select 'Scrobbles'. Then from the left-hand bar, choose 'Spotify'.
Q4: How to disconnect Spotify from Last FM?
Head to the website of Last.fm. Then tap on your profile and tap on 'Settings' > 'Applications'. Next, tap on the 'Disconnect' button.
Part 7. Wrapping Up
The official way and best way to scrobble Spotify with Last FM online and offline respectively have been displayed above. In view of the unstable connection between Spotify and Last FM, we recommend you give AudFree Spotify Music Converter a shot. Because it can download Spotify music as local files and enables you to listen to Spotify offline without premium. Thus you can play and scrobble the downloads with Last FM locally.