Last.fm is a music website that allows users to build a profile of their music taste by tracking their favorite tracks and listening data from multiple music platforms. Users can also transfer (or 'scrobble' named by Last.fm) information from many music streaming devices to Last.fm's database and then the information will be analyzed and displayed on the user's profile.
For many music lovers, they love this feature on Last.fm because it enables them to record and display their music taste or find friends with similar tastes. This is also why Last.fm has been popular in the industry since 2002. Different from other music streaming services, Last.fm does not support offline playback even after subscription, which means users may not download Last.fm music for offline listening.
Meanwhile, Tidal has attracted millions of users because of its high-quality music, so it is no strange thing if some users are using Last.fm/Tidal at the same time. However, many of them don't know how to connect Tidal to Last FM. So today we are going to teach you how to link Last.fm and Tidal to upload your listening data and download music from Tidal without premium to play offline for more stable Tidal Last FM connection.

Part 1. How to Connect Tidal to Last.fm
To import your music listening data from Tidal Last FM scrabbling at once, there are a few ways for you to scrobble Tidal via their website, desktop app, and the iOS app.
Via Web Player and Desktop Application
Step 1. Visit Tidal web player in a browser or launch the Tidal app on your desktop.
Step 2. Log in with your Tidal account. If you don't have one yet, you can get a Tidal 6-month free trial.
Step 3. Click on your profile on the top-left corner and select Settings.
Step 4. Scroll down to the Connect section and click Connect to Last.fm.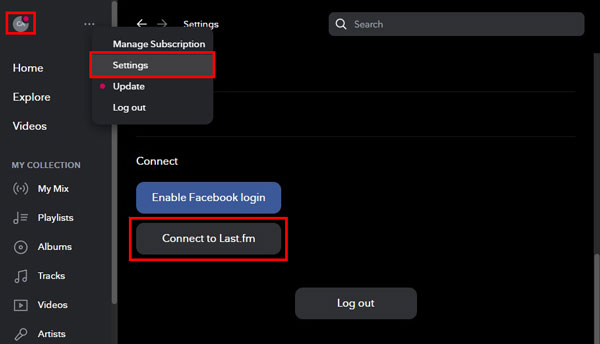 Step 5. Then it will direct you to a new browser tab which requires you to log in with your Last.fm account.
Once logged in, your Tidal and Last.fm accounts are now connected. There also exist other third-party browser extensions such as the Web Scrobbler for Chrome, which can perform the same function.
Via iOS Application
Step 1. Open the Tidal app on your iOS devices, and go to Settings.
Step 2. Scroll down to Social and you'll see Last.fm scrobbling, activate it.
Step 3. Then it will prompt up a window for you to enter your Last.fm username and password.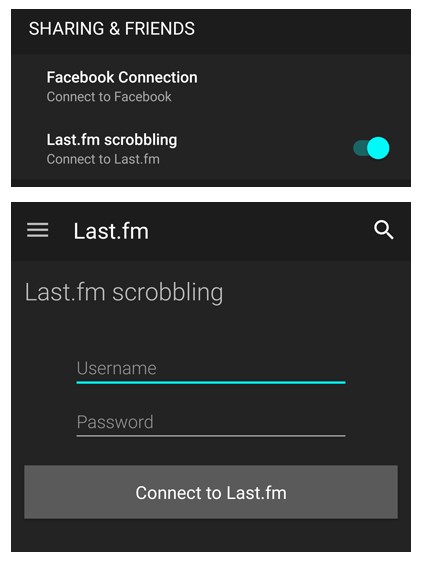 *Please note that Tidal scrobbling is no longer supported on the Tidal app on Android devices, so you might need to link Last.fm to Tidal with the help of some third-party apps like Scroball or Pano Scrobbler.
Part 2. Download Tidal Music to Play Locally for Last.fm
Many users might not know that it is possible for Last.fm to track listening data of the music played locally on their personal devices such as PCs, mobile phones, tablets, and other media players. As Tidal's connection to Last.fm is unstable sometimes or not supported on Android devices, so if you fail to connect Last FM to Tidal, downloading Tidal music to play locally seems like a better option to keep all your listening data.
To download Tidal music to local, firstly you will need AudFree Tidal Music Downloader. While downloading Tidal music at 5X or faster speed, this powerful software is also capable of preserving all the ID3 tag information like artist, year, genre, etc., making it a lot easier for Last.fm to capture these data and build them in your music profile. Meanwhile, you can convert Tidal music to common audio formats like MP3, FLAC, WAV, etc., making it available for any Last.fm supported media players.
After you have downloaded and installed AudFree Tidal Music Converter on your computer, please make sure you have the Tidal app installed as well.
Step 1

Add Tidal music to AudFree Tidable for Last FM scrabbling

Please launch AudFree Tidal Music Downloader and the Tidal app will automatically launch as well. Then find the Tidal tracks you want to download in the Tidal app, and right-click on it to Share > Copy Track Link. Paste it to the address bar of AudFree and click the '+' tab to load it into AudFree.
Step 2

Select output format for stable Tidal Last.fm connection

Considering that Last.fm supports scrobbling from hundreds of media players, we suggest you select the output format for Tidal music as MP3 as it is the most common used audio format. Just click the Preferences > Convert and choose the output format as MP3. You are also able to customize other audio parameters according to your need.
Step 3

Download Tidal music to local files for Last FM

When you finish customizing, please tap the Convert button to start the downloading process at 5X speed. After that, you can locate the downloaded Tidal music by clicking the History > Search icon or the File icon directly.

With the downloaded Tidal music in a common format, you can now play Tidal on Clementine, Musicbee or other Last.fm supported media players.
Part 3. Fix Last FM Tidal Not Working Issue
According to a growing number of people's complaints, Last FM not scrobbling Tidal issue appears sometimes. If you have been undergoing the same issue, please never skip this part.
Generally speaking, Tidal owns a built-in Scrobble protocol 2.0 authenticated with the Last FM account on desktops, which the Android or iOS app doesn't have. With this inside scrobbler, you are not required to log in to your Last.fm account while scrobbling songs from Tidal. But this is beyond the Android Tidal app. In other words, you need an external Tidal Last FM scrobbler available to Android and iOS to fix Tidal not scrobbling issues on iOS/Android devices.
To resolve the Last FM Tidal not working problem, you can adopt the following steps:
Step 1. Make sure that the Tidal scrobbling option is still listed on the connected Last.fm apps.
Step 2. Get the Tidal scrobbling option removed from Last.fm apps list and then add Tidal to Last FM connected apps again.
Note: You need to authenticate with your Last.fm account again when you want to scrobble with the Tidal desktop app.
Step 3. Install an external Tidal scrabbler such as the Web Scrobbler browser extension that is compatible with almost all browsers to make Tidal Last FM integration.
Now, check if the Tidal scrbbling works with Last.fm. If this trick is to no vail, you can apply AudFree Tidal Music Converter to download Tidal MQA or HiFi music as local Last.fm-supported format files and scrabble Tidal with steable process.
Part 4. In Conclusion
With the detailed methods on how to connect Tidal to Last FM introduced above, which way do you think is better? No matter which method you apply, you can now enjoy Tidal music freely and upload your listening data to enrich your music profile on Last.fm. But we recommend using AudFree Tidal Music Converter provided that you want to get Tidal scrabbled to Last.fm with stable running forever.