Audiobooks were and still are a great innovation in the world of literature and have helped in the growth of this industry. They are basically recordings of a reading session where texts are read audible and are recorded for future use. With technology on our side, it has been possible to share these audiobooks easily mostly with the aid of the internet.
Among the most notable applications that enable the efficient sharing of audiobooks is Audible. Audible is a site that has a vast collection of audiobooks that you can purchase and share. Sharing is key in the enjoyment of acquired audiobooks and will help you come across many literary pieces as well as enhancing your relationships. The question lingering with most new users on Audible is usually, how to share Audible purchases with family members? This is sorted out by the following outlines on how to share Audible books with family and friends.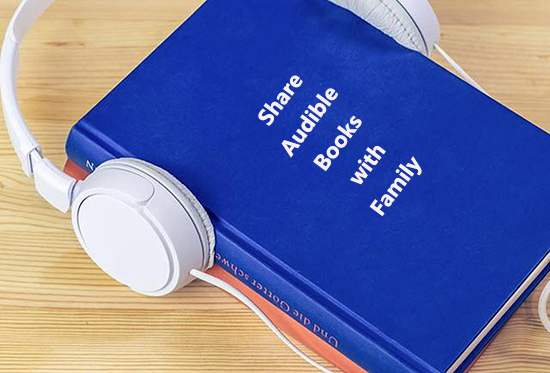 Part 1. Two Official Ways to Share Audiobooks with Friend and Family
Sharing of your audiobooks is part of the fun with this tool as you get to share your Audible purchases with your family, friends, and acquaintances. Audible has the special features that allow you to share the various Audible books that you have acquired. Here are the many way ways on sharing Audible books.
Way 1. Share Audible Audiobook via 'Send this Book' Feature
This feature will let you send and share books on Audible very easily in a clearly outlined way.
Step 1. First, you will need to download this application either for the Android operated operating system or the iOS operating system from their respective download sites. This feature is not present o the web page so you will be compelled to download it.
Step 2. After downloading, let's say it is the android version you will need to launch the app from your mobile phone. If it is the first time to use this application, you will need to sign in or if you do not have an existing account you will have to sign up with a valid email address and other credentials. After getting done with this stage, you will get a complete list of the books purchased.
Step 3. Next, you will tap at the more icon beside the book that you want to share and then select the 'Send this Book' on the pop-up menu that will appear. Then you will choose the contact that you want to send the book to either as a message from your contact list, through your email contacts or also your WhatsApp contacts.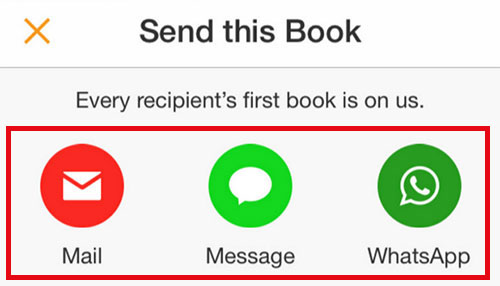 The recipient of the shared book can get a free credit that he or she will choose to use it to freely redeem the book if at all interested in it. This mode is free and also versatile as it will allow you to send books through various sending channels as well as the credit offer to the recipient. The ease of its use is also very commendable.
Way 2. Share Audible Books Using Amazon Household Sharing
In case you have friends or family members that are close to you, there is a high probability that they have the same interests as you in hobbies and other interests. This will also transcend to the reading material that they adore and appreciate. With this factor ticked, it would be prudent to share the acquired Audible audiobooks with family and friends instead of keeping on buying others that can prove to be such a costly affair. With Amazon household sharing you will be in a position to directly share your audiobooks apart from supporting the sharing of video games, music, eBooks, movies and apps.
Step 1. To go through with this, you will need to set up the Amazon Household Sharing by logging in to the manage your household page of Amazon where you will see a clearly outlined set of instructions for setting up the Amazon Household Sharing account.
Step 2. After setting up is complete you will log in using the Amazon account and your password. When logged in, click on 'Add an Adult' to invite an adult to join your household. When the recipient accepts the proposal to join your household you can now create your family library.
Step 3. To manage your content, you can navigate on the family library page to find a lot of content from audiobooks, ebooks, and music among others. Select the ones you want and tap on 'Add to Library' for you to share them with family members.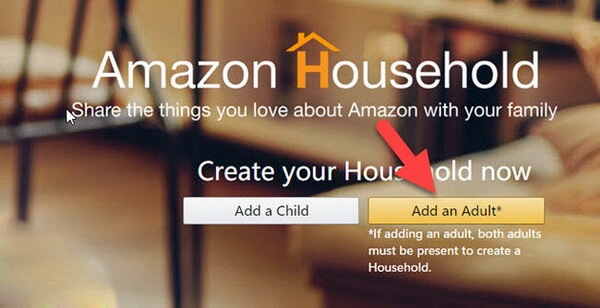 When done, family members and friends on the household will be able to view the shared items on compatible devices, such as Android devices, Kindle app, fire tablet, and Amazon echo among many others.
Part 2. Sharing Audiobooks on Audible via Innovative Way
This is another way on how to share Audible audiobooks with family. The other ways work well but at times they do not meet some preferred standards such as they may cease to function on some devices or totally refuse to open when shared. They also cannot share multiple books with your friends as they are in either AA or AAX formats. This means that they are DRM protected and cannot be accessed or opened without authorization with a valid account and password.
To navigate through this boulder is easy as many companies have seen the potential that is possessed by audiobooks and have come up with DRM stripping software. This software will strip the DRM protection from Audible audiobooks and turn them to common content that can be shared and used with no restrictions whatsoever.
Among the software capable of this task includes the AudFree Audible Audiobook Converter that is available for both Windows and Mac operating systems. All you need is to download this software and launch it. To convert, drag the Audible files and click on 'Convert' button. For the detail tutorial, please visit: How to Remove DRM from Audible Books.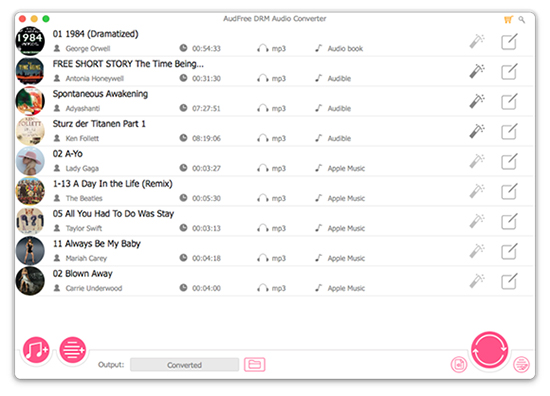 Once converted, you can share your Audible files just like any other media through email, multimedia text, and WhatsApp or even through your Bluetooth in some instances.
These are the various ways through which you can share your audio literature pieces to your friends and family and providing an awesome experience while at it as well as giving you exposure to more material.