Audible is one of the world's largest audiobook publishers, allowing you to listen to millions of popular audiobooks. So, can you share Audible books with others?
Thankfully, Audible supports sending and sharing Audible books with others. After you purchase an audiobook on Audible, you can share it with your family and friends. They can listen to it on Audible without paying for it.
Keep reading to learn how to share books on Audible with family and friends. You'll get 5 ways to do this, the last of which allows you to share audiobooks without restrictions.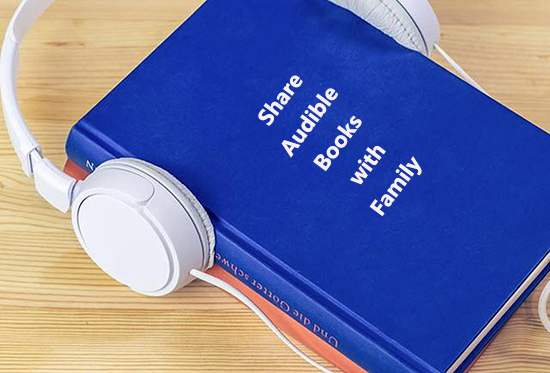 Part 1. How to Share Audible Book via 'Send this Book'
Sharing your audiobooks is part of the fun with this tool as you get to share your Audible purchases with your family, friends, and acquaintances. Audible has special features that allow you to share the various Audible books that you have acquired. The 'Send this book' feature let you to send and share books on Audible very easily in a clearly outlined way.
Note: The person you share with does not need to have an Amazon account.
Step 1. First, download the Audible application on your device. (This feature is not present on the web page.)
Step 2. Sign in with your Audible account. If you do not have an existing account, sign up with a valid email address and other credentials. After getting done with this stage, you will get a complete list of the books purchased.
Step 3. Find the purchased book that you want to share. Then tap on the 'More' icon beside the book. Select the 'Send this Book' on the pop-up menu that will appear.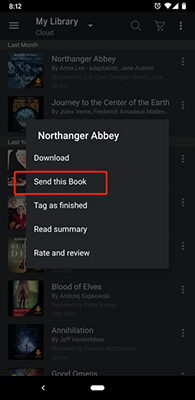 Step 4. You will then select the contact you want to send the book to. It can be sent as a message from your contact list, or through your email contacts or WhatsApp contacts.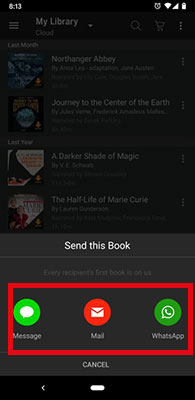 The recipient of a shared book can get a free credit that he can choose to redeem freely if he has any interest in the book. This model is free and versatile. This is because it will allow you to send books through various sending channels as well as provide credit to the recipient. Its ease of use is also very commendable.
Part 2. How to Share Audible Library via Amazon Household Sharing
With Amazon Home Sharing, you can share your audiobooks directly in addition to sharing video games, music, eBooks, movies, and apps sharing. It allows Audible members to share their Audible books with other family members. This method is only suitable for sharing Audible libraries with family members. And, it requires creating an Amazon Family Sharing account to share first.
Follow the steps to learn how to share entire Audible library with family.
Note: With Family Library Sharing, Audible members can share with up to 2 adults and 4 children.
2.1 Set up Household
Step 1. Go to the page of Amazon Household Sharing.
Step 2. Click on 'Manage Your Content and Device' and then log in with your Amazon account and your password.
Step 3. Click on the 'Preferences' tab and choose 'Households and Family Library' > 'Learn more about Households'.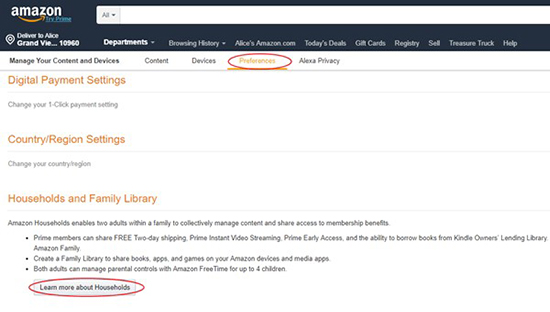 Step 4. Choose 'Add an Adult' to invite an adult to join your household.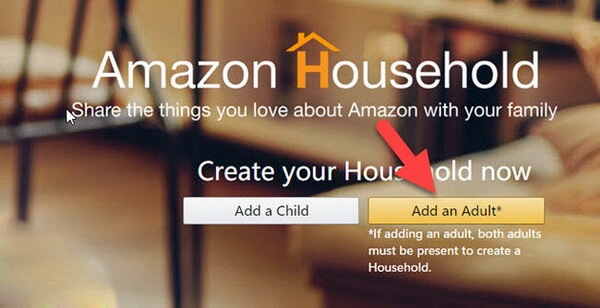 Step 5. You will need to enter the name and email of the person your invite. Then click 'Continue'.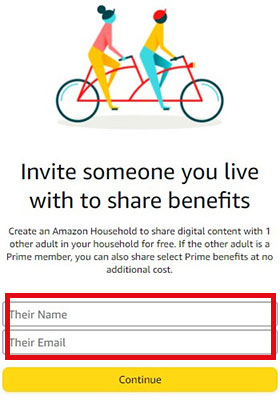 Step 6. Click on 'Sign up together on this device'. Enter the email address of your family member and click 'Verify Account'.
Step 7. Finally, click 'Create Household'.
2.2 Share Audible with Family
Step 1. Back to 'Manage Your Content and Device'.
Step 2. Click on 'Content' > 'Show Family Library' > 'Add to Library' to select the book you'd like to share.

When it's over, all your family members in the household will be able to view the shared items on compatible devices.
Part 3. How to Share an Audible Book via Audible Free Trial
If your family or friends haven't signed up for an Audible account, they can use the Audible free trial to get your shared audiobooks. With Audible' free trial, they can listen to unlimited audiobooks in the Audible Plus Catalog without paying for it. Your family or friend can get Audible's free trial by following the steps below.
Step 1. Open a web browser and navigate to Audible's website.
Step 2. Sign in to your Amazon account.
Step 3. Click 'Start my trial' and then enter your payment information. (It doesn't require you to pay for it.)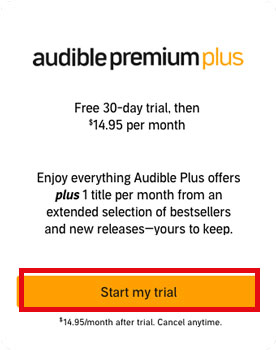 Step 4. Now you can find the free audiobook you want to listen to.
Part 4. How to Share Books on Audible via 'Give as a Gift'
You can also purchase a gift audiobook with your Audible credit or a credit card. Then share the purchased Audible audiobook. Follow the steps below on how to share a book on Audible via 'give as a gift'.
Step 1. Navigate to audible.com.
Step 2. Click on 'Browse' > 'Audiobooks' to find the book you want to share.
Step 3. Tap on the title of the book and choose 'Give as a gift'.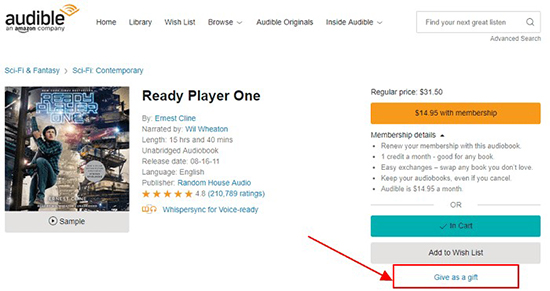 Step 4. Enter the 'Name' and 'Email' of the person you want to share. Then click 'Continue'.
Step 5. Then you can choose 'Email' or 'Print' to send your gift.
Part 5. How to Share Audible with Family via MP3 Files
Now we will show you how to share books on Audible with others at no extra cost. The best method is to download and convert Audible audiobooks to MP3 files. Then you can share these MP3 files with others without restrictions.
Among the software capable of this task includes the AudFree Audible Audiobook Converter. It is available for both Windows and Mac operating systems. With it, you can easily share Audible books with family or friends simply by sending the downloaded MP3 files.
AudFree Audible Converter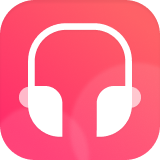 Convert Audible AAX to MP3 for sharing Audible books
Download audiobooks from Audible to computer as local files
Super-fast download and conversion speed of up to 30X
Keep original audio quality and all the ID3 tags
Step 1

Add Audible books to AudFree Auditior

Open this AudFree Audible Converter and import the Audible books that you want to share. You can drag and drop them to this downloader directly. Alternatively, you can click on the first "Add" icon at the bottom left.
Step 2

Set Audible output format as MP3

Click on the "Format" icon to open the output setting window. You can choose the MP3 output format as it's compatible with most devices and music players. You can also change other audio parameters including the codec, channel, and so on.
Step 3

Convert Audible books to MP3

Click on the "Convert" button to start converting Audible books to MP3. When it's over, you can click on the 'Converted' tab to find the MP3 audiobook files. Then you can share these converted Audible audiobooks with any other by sending them with audio files.
FAQs about Sharing Audible Books
Q1: Can I Share a Book from My Audible Library?
A: Yes. You can follow the 5 given ways above to share Audible books.
Q2: Can 2 Users Share an Audible Account?
A: Yes. Two users can use the same Audible account. There is no limit to the number of the devices that can log in to the same Audible account.
Q3: Can I Share Audible Credits?
A: No. You cannot share your membership credits with others. But you can gift a title with one of your credits.
Q4: Why Can't I Share a Book on Audible?
A: If you use Amazon Family Sharing to share audiobooks, check to see if the number of people you can share with has peaked. You can share with a maximum of 2 adults and 4 children.
Audible allows you to share books with your family members. But there are some limits. You can only share the purchased audiobook with others. So, the best way to share Audible books is by using AudFree Audible Converter. It allows you to download audiobooks from Audible to MP3 files and share them with a more convenient way. You can also store and save them on your computer for listening to forever.