Audible is one of the world's largest audiobook publishers, allowing you to listen to millions of popular audiobooks. So, can you share Audible books with others?
Thankfully, Audible supports sending and sharing Audible books with others. After you purchase an audiobook on Audible, you can share it with your family and friends. They can listen to it on Audible without paying for it.
Keep reading to learn how to share books on Audible with family and friends. You'll get 5 ways to do this, the last of which allows you to share audiobooks without restrictions.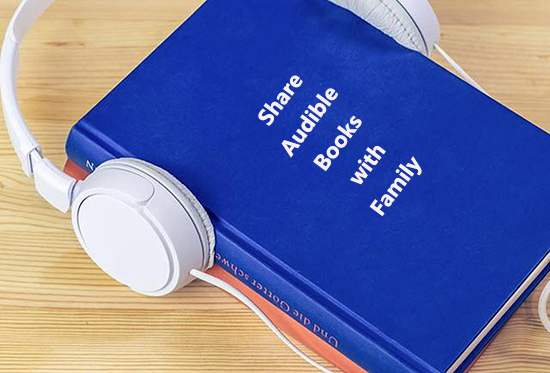 Way 1. How to Share an Audible Book via 'Send this Book'
Sharing your audiobooks is part of the fun with this tool as you get to share your Audible purchases with your family, friends, and acquaintances. If you are an Audible subscriber, Audible entitles you to a special feature 'Send this book' to share the purchased Audible books with your friends or family for free, even if they don't own Audible accounts.
Most importantly, they can get a free Audible credit to redeem or pruchase one title for free. Once purchased, you are able to download the Audible book free to keep it forever without membership.
✨[Update 2023] The 'Send this Book' feature has been killed off since April 2021.
Step 1. First, download the Audible application on your device. (This feature is not present on the web page.)
Step 2. Sign in with your Audible account. If you do not have an existing account, sign up with a valid email address and other credentials. Then get a 30-day Audible Plus or Premium Plus free trial.
Step 3. Go to Your Library from the bottom navigation bar and find the purchased titles you want to share.
Step 4. Tap on the 'three dots' icon to the right of the book. Select the 'Send this Book' on the pop-up menu.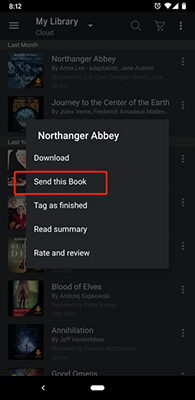 Step 5. You will then select the contact you want to send the book to. It can be sent as a message from your contact list, or through your email contacts or WhatsApp contacts.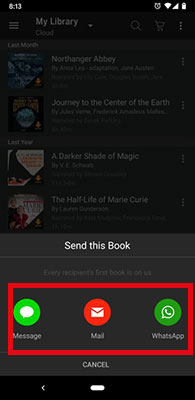 Way 2. How to Share Audible Books with Amazon Household Family Sharing
The Amazon Household Family Library Sharing feature empowers Amazon Prime to share video games, music, eBooks, movies, and apps. It also empowers Audible members to share their purchased Audible books with other family members. However, it requires you to have an Amazon account to share first. The process is a little complicated but the good news is I'm here to show you how to do that.
🗒️🗒️ Note:
1) With Family Library Sharing, Audible members can share with up to 2 adults, and 4 children (Don't require to have an Amazon account).
2) Credits from Audible Premium Plus and titles from Audible Plus Catalog cannot be shared with Amazon Household.
2.1 Set up Household
Step 1. Go to the website of Amazon Household Sharing directly and log in with your Amazon account credentials.
Step 2. Choose 'Add an Adult' to invite an adult to join your household.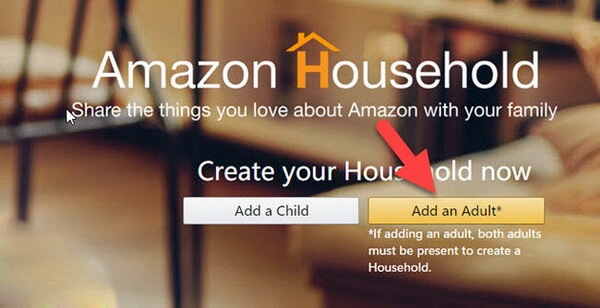 Step 3. You will need to enter the name and email of the person you invite and click 'Continue'.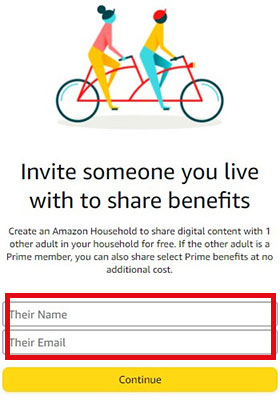 Step 4. Or, choose the below 'Sign up together on this device' option to enter the email address of your family member and click 'Verify second adult's account'.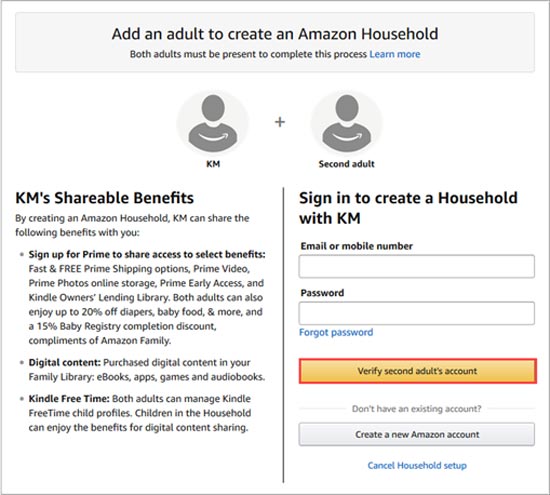 Step 5. Finally, click 'Create Household' and choose 'Audiobooks' from the items list you want to share.
2.2 Share Audible Library with Family
Step 1. Go to amazon.com and tap on your Profile from the upper right corner.
Step 2. Scroll down to the 'Digital content and devices' section and select 'Manage Content and Device' to find the content you purchased or can be shared with other people in your Household.
Step 3. Click on 'Content' and choose 'Audiobooks'. You will see a list of Audible audiobooks you have.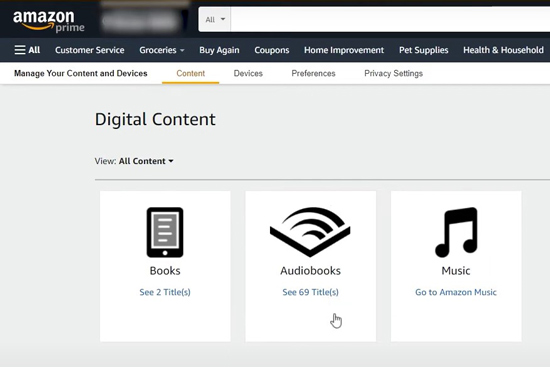 Step 4. 'Show Family Library' > 'Add to Library' to select the book you'd like to share.

When it's over, all your family members in the household will be able to view the shared Audible books on compatible devices.
Way 3. How to Share an Audible Library via Audible Free Trial
If your family or friends haven't signed up for an Audible account, they can use the Audible free trial to get your shared audiobooks. With Audible 30-day free trial, they can listen to unlimited audiobooks in the Audible Plus Catalog without paying for it. Your family or friend can get Audible's free trial by following the steps below.
Step 1. Open a web browser and navigate to Audible's website.
Step 2. Sign in to your Amazon account (Since Amazon owns Audible).
Step 3. Click 'Start my trial' and then enter your payment information. (It doesn't require you to pay for it.)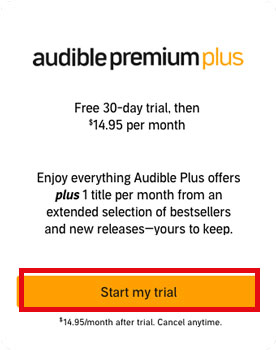 Step 4. Now you can find the free audiobook you want to listen to.
See Also: Audible Plus vs Audible Premium Plus: Which to Choose
Way 4. How to Share Books on Audible via 'Give as a Gift'
You can also purchase a gift audiobook with your Audible credit or a credit card. Then give the purchased Audible audiobook to your friends or family. Follow the steps below on how to make it.
Step 1. Navigate to audible.com.
Step 2. Click on 'Browse' > 'Audiobooks' to find one book you want to share.
Step 3. Tap on the title of the book and choose 'Give as a gift'. (Sometimes, click 'More options' to find the hidden 'Give as a gift' option.)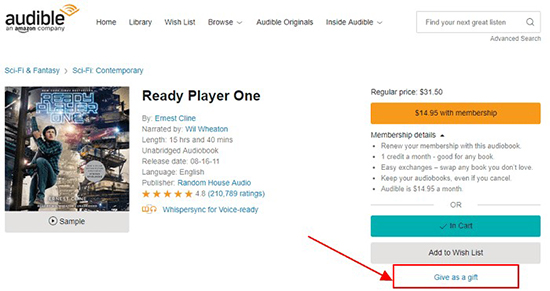 Step 4. Enter the 'Name' and 'Email' of the person you prefer to share. Then click 'Continue'.
Step 5. Then you can choose 'Email' or 'Print' to send your gift.
Way 5. How Can You Share Audible Books via MP3 Files
Now we will take you through the best solution of sharing books on Audible with others at no extra cost. That is to download and convert Audible audiobooks to unprotected MP3 files. Then you can share these MP3 files with others without restrictions.
Among the software competent for this task is the AudFree Audible Audiobook Converter, which is compatible with both Windows and Mac. This tool works to convert Audible encrypted AA/AAX files to unprotected MP3, AAC, WAV, M4A, and the like with original metadata info. With it, you can easily share Audible books with family or friends simply by sending the downloaded MP3 files.
AudFree Audible Converter
How to Convert Audible Books to MP3 for Sharing
Tap on the above buttons to install this reliable and safe-to-use software on your computer. Please download the copyright-protected audiobooks from Audible with your existing Audible account beforehand. Then look at the following step-by-step instructions to convert those Audible audiobooks to MP3 or other formats.
Step 1

Load Downloaded Audible books to AudFree Auditior

First, please transfer the downloaded Audible books to iTunes. Next, open this AudFree Audible Converter and import the Audible books that you want to share. You can drag and drop them to this downloader directly. Alternatively, you can click on the first Add icon named 'Load iTunes Library' at the bottom left.
Step 2

Set Audible output format as MP3

Click on the first lower-right Audio icon to open the Format Setting window. You can choose the MP3 output format as it's compatible with most devices and music players. Also, it entitles you to change other audio parameters including the codec, channel, bitrate, and so on. If you tend to split audiobooks into chapters, please touch the 'Edit' icon on the right of each item.
Step 3

Convert Audible books to MP3 for sharing

Hit on the 'Convert' button to kick off the converting process. When it's over, you can click on the 'Converted' tab that shows how many items you converted to find the Audible MP3 audiobook files. Then you can share these converted Audible audiobooks with any other by sending them with audio files even though the Audible subscription is canceled.
FAQs about Sharing Audible Books
Q1: Can I share my Audible account with my wife/child?
A: Yes. Two users can use the same Audible account. There is no limit to the number of devices that can log in to the same Audible account.
Q2: Can I share Audible credits?
A: No. You cannot share your membership credits with others. But you can gift a title with one of your credits.
Q3: Why Can't I Share a Book on Audible?
A: If you use Amazon Family Sharing to share audiobooks, check to see if the number of people you can share with has peaked. You can share with a maximum of 2 adults and 4 children.
Audible allows you to share books with your family members. But there are some limits. You can only share the purchased audiobook with others. So, the best way to share Audible books is by using the AudFree Audible Converter. It allows you to download audiobooks from Audible to MP3 files and share them in a more convenient way. You can also store and save them on your computer for listening to forever.
Q4: Can you share Audible books for free?
A: Currently, there are two free ways to share Audible books with someone else. One is to get a free trial of Audible Plus or Premium Plus. The other is to use the AudFree Audible Book Converter to convert audiobooks as local files to keep them forever, which contributes to sharing the Audible library with any people without charging.
Summary
5 working ways to share Audible books with family members or friends have been presented above. The former several methods require you to subscribe to Audible or purchase titles from Audible. But AudFree Audible Converter helps you save money to convert Audible to MP3 and more formats. It helps you keep audiobooks offline in various formats forever without subscribing to Audible or purchasing from it. With several clicks, and then you can share Audible titles with anyone you want freely.