When it comes to sharing or adding Spotify to Instagram Story with music, does it remind you of how many times you have captured a screenshot of a song playing on the Spotify app and shared it as an Instagram Story? Before, the only way for Instagram users to share Spotify music or playlists was to post a screenshot of the Spotify songs. Thankfully, now, Instagram has partnered up with Spotify to offer users to share Spotify songs to Instagram Story via a sharing link.
As a Spotify user, you might also like to share Spotify songs on Instagram Story or add Spotify songs to Instagram Story as background music to make your stories more attractive. Now, we will show a detailed guide on how to do them.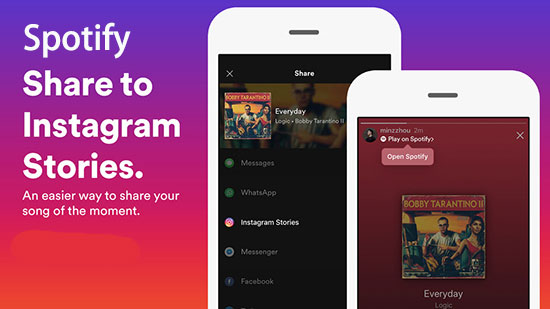 Part 1. How to Share Spotify Songs on Instagram Story
Now, with the integration with Spotify, Instagram lovers can use the new Instagram Stories option on the Spotify app to share any Spotify content, including tracks, playlists, albums, and artists to Instagram Stories. If you have no idea about how to share Spotify music on Instagram Stories using the feature, you can follow the one-by-one steps to get it done.
Step 1. Open the Spotify iOS/Android app, browse, and discover your favorite songs or playlists that you'd like to share on Instagram.
Step 2. Once discovered, please play it and open its fullscreen.
Step 3. Then tap the three dots on the page of the song or playlist.
Step 4. From the pull-up screen, choose 'Share' and then select 'Instagram Stories' under the Share page.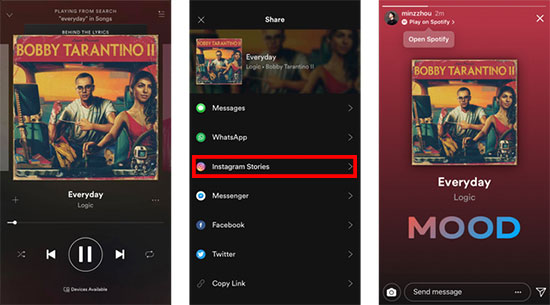 Step 5. It will pop up a prompt 'Spotify wants to open Instagram', you can just click the 'Open' tab.
Step 6. You will be taken to an Instagram Story layout. Before posting this new story, you have the opportunity to rotate/resize/move the album art, change background colors/filters, add text/stickers, etc. as you like.
Step 7. Once done, click on the 'You Story' tab at the bottom of the screen to post the Spotify songs to Instagram Story with picutures.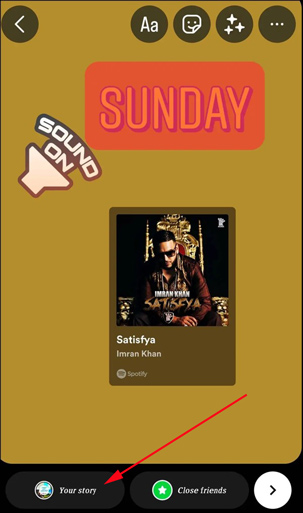 📌Note: Some Spotify songs have lyrics. To post Spotify lyrics on Instagram Story, just go to the song's fullscreen and swipe up to show the lyrics. Then tap on the top-right Share button and choose 'Instagram Stories'.
Now, when your Instagram followers come across your Story which is a shared song from Spotify, they just need to simply touch the 'Play on Spotify' link at the top left corner and start listening to the same music tunes.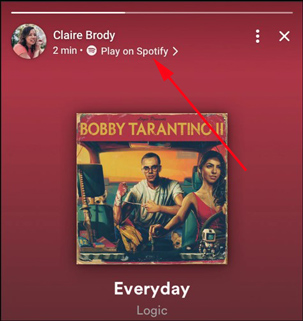 Part 2. How to Add Spotify Song to Instagram Story with Sound [Common Way]
Following the above way, you can easily share Spotify albums or tracks on Instagram Stories. But what if you would like to add Spotify songs with sound as background music to Instagram videos? Please don't worry. Here, we will also offer you a common way to add Spotify music to Instagram videos.
Since Instagram is capable of grabbing and recording the soundtracks playing on your mobile devices from the microphone, users can add Spotify music to Instagram Stories when capturing the story. Let's see how.
Step 1. Launch the Spotify app on your smartphone and find the songs that you'd like to add to Instagram Story. Then, please tap on it to select the segment of the song via the time bar and pause the song.
Step 2. Run the Instagram app and play the Spotify track. At the same time, you can start to record your video by clicking the Camera button on Instagram.
Step 3. Instagram will automatically add playing music from Spotify to your video story. Once recorded, please hit on the 'Your Story' tab with a '+' icon to upload and post your videos with the sound of playing Spotify songs to Instagram Story.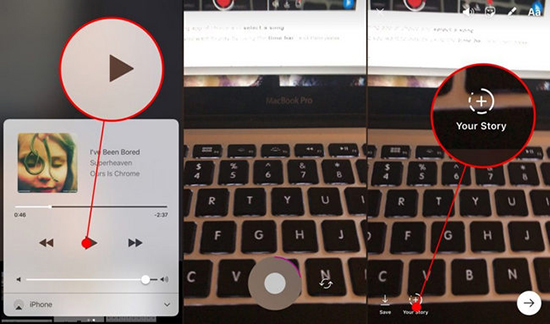 Extra Tips: How to Add Music to Instagram Instagram Directly
Actually, Instagram allows its users to add songs from its built-in music library to Story videos directly. But it doesn't enable you to upload your own music to its library. Here is a how-to guide to add its music to your Stories with the Sticker feature. Please update the Instagram app to the latest version in advance.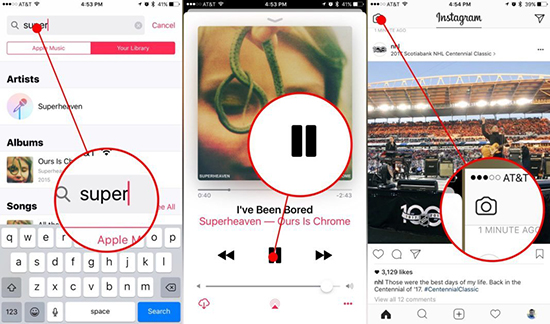 Step 1. Navigate to Instagram Stories by clicking the Camera icon.
Step 2. When you have taken a phone or video, please touch the 'Stickers' icon at the top of the screen and you will see there is a new music option.
Step 3. Simply tap this 'Music' icon. Then you can choose your favorite songs from the Instagram music library or you can search the name of the special song in the search box to add music.
Step 4. In this step, you can choose the exact segment of this song via the fast-forward and rewind button. Once done, you can start to post it to Instagram Stories as normal.
Note: The Sticker feature is not available for all countries but in 'select countries'. Before you use this amazing feature, please make sure you are in one of the following countries: Australia, France, New Zealand, Sweden, Germany, the UK, and the US.
Part 3. How to Put a Song from Spotify on Instagram Story [Best Way]
The downside of the common method to share Spotify music on Instagram stories with sound is the lower audio quality. The recording video may also capture the noise at that time. The best way to add a Spotify song to your Instagram Story is to download the track as a local file and add it to Instagram.
All you need is a professional tool AudFree Spotify Music Converter that can download and convert all Spotify tunes or playlists to local files in unprotected MP3, AAC, M4A, or WAV format that is supported by Instagram. Its innovative decryption technology ensures lossless audio quality and original ID3 tags after converting. Beyond that, it enables you to customize the output format, bit rate, sample rate, and other output parameters. Afterward, you can upload the downloaded Spotify audio files to Instagram and add them to your Story video via the Sticker.
AudFree Spotify Music Converter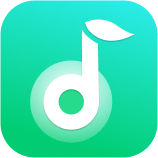 Download all Spotify content as local files for offline playback forever
Convert Spotify OGG Vorbis to MP3, AAC, and more Instagram-enabled formats
Keep original Spotify audio quality and ID3 tags
Support batch download at 5X faster speed
How to Download Spotify Songs for Instagram
Please install the AudFree Spotify Music Converter on a PC or Mac. Then follow the user guide below to see how to download Spotify to MP3 or other Instagram-compatible audio files.
Step 1

Import Spotify Music to AudFree SpoDable

Boot up the AudFree Spotify Music Converter and then the Spotify app will automatically launch. Drag and drop Spotify songs or playlists to AudFree software's screen from Spotify. Alternatively, copy the Spotify share link from Spotify, paste it into the search box of the converter, and then click the '+' button.
Step 2

Customize Spotify Audio Output Settings for Instagram

On Mac, tap on 'AudFree Spotify Music Converter' from the top Apple menu bar and select 'Preferences' (On PC, just click on the Menu tab like three horizontal lines at the top right of the AudFree software's screen and choose 'Preferences' from the dropdown list). From the pop-up window, switch to 'Convert' where you can select a compatible output format such as MP3, AAC, WAV, or M4A for Instagram. Or personalize other parameters including the bit rate, sample rate, audio channels, etc.
Step 3

Download Spotify Songs for Instagram

H

it the

'Convert'

button at the bottom.

Then the added Spotify songs will be exported to local files at 5X and saved to the local drive on your computer. Click the bottom File icon to locate them. Later, you can film videos on Instagram with those songs.
How to Add Spotify Music to Instagram Story via Inshot
Instagram doesn't support your own music to its built-in music library. But you can film videos with the downloaded Spotify songs on a professional video editor such as InShot. Once finished, you can share the video with Spotify music to your Instagram Story. Please sync the Spotify music to Android or iPhone via a USB cable ahead. Then look into the tutorial to add Spotify music to Inshot: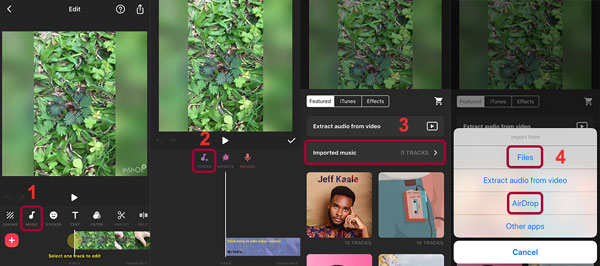 Step 1. Fire up the InShot Video Editor to create a new video or select a video from your phone. Once done, click the 'Edit' button from the toolbar.
Step 2. Under the video clip, tap on 'Music' > 'Track' > 'Featured' > 'Imported music'.
Step 3. Then pick 'Files' from the pull-up menu and select the converted Spotify songs from your phone's local folder.
Step 4. Finally, click on 'Save' and then upload the video with Spotify tracks as a story to Instagram.
Part 4. FAQs about Spotify Instagram
Q1: How to Add Spotify Music to Instagram Story with Picture?
A: On your Spotify mobile app, just click on the three dots icon on the right and choose 'Share'. Then select 'Instagram Stories' > 'Your Story' from the pull-up menu. Then the selected Spotify song will be linked and shared with a cover art picture to Instagram.
Q2: How to Tag a Spotify Song on Instagram Story?
A: Just follow the answer in Q1 above. Once you added successfully, it means you have tagged a Spotify song on Instagram Story with a link or sticker. Your followers can click on the link or sticker to listen to the tagged song directly on Instagram or be redirected to the Spotify app to play the song.
Q3: How to Change Background When Sharing Spotify Instagram Story?
A: After you select 'Instagram Stories' on the Spotify app, you will be directed to the Instagram app. On the current screen, just swipe left or right, and then you can change the background colors or filters of shared Spotify songs.
Q4: Why Does Spotify Pause When I Open Instagram?
A: It is likely to relate to the corrupted or damaged caches on the Spotify app. To solve it, you can try clearing the Spotify cache or reinstalling the app. Before that, suppose you don't lose your downloaded songs, you can use AudFree Spotify Music Converter to convert them to your local drive on computers.
Q5: Spotify Can't Share to Instagram Story. How to Fix It?
A: The problem may result from a bug in the Instagram or Spotify app. Just update them to the latest version. Also, go to the Play Store to find Instagram and join the beta version of Instagram.
Part 5. In Conclusion
Those are all about how to share and add Spotify songs to Instagram Stories on Android or iOS. In general, Spotify only allows you to share the URL link of a track to Instagram. In comparison, AudFree Spotify Music Converter ensures you to download songs or playlists from Spotify and add those downloaded audio files to the video of your Instagram Story without restrictions.