When it comes to sharing or adding Spotify to Instagram Story with music, do you still remember how many times you have captured a screenshot of a song playing on Spotify app and shared them as an Instagram Story? As of May 1, posting a screenshot of the Spotify songs is the only way for Instagram users to share Spotify music or playlists.
As a result, you can't image that Instagram users could be how excited when being noticed that Instagram has partnered up with Spotify to offer users to share Spotify songs to Instagram Story via direct sharing button. As a Spotify subscriber, you might also like to share pleasure Spotify music on Instagram Stories or add Spotify tracks as background music to your Story to make your stories more attractable. Now, we will show the detailed guide on how to do them.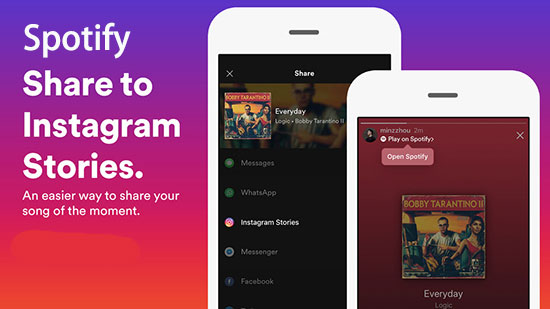 Part 1: How to Share Spotify Songs on Instagram Stories
Instagram is a well-known photo and video sharing social networking service in the digital world. Instagram Stories is one of the most amazing and wonderful features of Instagram, which allows users to take photos with face filters and specific visual features, broadcast themselves live and add their images and live broadcast to story with ease.
Now, with the integration with Spotify, Instagram lovers can use the new Instagram Stories option on Spotify app to share any Spotify content, including tracks, playlists, albums and artists to Instagram Stories from May 1, 2018. If you have no idea about how to share Spotify music on Instagram Stories using the newest feature, you can follow the one-by-one steps to get it done as below.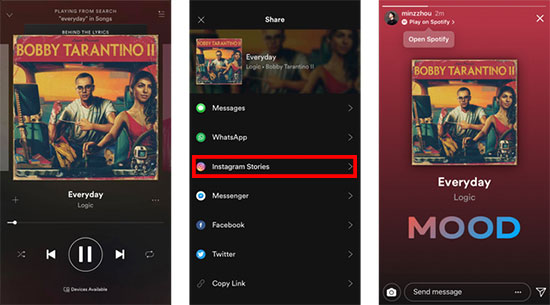 Step 1. Open Spotify app on your iOS/Android device, as well as browse and discover your favorite songs or playlists that you'd like to share on Instagram.
Step 2. When found out the target music, please tap the three dots on the top-right corner of the page of the song or playlist.
Step 3. Swipe upward at the bottom of the screen to get the 'Share' button and simply hit on it to open a new small window, in which you can select 'Instagram Stories' as the destination source.
Step 4. It will pop up a prompt 'Spotify wants to open Instagram', you can just click the 'Open' tab to add the song or playlist to a new Instagram Stories post. Before posting this new story, you have ability to rotate, resize and move the album art as you like.
Troubleshooting
Now, when your Instagram followers come across your Story that is a shared song from Spotify, they just need to simply touch the 'Play on Spotify' link and start listening to the same music tunes.
If when you share Instagram Stories without working, please make sure both Spotify and Instagram apps are on your mobile devices and you have updated two apps to the latest version well. And then, there is no problem is sharing Spotify on Instagram Story on iOS or Android devices.
Part 2: How to Add Music from Spotify to Instagram Stories
Following the above way, you can easily share Spotify album or tracks on Instagram Stories. But what if you would like to add Spotify songs as background music to Instagram video? Please don't worry. Here, we will also share you two effective ways on how to add Spotify music to Instagram video.
Way 1. Through Instagram App
Since Instagram is capable of grabbing soundtracks playing on your mobile devices from the microphone, users can add Spotify music to Instagram Stories when capturing the story. Let's see how.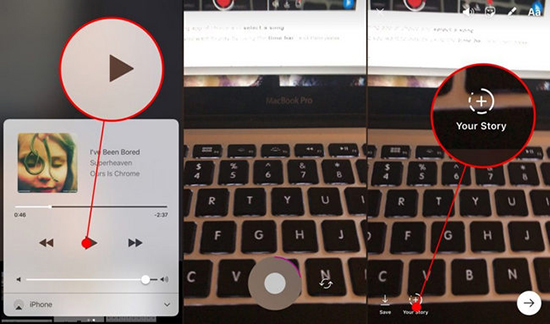 Step 1.Launch Spotify app on your smartphone and find the songs that you'd like to add to Instagram Story. And then, please tap on it to select the segment of the song via time bar and pause the song.
Step 2. Run Instagram app and login your account details. Now you need to click the 'Play' button on Spotify app to play Spotify track and simultaneously you can start to record your video by clicking the Camera button on Instagram.
Step 3. Instagram will automatically add playing music from Spotify to your video story. Once recorded, please hit on the '+' button to upload your videos including Spotify songs to next Instagram Story.
Way 2. Through Third-party Tool
It's an undeniable fact that using Instagram is the easiest way to add Spotify as background music. But it is only available for shooting instant video and it could come with some unexpected noise. So, choosing a professional third-party software, such as InShot Video Editor that is designed to import audio files to any recorded video on your phone seems a better choice.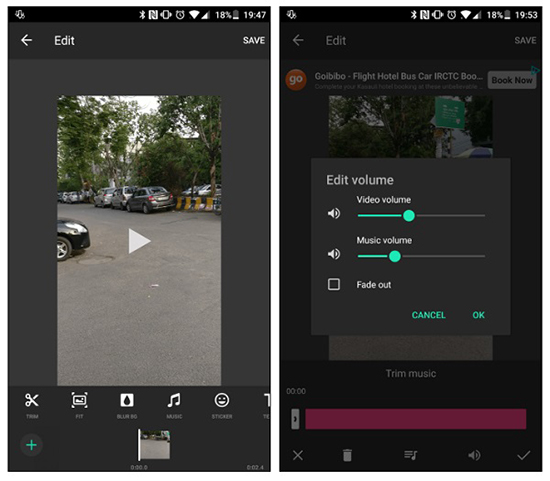 Step 1. Open InShot software and discover the target recorded video through this app. Now, you can cut or trim the video by clicking the 'edit' button as you like.
Step 2. Tap on the Music icon at the toolbar and you can choose favorite songs within this app or on your internal storage of your phone.
No matter you are a free or premium user on Spotify, you couldn't download Spotify files to local storage but get the cache files. To make Spotify music available on your phone, you need to use another tool, called AudFree Music Converter for Spotify to download and convert Spotify tracks to MP3 on your computer. And then you can transfer them to your phone via USB cable from computer. For more detailed information, please visit: How to Download Spotify Music with a Free Account.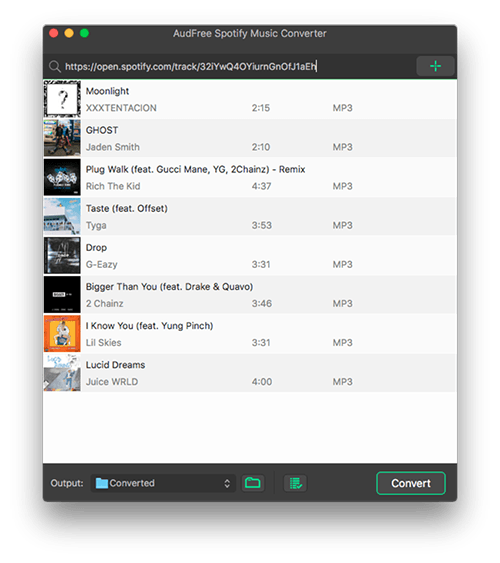 Step 3. Once uploaded successfully, you can set the appropriate levels of music volume and mute the original video volume. Now, please click on Save and it's time to upload the video with Spotify tracks as a story to Instagram.
More Tips: How to Add Music to Instagram Stories
Apart from the good news that Instagram users can share Spotify music on Instagram Stories directly, the other more good news from Instagram is that you can also directly add music to Instagram Stories with the new music sticker.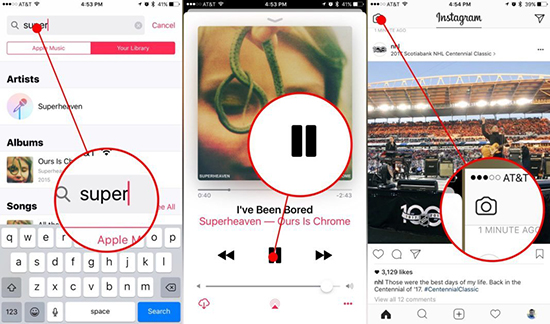 Step 1. Please update Instagram app to the latest version and then navigate to Instagram Stories by clicking the camera icon.
Step 2. When you have taken a phone or video, please touch the 'Stickers' button at the top of main screen and you will see there is a new music option.
Step 3. Simply tap this Music icon and you can choose favorite songs from Instagram music library or you can type the name of the special song in the search box to add music.
Step 4. In this step, you can choose the exact segment of this song via fast-forward and rewind button. Once done, you can start to post it to Instagram Stories as normal.
It's important to note that this new music sticker feature is not available for all countries but in 'select countries'. Before you use this amazing feature, please make sure you are one of the following countries, including Australia, France, New Zealand, Sweden, Germany, the UK and the US.