Given the magnitude of its tracks, Spotify is proving wider than imaginable. Digging in to discover new tracks takes time as some users report. While others have the time but say that they don't know how to peruse through millions of tracks to get to a specific one of choice.
So, for the quest for new and fresh hits, many are looking for decisive ways on how to find new music on Spotify. This act prompted us to bring forth 4 solutions to lead you to the path of new discovery.
View also: How to Fix Spotify Search Not Working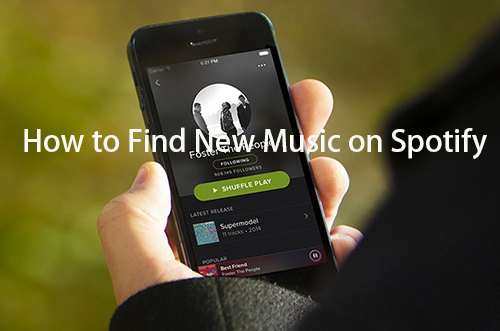 Method 1: How to Use Spotify Browse to Find New Music
Browsing is as simple as that. From the home screen, check out for a little tab labelled "Browse". Open up this area and explore its compartments as you look forward to discovering that new track.
Genres & Moods – Here, you have a plethora of categories to choose from. Pick on EDM, Country, Pop, Salsa or any other collection and then select the playlist or song that you need to discover.
Charts – The charts go up to 50 in number. So, feel free to chose from among the top 50 and viral 50 pieces.
Discover - This page is bombarded with only what you love to hear. It uses a selection mechanism that carefully directs to your listening habits.
New Release – This part will update and give you a full suggestion of a library. Again, it's carefully organized by artists, albums and tracks so that you find it easy on whom or which track to directly hit.
Method 2: How to Use Discovery Weekly to Find New Music on Spotify
Discover Weekly gives you the chance to find new music based on your current playlists. It's more of getting recommendations in regard to your version. Discover Weekly will pinpoint your taste and remind you that 'this could be it'.
Here's How It Works
Go to your library and check under playlists. Look for Discover Weekly and source for available songs. As the norm, it adds 30 new songs that you may love. It does this every week, refreshing and making sure you get the top-most hits every Monday.
By default, Discover Weekly is set to private. But what happens when you want your friends to share in the juicy music? Just set it to public and keep the party going.
Method 3: How to Discover New Music on Radio Stations
This best way to discover new music on Spotify gives you the choice of letting others choose songs for you. Once you choose a song or an artist's name, Spotify plays similar songs that match your taste.
Here's How It Works
Save a playlist or a song to your radio library. Then personalize the songs you love by liking them. And to those that don't bring your blood to the boiling point, simply dislike.
Next, head to the top of your device's screen and chose the 'Radio' option. Click on 'Create New station'. Then key in the name of your favorite artist or song. Going by this history, Spotify will populate a list and create a station depending on what you fed it with. The last step is to hit the 'Follow' tag to ensure your collection has been saved in your library.
Method 4: How to Use Social Networking to Find New Spotify Music
Social media is slowly proving to be the most reliable mode of file sharing. Spotify is not left behind when it comes to such activities. It gives users an avenue to integrate accounts with other friends on social media platforms like Facebook and Twitter. That's how they access friends and followers' music collections.
Here's How It Works
By browsing your friend's playlists – First, you need to link up with your friends on Spotify. This gives you the opportunity to view their playlists. So, whenever you see a playlist you like, just hit the "Follow" button to subscribe to that specific playlist or track.
Check on related artists – Once you have identified your favorite artists, make sure you follow them by clicking the "Follow" button. Following them equates to seeing their current and new songs alike.
Download Spotify New Music as MP3
You may perfectly know how to find new music on Spotify but then realize that you can't play them offline. Do you know the hit behind this? If no, know that Spotify's songs are not available for free users to play offline. Besides, even downloaded, they are encoded in Ogg Vorbis format, you may not be able to play any downloaded track on some devices. That's why AudFree Spotify Music Converter is armed with all the keys to unravelling the misery
How to Download Spotify New Music as MP3 for Offline Playback
Step 1

Install and Launch AudFree Spotify Music Converter

Download and install AudFree Spotify Music Converter to your device. Once installed, launch the program and start the journey to new music discovery.
Step 2

Add Spotify new songs

Go to your Spotify account and browse for the new songs that you want to download. Drag the songs to the AudFree main window. The other option is to copy the URL link and paste it to the App's search box.
Step 3

Adjust the settings for new music

You need to set the perimeters and the output settings of your tracks. Go to the 'Preferences' option from the menu bar and set the format to MP3. Other usable formats include AAC, M4B, FLAC, among others. Also, set the audio channel, sample rate, and bitrate you want to be included for the tracks.
Step 4

Convert Spotify New Music

This is the final step to your freedom of listening. Click on the 'Convert' button and let AudFree Spotify Music Converter download and convert your new songs to the format earlier selected. Once done, all your downloadable files will be saved in the 'history' folder. Open it up, check for your songs and save them to a drive of choice. Remember, you can now play all the Spotify new songs offline, from any of your devices.