Tidal is one of the well-known music streaming services. It's regarded as one of the best, with an extensive music catalog focusing on high-fi and hi-res sound quality. It also offers millions of songs suitable for any celebration.
Tidal's HiFi playlist is just a click away, whether you want hits for that jogging session, ambiance, atmospheric, chilling music, or an open-air party experience. Though, with the growing number of Hi-Res songs on Tidal, you'll need a quick guide to the best Tidal HiFi songs to choose from. We've compiled a list of the top 20 best Hi-Fi songs on Tidal in 2021 for quick access.
There's more to come! You can also download Tidal HiFi songs to your computer and listen to them offline. This article also explains how to use the best tool to make it possible. But first, let's take a look at the best Tidal HiFi songs.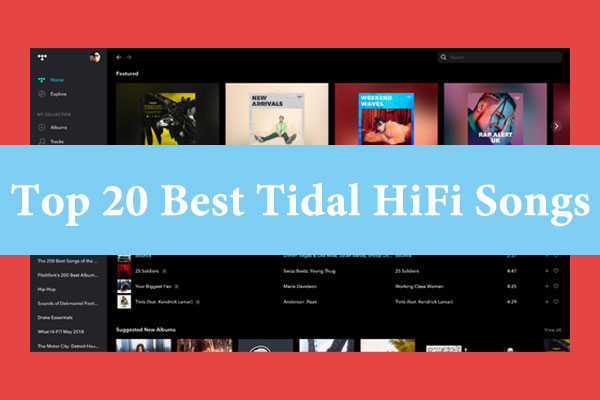 Part 1. Best HiFi Songs on Tidal - Top 20 Full List
Finding the best Tidal HiFi music is a difficult task. This list is extremely useful!
1. Family Ties - Baby Keem, Kendrick Lamar
Baby Keem and Lamar's message is that family binds everything together. With such a large age gap, these cousins complement each other perfectly. Theirs is a message from two generations who are capable of finding points of consensus.
2. Find A Way - H.E.R, Lil Baby
This song will almost certainly be included in any Tidal HiFi playlist. H.E.R underlines the value of staying on track and being deeply committed to your aspirations.
3. The Montreux Years - Nina Simone
Nina's collection of recordings from five legendary Montreux Jazz Festival concerts are featured in this song. The audio quality is excellent, and you will be captivated for a long time.
4. Orphee - Johann Johannsson
This Tidal HiFi playlist is based on a collection of 2009 musical ideas. Johann starts by separating the instruments and phrases, which allows the listener to relate to the passage quickly. Listen to this song to get a happy and energizing feeling.
5. Entertainment - Gang of Four
This album is a real crowd-pleaser. Hear a diverse range of influences and sounds, including a funk vibe, a rock stylistic, and a punk genre. It is worthwhile to give it a shot!
6. Fool's Errand - Fleet Foxes
Fleet Foxes creates a depressing atmosphere that is counterbalanced by an upbeat melody. It's a recognition that no suffering lasts for ages and that it will disappear eventually.
7. Cello Song - Nick Drake
This song has a powerful message, and the background instrumental complements it. In Cello Song, Nick conveys a personal message. He's anticipating the unexpected and hoping that someone will be able to assist him. His world appears to be different from the one he knew as a child, and even perhaps things will get better at the opportune moment.
8. Speaking Gently - Badbadnotgood
Badbadnotgood takes us back to the beginnings of hip-hop while still maintaining a contemporary sound. Despite the heavy percussion in this track, you can hear dynamic flute patterns in the background for a well-balanced piece.
9. You've Got To Have Freedom - Pharoah Sanders
This song is incredibly beautiful and refreshing. Along the way, you'll meditate to uncover hidden ideas. You wouldn't be able to tell when the last beat occurs. It's so much fun!
10. Lose Your Love - Joe Goddard
Joe's message is simple: don't lose ground. From beginning to end, this best Tidal HiFi song will motivate and entertain you.
11. Losing Sleep - Dylan Fraser
This is Dylan's newest single, which is about lingering emotions. Percussive guitar and melody tones are mixed with scattered drums to create a unique sound.
12. Don't Start Now - Dua Lipa
This song is about Dua's transitioning from one phase of her life to the next. It's a motivational song that says, not even your ex. can keep you from achieving your goals.
13. Rain On Me - Lady Gaga, Ariana Grande
This is a story about two people who have had similar heartbreaks. Gaga and Ariana's Tidal HiFi music is an inspiring piece about staying strong through adversity and finding peace amid pain and hardship.
14. RockStar - DaBaby, Roddy Ricch
They are, without a doubt, rockstars. Just a few months after its release in 2020, this single climbed to number 9 on the Billboard Hot 100. With this hot hit, DaBaby and Roddy complement each other and will keep you on your toes.
15. I Can't Breathe - H.E.R
The recent string of police killings of unarmed black citizens inspired this track. H.E.R. performs a solemn acoustic tune in support of police brutality protesters. It's a very reassuring piece.
16. Life Is Good - Future, Drake
This is yet another hit that deserves to be heard. Life does not have to revolve around high-end brands and international acclaim. Future and Drake did a good job of expressing themselves. You'll be shaking along with the lyrics, thanks to the pop beats.
17. Yummy - Justin Bieber
With this captivating R&B hit, Justin keeps you engrossed. The lyrics are straightforward, and you'll be able to take full advantage of the lines.
18. My Soul Remembers - Sophie Zelmani
There's Sophie's soothing piece. It doesn't have to end in tears all of the time. Even after a long time, you can be remembered and adored.
19. Tears Run Dry - Malia, Boris Blank
This track captures the essence of electronic and electronic music. It's tragic, but it's also fascinating.
20. Adore You - Harry Styles
If you prefer pop music, Harry's Adore You is a good choice. It's all about love and a crush, more or less. This song will lift your spirits to that desired romantic mood.
Part 2. How to Download and Save Tidal HiFi Songs to Computer
Keep in mind that when your Tidal Premium subscription expires, you will lose access to your downloaded Tidal playlist. To avoid this, use a third-party tool to access and convert your music for offline listening. AudFree Tidal Music Converter can download and convert streaming Tidal HiFi songs, playlists, and albums to lossless, MP3, FLAC, WAV, AAC, M4A, and M4B at 5X faster speed so that you can listen to music offline on any device and music player.
How to Download HiFi Songs on Tidal
Step 1

Download, install, and register AudFree Tidable

To download and install the free trial version of AudFree Tidable on your Windows or Mac computers, simply click the 'Download' button. Then, from your computer's desktop, launch this excellent software. It is crafted with a built-in Web Player. As a result, you can immediately access your account after launching it by selecting the "Log In" option.
After that, simply select 'Register' from the menu bar in the top-right corner and enter your registration name and code to activate it. The trial version can only convert a third of each song's content. It is recommended that you upgrade to full mode to remove the conversion time restriction.
Step 2

Customize output audio format for Tidal HiFi songs

Please return to the top menu bar and select the 'Preferences' option. This will open the settings window, where you can select Lossless, MP3, FLAC, WAV, AAC, M4A, or M4B as the output format, as well as customize other audio parameters such as bit rate, sample rate, audio codec, channel, and so on. You can also export songs by albums or artists by clicking the 'Archive output tracks by' button.
Step 3

Add Tidal HiFi playlists to AudFree Tidable

When you've finished setting up your output profiles, click 'OK' to return to the main screen. It's now up to you to search for or locate your favorite playlists or albums. Please open it once you've discovered it, and you'll see a blue '+' icon on the bottom right. To add a playlist or album to AudFree Tidable, click on it. You have the option to convert any song from the playlist or album from the conversion list.
Step 4

Download and convert Tidal songs to computer

You can now start the downloading process by pressing the 'Convert' button. AudFree Tidable will download music from Tidal and convert them to unprotected audio files such as MP3, FLAC, and WAV, keeping all ID3 tags and the original quality. You can return to the AudFree main interface at any time during the conversion process to add more playlists or albums for conversion.
Part 3. In Conclusion
How many songs does Tidal HiFi have? There are plenty, but you've just discovered some new music. Similarly, there is no need to be glued to your computer listening to your favorite songs. AudFree Tidal Music Converter can be used to download and save your downloaded HiFi tracks to your computer. After that, you are able to play Tidal songs and playlists on all HiFi-compatible devices offline.