As one of the giants in the music streaming industry, Tidal offers a music catalog of over 80 million tracks, HD music videos and curated editorial playlists that are popular among music lovers. You might wonder, what makes Tidal stand out from the rest of the music streaming platforms?
Well, it would have to be the audio quality, and Tidal makes no compromises in that regard. Tidal is the first music streaming service to present the world's best sound quality with its two unique music, namely Tidal HiFi and Master. But what's the difference between Tidal HiFi vs Master? This article focuses on comparing Tidal HiFi and Master from different aspects to help you make a wise choice.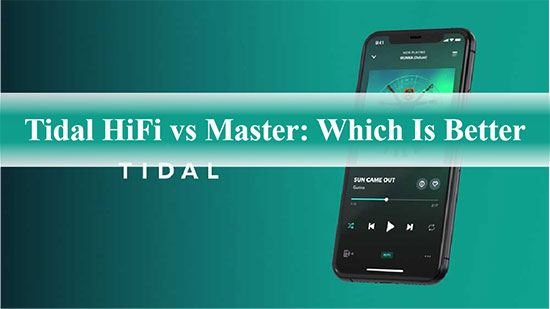 Part 1. What's Tidal HiFi and Master
Unlike Spotify, Tidal offers free listening plans as well as two paying tiers, Tidal HiFi and HiFi Plus, while Master is included in HiFi Plus. Now, let's take an overview on Tidal HiFi and Master respectively.
Tidal HiFi
Tidal HiFi is the entry-level HiFi subscription that allows you to listen to music in lossless hi-fi audio. Tidal HiFi delivers lossless and hi-fi sound with superior quality at 1411kbps or 16 bit/44.1 kHz resolution. With Tidal HiFi, you have the ability to stream over 80 million lossless and compressed tracks and hear music in its purest form.
Tidal Master
Tidal has partnered with MQA (Master Quality Authenticated) to deliver master-quality audio (typically 96 kHz/24 bits) at the highest possible resolution. With your Tidal HiFi Plus membership, you can listen to and access Master quality tracks on your desktop app, iOS or Android device.
Currently, Tidal has millions of tracks that are available in Tidal Master quality, from major labels, Tidal artist owners, and key independent labels. Also many users tend to download Tidal MQA music to enhance their listening experience.
Part 2. Tidal HiFi vs Master - Price
In fact, if you want to enjoy Tidal HiFi or Master, you can look for the 30 days trial for users to get Tidal for free. After one-month free trial, you can decide to continue with Tidal HiFi or Master on your needs.
Tidal HiFi goes for $9.99 per month with a discount of 50% off for students. For U.S. military and first responders, they are also eligible for discounts upon confirmation of eligibility. Tidal HiFi Family Plan costs $14.99/month for 6 accounts in total, with which you have the right to play Tidal on multiple devices at the same time.
If you want to listen to Tidal Master, then subscribe to the Tidal HiFi Plus plan, which costs $19.99 a month. Students, U.S. military personnel or first responders can also get a discount after authentication. The Family plan charges for $29.99/month and includes a total of 6 accounts. On Tidal HiFi Plus service, you not only get free access to Tidal Master, but also to thousands of master quality videos.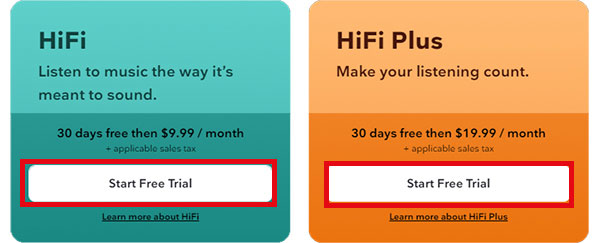 Part 3. Tidal HiFi vs Master - Library
Because the Tidal HiFi and HiFi Plus libraries are virtually identical, once you subscribe to either of these two levels, you have access to Tidal's complete library of over 90 million Tidal HiFi and Master music. When you have no other requirements other than the Tidal library, you'll get a better deal by choosing Tidal HiFi.
Part 4. Tidal HiFi vs Master - Audio Quality
Tidal HiFi provides uncompressed lossless high-fidelity sound quality, streaming at a superior lossless CD quality at 44.1 kHz/16 bits or 1411kbps. Since it is a lossless FLAC file with no data loss, Tidal HiFi is apt for sound enthusiasts or audiophiles.
Master edition comes with infinitely better quality than HiFi sound. The authentic and unbroken audio version with highest-possible resolution offers Tidal Master bitrate at 96 kHz/24 bits and up to 9216 kbps, so users are going to enjoy music as precisely as the artist intended to convey.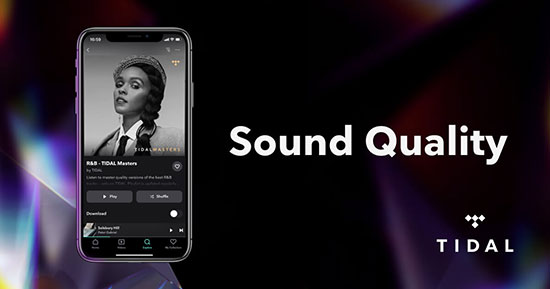 Part 5. Tidal HiFi vs Master - Performance
Inspecting Tidal HiFi vs Master in terms of performance, Tidal HiFi audio consumes an average of 5.5MB of data per minute and Master consumes up to 7.5MB of data per minute (varies depending on the specific sample rate). For a better streaming experience on HiFi and Master, it is recommended a steady Internet connection of 1.5 to 2 Mbps or more.
Generally speaking, high-quality lossless files will be larger. On Tidal HiFi vs Master perception, Master is basically hi-res streaming as compared to Tidal HiFi. And the MQA partnership has brought an absolute ultimate audio experience.
Part 6. Tidal HiFi vs Master - Compatibility
Tidal provides support on a wide range of devices, including audio devices, Smart TVs & Streamers, DJ software, mobiles & tablet, desktop & laptop and more.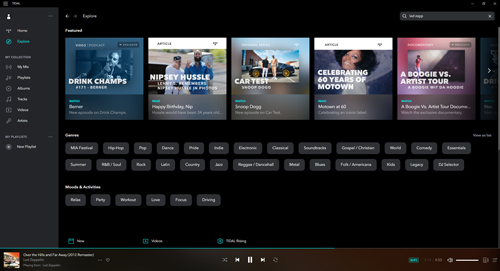 However, not all Tidal-compatible devices accept Tidal HiFi and Master. In iOS devices, only iPhones and iPads with iOS 13 or higher support Tidal HiFi and Master. For Androids, devices with Android version 6 or higher (Blackberry is not included) and Kindle Fire with Android version 4.4.4 or later are compatible with Tidal Master and HiFi.
On Windows, Windows 7 or later with a CPU of 2.33GHz Intel® Pentium® 4 or faster processor and a RAM of 512MB and 1GB offers support to Tidal HiFi and Master. While on Mac, Tidal HiFi and Master are only available on Mac OS X 10.10 or higher with a processor of Intel® Core™ Duo or quicker and a RAM of 512MB or 1GB.
For web browsers on Mac or Windows computer, only the lastest version of Google Chrome, Firefox, Opera, Brave, and Vivaldi get support from Tidal HiFi and Master. Among Smart TVs and Streamers, Master and Tidal HiFi can be available on Roku TV, Apple TV, Fire TV, Android TV and Chromecast.
With regard to home audio devices, Master and Tidal HiFi integrate with Sonos, Roon, Naim, Heos by Denon, BluOS by Bluesound, Google Cast or Chromecast, and audio devices that can be connected to desktop app via USB.
Part 7. Tidal HiFi vs Master: Which One to Choose
The choice between Tidal HiFi or Master really depends on one important factor - how much you value high quality audio.
If you're an audiophile with a passion for lossless and hi-res music, Master will unleash your musical desires because it presents Master audio quality. It is worth mentioning that most devices with standard headphone output support Master quality. In order to enjoy MQA at its fullest potential, you may need an external Digital Analog Converter (DAC). Wisely choose the best DAC for Tidal to listen to your music in the best and most accurate way possible.
But if you just prefer to listen to Tidal Music simply through a regular pair of headphones, Tidal HiFi should be sufficient for your needs. It saves you money while still giving you full access to Tidal's entire library and videos.
Tips: How to Download Tidal Music without HiFi
As mentioned earlier, both Tidal HiFi and HiFi Plus subscribers can download HiFi and Master music from Tidal for offline listening. But notably, you are only granted downloading privileges by Tidal if you subscribe to Tidal. In the meantime, please remark that these downloaded caches are solely playable offline within the Tidal app.
If you'd like to explore Tidal HiFi and Master music on any device without restrictions, you need to harness the power of an awesome tool like, AudFree Tidal Music Downloader, to unlock Tidal's limitation and convert Tidal Music to MP3, AAC, FLAC, WAV, M4A, etc. on your local system with no compromise of original audio quality and metadata.
In addition to the lossless conversion feature, AudFree Tidal Converter is also excellent in terms of output settings, as it entitles you to perform format customization. Based on personal demand, you get to specify any output format and further set audio channel, bit rate, sample rate, and more without any hindrance. After that, you will be able to listen to Tidal Music offline on any preferred device without subscription, such as an old receiver or amplifier that is not compatible with Tidal.
How to Download Tidal Music without HiFi
Follow the stepwise guide to download Tidal HiFi or Master to computer for offline use anywhere and anytime.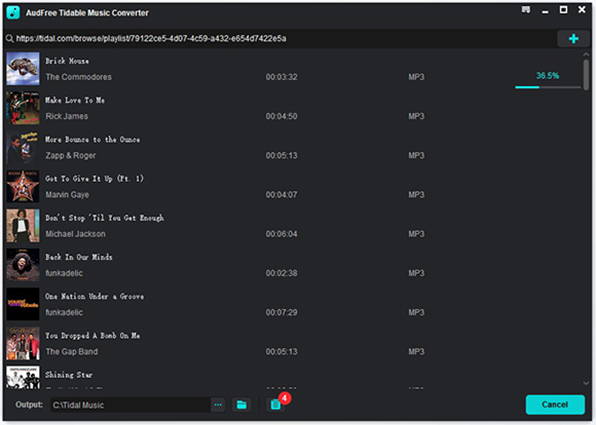 Step 1. Before you begin, please make sure that Tidal app and AudFree Tidal Music Converter have been installed on your computer. launch the converter and the Tidal app will soon open by itself.
Step 2. Find your favorite Tidal tracks or playlist. Next, copy the corresponding link and paste it into the search box on the top of the home screen. Don't forget to click the "+" icon to load Tidal tracks.
Step 3. After that, switch to the "Menu" option that resembles an icon of three horizontal lines. From the drop-down list, choose "Preferences" and touch "Convert" to unfold the format window. Here, according to requirements, you are free to set output format and parameters for Tidal Music.
Step 4. Step 4. As a final step, press the "Convert" button on the bottom right and it will automatically start downloading music from Tidal. Wait until the process gets done, then you can listen to Tidal Music with lossless audio quality offline on any player and device.
Conclusion
Well, after reading the whole article, you must have a good grasp of the differences between Tidal HiFi and Master. In this comparison of Tidal HiFi vs Master, which one is the winner? Your music preferences and needs should have already made the choice. By the way, do you have anything else to add? Feel free to discuss it with us in the comments section.