Spotify is among the most popular online music streaming services on the internet. They have a wide range of music in their library from a wide range of labels throughout the world, as well as a wide range of performers. Both free and premium services are available on Spotify. There is one significant difference: Clients who use the free version cannot download music to listen to them when away from their Internet connection.
Things have become a lot simpler thanks to the Spotify ++ upgrade. Without a doubt, it isn't delightful to have to deal with ads while using the smartphone app's playlist and downloading songs in free mode. Some of these ads are not skippable. So, what then? This guide will show you how to get Spotify ++ on your smartphones and PCs. Let's get started!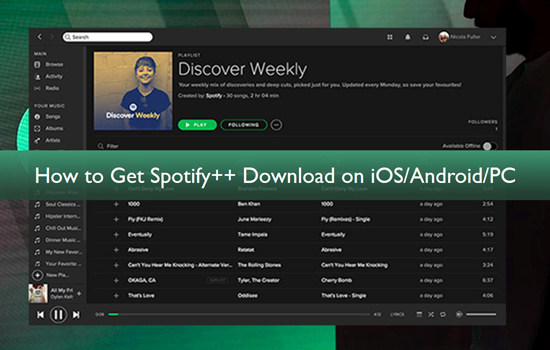 Part 1. What Is Spotify++ APK?
If you're willing to level up for Spotify++, you'll have accessibility to all of Spotify's Premium content. Premium and Free users are the only two options available on the official Spotify app. Embarrassing advertisements and subpar sound quality are two drawbacks of Spotify's free edition.
Other than that, you can't listen to Spotify music offline or have an infinite number of skips in your playlists. However, Spotify's Premium service has access to these features. But if you want to use these additional features, you'll have to pay £9.99 a month. Isn't it a significant investment of cash?
With this tinkered-with Spotify, you'll get free access to all paid features. No, you won't find it on the app store since this is a third-party app. Is this the same thing? There are several sources where you can get Spotify++ directly.
The best reason to use Spotify Plus is to get rid of the obnoxious adverts on the free version of the service. If you don't know how to download the latest Spotify++ on Android, iOS, or a desktop computer, we've done our best to explain the process. Before we go any further, let's look at the product's specifications.
Part 2. How to Download Spotify++ on iOS?
For iPhone users, here's some good news. You can now download Spotify ++ with ease. You now have the perfect opportunity to download Spotify playlist to your iPhone and enjoy listening to them. How? Follow the steps below:
Step 1. You need to open Safari on your iOS device and go to the AppValley website to download the software.
Step 2. Go to the 'Install AppValley' homepage and click the 'Install AppValley' button. You will be prompted to download the AppValley profile in your smartphone's Settings.
Step 3. Install the profile as soon as possible. AppValley would appear on your iOS phone's main screen due to this action.
Step 4. To get Spotify++ on your iOS device, look for it in AppValley and click on the Get button beside the application.
Step 5. Don't forget to verify Spotify++'s profile before running the app.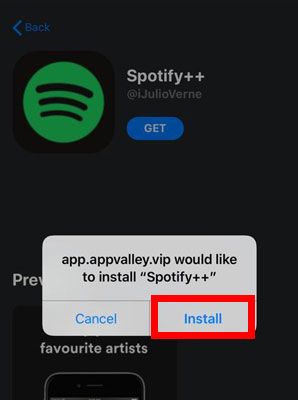 Part 3. How to Download Spotify++ on Android?
Android users can also enjoy listening to music via Spotify by following this method.
(Note: We recommend that you download the Spotify Premium apk file from a third-party website after allowing your Android phone to download from unknown sources).
Step 1. After the file is downloaded, launch your web browser. In Chrome, choose the three dots menu and then the Download option.
Step 2. Using your browser, you can see the files downloaded to your phone. The list is arranged by date. Thus, the Spotify Premium apk file will be found at the top of the list at the time of publication.
Step 3. When you click on the file, and the installation tab appears, you will be prompted to provide permission to proceed with the installation. To download and install the Spotify mod apk, click on the install button.
(Note: The installation procedure takes approximately 30 seconds, based on the phone model, so please be patient till the process is completed).
Step 4. To access the Spotify Premium application, click on the open icon. Then sit back and enjoy the songs.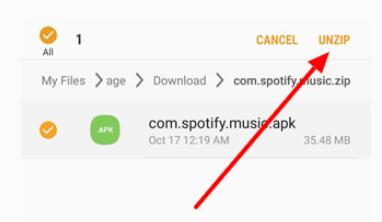 Part 4. How to Download Spotify Plus Plus on PC?
Whether you're a Free or Premium Spotify user, AudFree Spotify Music Converter has you covered. At 5X quicker rates and without sacrificing quality, it's meant to convert Spotify Ogg Vorbis into MP3, FLAC, WAV, M4A M4B, and other standard audio formats. Listening to Spotify music offline on various popular devices and audio players is a joy with this software.
AudFree's enhanced converting skills ensure that the quality of the converted files is not compromised. Your favorite Spotify++ tracks will be downloaded and converted at speed five times quicker.
AudFree Spotify Music Converter's premium edition enables both Spotify Free and Premium users to export all of their loved songs from their libraries. With AudFree Spotify Music Converter, you may listen to your favorite Spotify++ music without any limit of the device.
Key Features of AudFree Spotify Music Converter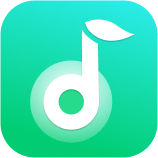 Best Spotify plus plus music downloader and converter since 2018
Promise to be the quickest Spotify converter with a speed five times quicker
Help listen to your favorite Spotify music without being tethered to a computer
Make your Spotify music library more portable by converting it to MP3, M4A, and others
To stream music from Spotify plus plus, you may download the AudFree Spotify Music Converter.
Step 1

Download AudFree Spotify Music Converter to get Spotify++

Begin by logging into your Free or Premium Spotify account and downloading and installing the original Spotify desktop application from the Windows app store. Finally, you'll want to install the Audfree Spotify Music Downloader app.
Step 2

Add Spotify songs to AudFree

You may use the Audfree Spotify Music Downloader to save a link to a Spotify playlist to your computer. To import the tracks, mouse on the plus symbol next to the URL bar.
Step 3

Reset Spotify output format and directory

Click the menu icon > Preferences > Advanced to change the output formats, bitrates, sample rates, channel, and so on. The output directory can be selected by clicking on the output directory logo in the tool's lower-left corner.
Step 4

Convert and get Spotify++ downloaded

To begin the converting process, click on the Convert button from the bottom right place. You can find the converted Spotify songs in the customized output directory after the conversion stops.
Note: The conversion speed is 5X by default for the Windows version. You may choose to convert at 1X the average pace.
Part 5. FAQs about Spotify ++
Q1: Is It Safe to Download Spotify++?
Spotify ++ is entirely safe to use and stream music as much as you want. However, there is one drawback. If you try to download songs through it, you might face problems.
Q2: Is It Legal to Use Spotify ++?
Yes, Spotify ++ is legal to use in the countries where it is available. However, if you intend to download the software using illegal means while residing in a country where the app is unavailable, you might be in for some trouble.
Q3: Do You Need to Authorize the Storage Permission?
You have the option of storing Spotify files on your device's internal storage by default, or you may transfer them to your SD card if you want. Whenever the files are relocated, you will get a notification in a dialog box.
Part 6. Conclusion
Downloading Spotify++ and Spotify Premium on your smartphone is as simple as following the instructions provided here. You don't have to worry about a yearly subscription fee anymore.
Please don't forget to tell your relatives and friends about the application and the techniques if you like them. The bottom line is that we're here to answer your questions. Make the most of your day by listening to your favorite music via Spotify ++.