Tidal offers a high quality streaming service with millions of songs, but one controversial aspect of this service is its shuffle control tab. You can find a large shuffle button that can only be used to toggle shuffle mode, not off. In addition to Tidal, many other streaming services and music players are also hard to find shuffle controls.
Therefore, this article will provide solutions to turn off shuffle on Tidal mobile and desktop. Then, we will also present a perfect way to download Tidal music for enjoyment in any playback mode. Just read this article and learn how to turn off shuffle Tidal without hassle.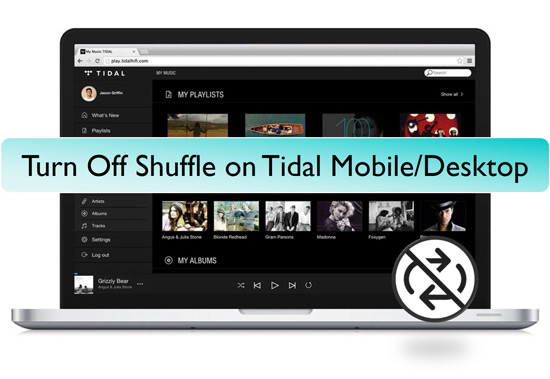 Part 1. How to Turn Off Shuffle on Tidal Mobile
Turning off shuffle on Tidal mobile app is quite easy. You have to locate the shuffle button, which is not very visible on the screen. Simply follow the given guide to turn off shuffle in Tidal app.
Remember: Ensure to download the Tidal app on your mobile Device.
Step 1. Open the 'Tidal' app and play a Tidal song.
Step 2. Tap the song to open the "Now Playing Screen".
Step 3. You'll see the shuffle button on the left side of the 'Previous' tab. If it is bright white, the Shuffle is on, and if it is gray, the Shuffle is off.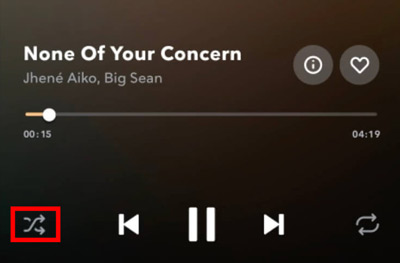 Part 2. How to Turn Off Shuffle on Tidal Desktop
Tidal desktop is similar to its mobile app in terms of shuffle controls.
To turn off the Shuffle on the Tidal desktop app, you need to follow the given step-by-step guide:
Step 1. Play a Tidal song from your playlists or albums.
Step 2. When a song is playing, you will see it playing at the bottom of the page. There is a Shuffle button on the left side of the "previous" control tab. You can use this 'Shuffle' button to turn Tidal shuffle on and off.
Step 3. Check to see if the button is blue or not. If it has a blue color, the Shuffle is on. Tap on it to turn off the Shuffle. That's how to turn off shuffle in Tidal app on computer.

Part 3. How to Turn Off Shuffle on Tidal without Premium
Now that you're able to turn off the Shuffle feature on Tidal without any problem, here we'll also introduce a best way to control Tidal playback as you wish. You just need to download Tidal music as a local file on your computer in order to play it freely on any device and media player in the way you want.
In this process, you need the assistance of a professional AudFree Tidal Music Downloader, which is dedicated to Tidal track downloads. What's more, it is able to download and convert Tidal music to FLAC, WAV, MP3 and other formats with the original ID3 tags and metadata preserved, including album, title, artist and more. Whether you are a Tidal Free, Tidal HiFi, or HiFi Plus subscriber, it is at your service so you can easily listen to Tidal music in the desired playback mode.
Key Features of AudFree Tidal Music Converter
How to Download and Turn Tidal Shuffle Offline on Any Media Player
Step 1

Download and Install AudFree Tidable

Install and launch the AudFree Tidal Music Converter on your computer. Once the converter is launched, the Tidal app will open automatically. Log in to your Tidal account, then click on the menu bar in the upper right corner, select the "Register" option and log in your registered name and code to activate the converter.
Step 2

Customize Output Preferences of Tidal Music

Click on the 'menu' icon at the top of the screen again and tap on Preferences and Convert options. The settings window will appear on the screen where you can choose the audio format, channel, bit rate, sample rate, etc. for your Tidal song. After doing all the changes, click on the "OK" button.
Step 3

Add Tidal Music to AudFree Tidal Converter

Find your favorite album and playlist from the Tidal app. Once you've found the song, add it to the converter. You can drag and drop Tidal music to the conversion window directly, or copy the song's link and paste it into the search bar, remembering to click the "+" icon afterwards.
Step 4

Download and Turn Tidal Shuffle Off on Any Device

After adding the songs, click on the "Convert" button at the bottom to start the conversion process. At this point, you can navigate to your computer to see all the Tidal music you have downloaded. Once done, you have the freedom to enjoy Tidal music whenever and wherever you like. And you can turn off shuffle or on for Tidal songs easily.
Part 4. Conclusion
Now, you are aware of the processes of how to turn off shuffle on Tidal mobile and desktop apps. Moreover, if you desire to listen to Tidal on multiple devices in any playback mode without limit, then AudFree Tidal Music Downloader can help you out. Try to enjoy Tidal music more freely without any restriction.