Windows Media Player (or WMP, for short) is a media player developed by Microsoft that is used for playing audio, video and viewing images. In addition to being a media player, Windows Media Player has many extensive features, including CD burning, ripping, and playback, synchronizing content with an MP3 player, etc. Now the latest version is Windows Media Player 12.
Despite all the terrific features that WMP possesses, it cannot play the downloaded Tidal music directly, for the reason that Tidal music is encrypted and limited to play on the Tidal app only. For people who don't want to give up Tidal's high-quality music and WMP's great features at the same time, is there a way to add music to Windows Media Player from Tidal? With the help of the right tool, you will be able to do that.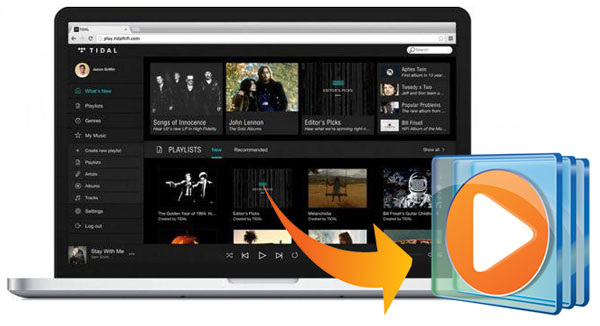 Part 1. Reason Why You Can't Play Tidal Music on WMP Directly
Tidal offers two kinds of subscription plan with a 30-day free trial for each plan, and both subscription plans allow users to download music for offline listening. Even though you can download music from Tidal, it doesn't mean that you actually own them, and you won't even be able to find the local audio files. This is completely different from the traditional way in which we can keep them on PC forever after purchasing from iTunes, Google Play, Amazon Music, etc.
The key reason behind this is that Tidal music is protected and it only allows users to stream music on devices that are compatible with Tidal. If your membership expires, you can't listen to your downloaded Tidal music anymore. It is also the case with other streaming music services. Powerful as Window Media Player might be, it is also unable to play Tidal music directly.
Part 2. Add Music to Windows Media Player from Tidal – Best Tool
If you google for solutions to play Tidal music on WMP, there is some recording software that can be found to remove the protection of Tidal music. However, it cannot guarantee the audio quality. Here, we introduce to you an initiative tool - AudFree Tidal Music Converter for Windows/AudFree Tidal Music Converter for Mac. It is the only software on the market that can get rid of the limitations from Tidal music and preserve the original music quality.
AudFree Tidal Music Converter is designed by professionals to download and convert Tidal music to MP3 and other popular audio formats without sacrificing any output quality. It enables users to save Tidal music as local unprotected files and keep them forever even if you no longer subscribe to Tidal. If now offer a free trial which allows you to convert the first minute of each Tidal track and you can give it a try to test its performance from the download box below.
Part 3. Add Tidal Music to WMP – A Detailed Guidance
Once you unencrypt the protected Tidal music, it will be a piece of cake to transfer Tidal playlist to WMP. Luckily, within 4 simple steps, you will be able to realize that. Keep on reading and you will find step-by-step guidance on how to import Tidal music to WMP. Before you begin, make sure you have download and install AudFree Tidal Music Converter on your computer.
Step 1

Add Tidal music into AudFree

Double click to launch AudFree Tidal Music Converter, and it will open Tidal at once. If you already have Tidal running in the background, you will be informed to relaunch Tidal. You can add Tidal music into AudFree Tidal Music Converter by copying the URL of the Tidal track, album, the playlist you want to download, and paste it to the address bar of AudFree software. Press the '+' button and the tracks will be loaded to AudFree.
Step 2

Set Tidal output format for WMP

Go to 'Preference' on the top-right corner of AudFree's main interface. Here, you can set the output audio format as MP3, M4A, WAV, M4B, FLAC, and AAC. To get the full experience of Tidal's master quality, we suggest you select FLAC format. Customize your personal-styled tracks if you want, and then just hit 'OK' to return to the conversion process.
Step 3

Convert Tidal music for WMP

After finishing the preparation, you can click the 'Convert' button to start converting Tidal music. Within minutes, you will locate the freshly downloaded Tidal music from the history list. You are almost done.
Step 4

Transfer Tidal playlist to WMP

Go to 'Organize > Manage libraries > Music', and you will see a pop-up window. Click 'Add', and you can select the local folder where you store your converted Tidal music. Then all the Tidal music you want will be loaded into WMP and you can enjoy them without limitation now!
In Conclusion: You have now learned how to add music to Windows Media Player from Tidal. Easy, right? It is worth to mention that you can also burn Tidal music to CD if you like, or play them on any other devices, on your watch, TV, or in the car. There are so many wonderful features in AudFree Tidal Music Converter waiting for you to explore.