When I collect the issues of Tidal multiple devices, I found out that one of the most common questions asked by many Tidal subscribers is how many devices can I use Tidal on? There are two cases:
Q: "Can I play Tidal on two devices simultaneously? I subscribed Tidal Hi-Fi that claims I could play Tidal on up to 5 devices. I downloaded Tidal app on the iPad for playing at home and my wife uses her phone to listen to Tidal playlists when she's at work. But when I received the text message from my wife saying Tidal playback paused on here phone, I noticed Tidal at home is under the same situation. So how to stream Tidal from more than one devices at the same time?" - From Rick Raymond.
Q: "I signed up for Tidal Premium subscription to stream Tidal songs on my computer. But those days, it always pops up an error message noting 'Playback was paused because you are currently playing on another devices'. I just only shared my account to my boyfriend. If I've not misunderstood, does it mean that I am not able to use Tidal on different devices at the same time?" - From Fiction Ntech.
Have you met such situation we described when using your account for 2 devices on Tidal? If this is your case, read on this article to find methods on how to play Tidal on multiple devices simultaneously without hassle.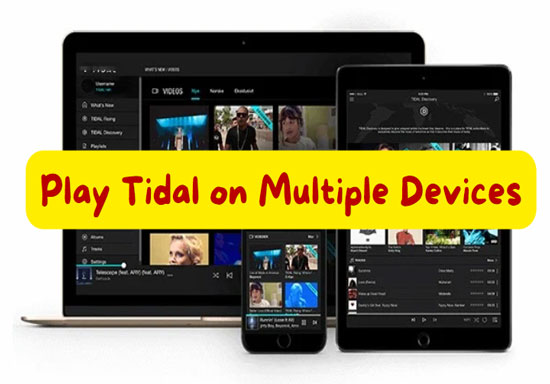 Part 1. How to Use Tidal on More than One Device in Offline Mode
According to the statement on Tidal support, you can use 1 devices in online mode and 5 devices in offline mode simultaneously. For example, it's allowed that you listen to Tidal music in online mode on one computer and use Tidal on 5 mobile devices in offline mode at the same time.
So, to listen to Tidal on more than one device at one time, it is necessary that someone uses Tidal online and others uses Tidal offline, as it's not able to access Tidal simultaneously. Otherwise, you both will interrupt the Tidal connection and meet playback issue on another device.
How to download Tidal music for playback on multiple devices in Offline Mode: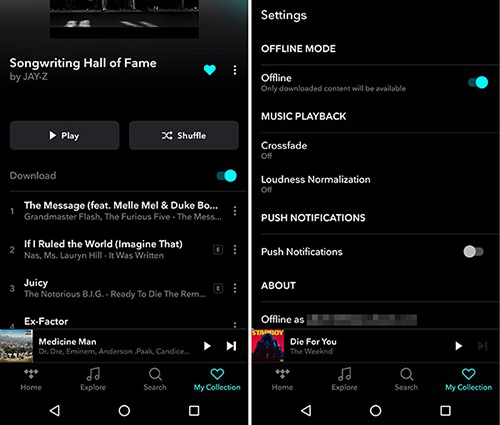 Step 1. Open Tidal app on your mobile device and log into your Tidal account;
Step 2. Search your favorite Tidal songs and add them into a playlist;
Step 3. Select "My Collection" option on the bottom and followed by "Playlists";
Step 4. Opt for your created Tidal playlist and enable the "Download" feature to download Tidal playlist;
Step 5. When the download is complete, get back to the "My Collection" screen and then to "Settings" > activate Offline Mode by toggling "Offline" on.
Step 6. Now, you can listen to Tidal music on multiple devices simultaneously.
Part 2. How to Play Tidal on Multiple Devices Simultaneously with Family Plan
The above "Offline Mode" method requires the combination of offline Tidal and online Tidal. Put simply, only one use Tidal online on desktop while another use Tidal offline on mobiles can Tidal simultaneous streams be achieved. If one of you accept offline playlists, "Offline Mode" works to play Tidal on more than one device at one time.
If not, make a trial of Tidal Family Plan. Tidal offers Family plan for subscribers to play music and playlists simultaneously at up to 3 different devices. Besides, it endows you to add 5 additional people to your account, the price could be half of the normal. It's easy to update to Tidal Family subscription, let's see how it works.
Step 1. Just open your Tidal app on your computer and then click the "Account" option to choose "Manage Subscription". It will bring you to the Tidal plan;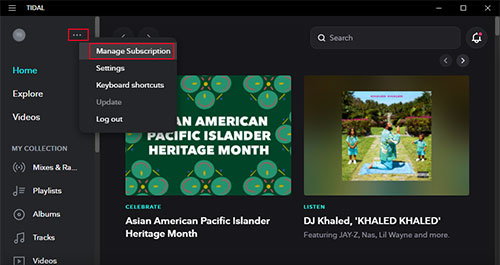 Step 2. Next, you can start to choose the Tidal Family plan for Premium or Hi-Fi as the target plan and confirm it;
Step 3. Now, there is no issue to play Tidal music on up to 3 devices at the same time.
Extra Tip: How to add family members to your Tidal account with Family Plan: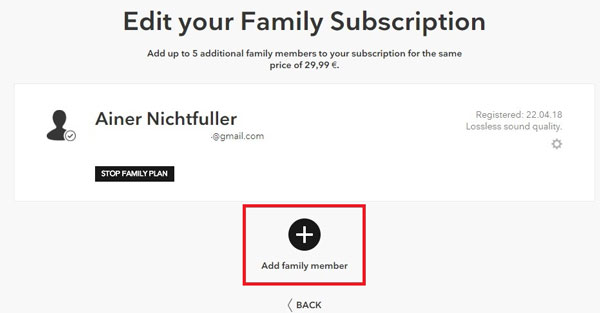 1. Visit Tidal official website and sign into your Tidal Premium/HiFi Family account;
2. Go to "Edit your Family Subscription" and choose "Add family member";
3. Enter and submit the email address of your family member. Soon, Tidal will send an email to inform that the family account creation is complete.
Part 3. How to Listen to Tidal Music Simultaneously on Many Devices
Tidal Family Plan is easy and effective but it's a little expensive for those who can't afford. As a result, here we'll introduce an alternative solution to listen to Tidal music and playlists on many devices simultaneously with no need to pay for the cost of Tidal family plan.
Tidal music files are protected by digital rights management technology, which limits users to access to music library through its Tidal app only. To unlock this restriction, please install AudFree Tidal Music Converter on your computer, which is well-designed for Tidal users to download and convert Tidal music to FLAC, WAV, AAC, MP3 and other common audio files with zero quality loss. After that, you can sync all downloaded Tidal songs to as many as devices for playback at any time without problem even without Tidal account.
How to Download and Convert Tidal to Multiple Devices
AudFree Tidal Music Converter is available for both Mac and Windows operating system. Please make sure you have download it and Tidal app on your computer before getting started to download Tidal playlists to all devices. Besides, this software has the 1-minute conversion limitation, please purchase the full version to unlock it.
Step 1

Add Tidal songs to AudFree Tidal converter

When you open AudFree Tidal Music Converter on your computer, you will see the launch of Tidal app. And then you can start to discover the favorite songs that you'd like to download and play on other devices. Once found out, please click the three-dot icon to click "Share" > "Copy Track Link" to copy Tidal links. Now, you can paste it to the search box of AudFree and hit on the "+" button to load audio files automatically.
Step 2

Customize Tidal music output and parameters

This one-stop Tidal music converter also have a setting function that allows users to set output parameters. Just click the top menu bar to choose "Preferences" > "Convert" option to define output format as MP3, FLAC, WAV, AAC, M4A or M4B and customize audio parameters by changing the bit rate, sample rate, audio channel, audio codec, etc. to enhance the audio quality. Please don't forget to click "OK" to confirm it.
Step 3

Download and convert Tidal music and playlists

The last step is to launch downloading process by touching the big "Convert" button at the bottom-right corner of the main interface. The conversion time depends on how many songs you have imported. In general, it works at 5X faster speed to download and convert Tidal music and save them as local files on your computer.

Now, you can hit on a "file" icon to locate all Tidal files. And then please connect your device and computer via USB cable or Wi-Fi network to transfer Tidal music files. After that, you can play Tidal playlists on any wanted devices simultaneously.
Conclusion
To sum up, methods described above all contribute to playing Tidal on multiple devices at the same time. It is just that they work differently. Offline Mode is simple, but it only affords you a Tidal online use and a Tidal offline playback simultaneously. Tidal Family Plan supports controlling Tidal music on all three devices at one time without hassle. Though, to some, it might be costly.
With regard to AudFree Tidal Music Converter, it is not totally free, but it is cost-effective and full-featured. Using it, you are able to locally download Tidal music to common audio files with original sound quality, thereby transferring local Tidal tracks to a multiple number of devices for offline playback at the same time with no problem.