Known as a multimedia player, JRiver Media Center enables users to access a wide range of media files on Windows, macOS, and Linux operating systems. Like the Apple Music application, the users' interface of JRiver shows a large library, allowing users to play and manage abundant media content, including audio, videos, photos, and documents in one place.
Is there JRiver Tidal integration? Or is there a way to use Tidal through JRiver media center? For the first question, unfortunately, the answer is negative. But the good news comes with the latter one. In this article, you will get three ways to play Tidal through JRiver. Now let's follow the guidance below to see how to make it possible.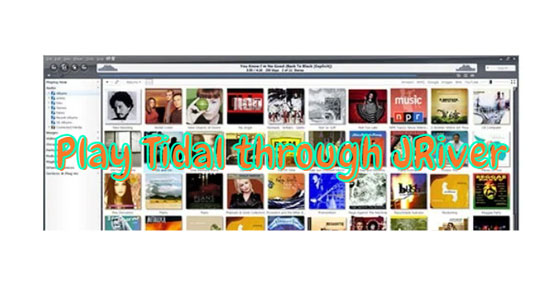 Part 1. Best Way for JRiver Tidal Integration
This effective method makes use of a powerful software named AudFree Tidal Music Converter, which ranks top 1 in similar products. Born for Tidal music conversion, this smart tool releases the limits in original Tidal tracks, downloading Tidal to MP3, WAV, AAC, M4A, M4B, and many other unlimited formats that are available on JRiver locally without losing any quality. In the meantime, all raw metadata will be kept in the converted audio files, such as artists, albums, titles, etc. You can also edit those ID3 tags according to your needs.
Adopting the latest auto-converting technology, this intelligent program can smoothly run at a 5X or faster speed. Besides, with the high capacity of loading files, you can add up to tracks as many as possible at once. Both features can greatly save your time and energy during the conversion. Most importantly, it allows you to transfer the downloaded Tidal local files anywhere and anytime besides JRiver Media Center.
AudFree Tidal Music Converter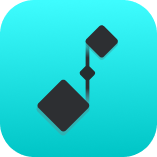 Losslessly download Tidal audios (playlists,albums,etc.) for JRiver
Convert Tidal to AAC, FLAC, MP3, WAV, M4A, M4B, AAC, etc.
Support Tidal offline playback on Windows and MacOS
Transfer Tidal to JRiver Media Center and other players
Part 2. How to Play Tidal on JRiver Media Center
Now just try to download and install AudFree Tidal Music Converter from the green 'Download' button above. It is 100% secure and legal to install this software for personal use. Then you can look into this user guide below to play Tidal on JRiver:
Step 1

Add Tidal music to AudFree Tidal Music Converter

Open AudFree Tidal Music Converter on your desktop. The Tidal app will open automatically a few seconds later. On Tidal, select any track or playlist that you want to convert. Next, copy and paste the URL of it to the search bar in this tool. Then hit the '+' button to add it to the gadget. Or, there is an alternative: Drag and drop the single song or playlist from Tidal to the converter.
Step 2

Modify output settings for JRiver

Proceed to customize the output settings for LOSSLESS audio quality of JRiver Tidal integration. On Windows, please hit on the menu icon on the top frame in AudFree Tidable. On Mac, please go to Mac's menu > 'AudFree Tidal Music Converter' tab. Next, please click the 'Preferences' > 'Convert' tab to open the Settings page. Here, you can reset the output options as JRiver-supported formats such as MP3, AAC, M4A, M4B, etc. Also, you can personalize other parameters such as format, sample rate, bit rate, etc. for original sound quality according to the below chart:

| | |
| --- | --- |
| Output Format | Other Parameters |
| MP3 | 320 kbps/48000 Hz |
| AAC | 320 kbps/96000 Hz |
| M4B | 320 kbps/96000 Hz |
| WAV | 32 bit/192000 Hz |
| M4A | 320 kbps/96000 Hz |
Step 3

Start to convert Tidal songs for JRiver

Simply click the huge 'Convert' button to begin the conversion. When the converting process is done, please follow the pop-out red spot to locate the target directory where all converted Tidal songs are saved.
Get Tidal JRiver Integration Working
Now you can add Tidal to JRiver by the following 3 ways to achieve JRiver Tidal combination offline forever even without a Tidal HiFi or HiFi Plus account.
Drag and drop the converted Tidal files to JRiver.
Open 'Tools' > 'Import' and use the 'Media Import' wizard.
Use 'Auto-Import' to browse the target folder that you choose in the background.
Part 3. Pro-Tips for JRiver Media Center Tidal Working via WDM Driver/DLNA/DAC
To use JRiver Media Center & Tidal, you can make it with the assistance of a WDM driver, DLNA, or DAC.
Listen to Tidal on JRiver by Setting WDM Driver
WDM Driver is a built-in virtual audio driver, which is used to re-route all Windows sound through JRiver Media Center. By setting up this program, you can route Tidal music through JRiver Media Center. Currently, this method is only applied to Windows computers. Please note that the WDM driver has been disabled in versions of Media Center after 20.0.95 by default and you need to enable it. Please check the detailed tutorials below.
Step 1. On JRiver, tap on 'Options' > 'General' > 'Features' to check WDM Driver. Next, restart Media Center to install JRiver WDM driver.
Step 2. Open the Windows control panel and visit the 'Sound' menu item where all of the Audio devices on your system are listed. Then choose the one labeled 'JRiver Media Center 20' and hit the bottom-right 'Set Default' button.
Note: Tap on 'Option' > 'General' > 'Features' in JRiver to guarantee your setting is not 'Default Audio Device'but your actually using a physical output device. That is, don't set JRiver Media Center to output to the system default. In this way, you can avoid creating a close loop since the WDM Driver is now the system's default.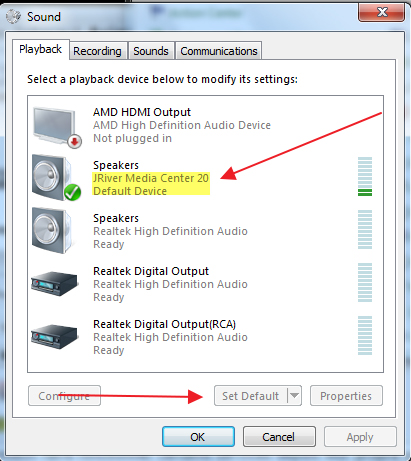 Play Tidal on JRiver By Using DLNA / DAC
In addition to JRiver WDM Driver, you can get Tidal music by using DLNA (Digital Living Network Alliance) or DAC (Digital-to-Analog Converter). This way is suitable for Android phones, Android tablets, Chromecast audio devices, Google Mini, Google Home, and any other device that has DLNA or DAC. You can refer to the specific steps as follows:
Via DAC
Step 1. Get BubbleUPnP installed on your device.
Step 2. Customize the settings on it to log in to your Tidal account.
Step 3. Get into the DAC application on your and play Tidal through JRiver. Then you can achieve JRiver Tidal music connection.
Via DLNA
The steps are the same as that of the WDM driver mentioned above. Finally, you need to select your audio device as an external physical device for getting incredible outcomes.
Part 4. Delay When Streaming Tidal Through JRiver Issue Fix
This issue mainly comes to the WDM driver on JRiver. WDM driver serves as an inside virtual audio driver for re-routing any sound playing on Windows through JRiver Media Center. It can route Tidal on through JRiver. On grounds that the WDM driver works just like any other library item that you play if you add Tidal tracks to the queue of 'Playing now', so it will replace the currently playing content of Tidal. And if you navigate to Tidal's web player via the built-in browser of JRiver, the WDM driver will pause the Tidal music playback.
To resolve this issue effectively, you can refer to the following instruction:
Step 1. Setup their audio without the WDM running;
Step 2. Set the WDM driver of JRiver Media Center as the default in Windows;
Step 3. Set a separate zone for receiving WDM input and prepare a zone switch rule for automatically routing the input of WDM to that zone. Please click here and check how to set up an extra zone.
Part 5. Summary
In this post, we have introduced the best way for JRiver Tidal integration. And some tips for playing Tidal music on JRiver Media Center. Also, we proposed useful troubleshooting to fix the 10 seconds delay using Jriver with Tidal. In order to enjoy Tidal music on the JRiver music player offline forever, we recommend you give priority to AudFree Tidal Music Converter since it satisfies all your needs. You can also play Tidal music on multiple devices and players apart aside JRiver.