Does Tidal work with Apple CarPlay? If you are new to Tidal and Apple CarPlay, you may have this doubt. The good news is that Tidal has integrated with Apple CarPlay since 2017. Tidal Premium or Tidal HiFi subscribers can easily listen to Tidal music on Apple CarPlay.
Apple CarPlay certainly brings much convenience to drivers, helping them to play and control music playback safely when driving. In addition to control music on the built-in display,  you can also make calls, send messages, use turn-by-turn directions via Apple CarPlay. It is like a shortcut to control the features of your iPhone.
Let's back to music playback on Apple CarPlay. It is no doubt that you need to subscribe to Tidal service for playing Tidal songs on Apple CarPlay. However, in this article, you can learn another practical method to play Tidal on Apple CarPlay without subscription. Also, if you are not familiar with how to set up Apple CarPlay for music playing, you can get what you need in the following parts.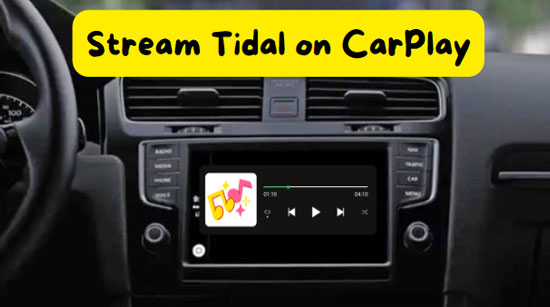 Part 1. How to Set Up Apple CarPlay for Tidal Premium / Tidal HiFi
As a Tidal subscriber, you can follow this instruction to get started with Tidal music on Apple CarPlay.
Step 1. Connect your iPhone to the USB socket of CarPlay via a lightning cable. The Apple CarPlay icon will show up on the car's built-in display.
Step 2. Go to the Settings on your iPhone > General > CarPlay. In My Cars, click to your car on the list then it will show more settings options. You can also press and hold the voice control button on your car's steering wheel to begin setting.
Step 3. Press and hold the Tidal icon on your phone. Then it will then be replicated on your car's display.
Now you can log into your existing Tidal account and start playing Tidal music in the car via Apple CarPlay.
Part 2. Play Tidal on CarPlay with Premium
Although Apple CarPlay supports the Tidal app, playing Tidal songs on CarPlay is not a satisfying user experience. It is easy to come across different issues. Take my experience as an example, when I try to play songs in the Tidal app on Apple CarPlay, the track is just loading, but it never starts playing. The spinning seems like forever.
It supposed to be the bug of either Tidal or Apple CarPlay, or both of them. To completely end up this game, it is necessary to try another workaround, which suggests to truly download songs from Tidal onto computer, then import them to Apple CarPlay.
To accomplish this target, you need you to seek support from a reliable tool. Here, AudFree Tidal Music Converter is the best one for you. Regarded as the top 1 specific music converter for Tidal Music, this intelligent program focuses on converting Tidal to MP3, FLAC, WAV, M4A, M4B, and other universal formats.
With the latest technical assistance, this smart software preserves 100% HiFi quality and 100% Master quality from Tidal tracks, offering the most authentic listening experience. In addition to the output quality, the ID3 tags in output files such as artists, title, album, track number, etc. are completely saved. That is really convenience to check the song's info on your Apple CarPlay at any time.
The above features of AudFree Tidal Music Converter enable you to convert and import Tidal playlists to CarPlay, letting you control Tidal on Apple CarPlay without any hassle. Now, let's take a look at how to add Tidal to Apple CarPlay.
Step 1

Stream Tidal music to AudFree

Launch AudFree Tidal Music Converter on your desktop. The Tidal app will automatically open later. Pick up any song or playlist in the Tidal app. Then copy and paste the link of the audio to the search box in AudFree. Tap on the '+' bar to add those tracks into AudFree.
Step 2

Customize Tidal output settings for Apple CarPlay

For the Mac computer, go to Mac's menu and find the "AudFree Tidal Music Converter" option. For Windows computer, head to the menu icon on the top in AudFree. And choose to "Preferences" > "Convert". In the Setting window, you can edit or keep the output settings. If you would like to get the best output quality, please select the output format to FLAC, 44.1KHz / 16 bit for Tidal HiFi, and 96KHz / 24 bit for Tidal Master.
Step 3

 Convert Tidal music for Apple CarPlay

Tap on the big "Convert" bar on the main window of AudFree. When the converting phase is over, please follow the on-screen red spot to locate the "Converted" folder.
Now you are available to transfer the converted Tidal tracks to Apple Music for playback on Apple CarPlay. Or you can choose any other players that are compatible with Apple CarPlay