Tidal has announced that it supports Google Chromecast in the new update with an integrated 'Cast' option of Tidal for iOS and Android in July, 2016. That's to say, Tidal subscribers is able to stream Tidal to Google Chromecast dongle for listening.
With the Tidal and Chromecast integration, Tidal users can't wait for playing Tidal music on Chromecast. However, it also comes with more and more questioning after tried, such as does Tidal work with Chromecast really as I can't get chrome cast to work? Whether Chromecast work on Tidal MQA streaming with the Tidal app? etc.
There is no doubt that the answer could be absolutely positive when it comes to 'Tidal on Chromecast' issue. Therefore, how to make Tidal music streaming on Chromecast? Here, I will share the successful experience with you, including two ways on streaming Tidal audio to Chromecast.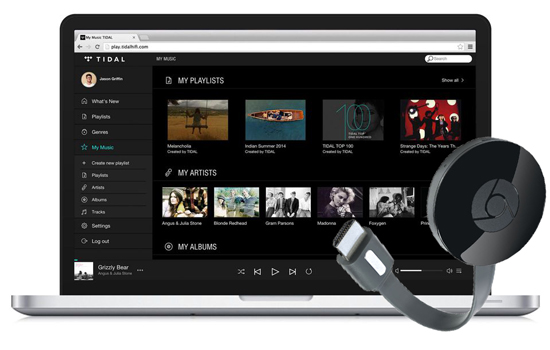 Part 1. How to Stream Tidal Music to Chromecast via Google Cast
Before giving the complete tutorial on how to cast Tidal to Chromecast, let's get started from troubleshooting of Tidal Chromecast support.
Q1: I can play the first Tidal song on Chromecast but then it stops. The process bar displays it keeps going. When clicking the next or previous buttons, there is nothing happened still. By the way, I can cast local audio tracks and cast it.
To fix this issue out, obviously, Chromecast support shouldn't be too far away. Besides, please make sure whether other music streams can work well with Chromecast. If yes, please try to uninstall and reinstall Tidal app to see whether it works.
Q2: Whether I can stream Tidal MQA music with 24 bits / 96 kHz? I have tried to make this happen, but failed.
First of all, it's important to be noted that only Tidal app can play Hi-res songs with Tidal Hi-Fi subscription. Since the Chromecast is not running Tidal app, the Tidal streams encoded with AAC and 16 bits / 44 kHz are available to Chromecast devices.
When all doubts were lifted, you can follow the below steps to stream Tidal to Chromecast from mobile devices for playback with ease.
Step 1. Please connect your mobile devices and Chromecast under the same WiFi network.
Step 2. Open the Tidal app and play a Tidal music. And then tap on the 'Now Playing' bar, there will be a small icon with the speaker on it.
Step 3. Just click the 'speaker' button from the lower left corner of the screen. And then select the Chromecast device as the target device.
Step 4. When Chromecast connected to Tidal app on mobile devices, the music content will play on Chromecast.
Note: There is no desktop app integration with 'Cast' currently. If you are using a Mac or Windows computer, please use the Chrome browser to navigate to listen.tidal.com (Tidal web player).
Part 2. Alternative Way - Play Tidal Music on Chromecast
If you still have trouble in casting Tidal music to Chromecast after referring to the previous tutorial and solutions, you are recommended to use the alternative way, transferring Tidal music to Google Play Music or Plex and then play them on Chromecast from local music folder.
To do this, the first thing you need to do is to use AudFree Tidal Music Downloader to download and convert Tidal music to MP3, FLAC, WAV or other Chromecast compatible audio files. This tool will download and save Tidal songs as local files so that you can easily upload them to Google Play Music and Plex. Beside, please don't worry about the output audio quality as it can keep nearly lossless audio quality with all ID3 tags preserved.
Now, the following is the step-by-step tutorial on how to use Tidal on Chromecast Audio with the help of AudFree Tidal Music Downloader. Please install the free trial version of this tool on your Mac or Windows computer in advance. It's worth mentioning that you need to purchase the full version to unlock the conversion-time limitation.
Download Tidal Music and Playlists Offline
Step 1

Load Tidal songs to AudFree Tidal downloader

To upload Tidal songs that you will play on Chromecast to AudFree Tidal Music Downloader, you can discover them on opening Tidal app and click the 'three-dot' icon to choose 'Share' > 'Copy Playlist Link' to copy Tidal music link. Now you can paste it to the search box of AudFree's and simply press the '+' button to add them.
Step 2

Customize Tidal output parameters for Chromecast

To get high-quality local Tidal streams, lossless FLAC and WAV are primary output format you can define as. Just hit on the top menu bar and click the 'Preferences' from the drop-down list. Now in the 'Convert' option, you can start to customize output format, sample rate, audio channel, bit rate, conversion speed, etc. Besides, when you choose FLAC or WAV, you can adjust 'Bit Depth' as 16 bit or 24 bit as you need.
Step 3

Download and convert Tidal for casting on Chromecast

When all setting are ready, you can click the big 'Convert' button at the main interface to launch conversion process. You can see the real-time converting process in this window. After conversion, please click the 'history' > 'Search' icon to locate all plain Tidal files.
Play Converted Tidal Music on Chromecast/Chromecast Audio
To play Tidal songs on smart speakers or TVs from Chromecast, there are two methods you can choose, respectively uploading converted Tidal songs to Google Play Music or to Plex. Here are the simple guide below:
Stream Tidal to Chromecast via Google Play Music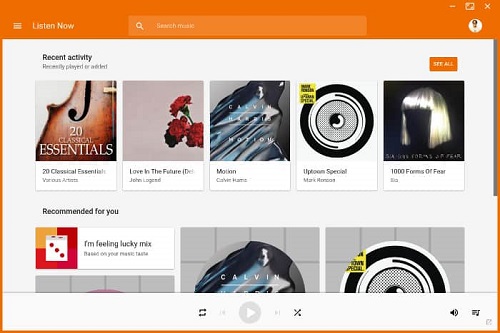 With Google Play account, you are able to free upload up to 20,000 songs from local music folders to Google's Cloud. Just navigate to Google Play Music website and login your Google account, click the 'Upload Music' icon to download the Music Manager and upload songs from computer to Google Play Music for a while. After that, you can also stream Tidal music on Android or iOS device via cloud to Chromecast without problem.
Stream Tidal to Chromecast via Plex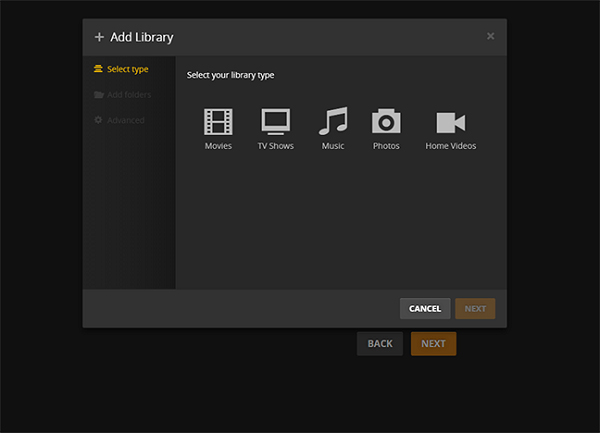 Plex is a media server, which is available for both Windows OS, macOS, Android and iOS devices. You can download Plex Media Player on your computer and login your Plex account. After that, please click the 'Add Library' > 'Music' > 'Browse from media folder' to add Tidal songs to Plex. Now, there is a 'Cast' button in the Plex app and it will let you stream Tidal songs to Chromecast for playing.