The Shanling M2X digital audio player is an attractive option for anyone looking for a slightly smaller and cheaper player. Its most outstanding feature is that it opens up the possibility of Tidal music streaming, but with many users complaining that the Shanling M2X Tidal is limited to online playback, is there any way to make the Shanling M2X Tidal offline possible?
In reality, despite the fact that the Shanling M2X has a built-in Tidal app, the offline mode is still a challenge. Fortunately, this article has found a best third party tool to assist you in playing Tidal Music offline on Shanling M2X with ease. Needless to say, read on to learn about its features and tutorials.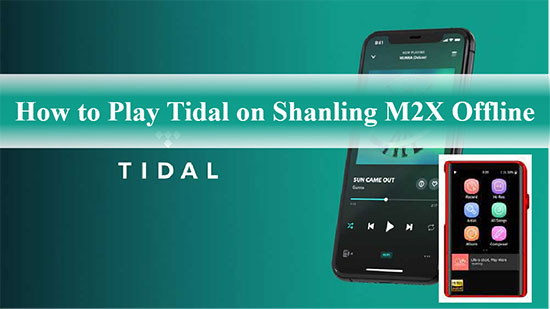 Part 1. Play Tidal on Shanling M2X Offline - Best Tool
We all know that you can get Tidal on Shanling M2X online via the Tidal app, so why not try downloading Tidal songs for offline playback? The truth is that music streaming services like Tidal are extremely conscious of music copyright protection, in this instance, downloaded Tidal Music is only available on specific Tidal licensed devices and players, and Shanling M2X is not on that list.
If we can break the restrictions from Tidal, all problems can be readily solved. Then AudFree Tidal Music Converter will be the perfect helper for you, as it is dedicated to converting Tidal to WAV, FLAC, AAC formats supported by Shanling M2. What's more, it's specifically designed for downloading Tidal Music to your computer locally so that you can enjoy high quality Tidal tracks on Shanling M2X offline.
Previously, you could only connect Tidal Music to Shanling M2 if you subscribed to Tidal HiFi and had a stable Internet connection. But now, with this reliable tool, you have the freedom to play Tidal Music on any desirable device and player, such as Shanling M2X, regardless of Tidal subscription or network status.
Part 2. How to Get Tidal on Shanling M2X Offline
Before we get started, make sure you have downloaded and installed AudFree Tidable and Tidal software on your computer. Now, let's see how easy it is to get Tidal Music downloads for offline playback on Shanling M2X.
Step 1

Import Tidal Music to AudFree Tidable

Open the AudFree Tidal Music Converter and select your preferred Tidal Music on the Tidal app, then copy the links to the Tidal tracks and paste them into the search box on the AudFree Tidable homepage. After that, simply click on the "+" button next to it, wait a few moments and the song will be loaded into the AudFree Tidable.
Step 2

Reset Tidal Music Output Format for Shanling M2X

Click on the "Menu" button in the top right corner of the window and select the "Preferences" > "Convert" field. In the settings window you can customize the output format of Tidal Music to any Shanling M2X compatible format such as WAV, FLAC, AAC. After that, if you want to sort Tidal Music by album or artist, just click on "Archive output tracks".
Step 3

Download and Convert Tidal Music for Shanling M2X

Click on the "Convert" button in the bottom right corner of the main screen and it will start converting and downloading Tidal music to your computer automatically. Incidentally, the conversion time depends on the number of songs or playlists you have imported, usually just a few minutes. Once the conversion is complete, navigate to the destination folder on your computer to check all your Tidal music files.
Step 4

Play Tidal Music Offline on Shanling M2X

Now it's time to import your Tidal Music from your computer to the Shanling M2X via USB drive and once complete, you're able to browse and play your favourite Tidal Music, playlists and albums on Shanling M2X in offline mode whenever you want.
Part 3. Shanling M2X Tidal - What You Need to Know
The Shanling M2X is a revised version of the original M2s pocket-sized digital media player, measuring less than 4 inches in height and featuring a 3.2 inch touchscreen. Its most notable features include Tidal support (online mode only), a USB Bluetooth transmitter and an advanced USB output with Airplay and Bluetooth receiver modes.
Besides, it comes with easy to use buttons such as a volume wheel that acts as an on/off switch and a large play/pause button at the bottom centre of the playback screen and on both sides. It's worth noting that officially, the M2X can play Tidal Music online for up to 10 hours, which definitely at the top of the DAP. Also, if you want to get Tidal Music on Shanling M2X directly, a TIDAL HiFi account and Wi-Fi connection are a must.
Part 4. In Conclusion
This article introduces the best AudFree Tidal Music Converter to make Shanling M2X Tidal offline a reality. So go ahead and follow the steps above to play Tidal Music on Shanling M2X offline. If you have any ideas, sound off in the comments and let us know what you think.