Q: I often listen to Tidal Music online via the HiBy R3 Pro with the built-in Tidal app. Also, since I can download any song from Tidal app on my phone for offline listening, in this case an idea came to my mind, can HiBy R3 Pro play Tidal offline? So, got any advice?
To be fair, HiBy R3 Pro is popular for its unique Tidal online streaming feature, but as far as offline functionality is concerned, that hasn't been officially achieved yet. To meet this urgent need, this article has found a professional and effective tool to make HiBy R3 Pro Tidal offline possible. Without further ado, read on to learn about more features.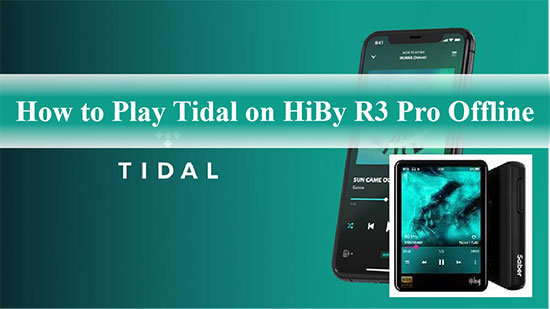 Part 1. Connect Tidal to HiBy R3 Pro Offline - Best Tool for You
You may have thought about transferring Tidal Music downloaded on your phone to the HiBy R3 Pro for offline use, only to find that it is impossible. In fact, as you probably know, streaming music like Tidal is necessarily protected by digital rights, which means that Tidal Music downloaded in the official way can only be played on particular licensed device.
As you can see, removing the protection restrictions from Tidal Music is a decisive step, and AudFree Tidal Music Converter is your incredible helper. Obviously, it is a dedicated program for downloading and converting Tidal Music to MP3, FLAC, WAV and other formats supported by HiBy R3 Pro, this way it's simple to transfer the unprotected Tidal Music to HiBy R3 Pro for offline playback without limits.
What's more, with the most advanced technology, it decrypts and re-encodes Tidal Music files while retaining the original quality and metadata of Tidal songs without any loss. As a result, you will have the freedom to connect Tidal to HiBy R3 Pro offline with great experience whenever and wherever possible.
Part 2. How to Play Tidal on HiBy R3 Pro Offline
Now that you have a detailed understanding of AudFree Tidal Music Converter, it's time to make good use of this professional tool to download Tidal Music to your computer locally.
Step 1

Load Tidal Songs onto AudFree Tidable

Install and run AudFree Tidable on your computer, then the Tidal app will open automatically in the meantime. Select any Tidal song you like and drag and drop it into the conversion window directly. Or copy and paste the song link into the search box on the main screen, after that, simply press the '+' icon.
Step 2

Reset Tidal Music Format for HiBy R3 Pro

Select the menu button in the top right corner and press the Preferences > Convert option to open a new settings window. Here you are allowed to convert Tidal Music to MP3, WAV, FLAC formats supported by HiBy R3 Pro. If you prefer, it is possible to modify the bit rate, sample rate, audio codec and other Tidal Music output parameters.
Step 3

Download Tidal Music for HiBy R3 Pro

Tap on the "Convert" bar in the bottom right corner and AudFree Tidable will start downloading and converting Tidal Music according to your settings above. When finished, tap the "Converted" icon marked with a red number to locate the destination folder for all downloaded Tidal Music.
Step 4

Play Tidal on HiBy R3 Pro Offline

Now you can transfer Tidal Music from your computer to the HiBy R3 Pro via a USB cable. Click on the top button on the HiBy R3 Pro to navigate to Tidal Music in local library, in turn, you have the privilege of playing Tidal Music on HiBy R3 Pro offline with no restrictions.
Part 3. HiBy R3 Pro Tidal - What You Should Know
HiBy R3 Pro, a true pocket-sized online streaming music player with dual CS43131, Bluetooth 5.0 and 5G Wi-Fi, is capable of delivering quality sound. Moreover, it catches the eye for its integration with Tidal, which makes it stand out from many other small DAPs.
In reality, you can access Tidal tracks, playlists and albums via the R3 Pro's top icon menu. It's also worth mentioning that the notification bar at the top contains a lot of information such as volume settings, the current playback icon, the time, the Wi-Fi indicator and the percentage display of the battery, which is all visible on the screen. Incidentally, you are able to control the playback of Tidal songs in a small window, including actions such as playing, pausing and skipping songs.
Part 4. In Conclusion
After reading the above, it's noticeable that playing Tidal on HiBy R3 Pro offline is not as much difficulty as you might think. Then take full advantage of the AudFree Tidal Music Converter to make HiBy R3 Pro Tidal offline a perfect reality. By the way, any idea or discussion is highly welcomed in the comments section.