As a DJ, you're always looking for ways to expand your music library and keep your sets fresh. Tidal, the high-fidelity music streaming service, offers a vast library of tracks that can be integrated with Serato, the popular DJ software. In this article, we'll explore how to use Tidal with Serato DJ offline or online and troubleshoot any issues you may encounter.

Part 1. Does Tidal Work with Serato DJ
Yes. Now, there is an official integration of Tidal and Serato DJ. This DJ platform includes the Serato DJ Lite and the Serato DJ Pro apps. Among that, the Lite app is a free entry-level version, more suitable for beginners. While the pro version is more advanced with additional capabilities and features. Both Serato softwares are compatible with the Tidal desktop application, which is capable of mixing, analyzing, scratching, and cueing digital music files from Tidal.
To get Serato Tidal work as an audiophile streaming service online, you need to have the works done:
✅ Have an active Tidal subscription account (either Tidal HiFi or HiFi Plus are supported);
✅ Install Serato DJ Pro 2.1 or above installed;
✅ Make sure you have a stable internet connection.
Part 2. How to Enable Serato Tidal Online - Tidal HiFi/HiFi Plus Users
If you are in a place where WiFi or Mobile Signal is pretty good, it's easier for you to use Tidal with Serato DJ Pro/Lite online in its official way. In addition, make sure you have an active Tidal HiFi or HiFi Plus subscription, and then follow the easy steps below.
Step 1. Turn on Serato DJ Pro/Lite on your computer.
Step 2. Go to 'Setup' > 'Library + Display' > 'Music Streaming'.
Step 3. Tick 'Show Streaming Services', then tap 'Tidal' as the streaming service.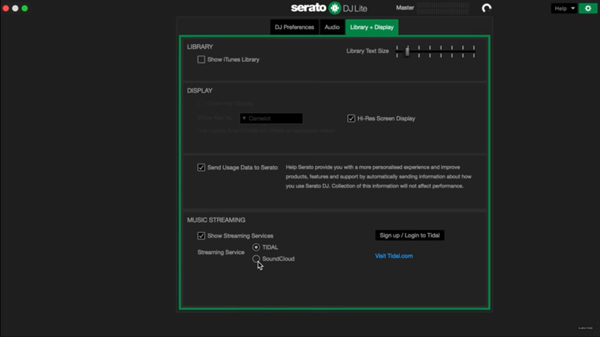 Step 4. Select 'Sign up / Login to Tidal' to navigate to the browser and log in to your existing Tidal account or sign up for a new one.
Step 5. After that, it is supposed to pop up a new window. Then hit 'Open Serato DJ Pro/Lite' to redirect back to it.

Step 6. When you are back to Serato DJ Pro/Lite, the 'music streaming' should be indicated as a logged-in account.
Step 7.Here you can switch the streaming quality to HiFi if you have subscribed Tidal HiFi plan. Thus you can use Tidal on Serato DJ Pro online with ease.
Note: On the main screen, you can hit the 'Analyze Files' button or drag and drop the selected Tidal downloads files to the button to leave Serato analyze Tidal playlists and tracks in Serato.
Part 3. How to Use Tidal Serato Offline - All Tidal Users
Serato allows HiFi/HiFi Plus users to log in to their Tidal account and then play Tidal music directly. However, this requires a Tidal subscription. The worst part is that you always need to have a stable Wi-Fi connection.
Therefore, we will provide you with an advanced way to enable Serato Tidal offline. Without a Tidal subscription, you can play Tidal offline on Serato DJ Pro even without a Wi-Fi connection. The only tool you need is the AudFree Tidal Music Downloader. It allows you to download Tidal music to your computer with Tidal Free account. You can also use it to convert Tidal music to MP3 and more popular audio formats.
Once you have the local music files from Tidal, you can drag them directly to Serato DJ for offline playback. This smart tool can decrypt Tidal music files without affecting their original quality or ID3 tags. The downloaded Tidal songs remain 100% lossless quality with all metadata fully preserved. Moreover, it also supports downloading podcasts, audiobooks, and radio from Tidal.
How to Download Music from Tidal Locally for Serato DJ
Now, we will show you how to use AudFree Tidal Music Converter to download and convert Tidal music to local MP3 audio files. Then you can easily make Serato DJ Tidal offline.
Step 1

Add Tidal music to AudFree Tidal Converter

Open AudFree Tidal Music Downloader, then the Tidal app will open simultaneously. Please select the songs you would like to use on Serato on the Tidal app. Next, just click the 'three points' icon beside the song or playlist. Hit 'Share' > 'Copy Track Link' and paste it to the search box in AudFree Tidable, then tap on the '+' icon. Alternatively, drag and drop songs or playlists from Tidal to the converter.
Step 2

Switch Tidal output parameters for Serato

It is available to manually change the Tidal output format to a Serato-enabled one before downloading. Select the 'Menu' button on the main interface, and then press on the 'Preferences' > 'Convert' section. Here, it is allowed to download Tidal music to MP3, FLAC, WAV, etc., and customize the out quality by modifying the bit rate, audio codec, and sample rate.
Step 3

Download tracks from Tidal Locally

Now, simply click on the obvious 'Convert' bar at the lower right corner on the main page of the powerful tool. Ideally, then the program will start at a 5X faster speed to decrypt and download music from Tidal as the output settings that you chose before. When the conversion is over, a red spot with a number of songs in it will be popped on the 'Converted' icon. Please click it to locate the target folder where all downloaded Tidal streams in.
How to Use Tidal with Serato Offline
Now you have owned the local MP3 audio files of Tidal music, you can easily add Tidal to Serato for offline use according to the guide.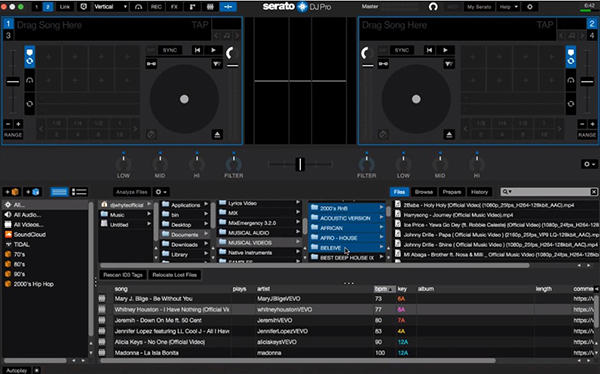 Step 1. Start by launching Serato software on your desktop and logging into your account.
Step 2. Click on the 'File' button, then it will show you various locations on your local computer. Navigate to the Tidal music folder on your computer's hard drive.
Step 3. Drag and drop the Tidal music files directly onto the 'All...' icon, which, as a hint, is at the top left of the playlist window.
Step 4. Now you have streamed the Tidal tracks to Serato, it is possible to use Tidal offline Serato without difficulty.
Tips: You can simply check here to see how to add local Tidal files from the computer to your Serato's library. Then you can play all songs from the Tidal playlist in Serato.
Part 4. How to Fix Tidal Not Working in Serato DJ Pro/Lite
Users may encounter issues where Tidal is not working properly within the Serato DJ software. In such cases, there are several troubleshooting methods that can help resolve the problem and get Tidal up and running smoothly again.
🏷 1. Check Your Network Connectivity
Make sure that your computer is connected to a stable internet connection. Tidal Serato requires a stable internet connection to work properly. You can try restarting your router or modem to see if it helps.
🏷 2. Update Your Serato DJ Software to the Latest Version
Make sure that you have the latest version of Serato DJ software installed on your computer. You can check for updates by going to the "Help" menu and selecting "Check for Updates". If there is a new update available, download and install it.
🏷 3. Log Out of Tidal and Log Back in Again
Sometimes, logging out of Tidal and logging back in can help resolve issues with the service. To do this, open Tidal in Serato DJ and click on your profile picture. Then select "Log out" and log back in again.
🏷 4. Relaunch Serato DJ Software
Restarting your computer can help resolve issues with software. Close Serato DJ and any other programs that are running, then restart your computer. Once your computer has restarted, launch Serato DJ and try using Tidal again.
🏷 5. Use AudFree Tidal Music Converter
You can use this tool to download and convert Tidal music to MP3, FLAC, WAV, AAC, etc. This way, you can stream Tidal on Serato DJ Pro/Lite offline without any issues.
🏷 6. Contact Serato or Tidal Support
If none of the above methods work, you can contact Serato or Tidal support for further assistance. They will be able to provide you with more specific troubleshooting steps based on your issue.
Part 5. FAQs about Tidal and Serato
Q1: What DJ Software Does Tidal Work with, besides Serato?
A: In general, Serato, Djay Pro, Pioneer, Denon, and Virtual DJ all work smoothly with Tidal. And now DJUCED and Edjing are on the list. Meanwhile, DJs are able to select the appropriate HiFi music from the Tidal library and stream Tidal to DJ software for music creation.
Q2: What Is the Music Quality When Using TIDAL on Serato DJ Pro?
A: In practical terms, the streaming quality depends on your Tidal subscription level. Tidal HiFi users are able to stream in "High Quality" (AAC) or "High Fidelity Quality" (FLAC). And Tidal HiFi Plus subscribers can also stream MQA music in addition to the above options.
Q3: Can you use Serato Lite without controller while playing Tidal Music?
Yes. You can DJ on Serato DJ Lite without a controller or any other equipements, however, only on your laptop. On other devices such as desktops, you will need to use your computer keyboard to control the software.
Part 6. In Summary
Whether you're a HiFi subscriber or not, there are options available for using Tidal with Serato both online and offline. For Tidal HiFi/HiFi Plus users, follow the steps above to get Tidal worked with the DJ platform online. For Tidal Free users, you can use the AudFree Tidal Music Converter to enable the Tidal offline mode on the DJ software. Just start mixing favorite Tidal tracks seamlessly.