With the integration of Tidal and Serato, users can use this DJ software to mix Tidal Music more intelligently. Although the current latest version of Serato DJ Pro has added many practical functions such as Day Mode, Play Count, Streaming Analysis and so forth, the Serato Tidal offline mode that users have been waiting for so much has never been delivered.
Actually, this dream can be realized right now. To satisfy users' desire to use offline mode for Tidal, in this article, we will show you a functional way to use Tidal on Serato in offline mode, and also give brief introductions to how to connect Tidal to Serato online. Just follow my steps to see what treasure I have found.

Part 1. Tool Required to Use Tidal on Serato Offline
Currently, if you want to stream Tidal tracks to Serato, a stable internet connection is a must, but this is not convenient for a DJ who works at the venue with poor mobile signals or WiFi. In most situations, music venues are overcrowded or located in suburban areas where the signal should be poor of course.
Although Serato doesn't offer the offline mode for Tidal, it does support users to add local music from the computer into the library. Thus you can take advantage of this feature and add local Tidal Music to Serato from your local music folder on your computer.
As you can see, the most crucial step is to download Tidal Music as local files. Therefore, the use of third-party tools is crucial, don't worry, here is the hand-picked professional AudFree Tidal Music Downloader for you, which is specially designed to download and convert Tidal Music, get rid of the digital copyright protection from Tidal tracks and download them into local music library as commonly used formats such as MP3, FLAC, WAV, AAC, M4A, M4B and many others.
Adopting the most advanced technology, this smart tool decrypts and re-encodes Tidal Music files without touching the original quality. The downloaded Tidal songs are kept in 100% lossless quality and all metadata fully preserved. Moreover, it supports converting podcasts, MQA music, and radio from Tidal successfully by using this all-in-one Tidal Music Downloader.
Part 2. How to Use Tidal with Serato Offline
Let's see in detail how to get songs from Tidal to Serato smoothly using AudFree Tidal Music Downloader.
How to Download Tidal to Serato via AudFree Tidable
Step 1

Copy and Paste Tidal Tracks to AudFree Tidable

Open AudFree Tidal Music Downloader, then the Tidal app will be opened simultaneously and automatically. To stream Tidal songs to Serato, please select the songs you would like to download on the Tidal app. Next, just click the three points icon beside the song or playlist. Hit 'Share' > 'Copy Track Link' or 'Copy Playlist Link', and then paste it to the search box in AudFree Tidable. After that, Simply tap on the '+' icon. Please wait for a few seconds, the track or the playlist will be imported to AudFree Tidable.
Step 2

Switch Tidal Output Format and Other Parameters

It is available to manually change the output format before downloading. You ought to select the 'menu' button on the main interface, and then press on the 'Preferences' > 'Convert' section. Later, a new setting window will appear. Here, it is allowed for you to convert Tidal Music to MP3, FLAC, WAV, etc. and customize the out quality by modifying the bit rate, audio codec, sample rate.
Step 3

Download and Stream Tidal Tracks for Serato

Now, simply click to the obvious "Convert" bar at the lower right corner on the main page. Ideally, then the program will start at a 5X faster speed to decrypt and download Tidal Music as the output settings that you chose before. When the conversion is over, a red spot with a number of songs in it will be popped on the 'Converted' icon. Please click it to locate the target folder where all downloaded Tidal streams in.
How to Stream Tidal Tracks to Serato for Offline Use
Now that you've got Tidal Music files on your computer locally, it's time to add Tidal to Serato Dj Pro without limit.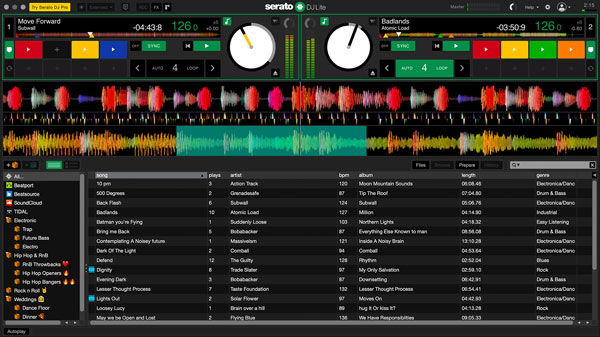 Step 1. Start by launching Serato software on your desktop and logging into your account.
Step 2. Click on the "File" button, then it will show you various locations on your local computer, navigate to the Tidal Music folder on your computer's hard drive.
Step 3. Place the Tidal Music files directly onto the "All... " icon, which, as a hint, is at the top left of the playlist window.
Step 4. Now you have streamed the Tidal tracks to Serato, it is possible to use Tidal on Serato offline without difficulty.
Tips: you can simply check here to see how to add local Tidal files from the computer to your Serato's library. It is written in details an easy-understanded.
Part 3. How to Connect Tidal to Serato DJ Pro Online
If you are in a place where WiFi or Mobile Signal is pretty good, it better for you to use Tidal with Serato online. In addition, make sure you have an active Tidal HiFi or HiFi Plus subscription, and then follow the easy steps below.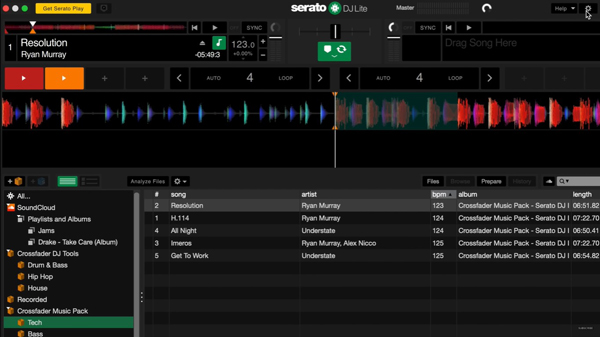 Step 1. Turn on Serato DJ Pro.
Step 2. Enter to 'Setup' > 'Library + Display' > 'Music Streaming'.
Step 3. Tick 'Show Streaming Services', then tap 'Tidal' as the streaming service.
Step 4. Select 'Sign up / Login to Tidal' to navigate to the browser and log in, sign up for a new Tidal account or continue using the account you owned before.
Step 5. After that, it is supposed to pop up a new window. Then hit 'Open Serato DJ Pro' to redirect back to it.
Step 6. When you are back to Serato DJ Pro, the 'music streaming' should be indicated a logged-in account. Here you can switch the streaming quality to HiFi if you have subscribed Tidal HiFi plan. Thus you can use Tidal on Serato DJ Pro online with ease.
Part 4. FAQs about Serato DJ Pro & Tidal Music
Q: Can I use Tidal on Serato DJ Pro?
A: Of course you can, now Tidal Music is officially integrated with Serato DJ Pro. To use Tidal with Serato as a streaming service, installing Serato DJ Pro version 2.1 or above and having an active Tidal Music subscription account are prerequisites. By the way, you'd better use Tidal with Serato in offline mode via AudFree Tidal Music Downloader.
Q: What DJ software does Tidal work with?
A: In general, Serato, djay Pro, Pioneer, Denon and Virtual DJ all work smoothly with Tidal, and now DJUCED and edjing are on the list. Meanwhile, DJs are able to select the appropriate hi-fi music from the Tidal library and stream it to the above DJ software for music creation.
Q: What is the music quality when using TIDAL on Serato DJ Pro?
A: In practical terms, the streaming quality depends on your Tidal subscription level. Tidal HiFi users are able to stream in "High Quality" (AAC) or "High Fidelity Quality" (FLAC). And Tidal HiFi Plus subscribers can also stream MQA music in addition to the above options.
Part 5. In Conclusion
It's undeniable that using Tidal on Serato offline greatly facilitates the creation of DJs. So try the effective solution to make best of offline mode for Tidal on Serato and start your music journey. Besides, feel free to sound off in the comments down below and let us know what you thought.