Can you download Tidal playlist onto USB? The truth is that there are many benefits of downloading Tidal music to USB flash drive. For example, it can be more convenient to put music on USB drive for car. It will free up space for your device and avoid losing data by backing up Tidal music to USB. Even without the Tidal app, you can listen to Tidal songs on all devices that support the USB port.
Unfortunately, we find that there is no straightforward way to download music to a flash drive from Tidal due to copyright protection, but there must be a solution to the problem. After persistent search, we have selected the best tool to download music from Tidal to USB drive. If you are interested in this topic, don't miss this complete tutorial below. Let's go!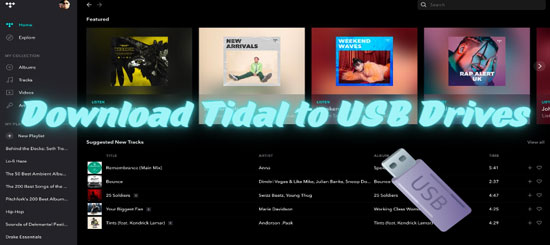 Part 1. Why Download Music from Tidal to USB
From improved sound quality to offline listening capabilities, saving Tidal music to USB has many advantages as shown below, making it a smart choice for music lovers.
🔸1. Portability: With Tidal music downloaded to a flash drive, you can carry your favorite songs with you wherever you go. USB drives are small and lightweight, making them easy to carry in your pocket or bag.
🔸2. Convenience: You can access Tidal songs without the need for an internet connection. This is especially useful when traveling or when you are in an area with poor network coverage.
🔸3. Backup: Downloading music to a USB drive provides a backup copy of your Tidal songs that you can use to restore your music library in case of data loss.
🔸4. Sound quality: Tidal is a high-quality music streaming service that offers lossless audio. By putting music from Tidal on flash drive, you can enjoy high-quality sound on any device that supports USB playback.
🔸5. Cost-effective: It is a cost-effective way to enjoy your Tidal music without paying for a monthly subscription.
Part 2. Convert Tidal to USB - Best Tool
You can't transfer official Tidal music downloads to other players or devices (including USB drives) directly because of digital rights management protection. In this case, the primary task is to look for a special Tidal downloader to remove its protection and download Tidal music locally. When you search online, you will find many Tidal downloaders that claim to be able to download and convert Tidal well, but most of them do not live up to their name.
As a result of meticulous comparison and testing, we have chosen the top-rated AudFree Tidal Music Downloader to meet your requirements. It is carefully designed for all Tidal users to enjoy Tidal Music entertainment better. In fact, it can download and convert Tidal Music to MP3, FLAC, WAV, M4A, etc. for being compatible with USB flash drive. With the assistance of this professional tool, free users can download Tidal playlist onto USB flash drive without limitations.
Part 3. How to Download Tidal Music to a Flash Drive
In this part, we will give the one-by-one step to download and convert Tidal Music to common audio files via AudFree Tidal Music Converter. Once you've got your local Tidal files on your computer, it's easy to save music from Tidal to USB drive.
How to Convert Tidal Music to USB Drive Supported Format
Step 1

Load Tidal Music to AudFree Tidable

Download and open AudFree Tidal Music Downloader on your computer. This tool supports a direct way to add Tidal songs. Please discover the target Tidal music or playlist on the Tidal app. Then tap the item and click the 3-dot icon to choose 'Share' > 'Copy' to copy the Tidal link. And paste it to the search box of AudFree Tidal Music Downloader. Now, click the '+' button near the search box to upload Tidal songs automatically.
Step 2

Customize Tidal Output Audio Parameters for USB

There are some output formats that can be compatible with a USB audio player, such as MP3, M4A, FLAC. If you'd like to make Tidal music more compatible, MP3 could be the best choice. Please click the top 'Menu bar > Preferences > Convert' option to define your output format. Besides, you can also customize other audio parameters, like bit rate, sample rate, and audio channel.
Step 3

Download Tidal Music to Computer Locally

Simply press the 'Convert' tab to start the conversion process. It will download added Tidal tracks to plain audio files that you set before. The more Tidal music you have imported to this tool, the longer the conversion time you will wait. Once done, you can start preparing to download music to a flash drive from Tidal without any problem.
How to Save Tidal Music to USB

Step 1. Connect USB to your computer. Please insert the USB flash drive into the USB port of your computer. It will show the icon of your USB stick on your computer.
Step 2. Find downloaded Tidal music files. There are two ways to locate common Tidal audios. One is to click the 'History' > 'Search' icon. The other is to click the 'File' icon on AudFree Tidal Music Downloader.
Step 3. Put Tidal music on flash drive. Drag and drop Tidal songs from the folder on your computer to the USB folder. Or you can do the 'copy&paste' action to download music from Tidal to USB drive.
Part 4. Tips for Putting Tidal Music on USB Drive
If you're a fan of Tidal music and want to take your favorite tracks on the go, putting them on a USB drive can be a great option. However, there are a few things to keep in mind to ensure a smooth and successful transfer.
🔹1. Check Storage Space: Before downloading tracks from Tidal, ensure that your USB drive has enough storage space to accommodate the music files. This will prevent any issues with incomplete downloads or running out of storage.
🔹2. High-Quality USB Drive: To ensure reliable performance, use a high-quality USB drive. This will help prevent any potential data loss or corruption during the transfer process. Look for reputable brands known for their durability and speed.
🔹3. Compatible Output Format: Choose the output format and quality that is compatible with both your USB drive and the devices you plan to play the Tidal music on.
🔹4. Organize Your Music Library: To easily navigate and find your Tidal music, organize your music library on the USB drive. Create folders based on genres, artists, or albums, and properly name the tracks.
🔹5. Safely Eject USB Drive: Always remember to safely eject the USB drive from your computer before physically removing it. This ensures that all data transfers are complete and reduces the risk of data loss or corruption. Use the "Eject" or "Safely Remove Hardware" option on your computer's operating system.
Part 5. In Conclusion
That's all about how to download music from Tidal to USB. Is easy to do that, isn't it? Take advantage of the AudFree Tidal Music Downloader and you will have the freedom to play local Tidal songs in the car, listen to them on Smart TV, etc. via the USB port whenever and wherever possible.