Is it available to play Tidal on Android TV? Of course yes. Android TV is functional for families. It can be used for playing games, watching movies, listening to music, etc. When it comes to music, Tidal is a good choice as it shows you millions of songs in high quality. So how to enjoy Tidal music on Android TV? The post is telling you the answer!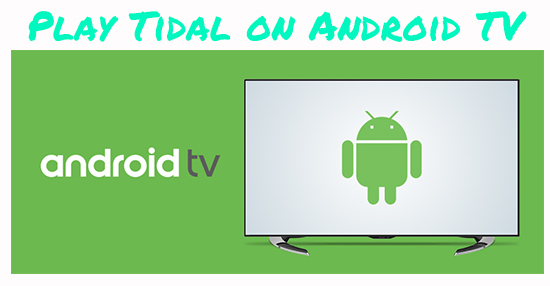 Part 1. Link Tidal with Android TV through Play Store
There is an easy way for you to install the Tidal app on Android TV. After you do it successfully, you can access Tidal on Android TV. The detailed operation is as below.
1. Find the Play Store on Android TV's home screen.
2. Enter into the Play Store. Search for the Tidal app. Install and launch it.
3. Reach to the website - https://link.tidal.com on your computer or other devices.
4. Sign up or log into your Tidal account.
5. A code displayed on Android TV. Enter it to connect the TV with your account. Then you can upload Tidal songs to Android TV freely.
Part 2. Listen to Tidal on Android TV via AudFree Software
The method above seems convenient for you to stream Tidal songs on Android TV. However, there are also some disadvantages. You are required to play Tidal music with the network connection. If you subscribe to Tidal, you are allowed to download the songs for offline listening. But actually, you don't really own the songs as what you download are not local files but cache files. So you can only play them inside the Tidal app. What's more, you have to be charged for your premium service each month.
Any way for you to save money and keep Tidal music forever? Surprisingly, the AudFree Tidal Music Converter meets your needs. It is well-designed to download Tidal songs as MP3, AAC, FLAC, WAV, W4A and W4B files for your devices. Tidal music is formed in a special format and it is not supported by Android TV, so the AudFree software plays an essential role in streaming Tidal music on the TV.
Furthermore, the AudFree Tidal Music Downloader for Android TV gives you back lossless music files with ID3 tags preserved. You are also inspired to customize the output format and parameters for Android TV. Sounds great, right? Finally, you will get the converted Tidal songs in a short time as it runs at 5X faster speed.
The following is the concrete guide for you to export playlists from Tidal for Android TV.
Step 1

Load Tidal Songs to AudFree

Install the AudFree Tidal Music Converter from the AudFree website on your computer. Open it. Meanwhile, the Tidal app will be launched. You can copy their URL and paste it to the search bar. Then click the icon "+" to upload the songs.
Step 2

Make Output Setting of Tidal Music

Hitting the button "Preference" on the top, you are directed to choose the output format for Android TV and set other parameters including channel, bit rate and sample rate. Moreover, you are able to reset the output folder by tapping on the icon "Converted" on the bottom. The AudFree tool also permits you to archive output files by album or artist. If you set the speed as 1X faster, the conversion process will be more stable.
Step 3

Convert Tracks from Tidal for Android TV

Press on the button "Convert" to start the conversion. Tidal songs uploaded will be converted in batch and stay in the output folder. The transferred songs are preserved with original data such as composer, title, group, genre, year and so on. So you can easily identify them on your TV.

What you need to know is that all the converted Tidal songs should be for personal use but not a business. In addition, if you use the free version of the AudFree Tidal Music Converter, you can only gain a one-third file of converted Tidal track. You are required to buy the AudFree program to win a whole Tidal file.
Step 4

Get Tidal Music on Android TV

Now all of the converted Tidal songs are in the folder. The method to get Tidal music requires the USB flash drive. Copy and paste the converted Tidal songs to the USB flash drive. Then link it with Android TV. Open the music player on TV to browse the Tidal files. Then you can play Tidal on Android TV.