When it comes to high-quality music service, there is no doubt that Tidal is the leader in the music streaming industry. With a Tidal HiFi subscription, you will have access to a larger number of tracks in FLAC (16bit / 44.1kHz), which offers CD-quality audio in its purest form. With a Tidal Plus plan, you are able to experience Master Quality audio, Dobly Atmos, Sony 360 Reality Audio and HiFi audio.
The higher the sound quality, the faster and more stable the required internet speed. Therefore, if you'd like to listen to Tidal songs encoed in Free Lossless Audio Codec format, it's better to download FLAC from Tidal offline.
Subscribers can download Tidal music for offline listening in the mobile app, but it is impossible to do the same with Tidal desktop app. Even worse, you may not play the Tidal FLAC downloads on other devices directly since they are encrypted. So, is there a way to let Tidal download FLAC free of protection so that we can enjoy them offline on any device?
Fortunately, the answer is positive. Below is the recommendation of 4 Tidal downloader for FLAC, which will fan you to rip, download, and convert Tidal to FLAC without quality loss. Read on to get the detailed how-to tutorial.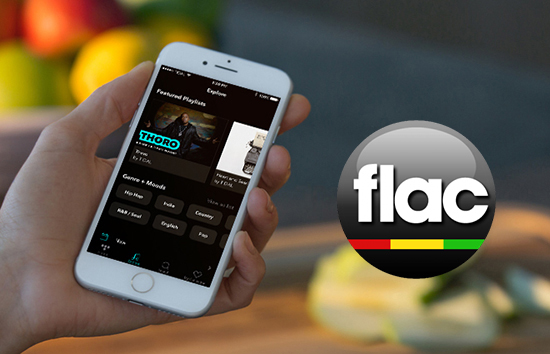 Part 1. How to Let Tidal Download FLAC via Best Tidal Downloader for FLAC
The root cause of the inability to play Tidal FLAC downloads is the digital right management technology applied on Tidal content. Even though you download Tidal music offline with paid subscription on mobiles, the downloads are readable by Tidal only. Therefore, we need a Tidal removal tool to bypass all limitations.
AudFree Tidal Music Converter is one of the excellent Tidal downloaders for FLAC you'll need. It's well-designed for both Tidal Free and HiFi subscribers to download FLAC from Tidal losslessly without the Tidal app, and meanwhile remove copyright restriction on all Tidal FLAC downloads.
As an all-in-one Tidal music solution, this smart software can do more than Tidal FLAC downloader. It's also capable of converting Tidal to other 5 formats including MP3, WAV, WMA, M4A, and M4B. While downloading and converting Tidal to FLAC, AudFree Tidal Music Converter can also detect and keep all ID3 tags of the music such as title, genre, year, album cover, etc.
By adopting innovative technology, AudFree Tidal downloader for FLAC runs at 5X fast speed to download Tidal FLAC on Windows and Mac computers. With the assistance of this tool, you can play Tidal music on any media player, game consoles, smartphones, or Bluetooth speakers, outside the Tidal app.
How to Get Tidal FLAC Download via Tidal FLAC Downloader
Please firstly download and install AudFree Tidal Music Converter on computer to get ready. And then refer to the following detailed tutorial to locally get Tidal FLAC download for offline playing on all devices and players.
Step 1

Launch AudFree Tidal Music Converter

Once installed, open this one-stop Tidal to FLAC converter. You'll be directly guided to the Tidal online website due to AudFree Tidable's inbuilt Tidal Web Player. Head to the "Log in" option and click it to access your Tidal account.
Step 2

Set Tidal output format as FLAC

In this step, set output format. Go to Menu from the upper-right corner and select the "Preferences" > "Advanced" option. Here in this settings window, you need to choose FLAC as output format and customize other audio parameters according to your needs. You are suggested to select bit depth as 24 bit to keep original sound quality if you are a Tidal HiFi subscriber.
Step 3

Load Tidal music to AudFree

AudFree Tidal to FLAC Downloader allows you to add your Tidal playlist or album to the waiting queue. Simply find the albums or playlists you want to download from Tidal, click on it to go for details. Then, click the "+" button to load the Tidal playlist or album to AudFree Tidable. In the to-be-converted list, you can choose any Tidal tracks to convert if there is no need to download the whole playlist.
Step 4

Let Tidal Download FLAC

The final step is to hit on the "Convert" button to launch the converting process. AudFree Tidal Music Converter will start to convert Tidal to FLAC format without touching the original sound quality. Once completed, you can hit the "Converted" icon to open the history list and locate all downloaded FLAC Tidal files in the destination folder.
Part 2. How to Download FLAC from Tidal via Free Tidal FLAC Downloader
Tidal-Media-Downloader functions to be a Tidal FLAC downloader freeware. It's open-source and cross-platform, allowing you to download tracks, albums, playlists, and videos from Tidal website on Windows, Mac, Linux, and even Android. When working as a Tidal music downloader, it carries the ability to add metadata info to Tidal songs automatically and select track quality. Note, though, that you have to count on a Tidal HiFi subscription to let Tidal download FLAC.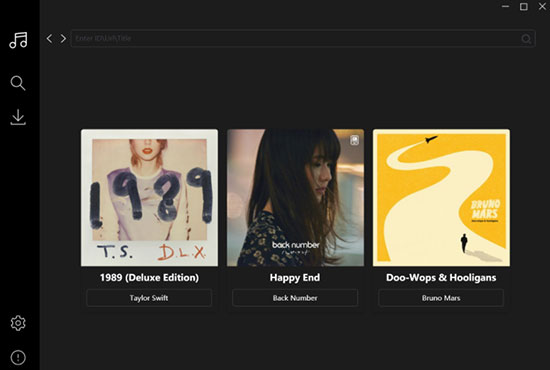 To download Tidal from FLAC by virtue of Tidal-Media-Downloader, please download and install the tool. It has two versions, namely, Tidal-gui for Windows and Tidal-dl for all supported platforms. According to your condition, choose the proper version of Tidal-Media-Downloader. After installation, do the following.
How to Download Tidal Music
For Tidal-gui: Open it and sign in your account > copy & paste the link of Tidal music to the search box of Tidal-gui to download and convert Tidal to FLAC.
For Tidal-dl: Run it and enter "1" to log into your account > type "2" and click "Enter" to configure FLAC as output format and HiFi as audio quality > copy Tidal music link to Tidal-dl to download FLAC from Tidal.
Part 3. How to Rip Tidal to FLAC via Tidal FLAC Ripper
Apart from using the above 2 Tidal downloaders for FLAC to get Tidal FLAC files, you can also apply a traditional ripping and recording way to rip FLAC from Tidal. Here, such a Tidal FLAC ripper named AudFree Audio Capture bears the brunt.
As a full-featured streaming music recording tool, AudFree Audio Capture can not only grab any audio from apps, including Tidal on your computer without loss of original quality, but also save recordings as FLAC, MP3, WAV, AAC, M4A, etc. With an inbuilt audio editor, it also gives its power to split recorded Tidal FLAC tracks and customize ID3 tags of Tidal audios.
The flexible output setter is another attraction of AudFree Tidal FLAC RipperIt entitles you to adjust codec, channel, sample rate, bit depth, and even output preset for Tidal music in accordance with your needs. Using it to rip Tidal to FLAC locally, you can rely on these steps.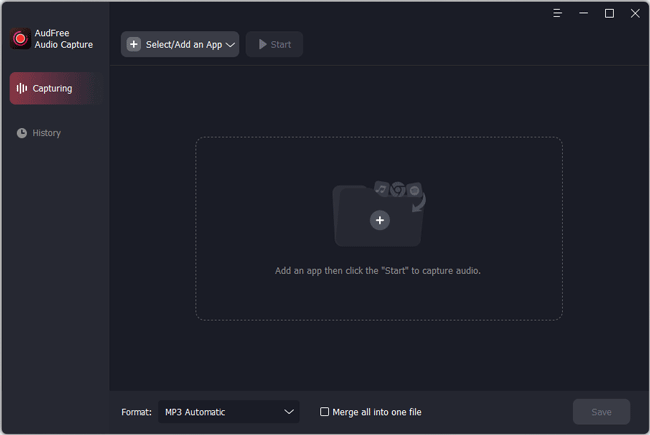 How to Rip FLAC from Tidal
Step 1. To begin with, please install AudFree Audio Capture and Tidal app on desktop. Then, open AudFree software and choose "+" icon to add the Tidal app to the main screen of AudFree;
Step 2. Next, head to the format window with the help of an audio icon at the lower right corner. Here, select "FLAC" as output format and customize format parameters like codec, sample rate, etc.;
Step 3. Once set up, click "OK" to save your settings and leave for the main interface. Now, touch Tidal icon to open the capture window and the Tidal app. Play your favorite Tidal song and AudFree Audio Capture automatically starts ripping Tidal to FLAC files without protection;
Step 4. After recording, touch "Stop" to finish the process. If needed, touch the "Edit" button on Tidal recordings to trim unpleasant tracks and edit metadata info of Tidal FLAC music. Whereafter, you can save Tidal FLAC files to your local computer by use of the "Save" button.
Part 4. How to Convert Tidal to FLAC via Tidal to FLAC Converter
What should you do if you are using a free Tidal account and want to convert Tidal to FLAC? AudKeep Tidal to FLAC Converter is a satisfied answer. No need to install the Tidal client app, this amazing tool endows you with ability to download and convert music, podcasts, playlists, albums from Tidal to FLAC at a 5X conversion speed.
By adopting state-of-the-art technology, you can not only convert Tidal to FLAC, but also other plain audio formats. If necessary, you can customize bit rate, sample rate, etc. of Tidal FLAC downloads. With its easy-to-use and intuitive user interface, this Tidal to FLAC converter asks for no tech skill to help you achieve your goal. Let's see how it works.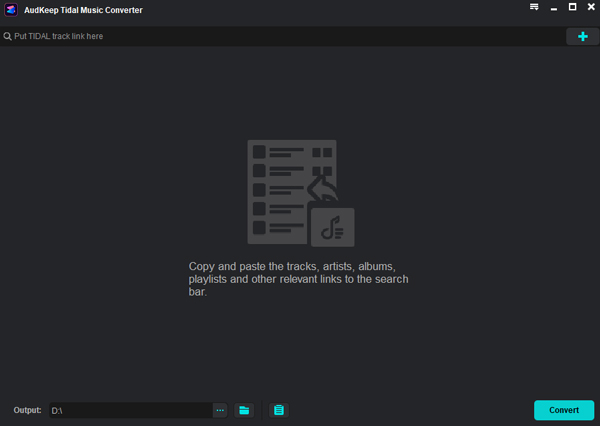 How to Convert Tidal to FLAC
Step 1. Install and launch the Tidal to FLAC converter from your computer desktop. And then please log into your Tidal username and password. After that, you need to click the 'Preferences' > 'Advanced' option to configue the output format as FLAC.
Step 2. Search Tidal playlists and tap the item, you will see the gray '+' button will be blue. Simply press it to choose certain Tidal songs that you'd like to convert to FLAC.
Step 3. The final step is to hit on the 'Convert' tab to start conversion process. If you are using a Windows computer, it runs at 5X fast speed, while it works at 1X speed on Mac. Wait for a while, you can locate all Tidal FLAC downloads by clicking the 'Converted' button.
Part 5. FAQs about Getting Tidal FLAC Download
Q1: Does Tidal Use FLAC?
Yes. Tidal HiFi comes with FLAC format at 44.1 kHz/16 bit. Tidal FLAC streams are CD-quality lossless tracks, which are the improved audio tracks over MP3 and AAC files.
Q2: What's Difference among Tidal FLAC vs AAC vs MP3?
FLAC is short for Free Lossless Audio Codec, which is similar to MP3 but in a lossless format. AAC stands for Advanced Audio Coding, which is an audio coding standard for lossy digital audio compression. AAC is the successor of MP3 but with better sound quality when encoding the same bit rate. The 'high-quality' tracks offered by Tidal Premium stream in 320 kbps AAC format.
Q3: What's Difference between Tidal Master vs Tidal FLAC
The audio quality of Tidal FLAC is 16bit / 44.1kHz, while Tidal MQA has the highest possible resolution at typically 96 kHz / 24 bit. It's also worth metioning that MQA is not lossless.
Q4: How to Download FLAC from Tidal?
You can subscribe to Tidal HiFi to download Tidal music under protection via the Tidal for Android or iOS apps. Alternatively, you can use one of the Tidal downloaders for FLAC we introduce above to download, convert, rip Tidal to FLAC effortlessly.
Part 6. Final Words
That's all for downloading and converting Tidal to FLAC on computer without touching the original lossless quality. No matter what kind of Tidal account you are using, you can choose the most suitbale tool from the above four Tidal to FLAC converter and downloader software to get Tidal FLAC downloads.
To be honest, the easiest way to download FLAC from Tidal could be using AudFree Tidal FLAC Downloader. It stands out from other apps because it has an innovative technology to keep high quality and provide fast conversion speed.