If you are an audiophile, then you must be no stranger to Yamaha receivers that allow users to stream music especially high-quality music from Tidal on Yamaha receivers. But do you know that this venerable audio manufacturer also produces wireless speakers?
Yes. Yamaha has the wireless products available called the MusicCast Speakers, which have integration with Tidal as well. There are a few effective ways to stream Tidal on Yamaha MusicCast Speakers, which we are going to give detailed tutorials on each method in the article. If you are a Tidal subscriber who owns a Yamaha Bluetooth speaker, keep on reading.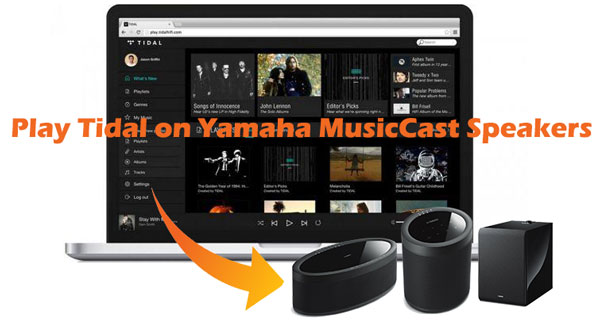 Part 1. Get Tidal on Yamaha Wireless Speakers
Yamaha first joined the 'wireless speakers party' in 2018 and started to launch its wireless MusicCast products ever since. Three main Yamaha wireless speakers are the MusicCast 20, MusicCast 520, and MusicCast SUB 100. Users can use them on their own or set them as a part of the MusicCast stereo, home theater or multi-room audio setup, according to Yamaha.
Stream Tidal on Yamaha MusicCast Speakers via MusicCast Controller
As I mentioned earlier, Yamaha MusicCast Speakers have integration with Tidal since the launch. The option provided by Yamaha to stream Tidal music is via Yamaha's app – MusicCast Controller. This app can be obtained on Android and iOS devices. Before getting started, please make sure you have the MusicCast Controller installed on your mobile devices. Here we use the iOS devices for display of the setup process.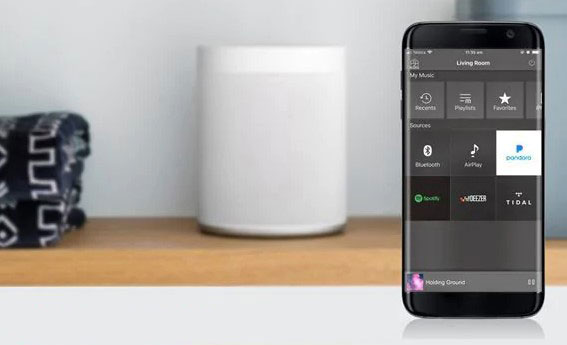 #1. Turn on the Yamaha MusicCast Speaker. Open MusicCast Controller app on your mobile devices and tap Setup > Next.
#2. Press the Connect button on your MusicCast Speaker for 5 seconds until connected and tap Next on your mobile devices.
#3. Go to the Wi-Fi settings on your phone, and select the MusicCastSetup network. Then enter the password from the MusicCast Controller app.
#4. Go back to the MusicCast Controller and select your home Wi-Fi network. Enter the password and tap Next.
#5. Set location name, room name, and room photo. Now the setting is complete and tap Done.
#6. Return to the home screen of the MusicCast Controller, and select a room. Find Tidal under the Sources section. Log in with your Tidal account and start to play some music now.
Considering the setup process can be quite complicated, so if you still have problems with it, you can seek help from Yamaha at How do I set up the MusicCast Controller?
For iOS users, a workaround is to stream Tidal on Yamaha MusicCast Speakers using the Tidal app and Airplay at the same time, which will not be concluded in this article.
Part 2. Better Way to Play Tidal on Yamaha Bluetooth Speaker
However, if you browse in the Reddit community or other forums, you will notice some people complain that the MusicCast Controller app is functional but can be frustrating, or users cannot fast forward nor rewind songs but only skip a song or select previous.
Therefore, we introduce a better way to play Tidal on Yamaha MusicCast Speakers with the help of AudFree Tidal Music Converter. It is a professional tool designed to download and covert Tidal tracks/albums/playlist into Yamaha speaker compatible formats and allows you to play Tidal music offline. With the latest technology embedded, AudFree Tidal Music Converter runs at 5X or faster speed without zero quality preserved. It means that even the MQA quality of your favorite Tidal tracks can be 100% kept in the downloaded Tidal files.
With the help of this excellent tool, you can easily download Tidal songs to play on Yamaha wireless speakers. Now let's take a quick look at how to use AudFree to download Tidal music taking the AudFree Tidal Music Converter for Mac version as example.
Step 1

Import Tidal tracks into AudFree

Download and open AudFree Tidal Music Converter on your computer, and the Tidal app will launch automatically. Find your favorite Tidal tracks in the Tidal app, and then copy & paste the URL of the track to AudFree's address bar.
Step 2

Set Tidal output format for Yamaha speaker

Now go to AudFree's menu icon > Preferences > Convert. Here you can customize the output settings as MP3, WAV, WMA, or FLAC, which are compatible formats for Yamaha MusicCast Speakers. You can also set other parameter including channel, bit rate, and sample rate to enhance the listening experience.
Step 3

Download Tidal music for Yamaha speaker

Please click the Convert button on AudFree's main interface to start the downloading process. When it is finished, you can press the Converted icon to check the history list of downloads, and local them on your computer.
Step 4

Stream Tidal on Yamaha MusicCast Speakers via Bluetooth

With the downloaded Tidal music files at hand, the final step is to stream Tidal on Yamaha wireless speakers via Bluetooth. A recommended way to do it is to transfer the downloaded Tidal songs to your phone via a USB cable if you have the MusicCast Controller app installed on your phone. Then play Tidal music with any media player and stream it through the Bluetooth button under Sources without using data.
To Sum Up: After learning these two ways to get Tidal on Yamaha MusicCast Speakers, why don't you turn your home into a concert hall now? Additionally, it is worth mention that MusicCast 20 and 50 support Amazon Alexa and Google Assistant voice control. With a few more setups, you will be able to play Tidal through Alexa on Yamaha wireless speakers.