Denon is a forerunner in home theater. The company has introduced great AV receivers, and even today, they are working to introduce new models to fulfill the requirements and needs of home theater enthusiasts. The good thing about Denon is that it has a HEOS app, which supports numerous online streaming services, like Tidal, Spotify, Deezer.
Indeed, Tidal is a leading music streaming platform that offers unique MQA to enhance the music experience. If you want to link Tidal with Denon receiver, you've come to the right place. This article will cover details about connecting Tidal Denon and the two best options to play Tidal on Denon receiver. Let's get started.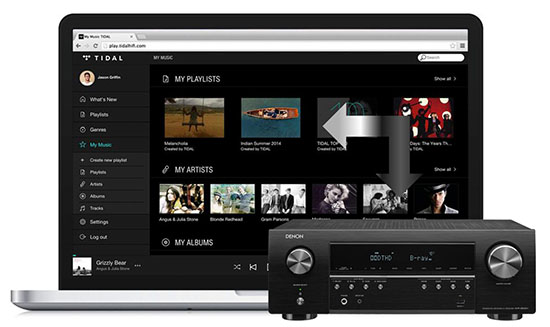 Part 1. FAQs about Connecting Tidal Denon Receiver
Q1: Does Denon Support Tidal?
Since Tidal is available on the updated HEOS app, you can stream Tidal music to Denon receiver via HEOS app.
Q2: Does Denon Work with Tidal MQA?
Of course, if you're a Tidal HiFi Plus subscriber, you can enjoy music as the artist intended on HEOS, which means playing Master Quality Authenticated (MQA) music.
Q3: Can Free Users Use Tidal on Denon Receiver?
Unfortunately, only Tidal paid subscribers are entitled to connect Tidal to Denon receivers, i.e. Tidal HiFi and HiFi Plus users.
Q4: What is HEOS by Denon?
HEOS, or Home Entertainment Operating System, is a new wireless multi-room audio system from Denon. It works through your existing Wi-Fi home network. Simply enable the HEOS app and you can stream music to your speakers or home theater system.
Q5: What Denon Receivers Have Built-in HEOS?
Please refer to the table below for details:
| | Denon device feature HEOS Built-in |
| --- | --- |
| Denon AV Receivers | Denon AVR-X1400H, Denon AVR-X1500H, Denon AVR-X1600H, Denon AVR-X2400H, Denon AVR-X2500H, Denon AVR-X2600H, Denon AVR-X2600H DAB, Denon AVR-X3400H, Denon AVR-X3500H, Denon AVR-X3600H, Denon AVR-X4300H, Denon AVR-X4400H, Denon AVR-X4500H, Denon AVR-X6300H, Denon AVR-X6400H, Denon AVC-X6500H, Denon AVC-X8500H, Denon AVR-S650H, Denon AVR-S750H, Denon AVR-S950H |
| Denon Stereo Receivers | Denon DRA-800H |
| Denon Hi-Fi | Denon DNP-800NE |
| Denon Mini | Denon CEOL N-10, Denon RCD-N10 |
| HEOS Speakers | HEOS 1 HS1, HEOS 1 HS2, HEOS 3 HS1, HEOS 3 HS2, HEOS 5 HS1, HEOS 5 HS2, HEOS 7 HS1, HEOS 7 HS2 |
| HEOS Bars | HEOS Bar, HEOS Homecinema HS1, HEOS Homecinema HS2 |
| HEOS AVR | HEOS AVR |
| HEOS Components | HEOS Super Link, HEOS Amp HS1, HEOS Amp HS2, HEOS Link HS1, HEOS Link HS2, HEOS Drive HS1, HEOS Drive HS2 |
Part 2. Play Tidal on Denon Receiver via HEOS App
If you want to know how to stream Tidal to Denon receiver, you can refer to this official way with HEOS app. Please note that Denon Tidal integration is not possible if you do not have a subscription to Tidal HiFi or HiFi Plus. Also make sure to connect your Denon HEOS receiver to the same network as your mobile device.
Step 1: First go to the HEOS app on your iOS or Android device.
Step 2: Click on the Music option followed by Settings to create a HEOS account.
Step 3: Go back to Settings and click on Music Sources > Online Music option.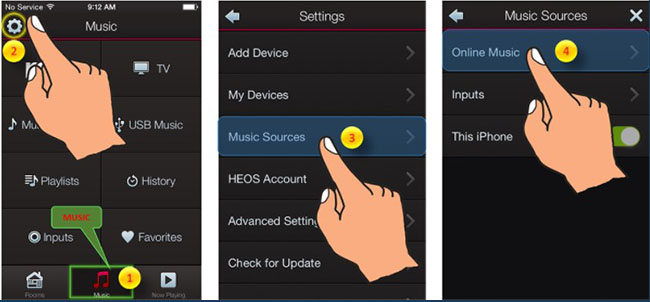 Step 4: Please select Tidal as the target online music source. Log in to your Tidal account, or create a new one if you don't have one.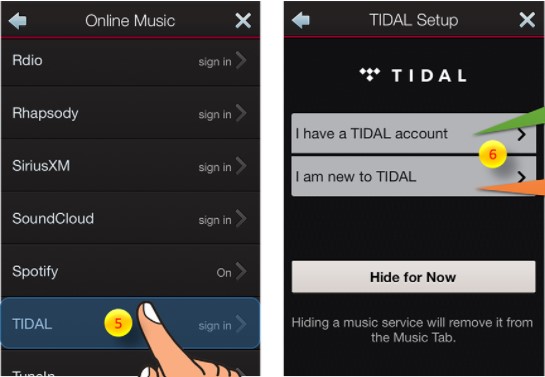 Step 5: Now, all Tidal acoustic tracks will be automatically played on Denon AV receiver.
📝 Note: The only drawback of using HEOS is that you have no control over what you want to listen to. To put it simply, there won't be any visual icons or settings to control what you're listening to on Tidal.
Part 3. Stream Tidal MQA to Denon Receiver via USB Offline
Apparently, the above method only works for Tidal subscribers. What about free subscribers? Is it possible to connect Tidal Denon receiver without subscription? Here's an alternative method, namely downloading Tidal music files to a USB drive and connecting it to Denon AV receiver for offline playback. More importantly, this approach will eliminate the problem of not controlling the songs you want to listen to on Denon HEOS.
To get Tidal music downloads locally, you need to rely on AudFree Tidal Music Converter. This all-in-one tool will download tracks, albums, playlists, etc. from Tidal as local audio files. Moreover, it can batch download Tidal MQA and convert it to MP3, FLAC, WAV, etc. without any loss at 5X speed. Then you can easily transfer Tidal songs to USB for offline listening on Denon receiver.
AudFree Tidal Music Converter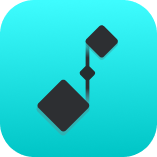 Download Tidal music files locally with 5X speed
Convert Tidal music to MP3, AAC, FLAC, WAV, etc.
Play Tidal on Denon receiver, Pioneer receiver, Yamaha receiver
Keep original music quality and ID3 tags intact
Step 1

Select Tidal output format for Denon receiver

Visit AudFree Tidal Music Converter, then click on the Menu and Preferences option on the main screen. You can choose Tidal output format as MP3, M4B, M4A, FLAC, AAC or WAV for Denon receivers. Additionally, you can set audio parameters such as channels, audio codec, sample rate, etc. according to your requirements.
Step 2

Add Tidal music to AudFree Tidal Music Converter

Find the song you want to connect to Denon receiver in your Tidal music library. After that you need to copy and paste the track, playlist or album links into the search box at the top and press the Add button on the side.
Step 3

Download Tidal music for Denon receiver

Now that the songs have been added, simply click on the Convert button towards the end. The conversion will be completed soon. You will find the converted Tidal songs on the Converted tab for free use.
Step 5

Connect Tidal to Denon receiver via USB

Now take a USB and transfer all Tidal songs to USB. Once you're done, plug it into the USB port of your Denon receiver and you'll be able to stream every Tidal song with ease.
Part 4. In Conclusion
Now you know how to connect Tidal Denon receiver on HEOS app and the alternative by using AudFree Tidal Music Converter. You can try both steps as needed. By the way, AudFree Tidable allows you to download multiple Tidal music files locally and in turn stream Tidal music on Denon streamer or other devices offline for free.