Spotify has this fantastic feature 'Spotify Connect' that is easy to set up long ago. Many Tidal subscribers have been expecting the same feature for Tidal. Now this day finally came. On October 20, 2020, Tidal announced a new casting feature called 'Tidal Connect'. It allows users to control music streaming on compatible devices directly from the Tidal mobile app.
Tidal Connect, does this name immediately remind you of Spotify Connect? Some say that Tidal Connect is like Spotify Connect for Tidal, but capable of offering much higher quality music. If you are interested, keep on reading to learn more about this new casting feature from different aspects.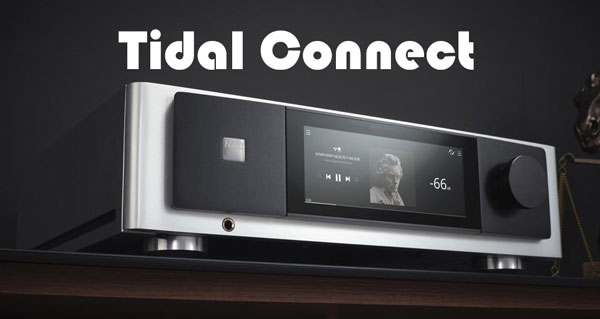 Part 1. What is Tidal Connect
Tidal Connect is a feature that turns the native Tidal app into a controller for connected devices, which is both available for Premium and HiFi subscribers. It allows you to stream music from the Tidal app on your phone or tablet to compatible speakers and devices, such as wireless speakers, soundbars, and TVs, without the need for a separate streaming device or app. It provides a seamless and convenient way to enjoy high-quality music on your preferred audio system.
Different from streaming through Bluetooth or Airplay which transmits signals from one device to another, the receiving streamer or computer can stream the music from the cloud via Tidal Connect. This means you can get the maximum audio fidelity - Tidal's MQA music, which can't be preserved via Airplay or Bluetooth.
Before this launch, the wireless solutions for MQA or lossless streaming require an expensive subscription to third-party software like Roon or via UPNP. Tidal subscribers can also use Chromecast to stream music to Chromecast-enabled devices and control music playback within the Tidal app easily, but not in hi-res quality. Therefore, having a solution straight from the music streaming app like Tidal Connect is the right way forward.
There is no doubt that the Tidal Connect is versatile as it is a native feature. Not only does it support CD-quality casting, but also it can cast hi-res (MQA) tracks and Dolby Atmos Music to certain MQA-enabled Tidal devices.
Part 2. Compatible Tidal Connect Devices
So what are the Tidal Connect-enabled devices? The first wave of partners for Tidal Connect includes Cambridge Audio, StreamUnlimited, Bluesound, KEF, Lyngdorf, iFi Audio, DALI, NAD, and Naim Audio. This feature is available on both Tidal mobile and desktop apps. And we believe that Tidal is adding more brands to this list in the near future. Just stay tuned for that!
By the way, before casting music to your device via Tidal Connect, please check whether your device is in the Tidal Connect-compatible device list. You can refer to that through this website: https://tidal.com/supported-devices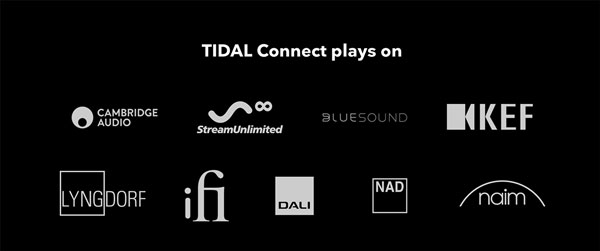 Part 3. How to Use Tidal Connect
After making a further understanding of Tidal Connect, now, we come to the operational step. Here is a how-to guide for using Tidal Connect. Please ensure you have subscribed to Tidal HiFi or Tidal HiFi Plus plan.
Step 1. To enjoy Tidal's high-quality music on external speakers, select the track/album/playlist you want to play, and then tap on the 'Now Playing' bar to open the full-screen playing mode. If you stream Tidal music on your computer, please skip this step.
Step 2. On the Tidal mobile app, tap on the upper-right device selector like a speaker icon to draw down a list. If you are using a computer, please hit the device selector directly from the bottom playing bar.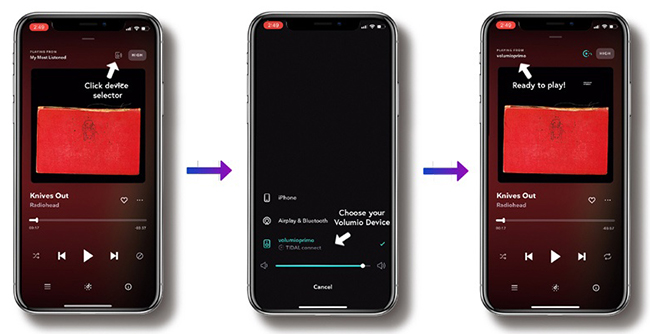 Step 3. A list of nearby available devices to stream through will swipe up from the bottom. Please make sure the device you wish to connect is under the same WiFi network as your Tidal app or is in pairing mode. Select your desired device from the pop-up list to pair.
Step 4. Once paired, the TIDAL app now serves as a Tidal remote. You can now control Tidal playback and Tidal music volume that is on your device from your phone.
Note: TIDAL is also compatible with some smart assistants that enable voice controls such as Alexa. You can find this option in the Settings section of your Smart Devices app and link your Tidal account with a selected smart device to enable voice control. It is worth mentioning that, as for Tidal Connect sound quality, it supports streaming innovative MQA and spatial Tidal Dolby Atmos on your device.
Part 4. Tidal Connect vs AirPlay vs Spotify Connect
Tidal Connect, Spotify Connect, and AirPlay are all different ways to stream music wirelessly from your device to a speaker or other audio device. But what are the differences between Tidal Connect, Spotify Connect, and AirPlay? In fact, they support different sound quality and connection methods.
Spotify Connect is a similar feature of the Spotify music streaming service that allows you to stream music directly from the Spotify app to a compatible speaker or audio device. It also offers high-quality audio streaming and allows you to control the playback from the Spotify app. Similar to Tidal Connect, both of them work over Wi-Fi. But different from Tidal Connect or AirPlay, it can stream music at only up to 320 kbps while Tidal Connect supports 9216 kbps.
AirPlay is a wireless streaming technology developed by Apple that allows you to stream audio (and video) from an Apple device (such as an iPhone, iPad, or Mac) to a compatible speaker or audio device. It works with a variety of apps, including Apple Music, Spotify, and Tidal. But it will damage the original sound via the wireless connection. Different from the other two ways, AirPlay can work over both Wi-Fi and Bluetooth.
Tidal Connect stands out from those features for its unique streaming quality. Different from the above two connection ways, Tidal Connect is potent to transmit hi-res-quality Masters and surrounded Dolby Atmos or 360 Reality Audio music on supported devices seamlessly, which the above two ways cannot. And with AirPlay, the original audio quality will be reduced.
Part 5. Fix: Tidal Connect Not Working
There are many potential factors that play roles in this issue, for example, the Tidal app's own bugs, corrupted cache files, poor Wi-Fi connection, and more. If you are getting stuck in the same problem, please give the following workarounds a shot:
If Tidal Connect is not working, here are a few steps you can try to fix the issue:
✔ Sign out and sign in again: This helps you clear damaged cache files and fix some Tidal glitches.
✔ Uninstall and reinstall the Tidal app: Tidal Connect problem may result from unknown bugs in its app. So, reinstalling the app can help you solve this problem, which is proven useful for many Tidal users.
✔ Check your internet connection: Ensure that your device is connected to a stable internet connection. If your internet connection is weak or unstable, Tidal Connect may not work properly.
✔ Update the Tidal app: Make sure that you have the latest version of the Tidal app installed on your device. If not, update the app and try again.
✔ Restart the app and device: Close the Tidal app and restart it. If the issue persists, restart your device and try again.
✔ Check compatibility: Ensure that your device is compatible with Tidal Connect. Not all devices are compatible with this feature.
✔ Contact Tidal support: If none of the above steps work, you can contact Tidal support for further assistance. They may be able to provide you with additional troubleshooting steps or help you resolve the issue.
If non of the solutions works for you, please have a look at the alternative tool to Tidal Connect, which facilitates playing Tidal music on any other devices or players.
Part 6. Bounce Time: Play Tidal Music Anywhere without Tidal Connect
As is known to many, Tidal offers two kinds of subscription plans: Tidal HiFi Plus (Master) and HiFi. With Tidal HiF and HiFi Plus, subscribers get to enjoy many tracks in MQA quality, but what if your devices are not among the above list of supported devices for Tidal Connect? What if you encounter the Tidal Connect not working issue and can't find a fix? Don't worry. We are here to provide you with an ultimate solution that enables you to download Tidal MQA tracks to popular audio formats for offline playback on any device.
AudFree Tidal Music Downloader is an initiative and professional tool designed to download and convert Tidal MQA streaming music into various formats including MP3, WAV, FLAC, WAV, AAC, M4A, and M4B as local files. As a sought-after Tidal downloader, this powerful software can preserve 100% lossless music quality with all ID3 tags information kept, such as artists, titles, albums arts, genre, etc. Most importantly, it allows you to keep the Tidal downloads forever even though you cancel Tidal subscriptions. Besides, it helps you play Tidal audio on multiple devices without Tidal subscriptions.
AudFree Tidal Music Downloader offers a free version for both Windows and Mac users to experience the full features in it. If you use the software on a Windows computer, it can even run at 5X speed to download Tidal music once started.
Simple Steps to Download Tidal MQA Music
Step 1. Launch AudFree Tidal Music Downloader. And the Tidal app will open at the same time. Right-click on the Tidal MQA tracks you wish to download and copy its link, paste it to the search bar of the AudFree software. Hit the '+' button to load.
Step 2. Set output format Tidal MQA songs. To preserve the best of Tidal Music, you can select the output format as FLAC, bit rate at 320kbps, and the sample rate at 48000 Hz.
Step 3. Download Tidal music losslessly. Press the 'Convert' button and AudFree Tidal Music Downloader will work at high speed to download music losslessly with all metadata kept.
Once the downloading is done, click the 'Converted' icon to locate downloaded Tidal music files in the destination folder on your computer. You are now free to play this music on any device even without the support of Tidal Connect.
Part 7. Verdict
In this post, we have taken you through the main features of Tidal Connect, what devices it supports, the differences between Tidal Connect, AirPlay, etc. Beyond that, we present some solutions to get around to the Tidal Connect not working trouble and an alternative to Tidal Connect - AudFree Tidal Music Converter to download music from Tidal and play Tidal music on all devices permanently. What's your opinion on Tidal Connect? Let us know by commenting below.