Tidal is the first streaming music service to offer high-fidelity audio. You can play your favorite songs and discover new music on Tidal. Alexa serves as the virtual assistant that powers Amazon-developed devices such as Amazon Echo. With the partnership with Amazon, Tidal already uses the "Music Skills API", which means Tidal is compatible with Alexa.
In this post, we will tell you the official way about how to connect Tidal to Alexa with Tidal HiFi/HiFi Plus account. Besides, a out-performing tool that can guide you to do that without Tidal subscriptions will be introduced in this article.

Part 1. Does Tidal Work with Alexa
Yes. As stated above, with the 'Music Skill API' for Tidal, Alexa can control Tidal with Amazon assistant and allows its users to stream the unparalleled music catalog of Tidal, providing music enthusiasts and audiophiles with awesome spatial audio. But the premise is that you need to subscribe to Tidal HiFi or HiFi Plus in advance.
On top of that, please check whether Amazon Alexa Tidal is supported in your region and country on grounds of protection of copyright. Currently, Tidal is only supported on Alexa in the United States. That means, to play Tidal music on Alexa devices, a US account is requisite. If you are living in other countries such as the United Kindom, France, Germany alike countries in Europe, Alexa Tidal is not supported in your region now.
Part 2. How to Play Tidal Music on Alexa without Tidal Subscriptions
To connect Tidal to Alexa, you need to be an active HiFi or HiFi Plus Tidal subscriber. But what if you don't have a Tidal subscription and don't want to pay the high subscription fee? Don't worry, we will show you how to play Tidal on Alexa without Premium.
Since Alexa allows users to upload local music via Bluetooth for streaming, you can first download Tidal music locally. And the necessary tool you need is AudFree Tidal Music Converter. It enables you to remove the protection of Tidal and download Tidal songs as local audio files. Once downloaded, you can export them to an external storage or transfer them to other devices including your Alexa devices.
With advanced technology, AudFree Tidal Converter allows you to convert Tidal music to popular audio formats. And it supports six formats including MP3, FLAC, AAC, M4A, M4B, and WAV. Once converted, you can enjoy Tidal tracks with 100% quality preserved. Then you can transfer them to your Alexa for offline playback without Tidal subscriptions.
AudFree Tidal Music Converter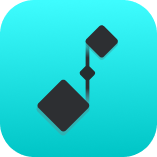 Losslessly download Tidal music without Premium
Convert Tidal songs to MP3, FLAC, AAC, and more
Preserve 100% lossless audio quality and all metadata
Work at 5X faster speed, adjust music parameters
With AudFree Tidal Converter, you can easily download and save Tidal songs locally on your computer. Now let's see how to use this tool to play Tidal on Alexa without subscriptions step by step:
1.1 Download Music from Tidal for Alexa
Step 1

Add Tidal songs to AudFree Tidal Music Converter

Get started by downloading and installing AudFree Tidal Music Converter. Then launch it and the Tidal app will be opened automatically. Copy the URL of the Tidal track or playlist that you want to listen to on Amazon Alexa devices. Then paste the link to the search bar in AudFree's main window. Don't remember to click on the '+' icon to load the tracks. Alternatively, you can directly drag and drop songs from Tidal to this software's main interface.
Step 2

Adjust output format for Tidal Alexa Integration

Next, locate the 'menu' icon at the top bar and followed by tapping on the 'Preferences' > 'Convert' option. Here, freely adjust the output format, and customize audio quality including bit rate, sample rate, channel, etc. To connect Tidal to Alexa, you can choose to convert Tidal music to AAC, MP3, WAV, or FLAC output format. Once set up, touch 'OK'.
Step 3

Convert Tidal for Alexa

Finally, hit the 'Convert' icon at the right bottom, and AudFree software will begin to convert the Tidal tracks. Please check the converted Tidal songs in the target folder after conversion. Until now, you have gotten the compatible Tidal audio files with Alexa.
1.2 Cast Local Tidal Music to Alexa Device
Now, you are supposed to add your device to Alexa and transfer the local Tidal music files to Alexa-enabled devices. Here, we will take Echo as an example to guide you on how to play Tidal playlist on Alexa. You can operate on your computer directly or transfer Tidal downloads to your mobiles via USB.
Step 1. Connect your phone/tablet to the Echo
Open the Alexa app on your phone or tablet and say 'Alexa, pair'. Then the Echo will turn to pair mode. Turn on the Bluetooth of your phone or tablet. A few seconds later, the Echo name will appear on the waiting list of pairing named 'Echo-XXX'. Choose the name, then Alexa will tell you that the connection is done once these two devices are linked.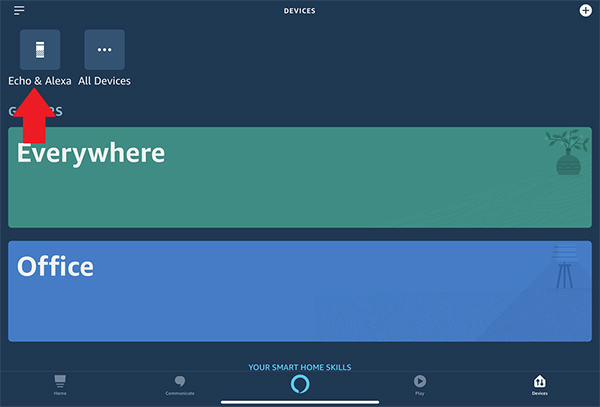 Step 2. Add Echo to Alexa App
Go back to the Alexa app and proceed to click 'Devices' > 'Echo & Alexa'. Choose the Echo you would like to pair with your mobile device from the list. Then go to 'Pair Alexa Gadget'. Open the Bluetooth settings window on your device and choose the name shown for your Echo. Then the connection is done.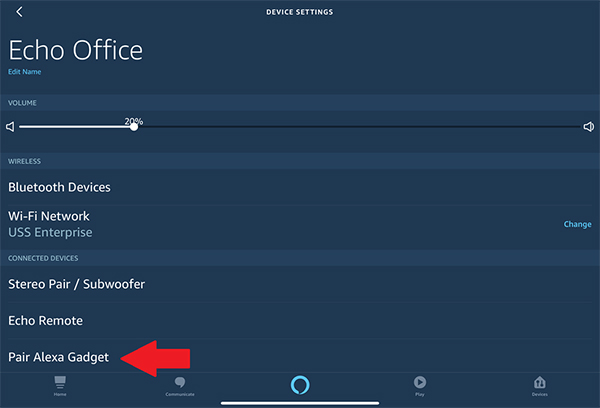 Step 3. Play Local Tidal Songs on Alexa Device
Just use the voice commands with the activation word 'Alexa' to ask Alexa to play certain songs, playlists, or artists on Tidal. And it will stream Tidal on Amazon Echo automatically.
Part 3. How to Enable Alexa Tidal Skill with Tidal Subscriptions
With the support of Alexa Tidal music skill, you can easily listen to Tidal on Alexa platforms. But you need to make sure that you have subscribed to Tidal before the connection.
Step 1. Launch the Amazon Alexa App on your phone. Next, navigate to 'Settings' > 'Music'.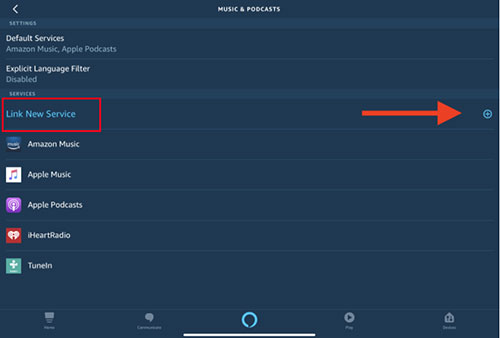 Step 2. Choose 'Link New Service' > 'TIDAL', then hit on 'Enable to Use' and connect your TIDAL account.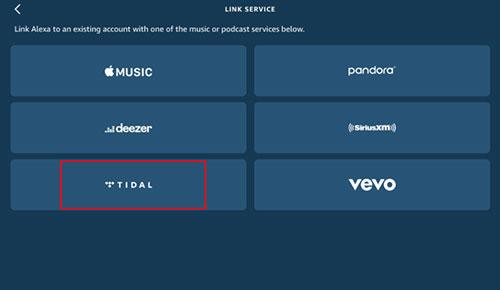 Step 3. Go back to 'Settings' > 'Music' and select 'TIDAL' as 'Default Services'.
When the connection is done, you are available to ask Alexa to play Tidal songs by voice commands. For example, you can click 'Enable' and say 'Alexa, open Tidal' and ask Alexa to find your favorite music.
Part 4. Fix Tidal Not Working on Alexa Issue
Some users complain that Alexa says Tidal is unavailable. Don't fret. Please refer to the following fixes:
Check whether you get a US account. Such issue mainly results from geographical reasons. As the statement aforementioned, Tidal is available to Alexa only when you have a US account. If you are living in or even bought your Alexa device from another country such as from the UK, and use it in the US, the Alexa you purchased is hardcoded to the origin country UK.
So, check your account stats. You have to reset your Alexa device first and then change the country settings to the US from the Amazon account web page. Just press and hold the action button for approximately 12 seconds until the device's right light is on amber. Then repeat the steps in Part 3 to link Tidal to Alexa device.
Part 5. FAQs about Tidal and Alexa
Q1: When Will Tidal Come to Alexa UK?
A: Currently, Tidal for Alexa is only available in the United States. You can stay tuned to find out when Tidal will come to Alexa UK.
Q2: How Can I Control Alexa to Play Tidal?
A: You need to first make Tidal your default music service. Then you can easily ask Alexa to play Tidal music. For example, you can say 'Alexa, play (song name)'. Then Alexa will automatically play the song you ask.
Q3: What Can I Do When I Can't Find Tidal on Alexa?
A: If you can't find Tidal on the Amazon Alexa companion app, try another way to play Tidal on Alexa. That is you can use AudFree Tidal Music Converter to download Tidal songs first. Then transfer them to Alexa via Bluetooth. One advantage is that this method doesn't need a HiFi or HiFi Plus Tidal account.
Part 6. In Conclusion
Both methods above are able to favor you to play Tidal on Alexa, among which AudFree Tidal Music Converter is the best shot. Because this third-party gadget endows you with the ability to listen to Tidal songs offline on Alexa devices without any issues or region restrictions. With the lossless sound quality of Tidal music preserved, you can resume enjoying original immersive Tidal converted audio on the Amazon Alexa speakers or displays.