Tidal emphasizes its Hi-Res streaming music quality, which provides us the highest option with a 16 bitrate/44.1kHz sample rate. In addition, it is inevitable to use a compatible speaker to access high-quality music. So how to select the most suitable one has become one of the required courses. Many questions like "Does Sonos support Tidal?" or "Does Tidal work with Google Home?" raised by music amateurs every day.
In this article, we will show you how to play Tidal through Sonos as a reference. And introduce an unexpected way to you: how to connect Tidal to Sonos without the Tidal app, which makes Tidal music offline playback on Sonos more convenient and efficient.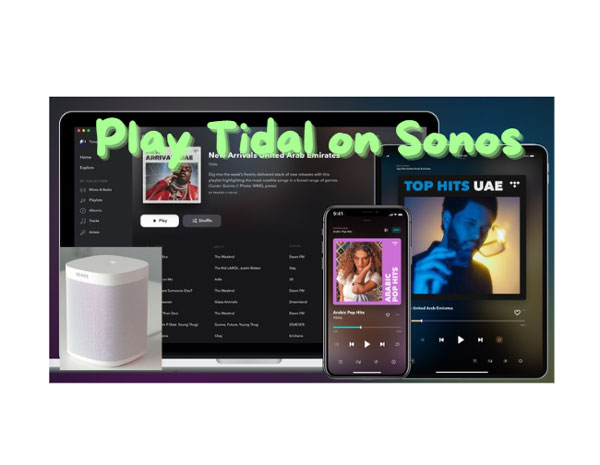 Part 1. Play Tidal Music on Sonos Speaker Without Tidal app
Sonos supports you to add music from your local music library. The upper limit numbers of tracks are 65,000, which sometimes might be less, depending on how large of the track's metadata. That is to say, it is supported for us to stream local Tidal songs to Sonos music library instead of controlling Sonos from the Tidal app.
However, Tidal tracks can't be downloaded into the local music library for its music copyright protection so that is unavoidable to use a third-party music download tool. Thus, AudFree Tidal Music Downloader was born and was made available to remove limitations from Tidal streams and download them into multiple common formats like MP3, FLAC, WAV, AAC, M4A, M4B and so forth. By using the most intelligent technology, this lightweight software with a simple interface can maintain 100% quality of 16bit Tidal audio files. Also, all the ID3 tags can be completely saved or be edited in your needs.
Now let's see how it works with 3 simple steps:
Step 1

Stream Tidal music and add to AudFree

Register an account of AudFree Tidal Music Converter (Or you can use the free trial at first). The Tidal app will be opened automatically with AudFree. Turn to the Tidal window and choose tracks or playlists that you prepare to download. Then copy and paste the link of the song or playlist to the home page of AudFree. Next, tap on the '+' button. After a few seconds, those songs will be streamed in AudFree.
Step 2

Customize Tidal output format and other parameters

On Mac computer, you are required to press the "AudFree Tidal Music Converter" from the menu bar. On Windows devices, you are able to click to the "menu" bar on the upper right corner of the main page. Then choose "Preferences" > "Convert" tab. Here, you are free to modify the output formats like bit rate, sample rate and etc. To obtain the best conversion quality, please choose FLAC or WAV as the format, and the bit depth will turn to 16 bit automatically. Or you can switch it to 24 bit manually.
Step 3

Download and save Tidal music into the local music library

Now just simply tap on the big "Convert" bar at the bottom right corner on the main page. Then the program will run at a 5X faster speed to break loose from Tidal audios then convert them into the format which you set before. The conversion duration will last based on the amount of songs on the waiting list. When it is done, please don't forget to check your unlimited songs by locating your target folder.
Step 4

Stream Tidal tracks to Sonos music library

Step 1. Click "Manage" >"Music Library Settings"
Step 2. Hit "Add" butto on a PC, or "+" bar on a Mac.
Step 3. Choose the target music folder and input your computer's password according to the on-screen instructions.
Part 2. Control Sonos Speakers from Tidal app
Before to control Sonos on your controller, you need to add Tidal to Sonos first. Some people used the social account from Facebook or Twitter to sign up for Tidal. If you are one of them, please follow the steps below to link Sonos with your Tidal service:
Step 1. Navigate to https://listen.tidalhifi.com/.
Step 2. Choose "Log In" in the top left corner of the page and hit "Forgot your password?".
Step 3. Then type in your email address which is connected with your Facebook or Twitter account and select "Request new password".
You will receive an email including a link which will enable you to create a new password for TIDAL on Sonos. Please to use the same email as the username, which is related to your Facebook or Twitter account.
If you have an individual account for Tidal, it is very simple for you to do like this:
Step 1. Open Sonos app on your device and choose to "Music Source"
Step 2. Click "Add Music Services". Then tap on "Tidal"
Step 3. Tap "I already have an account" >"Next".
Step 4. Type in your username and password of Tidal account, and then check "Next"> "Finish".
It is available for you to directly control Sonos from the Tidal app on your phone/tablet/computer. Just follow these steps as below:
For iOS or Android
Step 1. Turn on the Tidal app Click "More">"Add" Music Service".
Step 2. Pick out Tidal from the list.
Step 3. Tap "I already have an account."
Step 4. Enter in the username and password, and follow the instructions to finish adding the account.
Step 5. After that, go to the "Now Playing screen". Hit the "Cast" button and choose the Sonos speaker.
For Mac or PC
Step 1. Open the Tidal app
Step 2. Tap "Add Music Services" from the "Music".
Step 3. Choose Tidal, and hit "Next".
Step 4. Check "I already have an account"> "Next".
Step 5. Enter your user ID and password, and continue the on-screen instructions to link to your account.
In this way, you are available to connect Tidal to Sonos and play Tidal songs on Sonos Speaker by operating the Tidal app. This method may be a little more complicated but still a useful way to try.