Tidal emphasizes its Hi-Res streaming music quality, which provides us the highest option with a 16 bitrate/44.1kHz sample rate. Sonos, on the other hand, is a wireless speaker system that allows users to play music in their homes. Together, Tidal and Sonos provide an excellent music experience for audiophiles. In this article, we will discuss how to play Tidal on Sonos with/without Tidal app.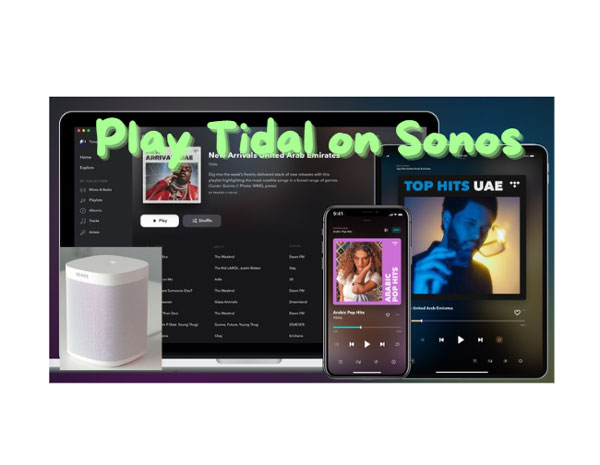 Part 1. FAQs about Tidal and Sonos
Does Tidal Work with Sonos?
A: Yes, Tidal and Sonos have a partnership that allows Tidal to be used on Sonos. You can easily connect your Tidal account to your Sonos system and play your favorite songs and playlists.
What Quality Is Tidal on Sonos?
A: Tidal offers different quality options, including HiFi and Master quality. When playing Tidal on Sonos speakers, you can enjoy HiFi quality, which is CD-quality audio.
Does Sonos Support Tidal MQA?
A: Sonos doesn't support MQA decode, which means it doesn't unfold lossy ultrasonics that could damage the sound. Therefore, Sonos doesn't support Tidal MQA, but it streams Tidal music in lossless, high fidelity audio quality, ensuring the best sound experience possible.
Part 2. How to Play Tidal on Sonos with Tidal App
Tidal and Sonos have been partners for a long time, and Sonos has been a priority integration partner for Tidal since Tidal launched. Sonos supports Tidal Connect, which is a streaming protocol that allows you to stream high-quality audio. Tidal Connect shows in the Tidal app like "Sonos Connect". Please follow the steps below to enable Tidal Sonos service.
How to Add Tidal to Sonos
For iOS or Android
Step 1. Download and install the Sonos app on your iOS or Android device.
Step 2. Launch the Sonos app and tap "Setup new system" or "Join existing system".
Step 3. The Sonos app will start searching for Sonos devices. In this step, you should finish logging into your Sonos account and pairing a Sonos device successfully.
Step 4. Once done, open "Settings" on the Sonos app and select "Services & Voice".

Step 5. Under "Music & Content", click on "Add a Service" > "Tidal" > "Add to Sonos".

Step 6. Follow the on-screen instructions to set up. You will need to log in to your Tidal account to link it to your Sonos speaker.
For Mac or PC
Step 1. Go to Sonos' official website to download the latest version of the Sonos app on your Mac or PC.
Step 2. Launch the Sonos app and click "Add Music Services" under the "Select a Music Source" section.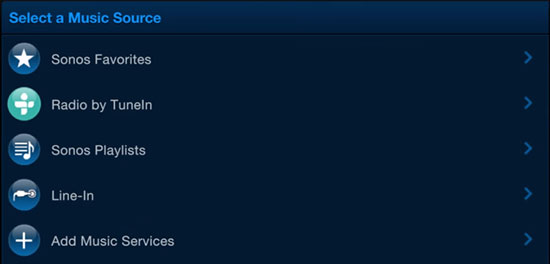 Step 3. Select "Tidal" from the list of available music services.
Step 4. To continue to link Tidal account to Sonos speaker, follow the on-screen instructions.
How to Play Tidal on Sonos with Tidal App
Step 1. Open the Tidal app and log in to your Tidal account.
Step 2. Select the song or playlist you want to play on Sonos.
Step 3. Tap the "Cast" button in the Tidal app.
Step 4. Select the Sonos speaker you want to play the music on.
Step 5. The Tidal music will start playing on your Sonos speaker.
Part 3. How to Connect Tidal to Sonos without Tidal App
Sonos supports you to add music from your local music library. The upper limit numbers of tracks are 65,000, which sometimes might be less, depending on how large of the track's metadata. That is to say, it is supported for us to stream local Tidal songs to Sonos music library instead of controlling Sonos from the Tidal app.
However, Tidal tracks can't be downloaded into the local music library for its music copyright protection so that is unavoidable to use a third-party music download tool. Thus, AudFree Tidal Music Downloader was born and was made available to remove limitations from Tidal streams and download them into multiple common formats like MP3, FLAC, WAV, AAC, M4A, M4B and so forth. By using the most intelligent technology, this lightweight software with a simple interface can maintain 100% quality of Tidal audio files. Also, all the ID3 tags can be completely saved or be edited in your needs.
Now let's see how to make Sonos Tidal work without the Tidal app with simple steps:
Step 1

Stream Tidal music to AudFree Tidable

Register an account of AudFree Tidal Music Converter (Or you can use the free trial at first). The Tidal app will be opened automatically with AudFree. Turn to the Tidal window and choose tracks or playlists that you prepare to download. Then copy and paste the link of the song or playlist to the home page of AudFree app. Next, tap on the "+" button. After a few seconds, those songs will be streamed in AudFree Tidable.
Step 2

Customize Tidal output format and other parameters

Click to the "Menu" bar on the upper right corner of the main page. Then choose "Preferences" > "Convert" tab. Here, you are free to modify Tidal output formats like bit rate, sample rate and etc. To obtain the best conversion quality, please choose FLAC or WAV as the format, and the bit depth will turn to 16 bit automatically. Or you can switch it to 24 bit manually.
Step 3

Download and convert Tidal music for Sonos

Now just simply tap on the big "Convert" bar at the bottom right corner on the main page. Then the program will run at a 5X faster speed to break loose from Tidal audios then convert them into the format which you set before. The conversion duration will last based on the amount of songs on the waiting list. When it is done, please don't forget to check your unlimited songs by locating your target folder.
Step 4

Stream Tidal tracks to Sonos music library

If you have downloaded Tidal MQA music to common format using AudFree Tidal Music Downloader, you can easily transfer the converted local Tidal music to Sonos for playback.
1. Open the Sonos app on your computer.
2. Click the "Manage" menu and select "Music Library Settings".
3. Click the "+" button to add your converted Tidal music to Sonos.
4. Select the previously downloaded converted Tidal files.
5. Add your converted music to your Sonos device by following the on-screen directions.
6. After transferring, you can browse for Tidal music and play them using the Sonos app on Sonos.
Part 4. How to Fix Tidal Not Working on Sonos
If you're experiencing issues with Tidal on your Sonos, don't worry - there are several solutions you can try to get it working again. In this response, we'll cover all the steps you need to take to get Tidal working on your Sonos once again.
🛠️ 1. Update Sonos System and Tidal App
The first thing you should do is ensure that both your Sonos system and Tidal app are up to date. If there is an update available, follow the prompts to download and install it.
🛠️ 2. Log Out and Log Back In
If updating your system and app doesn't work, try logging out of Tidal on your Sonos and then logging back in. To do this, open the Sonos app and go to Settings > Services > Tidal > Log Out. Once you've logged out, log back in using your Tidal account information.
🛠️ 3. Remove and Re-Add Tidal Service
Try removing the Tidal service from your Sonos account and then re-adding it. To do this, open the Sonos app and go to Settings > Services > Tidal > Remove from Sonos. Once you've removed the service, go back to Settings > Services > Add a Service > Tidal and follow the prompts to re-add it.
🛠️ 4. Reset Your Sonos System
If none of the above solutions work, try resetting your Sonos system. This will erase all settings and data from your system, so make sure you have a backup of any important information before proceeding.
🛠️ 5. Contact Sonos Customer Support
If you've tried all of these solutions and are still having trouble getting Tidal to work on your Sonos, contact Sonos customer support for further assistance. They can help troubleshoot the issue and provide additional solutions if needed.
🛠️ 6. Use a Third-Party Tool
If you are having issues with the Tidal app, you can use a third-party tool like AudFree Tidal Music Downloader to download Tidal music to MP3 format and play it on Sonos without the Tidal app.
Part 5. In Conclusion
Tidal and Sonos are a perfect match for music lovers who want to enjoy high-quality audio in their homes. In this article, we have discussed how to play Tidal on Sonos using the Tidal app and AudFree Tidal Music Downloader. With high-quality audio and exclusive content, you can enjoy your music like never before on your Sonos system.