Currently, music streaming is an essential part of our daily music pastime. But many music lovers still like to buy songs to get local files for better offline playback without limits. The highlight part of Amazon Music is that it supports both services at the same time in one place. Therefore, a large number of listeners use Amazon Music to enjoy their favorite tracks.
Amazon Music is a digital music streaming provider and online music store, that provides users with carefully crafted tracks, albums, playlists, radio stations, etc. to stream, buy, and download. Today, we will focus on the latter two parts, showing you how to purchase songs on Amazon Music and download purchased music from Amazon to phone and computer.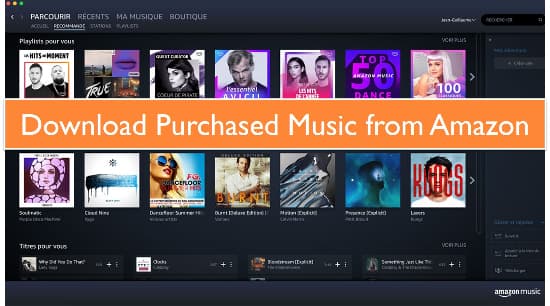 Part 1. How to Buy Songs on Amazon Music
With Amazon Music Prime or Amazon Music Unlimited accounts, you can appreciate music from Amazon and partake in more exclusive features. Typically, when you're already an Amazon Prime member, you'll need to approach Unlimited Music for a monthly membership fee of $7.99 or $79 per year, while non-Prime customers pay $9.99/month to stream music online and download music offline as cache files.
Without a premium account, you have the ability to purchase songs on Amazon Music. If you want to download Amazon Music as local MP3 files, you can use the Amazon Digital Music service. Then, let's see how to buy MP3 from Amazon below:
How to Buy Music on Amazon Music App
Step 1. Fire up the Amazon Music app on your phone or computer and log into your Amazon account, and browse or search for the Amazon songs you want to purchase.
Step 2. Pick a favorite tune, and select the 'three-dots' icon to choose Buy Song. It will pop up the Amazon Music online store on your web browser.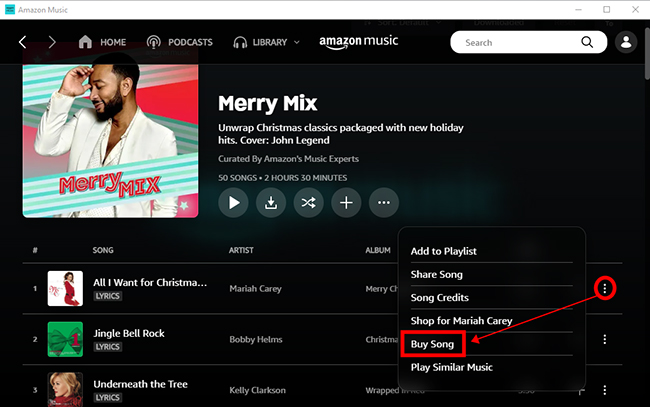 Step 3. Now, you can visit target purchase page of your selected song and tap the 'Purchase Options' > 'MP3 Music' to buy music from Amazon. Select Pay with currency to confirm the purchase.

Where Is My Purchased Music on Amazon: You can select the 'Library' section and click on 'Songs' > 'Purchased' to view Amazon Music purchases.
How to Purchase Music on Amazon via Web Browser
Step 1. Go to the Amazon Music official page and click the Buy Music > Shop Digital Music option.
Step 2. Find the song that you'd like to download, and tap the item to view product details. Now, you can choose 'MP3' button to purchase Amazon MP3 songs.

Where Do I Find Purchased Music on Amazon: Hover over the 'Accounts & Lists' option on the top right corner of the Amazon homepage. Click the 'Your Orders' > 'Digital Orders' to check and find Amazon Music purchases.
Part 2. How to Download Purchased Amazon Music to Phone
From the above part, you have full knowledge of buying digital music on Amazon. If you've made the wise decision to purchase Amazon Music, you may be wondering how to download your purchased tunes to your phone for on-the-go enjoyment. This step-by-step guide will walk you through the process, ensuring that you can access your favorite tracks anytime, anywhere.
How to Download Amazon Music Purchases to Phone via App
Step 1. Run the Amazon Music app on your phone and go to your library to see Amazon Music purchases under the 'Purchased' section.
Step 2. Select the music you want to download and tap on the More Options menu. Then tap the Download button to save Amazon Music to "Amazon Music Folder" on your phone.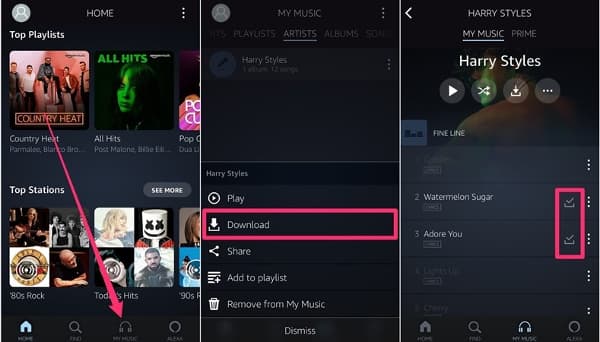 How to Download Music Purchased on Amazon to Phone via Web Browser
Step 1. Open the web browser on your mobile device and go the the Amazon Music website. Sign in with your Amazon account that you used to make Amazon MP3 purchases.
Step 2. Choose the 'Desktop site' button from the browser menu and then view your purchased music under the 'Digital Order' section.
Step 3. Find the favorite purchased songs or albums that you want to download. Click the 'Download' button to start the download process. The time this takes will depend on your internet connection and the size of the music files.
Tips:
It's advisable to check your device's storage to ensure you have enough space for the files.
Please make sure you have a stable Internet connection on your device.
To avoid using your mobile data, please turn it off before proceeding with any online downloads.
Part 3. How to Download Music Purchased from Amazon to Computer
Apart from exploring Amazon Music on phones, you can also purchase and download digital purchases from Amazon on a computer. If you've acquired a collection of music purchases on Amazon and want to download it to your computer for offline listening, you can refer to the following steps.
How to Download Amazon Purchased Music to Computer via App
Step 1. Open the Amazon Music software on your computer. Select Library, then click on "Purchased" to view Amazon Music purchase history.
Step 2. Click the "Download" icon or drag and drop your Amazon purchased Music to the "Downloads" section under Actions on the right sidebar.
Step 3. Now, it will save all the downloaded music to a local folder on your computer. For personal computer, this folder is usually named "My Music", while for Mac, it is usually stored in the "Music" folder.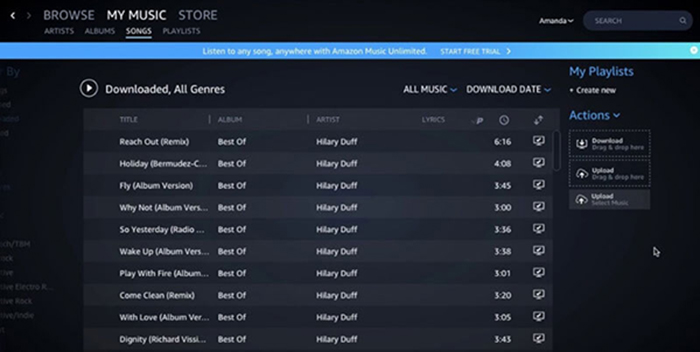 How to Download Amazon Music Already Purchased via Web Browser
Step 1. Navigate to the Amazon web version and then go to the music library. Select the specific Amazon song or album you want to download, and then press the "Download" button.
Step 2. If you are prompted to install the Amazon Music app to download the music, simply click "No, thanks, just download music files directly" option.
Step 3. Pick the "Save" option when the prompt message pops up to download all purchased music from Amazon. Once the download is complete, the files will be saved in a typical "Downloads" folder.
Step 4. Now you can now move your downloaded Amazon Music purchases to a location on your local computer that you prefer. In general, a single Amazon song will be downloaded as an MP3 file and multiple files will be saved as ZIP files.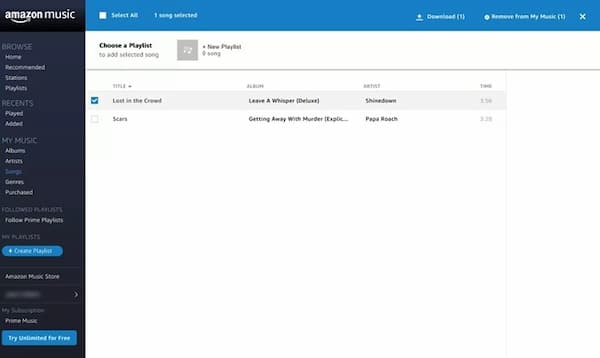 Tips:
Ensure you have sufficient storage space on your computer for the downloaded music.
Check your internet connection to prevent interruptions during the download process.
Amazon may have limitations on the number of devices you can download music to from the same account, so be mindful of these restrictions.
Part 4. How to Download Amazon Music Purchases to MP3, FLAC, WAV, etc.
Last but not least, here we will present you with a perfect solution to get rid of the trouble with Amazon Music purchases in the cloud. This way allows you to download Amazon Music as local files directly without requiring to purchase music on Amazon Music app. Besides, it also enables you to convert Amazon purchased music downloads to FLAC, WAV, AAC, etc. for offline playback anywhere.
You just need to rely on AudFree Amazon Music Converter to make it possible. It can not only download Amazon Music purchased songs, Amazon Prime and Unlimited Music, but also convert Amazon Music to MP3, AAC, FLAC, WAV and other common audio formats. What's more, you can easily find Amazon download purchase history on your computer locally. With the assistance of this excellent tool, you will find it particularly easy to download purchased music from Amazon. In turn, you have the freedom to play music purchased on Amazon on any preferred player to your heart's content.
How to Download Purchases from Amazon to MP3, FLAC, WAV, M4A, etc.
Step 1

Customize Parameters for Purchased Amazon Music

Install the smart AudFree Amazon Music Converter and run it from your computer. To schedule the settings window, snap the 'three lines' symbol at the top right and select the 'Preferences' > 'Convert' section. You can start characterizing Amazon Music formats as MP3, FLAC, WAV, M4A, or M4B, and change other parameters for music downloads.
Step 2

Import Amazon Music to AudFree Amable

Select the playlist, album, or artist you want to download on the Amazon Music software, then click the Copy and Paste button to copy the track link. After that, paste the link into the search bar of AudFree Amable and press the Add icon next to it.
Step 3

Start Amazon Purchased Music Download

Hit on the "Convert" button to get to the conversion list window which will show you the real conversion speed. Then this professional AudFree Amazon Music Converter will download Amazon Music to your computer and you can click the Converted button with red numbers to view the Amazon purchase download history. Subsequently, you can move and play Amazon Music offline on all gadgets even without membership and app.
Part 5. FAQs about Amazon Music Purchases
Q1: Can You Buy Songs on Amazon Music?
A: The answer is yes, Amazon Music offers the purchase service exclusively. If you don't like to subscribe to Amazon Music, you can choose to buy and download your favorite Amazon songs.
Q2: Where Is My Purchased Music on Amazon?
A: Generally, downloaded Amazon Music purchases will be saved in the Amazon Music folder on your device by default. For PC computers, it will usually be stored under My Music, and for Mac computers, it is usually stored in the Music folder.
Q3: How to Download Amazon Music Purchase History?
A: To download Amazon purchase history, please go to the Amazon's Order History portal under 'Your Account' > 'Your Order' > 'Order History Reports' section. After you choose the report type, start date, and end date, you can click the 'Download' button to get it.
Q4: How to Auto Download Amazon Music Purchases?
A: Please go to the 'Settings' in the Amazon Music app and turn on the Automatic Downloads for Android or Auto-download Amazon Music purchases for iOS.
Part 6. In Conclusion
In conclusion, downloading your purchased Amazon Music to your phone and computer is a straightforward process with the right guidance. By following these steps, you'll have your favorite tunes at your fingertips, ready to accompany you wherever life takes you. Besides, you can also use AudFree Amazon Music Converter to convert Amazon Music purchases to common audio files, providing you with a seamless and accessible music listening experience on all devices.