Music streaming is currently one of the main pieces of our everyday diversion. A huge number of supporters use music real-time features like Amazon Music or iTunes to partake in their beloved tracks. As a music-streaming supplier and online music store, Amazon permits clients to pay attention to streaming music and buy their beloved tracks.
If you're an individual from Amazon Prime Music or preferring Music Unlimited, you can appreciate music from Amazon in different ways, incorporating downloading it with your versatile or work area application. Or on the other hand, you could decide to buy music from Amazon, then, at that point, download them to your gadget. Here is largely the various tutorial on how to download purchased music from Amazon, and look at how to make it happen.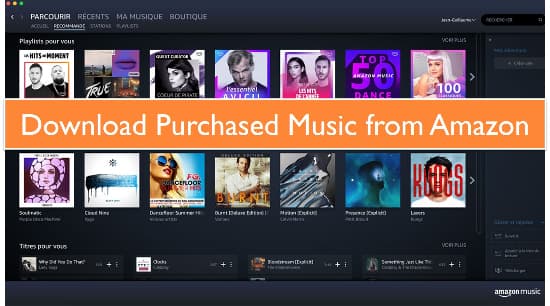 Part 1. How to Purchase Music on Amazon
Typically, when you buy in for Amazon Prime or then again on the off chance that you are an Amazon Prime part, you will approach limitless music for just $7.99 for a monthly membership or $79 for a yearly membership. Non-Prime clients pay $9.99/month. Buying music comes when you need to get particular music without an Amazon Prime membership.
Assuming you need to buy music from Amazon, go to the Amazon Music web or portable application, select or look pretty much for free, then, at that point, select More Options (three specks) > Download. To purchase a melody without a membership, go to Amazon Music on the web and select Buy Music > Digital Music. Pick a melody and snap Buy Song.
Part 2. How to Download Purchased Music from Amazon Music via Web Browser
You can download purchased music files and store them locally on your phone or import them to another media player, like iTunes or Windows Media Player via a web browser.
Step 1. Go to the Library.
Step 2. Select the specific songs or album you want to download to your phone, and then press Download.
Step 3. If you are prompted to install the app to download the music, just click "No thanks".
Step 4. Pick Save from open or save one or more files.
Step 5. Open the files once the download is complete. Many browsers show the status of your download and then let you open it.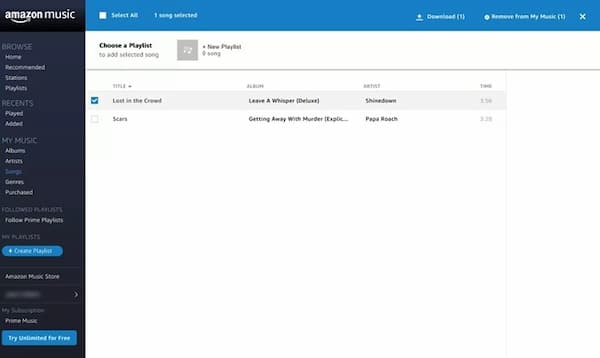 Files will be saved in the typical "Downloads" folder. You can now move the downloaded Amazon music files to your preferred location on the local computer. One song will be downloaded as a single MP3 file and multiple files will be saved as ZIP file.
Part 3. How to Download Music Purchased on Amazon Music via App
About how to download music purchased from Amazon to computer, it's well noted that Prime Music and Amazon Music Unlimited tunes are not accessible for download to your PCs. You can download them to your Amazon Music application for disconnected playback. All files are cache tracks. But if you have purchased these tunes, things could be different. You are also given the option to check Amazon music purchase history and download purchased Amazon Music via the desktop app and mobile app.
Step 1. Select Library then click on Songs. Select Purchased to the music you own so far.
Step 2. Click the download icon or drag and drop Amazon Music purchases to the Download section under Actions in the right sidebar to download the music.
Step 3. Music you have downloaded will be saved to an "Amazon Music folder" on your computer or phone. Please note that for personal computers, the name of this folder is typically My Music. For Mac, it is typically stored in the Music Folder.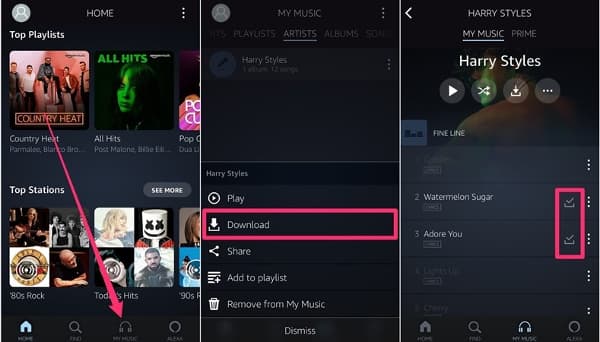 Part 4. How to Download Purchased Music from Amazon - Best Way
AudFree Amazon Music Converter is the best music solution to free you from the annoyance of Amazon purchased music not in cloud. You are bound to rely on it to download not only purchased Amazon Music, but also Prime Music, Unlimited Music offline. And you can locate them on your local computer. Besides, it's able to convert Amazon Music to MP3, AAC, FLAC, WAV, and other plain audio formats.
Let's go through the process to learn how to use AudFree Amazon Music Converter to download Amazon Music to computer.
Step 1

Run and register AudFree Amazon Music Converter

Install the smart AudFree Amazon Music Converter and run it from your PC. It will start the easy-to-use user interface along with its built-in Web Player. Login into your free or premium account by clicking the 'Sign In' button to use it.
And then click the 'three lines' icon from the top-right corner to choose the 'Register'. Provide the licensed email and registration code to upgrade to the full version.
Step 2

Adjust music output format and parameters for best quality

To dispatch the setting window, kindly snap the upper-right 'three lines' symbol again to choose the 'Inclinations' > 'Progressed' segment. You can begin to characterize the resulting design as Lossless, MP3, FLAC, WAV, M4A, or M4B and alter other sound boundaries for music downloads.
On the off chance that is vital, you can likewise change the nation and result fix. Moreover, it's ready to document yield music tracks by specialists or collections.
Step 3

Add Unlimited Music to AudFree Amazon Music Converter

The fundamental interface of AudFree Amazon Music Converter is the playlist part of your Unlimited Music. It means to offer a natural method for adding music to download and change over. If it's not too much trouble, find the playlist or collection that you might want to get, tap the thing, you will see the dark '+' button will be dynamic orange.
Hit on the '+' button, all melodies in this playlist will be added to AudFree Amazon Music Converter naturally. You can actually take a look at the imprint before the specific melody to unadd it.
Note: There is no immediate method for stacking a solitary melody. If it's not too much trouble, make another playlist for your main tunes, and afterward add this playlist to change over your cherished melodies.
Step 4

Convert Unlimited Music to MP3, FLAC, WAV, Lossless, etc.

Basically, press the 'Convert' button to enter the 'Transformation List' window, it will show the genuine change speed and interaction. This expert AudFree Amazon Music Converter will download and change music over to a nearby PC as per settings you change previously.
Note: During the transformation, you can likewise tap the 'Music Library' tab to add more playlists for download.
After the change, you can tap the Converted button with a red number over to see the Prime Music downloaded list. Simply click the 'search' symbol to find the changed-over envelope on your PC straightforwardly. Presently, you can move and play Unlimited Music on all gadgets disconnected even without the membership and application.
Part 5. In Conclusion
You end up downloading melodies from Amazon - you'll have much more choices. The immediate way is to download purchased music from Amazon Music through your Internet browser or versatile application. However, assuming that you are anxious to pay attention to Amazon Music melodies on more gadgets, you'd utilize an Amazon Music downloader like AudFree Amable to save your favored tunes. The cycle is basic, and afterward, you can keep Amazon Music tracks unbounded.