Amazon Music is one of the best places for music lovers. It has provided the users with almost every music item they love to listen to using their gadgets like smartphones, PCs, or TVs. Sometimes users want to download Amazon Music and Amazon Prime Music into their local storage and listen to them anytime without an Internet connection.
Though Amazon Music can be downloaded for offline playback, the internal storage of your phone or tablets could be filled up quickly, which may result in slower operation. Therefore, we are here to provide 3 different ways on how to move Amazon Music to SD card. Then you can access the music items right from the external storage of your device without the need for the internet.

Part 1. How to Download Amazon Music to SD Card via Official Way
Where does Amazon Music store files? Here we will take Android phone as an example to clarify it. All the Amazon music downloads are stored under the folder by default: Phone\Android\Media\com.Amazon.mp3\files\media\Music.
Within the Amazon Music app, you can download Amazon Music to SD card easily. The following steps are also available to move Amazon Prime Music to SD card.
Step 1. Launch the Amazon Music app on your mobile device, and click 'My Music' from the bottom menu.
Step 2. Go to 'Settings' > 'Storage Location' options.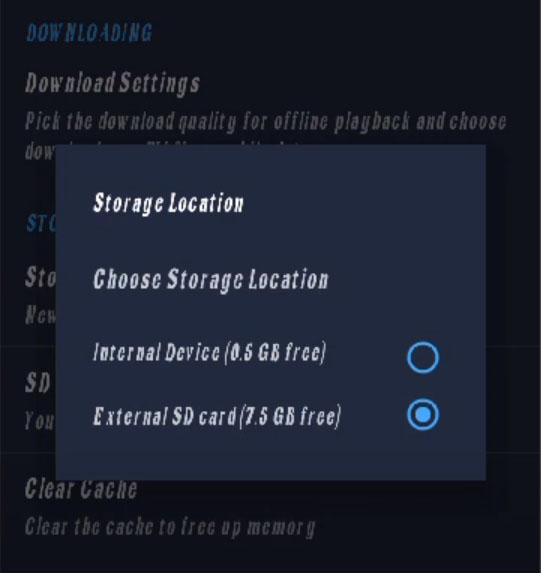 Step 3. Tap 'External SD Card' to complete the Amazon Music SD card offline setting.
From then on, the new downloaded Amazon Music will be saved to SD card instead.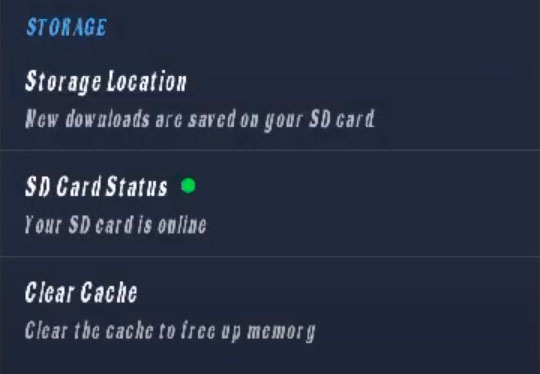 Part 2. How to Move Amazon Music to SD Card via Downloading Way
The official approach is easy and straightforward to save Amazon Music download to SD card. But it also comes with some restrictions and disadvantages. To use this way, you should continue to subscribe to Amazon Music or Amazon Prime Music subscription. Otherwise, when it expired, all Amazon Music downloads stored in SD cards will disappear automatically.
To avoid meeting such a dilemma, here we will show another alternative method to move Amazon Music to SD card. It draws support from third-party software, called AudFree Amazon Music Converter. It has enough for downloading Amazon Music to your local computer with any subscription or a free Amazon Music account. All Amazon Prime Music will be downloaded as MP3, FLAC, WAV, AAC, M4A, or M4B audio files.
With the aid of this tool, you can then easily move Amazon Prime Music to SD card from your computer directly. After that, you are able to listen to Amazon Music on any SD card-enabled device.
How to Download Music from Amazon to SD Card
Let's see how to use AudFree Amazon Music Converter to download and save Amazon Prime Music to SD card from computer. When you open the AudFree Amable, it will require you to authorize your Amazon Music account to access your Amazon Music library for download.
Step 1

Define Amazon Prime Music format and other settings

After you fire up the Amazon Music Converter, please hit on the top-right menu icon. And then choose the 'Preferences' > 'Advanced' to open the setting window. In this new window, you can customize the output format and other audio parameters for your Amazon Music. To make Amazon Music downloads compatible with SD card, you'd better choose MP3 as the target one to export Amazon Music.
Step 2

Add and convert Amazon Music playlists/songs

With the built-in Amazon Music Web Player, it provides an easy way to import Amazon Music playlists and Amazon Prime Music playlists. Browse your favorite Amazon Music, tap the item, and then you will see the gray '+' button turns to orange. Tap it to load all songs in that playlist. Now, press the 'Convert' button, it will download Amazon Music to computer at 5X faster speed.
Step 3

Move Amazon music to SD card

To transfer Amazon Music to SD card, you need to insert the SD card to your computer via the card reader. After that, locate the SD card folder and the music folder saved Amazon Music downloads. Now, you can copy and paste Amazon Music to your SD memory card.
Part 3. How to Move Amazon Prime Music to SD Card via Recording Way
Here, let's meet another tool, called AudFree Amazon Music Capture to save Amazon Prime Music to SD card. It's a free and easy-to-use software for Windows and Mac OS that allows you to download music from any multimedia platform like Amazon Prime Music.
It provides the flexibility of capturing the audio and saving it in local storage in any audio format you want like MP3, FLAC, WAV, M4A. It can not only download and move music to your SD card but also cut, trim, edit it with its built-in audio editor. It can save multiple audio tracks from different sources at the same time. Multiple tracks are separated automatically based on the superior gap method.
If you want to move more music files from different sources, you can turn up to AudFree Amazon Music Capture. Today, we will focus on how to use it to store Amazon Music on SD card.
How to Move Amazon Prime Music to SD Card
AudFree Amazon Music Capture is the simple-to-use and user-interactive software. It only requires following simple steps to move Amazon Prime Music to SD card.
Step 1

Add Amazon Prime Music to AudFree

After downloading and installing the software on your computer, you need to launch it. AudFree will detect all the applications installed on your PC that are compatible sources of music such as Chrome browser, Spotify, iTunes, etc. If you find the Amazon Music app is not listed here, you can click the + button and manually add it.
Step 2

Select output format for Amazon Prime Music

Press the 'audio' icon on the bottom-right corner of the AudFree Audio Capture interface. This window shows the format of audio you want to download and save in SD storage. It supports common audio formats including MP3, WAV, M4A, M4B, FLAC, and AAC. Here you can choose to convert Amazon Prime Music to MP3. You can specify bit rate, codec, and sample rate for the output Amazon Music file.
Step 3

Record Amazon Prime Music for SD card

After setting the output file format, open Amazon Prime Music and play any music of your choice. AudFree Amazon Music Capture will download it behind the scenes. As mentioned above, you can play multiple audios from different sources at the same time AudFree will separate them smartly.

When you are done with the Amazon Music you want to download, simply close the app and return to the AudFree interface. You can merge the multiple tracks into one file from here or you can split the recorded tracks based on timestamps. When you are done with these options according to your choice, click on save. Your audio file will be saved in the destination folder.
Step 4

Move Amazon Prime Music to SD card

The final step is to insert your SD card into the card reader and plug it in your computer. Or you can simply connect your phone with a USB cable. Then transfer Amazon Music to SD card simply by copying and pasting to an external SD card.
Part 4. In Conclusion
If you've read this far, you learned three ways to download Amazon Music to SD card on phone or computer respectively. There are plenty of tools available claim to capture Amazon Music from the web but they are not efficient as AudFree Software. Summing up this tutorial, you can download, save, and move Amazon Prime Music to SD card without effort.