Q: When I was about to enjoy Apple Music while jogging, I unexpectedly found that Apple Music got stuck while loading and could not play any songs. No matter what I try, I just can't listen to the downloaded songs on Apple Music. What is going on here? How can Apple Music work properly again?
In reality, the issue of Apple Music not playing songs happens from time to time. If you are troubled by a similar situation, follow the solutions below to troubleshoot and solve the problem step by step. Besides, the article will end with a perfect method to fix Apple Music not playing songs permanently.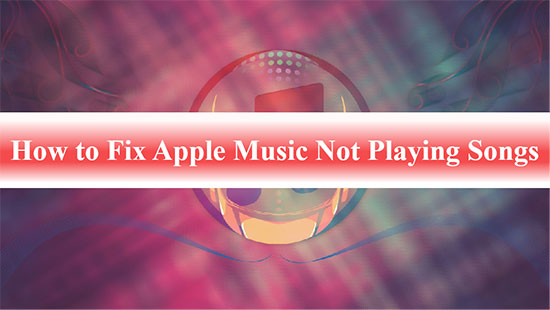 Part 1. How to Fix Apple Music Not Playing Songs
Why are songs not playing on Apple Music? It can be due to many possible situations such as corrupted Apple Music files, software or system crashes, etc. In fact, sometimes it is hard to say what causes the problem of songs not playing in Apple Music exactly. But fortunately, here are some general and common fixes to solve Apple Music not playing songs on Android and iOS phone.
1. Check Your Internet Connection
Normally, you need to be connected to a Wi-Fi network or have cellular data enabled to play songs on Apple Music, unless you have downloaded Apple Music songs in advance for offline use. Therefore, make sure there are no problems with your iPhone and Android phone's Internet connection.
2. Restart Apple Music/Your Device
To tell you the truth, restarting your device or the Apple Music app may be the simpler and easier solution. Try forcing Apple Music to close and then open the app again to check if the problem still exists. If that doesn't work, go ahead and restart your iPhone or Android device.
3. Check Apple Music Subscription and Region
Please check the status of your Apple Music subscription, perhaps your subscription has expired or been cancelled, in which case Apple Music will not be available to you. Also, if your account region is a country that does not support Apple Music, then your Apple Music subscription is no longer valid. Therefore, please make sure your subscription and region are feasible.
4. Update Your iPhone or Android Phone
System updates are important because it can be good to improve your phone or introduce new features. In general, updates actually do more good than harm. If you are using an outdated version, it may also cause Apple Music software to fail to work, resulting in the problem of Apple Music not playing songs. So you'd better make sure that both your device and the Apple Music app are up to date.
5. Re-sign in Your Apple ID
Signing in and out of your Apple ID will sync your iPhone and iTunes library, which may be able to resolve the issue of Apple Music songs not playing.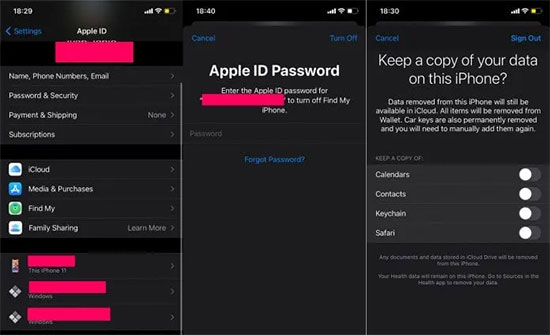 1) Go to Settings, tap your username at the top of the menu, and click the Sign Out option in the list.
2) Enter your Apple ID password to confirm, then tap Turn Off button.
3) Go back to your Account Settings and enter your information to log in to your iPhone again.
6. Uninstall the Apple Music Application
If none of the above solutions work, you may want to try uninstalling the Apple Music app. You can do this by tapping on the Settings option and going to General > iPhone Storage. Scroll down until you find the Uninstall an app option and tap on the Apple Music app.
Part 2. How to Solve Apple Music Not Playing Certain Songs
Sometimes, you may find it a bit strange that Apple Music can't play certain songs or can't play downloaded songs offline. If you want to play explicit songs on Apple Music but it fails, then try the following useful solutions.
1. Check for Content Restrictions
The reason for Apple Music not playing certain songs issue may be due to some content restrictions, follow the steps below to check for these restrictions.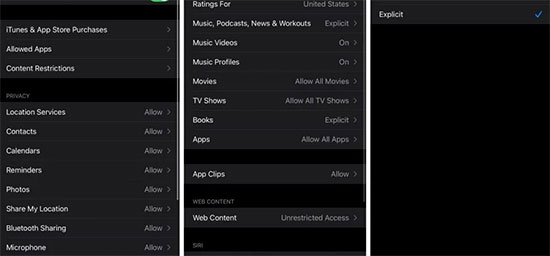 1) Open the Settings on your device and tap on the Screen Time > Content & Privacy Restrictions option.
2) Go to Content Restrictions and open the Music, Podcasts, News & Workouts sections.
3) Select "Explicit" to see specific details.
2. Redownload the Apple Music Song
When a particular song does not play properly on Apple Music, it is possible that the downloaded song itself is invalid. In this event, you should delete the song and download it again. After the download is complete, try to see if it will play smoothly on Apple Music.
Part 3. How to Fix Apple Music Not Playing Songs Forever
When it comes to Apple Music not playing songs or Apple Music not playing downloaded songs issues, most users complain that this happens frequently. Although the above solutions can solve your current Apple Music problem temporarily, it is not a permanent solution after all. In order to get to the root of this annoying problem, here we will introduce a once and for all method to solve the immediate dilemma.
Actually, this best method is to download Apple Music to actual local music files via the professional AudFree Apple Music Converter. This smart tool is designed to remove all the limitations of Apple Music and convert Apple Music to MP3, WAV, AAC and other common formats. As a result, it is able to play Apple Music offline on any desired device without app and subscription, and thus, you don't need to worry about Apple Music not playing songs anymore.
How to Download and Convert Apple Music for Offline Playback
Step 1

Import Apple Music to AudFree Auditior

Run AudFree Auditior and click the first Add button in the bottom left corner of the main interface to load the downloaded Apple Music. Or, drag and drop Apple Music files to the conversion window directly .
Step 2

Set Apple Music Output Format

Once the Apple Music file is loaded, click on the Format icon to open the Settings window. At this point, you can define the Apple Music output format as MP3, AAC, and other common formats. By the way, you are allowed to define other output parameters like audio codec, channel, sample rate, etc. in this window.
Step 3

Download and Convert Apple Music

Now, please click the Convert button at the bottom right corner and AudFree Apple Music Converter will start the downloading process automatically. After it's done, you can navigate to the target folder on your computer to view the Apple Music downloads. After that, you have the privilege to listen and enjoy Apple Music whenever and wherever you like without any problem.
Part 4. In Conclusion
This article presents effective solutions to solve the problem of Apple Music not playing songs. It is highly recommended that you use the best AudFree Apple Music Converter to download Apple Music in order to solve any Apple Music problem forever. Also, if you have any questions or better ideas, feel free to share with us in the comment section.