As one of the top audiobook platforms on the Internet, Audible offers users a huge library of audiobooks where you can listen to and purchase popular, high-quality audiobooks. One of the highlight features of Audible is that it allows users to backup Audible books directly on Android phones, iPhone, and PC for better playback. Would you like to backup your Audible books but don't know how? Congratulations! You are right here. Here is a step-by-step instruction on how to backup Audible books on all devices officially.
Besides, since this official backup method has the obvious disadvantage that Audible books are protected and can be playable on Audible-authorized apps only, here we will also introduce another easy and free backup way to backup Audible books to MP3 on PC. After that, you can play Audible books on a variety of devices and players without limits.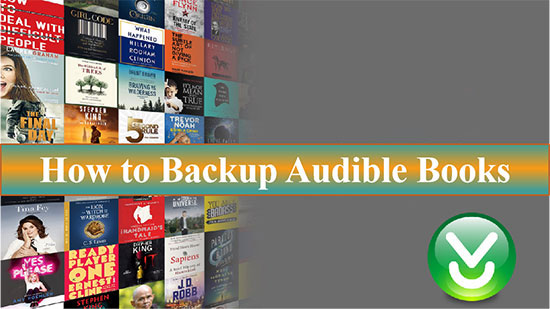 Part 1. How to Backup Audible Books on Android/iPhone/PC Officially
Backing up Audible books on Android, iPhone and PC is relatively simple and straightforward, the only limitation is that you can only listen to them on a limited number of Audible compatible apps or players. Anyway, let's learn the exact steps of the official method together.
How to Backup Audible Books for Android

Step 1. First install the Audible app on your Android phone. Launch the Play Store on your phone and search for Audible in its search bar at the top, then install Audible. After that open and run Audible.
Step 2. Log in to your Audible premium account. Click on the menu button at the top left of the Audible page and tap on the Library option. Then you can see your various books, you can long click on your book and tap on it to download it. Or you can download and backup Audible books directly by clicking on the book cover.
How to Backup Audible Books from iPhone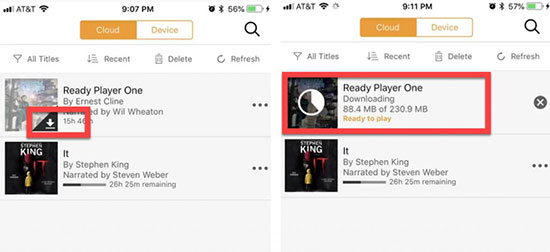 Step 1. First download and run the Audible software on your iPhone. Then log in to your Audible account, after which you'll be able to reach the My Library tab directly at the bottom of the page, where you can see all of your Audible book that you've purchased.
Step 2. You can see an arrow in the bottom right corner of the book, which means the book is undownloaded. Click directly on this arrow and your Audible book will start downloading. When you click on the Devices bar at the top of the library, you can see the Audible books are downloaded to your iPhone. This also means that you have successfully backed up Audible books on your iPhone.
How to Backup Audible Books on PC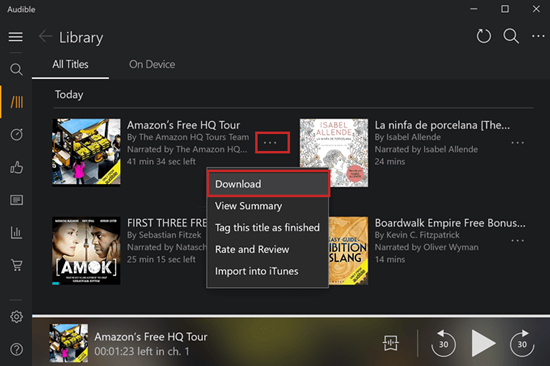 Step 1. Go to your web browser on your PC and type Audible.com into the search bar. Then a login window will pop up, just fill in your personal information, and then log in to your account directly.
Step 2. Select the Library option from the menu at the top of the page and all of your Audible books will appear. Click the Download button next to any Audible book to download your Audible books to PC. Then a download window will pop up and you are free to choose where to store your downloaded Audible books, and finally click the Save button to complete the backup of Audible books.
Part 2. How to Backup Audible Books to MP3 on PC
Your purpose of backing up Audible books must be more than simply downloading them offline, you will also want to enjoy these Audible books on any player or device you like. Unfortunately, the above official method has brought restrictions on players or devices. This makes it inconvenient for you to listen to Audible books offline.
Do you want to know a more convenient and free alternative to backup Audible books to MP3 for unlimited playback? Let me introduce you to another method in detail. As long as you use AudFree Auditor - a versatile and excellent Audible converter, you can download unprotected Audible books and completely own these Audible files, and then you can play Audible books as you want.
AudFree Audible Converter can convert Audible books into common as well as popular formats, such as MP3, FLAC, etc. Moreover, in the process of converting Audible books, these Audible files have no quality loss at all. In addition, if you want to backup Apple Music, iTunes audio books or even ordinary audio files, this intelligent conversion tool can achieve it with one click according to your needs. In this way, AudFree Auditor must be the best choice to backup Audible books to PC.
AudFree Audible Converter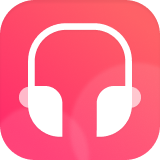 Convert Audible books to popular formats such as MP3 and AAC.
Losslessly download and remove the built-in DRM protection from Audible books.
The converted Audible books are unprotected and they are easy to play on multiple devices and players.
Download and convert Audible books at up to 30X faster speed.
Customize Audible books output format and related audio parameters, including codec, speed, audio channel, etc.
How to Backup Audible Books to PC via AudFree Auditor
Step 1

Import Audible books to AudFree Audible Converter

First, download and run the AudFree Audio Converter on your computer. This Audio converter is suitable for Windows and Mac computers. After that, you will find two add buttons at the bottom of the page. The first button can be used to add Audible books, and the second button is used to add ordinary audio. If you want to download and convert Audible books, just click the first add button at the bottom of the of the AudFree Auditor page.
Step 2

Adjust the Output Format of Audible Books and Set Relevant Audio Parameters

When you add Audible books to AudFree Auditor, click the format button in the lower left corner, and a new window will appear. Then you can choose the output format of auditable books as MP3 or other common formats. If you have other needs, you can also customize other parameters of Audible books, such as bit rate. Of course, if you want to divide these audio books into chapters, you can click the Edit icon and then carry out relevant segmentation operations. Finally, don't forget to click the OK button to save the above settings.
Step 3

Backup Audible Books to MP3 on PC

When you are sure that the above settings are complete, directly click the conversion button in the lower right corner of the page, and Audible books will start to download and convert automatically. Finally, after the conversion is completed, you have successfully converted Audible to MP3 and can view all Audible MP3 books on the local file. At this point, you can fully own and backup your Audible books.
Part 3. In Conclusion
Here are two methods of backing up Audible books. One is the official method, which will have some distressing restrictions. And the other is a superior alternative way that lifts the limitations imposed by the official method. We strongly recommend that you'd better use a professional AudFree Audio Converter to backup Audible books, so that you can fully listen to Audible books without restrictions on devices and players.