Audible is one of the best platforms to listen to books. It currently offers millions of audiobooks, including some of the best-selling books. However, to listen to these books, you need to subscribe to them for up to $150/year. But the good news is that this guide will provide 8 tricks for you to get free credits on Audible and use them to buy audiobooks. If you hope to know how to get free Audible credits, you have come to the right place.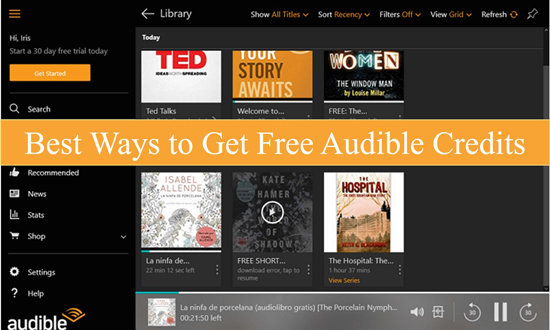 Part 1. Audible Credits: Something You Need to Know
To listen to Audible books, you are first required to get a basic or advanced Audible subscription - Audible Plus or Audible Premium Plus. But only when you subscribe to the Audible Premium Plus plan, you can get additional credits. Audible credits work as virtual currency that you can use to purchase audiobooks in Audible's library, regardless of price.
One credit typically equals one audiobook. Audible users can purchase or receive credits separately as part of an Audible membership plan. Yet, there's one issue with these credits. If you cancel your subscription, your credits will be lost too.
Part 2. How to Get Free Audible Credits [8 Working Ways]
Here are 8 working tricks that can help you get Audible free credits. Choose a suitable one for yourself.
2.1 Get Free Credits on Audible via Audible Premium Plus
As stated above, the regular Audible Premium Plus will generally give you 1 free credit at no extra cost per month. Besides, the Premium Plus includes 4 plans that entitle you to a different number of credits. You can check the plan details and cost from the following table. You will get more extra credits provided that you subscribe to the Audible Plus Annual plans.
| Audible Plans | Cost |
| --- | --- |
| Premium Plus (1 credit/mo) | $14.95/month |
| Premium Plus (2 credits/mo) | $22.95/month |
| Premium Plus Annual (12 credits/year) | $149.50/year ($12.45 a month) |
| Premium Plus Annual (24 credits/year) | $229.50/year ($19.10 a month) |
2.2 Get Free Audible Credits via Audible Free Trial
If you don't want to charge for the Audible membership, a feasible way to get free credits on Audible is by signing up for a 30-day free trial of Audible Premium Plus. Once signed, you will be credited with 1 or 2 free credits. Here are the steps that you need to follow:
Step 1. Navigate to audible.com.
Step 2. Click on the 'Try for $0.00' button on the web page or tap on 'Plans & pricing' and then the 'Start my trial' button under the Audible Premium Plus. You will be redirected to your Amazon account sign-in page.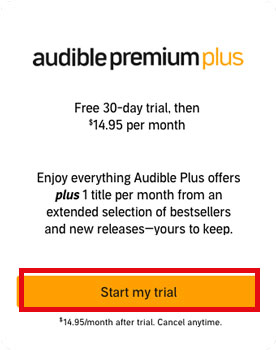 Step 3. Enter your credit card and account information along with your email or phone number. Then click on the "Try for $0.00" button again from the bottom. 1 or 2 Audible credits will be credited to your account once you sign up.
See Also: 6 Solutions to Buy Audible Audiobooks without Membership
2.3 Earn Free Audible Credits via 'Send this Book'
Here's another thing that you can try to get free credits on Audible without credit cards. What needs to be done here is to ask any of your Audible friends to give you an audiobook as a gift. When they send an Audible book as a gift, you will receive a link to the book and get one credit You can redeem and download this book, even though you are not an Audible member. Here's how it works:
[2023 Update] Audible killed off the 'Send this Book' feature in April 2021.
Step 1. Have your friends go to 'My Library' and locate the book that you want to get.
Step 3. Look at the three dots to the right of the title and click on them.
Step 4. Click on the 'Send this Book' tab from the pop-up window and select a platform through which to send the book.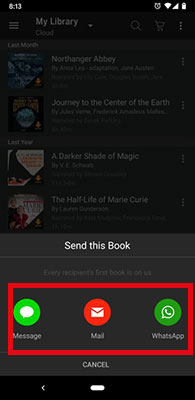 Step 5. Then you will then receive a link for the book. Click on the link, sign up, and listen to the book.
2.4 Get Audible Free Credits via Gifted Audible Membership
Audible offers its members a 'Give as a Gift' feature that entitles users to purchase a membership or audiobook as a gift for someone else. As a recipient, you can redeem and earn Audible free credits to your own Audible account by receiving the gifted Audible membership from other people. Here is the how-to guide:
For Sender: Give Membership as a Gift
Step 1. Visit the official website of Audible and click on the top 'Browse' section to draw down a list.
Step 2. Choose 'Gifts' from the pull-down list.
Step 3. Under the 'Give a membership' section, choose one plan for the recipient and click on 'Select Gift'.

Step 4. Enter the recipient's name and email as well as your name. Then tap on 'Continue'.
Step 5. Select a card for your gift and hit the 'Buy for $15.00' button.
For Recipient: Redeem Membership and Get Free Credits via Promo Code or from Email
As a recipient, you will receive an email with the subject "You've received a gift on Audible from..." from Audible. Please follow the instructions on how to redeem the gifted Audible membership.
Step 1. Open the email and click the 'Redeem your gift' > 'Redeem' option. Alternatively, if the button is out of work, please click here to enter the promo code you received in the email and tap on the 'Redeem' button to redeem the membership and get free Audible credits.

Step 2. Enter your Audible account credentials.
Step 3. Then welcome screen will appear and you will get the first credit from the membership.
2.5 Get a Free Audible Credit via Pretending to End Audible Membership
In order to retain customers, Amazon and Audible will give you some benefits to keep you when you want to leave and end the membership. Thus, you can pretend to cancel the Audible membership and subscribe to the plan with the same Audible account again in a short time. This way, you can get a free credit from Audible.
See Also: How to Cancel Audible Membership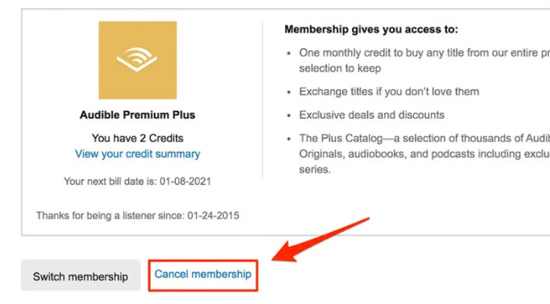 🗒️Note: This method will work only when you have spent all Audible credits and get ready to end the subscription.
2.6 Get Audible Credits for Free via Audible Originals
Audible Originals are exclusive audio titles, produced as a part of Audible membership benefits by Audible, which are not available anywhere else. These titles are created in collaboration with authors, actors, and other creators. And they cover a wide range of genres including fiction, non-fiction, and podcasts. As an Audible member, you can access these titles for free as part of your membership.
Go to Audible's website and click 'Browse' > 'Originals Member Benefit'. You will get two free Audible Originals if you are on the free trial. After you opt for a membership plan, you will find many more Audible Originals without spending your credits. This way, you can save your credits.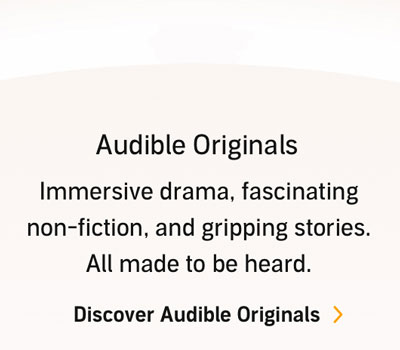 2.7 Get Audible Credits Free via Joining Audible Challenges
Apart from the above methods, you can also try Audible challenges. The Audible Challenge is a feature on Audible that allows members to participate in reading 3 different titles with each no less than 3 hours long. Members can choose from a variety of challenges, such as reading a certain number of books within a set timeframe or reading books from specific genres. Once you do, you will be rewarded with a $20 Audible credit. These credits are for you, and you can spend them on any book you want.
However, the challenge was hosted in 2020 and is only valid for Audible members.
2.8 Return Books You Don't Like to Get Free Credits
If you don't like an audiobook, you can return it and get the credits back that you spent on it. The returned credits can later be used to buy other books. But before returning, please check the following eligible conditions:
✨This tip only works for Audible Premium Plus members who are in good standing.
✨The titles that are purchased with credits can be returned.
✨This return is only valid within 365 days.
Here's how to return a book on Audible:
Step 1. Head over to audible.com and log into your Audible account.
Step 2. Hover over the Profile and choose 'Account details' from the pull-down list.
Step 3. Select 'Purchase history' from the left panel.
Step 4. Find the book you no longer want and click on the 'Exchange' option (or 'Return this title' on other devices).

Step 5. You will be asked to select a reason. Select one and then hit the return option again.
Part 3. More Tips: How to Download and Keep Audible Audiobooks Forever
The tips we have shared above do have some restrictions, for example, require active Audible Premium Plus. Also, some methods do not always work now. So, if you want to listen to Audible audiobooks with no limitations and no credits, you'd better download the audiobooks you like as unprotected audio files and listen to them whenever you want. To do that, you will need an Audible downloader.
Although there are many Audible downloaders available, AudFree Audible Converter should be given a shot. AudFree Auditior is a professional Audible downloader that helps you convert Audible audiobooks to unprotected files in multiple audio formats like MP3, AAC, etc. With top-notch decode technology, this expert software has the ability to keep lossless audio quality and full ID3 tags.
Beyond that, It empowers you to listen to Audible audiobooks on any device you want for Free. This powerful tool is exceptionally easy to use and is available for both Mac and Windows users.
How to Use Download and Keep Audible Books Forever
First, click on the above download button to install AudFree Auditior on your computer. Then download your favorite Audible audiobooks with your existing Audible account. Then add those protected audiobooks to iTunes. Please make sure you have installed the iTunes app and authorized your Audible account in iTunes in advance.
Step 1

Drag downloaded Audible files to AudFree Auditior

Go to iTunes and find the downloaded Audible AA/AAX files. Drag and drop the file to AudFree Auditior's interface directly. Alternatively, it provides another way to achieve this goal: Touch on the first bottom-left Add button called 'Load iTunes Library' to copy those Audible files to AudFree software. To split those added audiobooks into chapters, you can click the right 'Edit' tab on each item.
Step 2

Customize output preferences for Audible books

After the Audible files are added, you can click on the first 'Audio' button from the lower right corner. From the pop-up Format Setting window, you can choose one format for your audiobooks. It is recommended to convert Audible books to MP3 for its extensive compatibility. You can also customize other settings, such as bit rate, sample rate, codec, and channel to get better quality.
Step 3

Export and keep Audible books locally forever

Finally, click on the lower-right 'Convert' option to start the conversion process. Click the 'Converted' button to open the 'History' folder and find the converted Audible file. Just transfer the audiobook to any device without spending credits.
Part 4. Final Words
This article covers 8 solutions to get free Audible credits for your reference. Now you can give those methods a shot and use AudFree Audible Converter to convert all audiobooks from Audible to unprotected files. This tool allows you to listen to Audible books offline for free without the need for any credit. So, why not download AudFree Auditior today and enjoy Audible books?