Audible is one of the best platforms to listen to books. Audible currently offers millions of audiobooks, including some of the best-selling books. However, to listen to these books, you will have to pay the price, and the cost can go up to $40. But the good news is that this guide is filled with tricks that you can try to get free Audible credits and use them to buy audiobooks. So, if you want to know how to get free Audible credits, you have come to the right place.
Essentially, you need these credits to listen to audiobooks not included in the subscription. So, to help you get free Audible credits, we have prepared this guide. There are five tips that you can try and figure out which one works the best for you. So, without further ado, let's start this tip guide! Read on.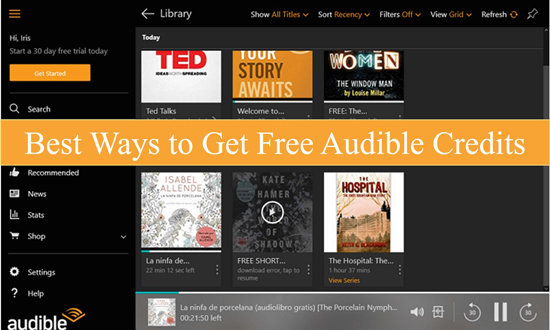 Part 1. What Is Audible Credit?
To listen to Audible books, you will first have to subscribe by opting for one of the membership plans. There are two monthly and yearly plans. No matter the subscription you choose, you will be credited with a set number of credits. So, you get Audible free credits with every membership plan.
These credits work like virtual money that you can use in order to purchase audiobooks that are not included in your subscription. But there's one issue with these credits. If you cancel your subscription, your credits will be lost too.
Part 2. How to Get Audible Credits via a 30-day Audible Free Trial
Now that you have understood what Audible credits are, and you have gotten the answer to are Audible credits free. You may want to know how to get Audible credits for free. The first way to get free credits on Audible is by signing up for a 30-day free trial. Once you sign-up for the 30-day trial plan, you will be credited with 1 or 2 free credits. So, it's better to opt for the 30-day free trial plan. Here are the steps that you need to follow:
Step 1: Visit the official website of Audible.
Step 2: Click on the "Start your 30-day free trial" tab.
Step 3: You will be redirected to your Amazon account sign-in page.
Step 4: Enter your email or phone number along with the password and click on the "Sign in" tab, and that's about it.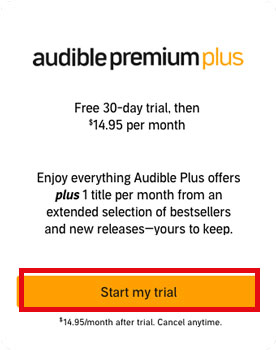 1 or 2 Audible credits will be credited to your account once you sign up.
Part 3. How to Get Credits on Audible via Starting an Audible Membership
There are two types of Audible memberships that you can go for. First is Gold monthly or annually and the second is Platinum monthly or annually.
For the Gold monthly plan, you get 1 credit per month. If you go for the Platinum monthly plan, you get 2 credits per month. There are Gold Annual Special and Platinum Annual memberships also that give you 12 and 24 credits per year simultaneously.

Part 4. How to Get Free Audible Credits via Audible Send this Book Feature
Here's another thing that you can try to get free books, and you won't even require any credits for that. What needs to be done here is to ask any of your Audible friends to send an audiobook to you as a gift. When they send Audible book as gift, you will receive a link to the same book. Here's how it works:
Step 1: You go to "My Library".
Step 2: Locate the book that you want to send to a friend.
Step 3: Look at the three dots and click on them.
Step 4: Click on the "Send this Book" tab and select a platform through which you will send the book.
Step 5: You will then receive a link for the book. Click on the link, sign up, and listen to the book.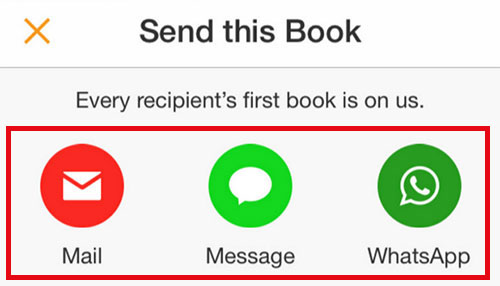 Part 5. How to Get Audible Credits for Free via Audible Originals
This is not a way to get free credits; rather, listen to free audiobooks without actually spending any credits. So, what you can do is click on the "Browse" option. Once you click on it, you need to click on the "Originals Member Benefit" option. You will get two free Audible Originals if you are on the free trial. After you opt for a membership plan, you will find many more Audible Originals. You can listen to them to your heart's content as there are thousands of them waiting for you.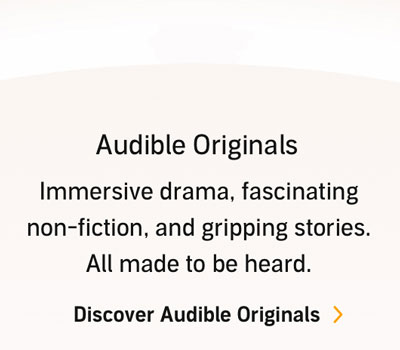 Part 6. How to Get Audible Free Credits via Joining Audible Challenges
If you are still trying to find an answer to how to get Audible credits for free in other ways, this tip is for you. You can try Audible challenges. However, these challenges are hosted once in a while and not always and are only valid for Audible members. Each challenge will ask you to complete a task. Once you do, you will be rewarded with Audible credits. These credits are for you, and you can spend them on any book you want.
Part 7. Return Books You Don't Like to Get Free Credits
If you don't like an audiobook and you wish to return it, you can do that and get the credits back that you spent on it. You get the free credits, which you can later spend on other books. Although it is not known how many books you can return, this tip works for everyone who is an Audible member.
Here's how to return a book on Audible:
Step 1: You will first have to log in to Audible.
Step 2: Go to "Purchase History".
Step 3: Find the book you no longer want and click on the "Exchange" option.
Step 4: You will be asked to select a reason. Select one and then hit the "Exchange" option.

If the audiobook is eligible to return, you will have your credits back.
More Tips: How to Download and Keep Audible Audiobooks Forever
The tips that we have shared above do have some restrictions. So, if you want to listen to Audible audiobooks without any limitations and conditions, it is better to download the audiobooks that you like and listen to them whenever you want to and as long as you want to with complete freedom. And to download audiobooks from Audible, you will need an Audible downloader.
Although there are many Audible downloaders available, the one that we recommend is AudFree Auditior. AudFree Auditior is a professional Audible downloader that lets you convert Audible audiobooks to multiple audio formats and listen to them on any device you want, that too, for free. This powerful tool is exceptionally easy to use and is available for both Mac and Windows users.
How to Use Download and Keep Audible Books Forever
Step 1

Download and launch AudFree Auditior

First, download AudFree Auditior on your computer and once it gets downloaded and installed, launch it from your computer desktop. Please make sure you have installed iTunes app and authorize your Audible account in iTunes in advance.
Step 2

Add Audible files to AudFree Auditior

iTunes app will be launched automatically. Go to iTunes and find the Audible audiobook/books you want to download. Drag the file that you want to download to AudFree Auditior's interface. Alternatively, it provides an easy way to achieve this goal by clicking the first '+' button to load Audible library. After that, you can select wanted Audible audiobooks as you like to add.
Step 3

Customize Audible output preferences and convert Audible books

After the Audible files are added, you can click on the "Format" option and select the audio format you want the audiobooks to be converted to. You can also customize other settings, such as bit rate, sample rate, codec, and channel. Finally, click on the "Convert" option to start the conversion process. Go to the "History" folder to find the converted Audible file. Just transfer the audiobook to any device and start listening to it for free and for unlimited time.
In Conclusion
This article covers six solutions to get free Audible credits for your reference. Now you know how to get credits on Audible and listen to Audible books offline for free without the need for any credit. Out of all the options we have listed, we think AudFree Auditior is the best solution because it lets you download Audible books for free and listen to them on any device and as many times as you want. So, why not download AudFree Auditior today and enjoy Audible books.