Audible gives people a great way to read. You can easily listen to books, podcasts, lectures and more while you do other things. However, nothing is perfect. Some Audible users complain that the Audible app doesn't work. These problems prevent them from playing Audible audiobooks properly. So, what do you do when the Audible app doesn't work? We've gathered some possible solutions to help solve the problem of Audible not working.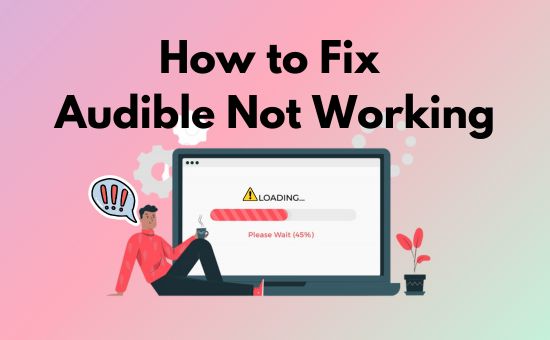 Part 1. Why Is Audible Not Working
Understanding the cause is the first step to fixing Audible not working.
It could be that the Audible App's server is down, or the App is under maintenance. In addition to this, there are other common issues that can interrupt your service. These reasons may include:
(1) An unstable or bad Internet connection that prevents you from streaming or downloading your books.
(2) Geographic restrictions on specific content depending on where you live.
(3) Software issues related to an outdated operating system or Audible application.
(4) Hardware issues, such as an inability to play audio from your mobile device.
(5) The quality of your audiobook is too low.
Part 2. How to Fix Audible Not Working
If you are facing problems with the Audible app not working, please read on. You will find there are some solutions to solve your problem.
Solution 1. Log Out and Log Back to Audible
If you are having trouble accessing the Audible app, you can try logging out and then log back into Audible.
For Android: Open Audible and go to "Profile" > "Settings" > "Sign out".
For iOS: Open Audible and go to "More" > "Settings". Then tap and hold the app name at the bottom. This will show you a prompt to log out.
(Note: If you log out of Audible on iOS, you will lose your Audible downloads.)
Solution 2. Clear Cache
Cached data is stored to improve the user experience. However, sometimes the cached version of the data and the latest data may not match, which creates a conflict. So, it is possible that short-term memory issues are causing Audible not working. Clearing the cache can often solve these problems.
Step 1. Open the "Settings" application on your Android device.
Step 2. Then select the "Apps" option >"Other apps".
Step 3. Find the Audible app and select it to tap on "Force Stop".
Step 4. Then select "Storage" and tap on "Clear Data".
For iOS, there is no option to clear the cache. You will need to delete the app from your device and then re-download it from the app store to clear the cache.
Solution 3. Check Date and Time
Sometimes the Audible app does not work when the date and time feature of your device is incorrect. So, you can reset the date and time settings to solve the problem of the Audible app not working.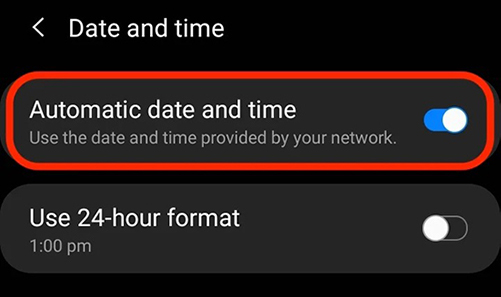 For Android: Open the Settings app, and go to the "General Management" >"Date and time". Then turn on the option of "Automatic date and time".
For iOS: Open the Settings app, and go to "General" > "Date and time". The turn on the "Set Automatically" option.
Solution 4. Disable Anti-virus
Anti-virus software is designed to protect devices from external threats. However, it sometimes prevents perfectly safe websites from working properly. So, if you are facing the problem of the Audible windows app not working, you can disable the anti-virus software on your computer.

Step 1. Click on "Start" on your computer.
Step 2. Type and find "Windows Security".
Step 3. Choose the "Virus and Threat Protection" option.
Step 4. Click on "Manage Settings" and turn off "Real-time protection".
Solution 5. Clear Browser Data
If you find the Audible web player not working properly, you can clear your browser's cache. The operation steps may vary slightly for different browsers, but the overall process is the same.
Step 1. Open your browser and tap on the three-dots icon at the top right.
Step 2. Select the Settings icon and click on "History".
Step 3. Click on the "Clear History" option.
Solution 6. Change the Download Quality
Sometimes, the quality of Audible audiobooks can also affect the playback. So, if you find your Audible not working as normal, you can change the download quality of audiobooks.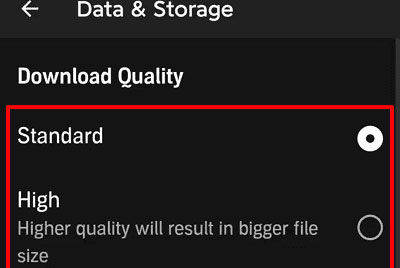 Step 1. Open Audible and click on the profile icon.
Step 2. Tap on the Settings icon and then choose "Data and Storage".
Step 3. Change to another the download quality.
Solution 7. Check the Download by Parts Setting
When you download large audiobooks, they will take up too much storage space. And they may cause problems with the audio. So, you can download Audible books by parts to solve the Audible books not working issue.
For Audible Mobile:
Step 1. Open Audible and tap on the profile icon.
Step 2. Click on the Settings icon and go to the "Data and Storage" part.
Step 3. Switch the "Download by parts" option.
For Audible Desktop:
Step 1. Open Audible and tap on the menu and settings icon.
Step 2. Tap on the "Download" section.
Step 3. Turn on "Download your library by parts".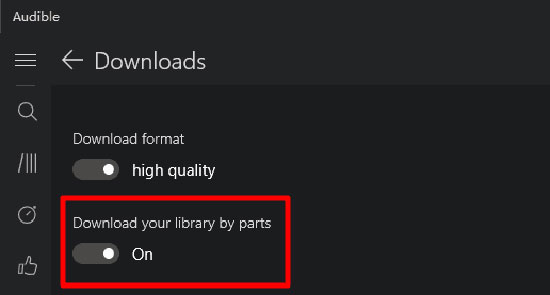 Solution 8. Re-download Audible Books
Deleting audiobooks does not remove them from your library. This means that even if you delete them, you will still have the books you bought, but won't be able to open them. Or, the books you downloaded are corrupted. In either case, you can re-download them to fix the problem of Audible books not working.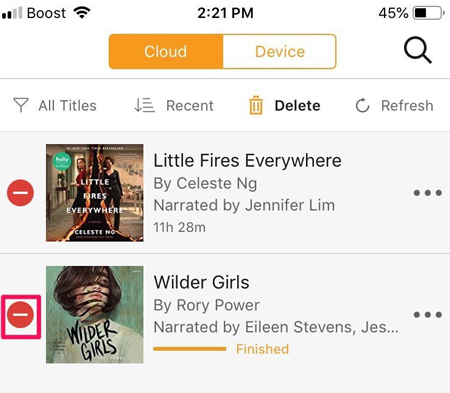 Step 1. Open Audible and tap on "My Library".
Step 2. Click on "Delete" to delete your audiobooks.
Step 3. Download these audiobooks again.
Solution 9. Restart Your Device
Rebooting a device is the simplest solution to the Audible app not working. Sometimes your device may have too many programs running in the background. It slows down your processing and makes it difficult for any app to work properly, including Audible. So, we recommend restarting the device. And make sure you give your device about 10 seconds of downtime before restarting.
Solution 10. Update Audible
There may be bugs in older versions that prevent the Audible app from working, which can be easily fixed with a simple download. Updating the app will usually fix a misbehaving app. Visit the app store of your choice, check for available Audible apps, and you should be good to go.
Solution 11. Reinstall Audible
Reinstalling the app will create a new app file on your phone. Just as clearing the cache can help with the problem of Audible not working on iPhone, you can completely remove the app from your system. This ensures that all instances of the app running on your system are effectively shut down. After uninstalling, go to the Google Play Store or App Store to download it again.
Solution 12. Play Audible with Other Media Players
If the problem with Audible not working doesn't resolve after you try the above solutions, you can give up using the Audible app. Try using the local media player on your device to listen to Audible audiobooks. This way, you won't be bothered by problems with the Audible application.
As we all know, Audible audiobooks are in AA/AAX format and other music players do not support these formats. You will need to convert your Audible audiobooks to a normal format first. The tool you need is AudFree Audible Converter. It's able to download and convert Audible audiobooks to MP3, FLAC, AAC, and so on. All the ID3 tags and the original sound quality will be wholly preserved. And the download speed is up to 30X faster.
You can now download the AudFree Audible Converter via the "Download" button below. Then follow the tutorial to download Audible books and play them with other media players.
AudFree Audible Audiobook Converter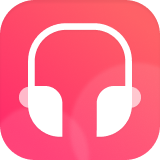 Convert Audible books to MP3, WAV, and other common formats
Download Audible books to computer with up to 30X faster
Split Audible books by chapters or at certain intervals
Keep all the metadata and original sound quality
How to Listen to Audible Books with Other Media Players
Step 1

Import Audible Books to AudFree Auditior

Start AudFree Auditior on your computer first. Then add the audiobooks you want to listen to. You can click on the first "Add" button in the bottom left corner. Alternatively, a more direct method is to drag and drop audiobooks to this software.
Step 2

Change Audible Output Format

Click the "Format" icon in the bottom right corner to open a new window. You can select the MP3 output format for playing with other media players. In addition, you are able to customize the codec, channel, sample rate.
Step 3

Download Audible Books and Play with Other Players

Now, press the "Convert" button and your audiobooks will be downloaded at 30X. once it is done, click on the "history" icon to locate the downloads. And now you are able to play these downloaded Audible books with your local media player. You can no longer worry about the Audible not working issue.
Part 3. Final Thoughts
This is about how to solve the problems with Audible not working or playing. We hope this guide is helpful and you are able to enjoy your audiobooks without any problems. If your problem is not solved, we suggest you use another media player to play your Audible books. And a necessary tool is AudFree Audible Converter. in fact, it is a powerful tool if you have any problems with Audible applications. Because it allows you to listen to Audible books from anywhere.