As the audiobook market has soared in recent years, Audible has become the largest producer and provider of quality audio stories. Among them, Audible Originals are sought after by users because they are audiobooks produced by Audible in a style that is not available elsewhere.
In general, the Audible Originals catalogue is filled with bestsellers from literary giants to unlock every moment of listening. Do you like Audible Originals? In this article, we present the official and free ways to download Audible Originals. Plus, you can check out the best Audible Originals books for entertainment.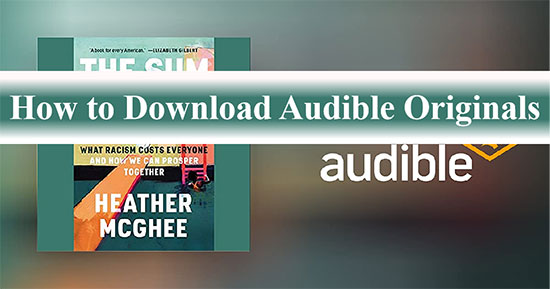 Part 1. What Are Audible Originals
While most audiobooks are produced by publishers and sold on various platforms, such as Audible, Audible Originals is exclusive Audible content, written and produced by Audible's leading audiobook producers. This original content includes audiobooks and podcasts ranging from all genres of fiction to non-fiction.
This exclusivity is one of the reasons why Audible is the world's most popular audiobook provider. Listeners have the opportunity to listen to the works of the best-selling authors in all genres. What's more, these Audible Originals books are never sold to other third party providers and you won't find or buy them anywhere else on the internet.
Part 2. How to Download Audible Originals Officially
Are Audible Originals free? Only if you have a subscription to Audible Plus and Audible Premium Plus, you have unlimited access to audiobooks, Audible Originals, podcasts and other content from the Audible catalogue. Generally, the most direct way to get Audible Originals is to use the Audible app. Follow the detailed guide below to download more Originals books on the Audible app or website.
From Audible App
Step 1. Open the Audible app on your device and log in to your account.
Step 2. Scroll to the bottom of the menu and find the "Originals" tab.
Step 3. Find the Audible original audiobook you want to download and click on their cover to download the audiobook.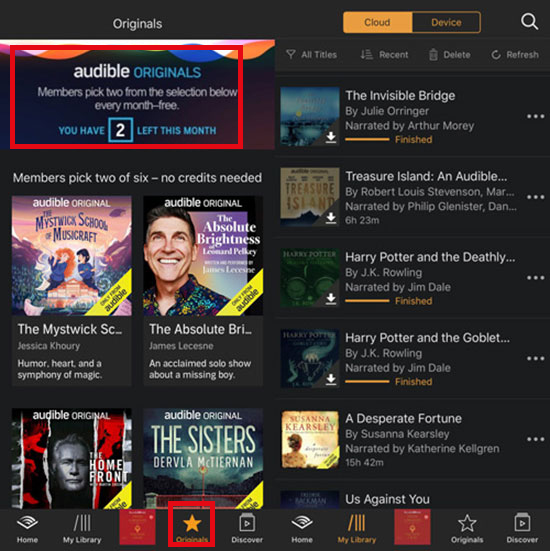 From Audible Website
Step 1. Navigate to the Audible Originals website on your browser directly.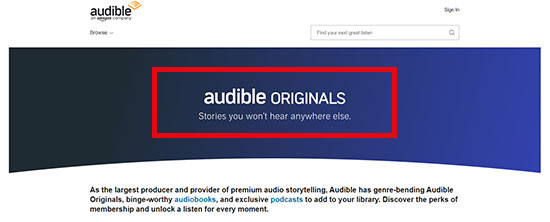 Step 2. Browse Audible Originals audiobooks and select your favorite Audible book.
Step 3. Click the Try for $0.00 button and enter your account information to sign in to your Audible Premium account.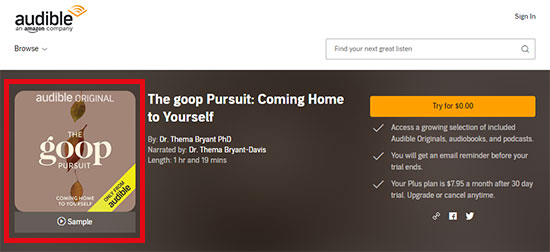 Part 3. How to Download Audible Originals Free
If your Audible subscription expires, you won't be able to listen to Audible Originals even if you've downloaded them to your device. And any Audible audiobooks are encoded in AA or AAX audio format and can only be played in the Audible app. To permanently play Audible Originals offline for free, you will need the assistance of some professional tools such as AudFree Audible Converter.
In fact, it is dedicated to converting Audible books to common formats such as MP3, AAC, WAV, FLAC, etc. The converted Audible files will be stored in your local drive for offline playback on multiple devices. What's more, it will convert Audible books losslessly and retain the original quality and ID3 tags such as artist, title, etc. You can also split Audible original books by chapter to ensure an enjoyable offline listening experience.
Key Features of AudFree Audible Converter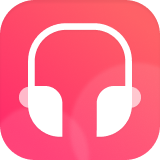 Remove protection for Audible Originals, iTunes books and Apple Music
Losslessly convert Audible to MP3, AAC, FLAC, WAV, etc.
Split large Audible original books by chapters for easy acces
Maintain Audible Originals' 100% original sound quality and ID3 tags
How to Get Free Audible Originals Forever
Step 1

Add Audible Originals to AudFree Auditior

Once you have launched AudFree Audible Audiobook Converter on your computer, you can drag the original titles you have downloaded from Audible to the conversion screen. Alternatively, click on the Add icon in the bottom left corner and select the Audible books you want to convert.
Step 2

Customize Output Settings for Audible Books

Click on the Format panel at the bottom right of the main screen to bring up a new window. You can select MP3 as the output format for Audible Originals to be compatible with more devices. You can also customize other Audible parameters to improve output quality, including audio codec, channel, bit rate and sample rate.
Step 3

Adjust and Edit Audible Originals

Click on the Effect icon to the right of each Audible audiobook and you can adjust the speed, pitch and volume in the effects settings. For some larger Audible books, hit on the Edit tab to split Audible audiobooks by chapter or duration.
Step 4

Download and Convert Audible Originals

Tap the Convert button to start the conversion process. Simply wait a while and click on the Converted icon to browse through all unprotected Audible Originals books in your local folder. After that, no Audible subscription is required and you can enjoy Audible Originals offline on any other device.
Part 4. Best Audible Originals Books
As a fan of Audible Originals, you can listen to Audible audiobooks while commuting, working or walking. Here are some of the best Audible Originals books for you to choose from.
1. Pride and Prejudice by Jane Austen
This is an impeccably loved classic that talks about quick judgement, natural kindness and prejudice. Perhaps you have seen the film adaptation of this work, in which Pike impresses as the beautiful Jane Bennet. Numerous theatrical adaptations and inspiring books have also emerged from this evergreen classic.
2. Half Light by Tayari Jones
It focuses on the intimate and powerful story of twin sisters who take back their family heirlooms. In Half Light, Jones explores the complex and profound bonds of family, both the family we are born into and the family we choose, in the context of today's vibrant Atlanta.
3. The Body by Bill Bryson
Bryson guides us through the human body, such as how it works, its extraordinary ability to heal itself, and the ways in which it can fail.The Body uses extraordinary facts to guide you to a deeper understanding of the wonders of life. It explores the body through a wealth of fantastic, readable facts and information.
4. Malcolm and Me by Ishmael Reed
Malcolm X was the most influential civil rights pioneer in history. Ishmael Reed interviewed Malcolm X in 1960 and it changed his life. Through Malcolm And Me, Reed reveals a side of Malcolm X that the public has never seen before and explores the impact of Malcolm X on his own work and life.
5. Wanderlust by Lauren Blakely
Lauren's novels are always romantic, descriptive and focused on place and experience.Wanderlust is a romantic novel about the sweet story of a strong, smart, determined American and a sexy Brit who can speak multiple languages. The novel's switch of perspective, pacing and story framework are perfect.
6. Caffeine by Michael Pollan
Pollan explores the power of caffeine as the world's most used drug and takes us on a journey through the history of the drug. Caffeine has influenced the course of human history, including warfare, politics and economics. In a world where an estimated two billion cups of coffee are consumed every day, caffeine has evolved into a science that has left us addicted and fascinated.
7. The Set Up by Falguni Kothari
A perfect disaster, or a perfect match? You can find the answer in Aditi Gupta's intriguing three dates. She dreamed of an eternal love like her parents, not an arranged marriage. This article offers three of her dates to delve into the common but unconventional themes of marriage, romance, family and parenthood.
8. The A.I. Who Loved Me by Alyssa Cole
This is a romantic comedy with a sci-fi twist. Trinity Jordan leads a quiet, normal life until she meets her artificial intelligence-like neighbour, Wei Li. He is literally a machine, and it is up to Trinity to help him achieve his goal of learning to be human. But the danger is gradually approaching, and so is love.
Part 5. Conclusion
This article describes two effective ways on how to download Audible Originals. You can also learn about the best Audible Originals, exclusive audio works created by famous storytellers. Try listening to more original books on Audible offline.