There are more and more reading modes with the diversification of books, such as paper books, e-books as well as audiobooks. With the technology development, most people tend to listen to audiobooks playing on devices themselves rather than reading papers carefully, which way is more convenient and comfortable to swim in knowledge.
Audible could be the preferred online audiobook store to purchase and download favorite audiobooks for listening as it's the largest producer of downloadable audiobooks in the world. So today, we are here to show the detailed steps to download books from Audible on different devices that could be a little difficult for Audible newbies.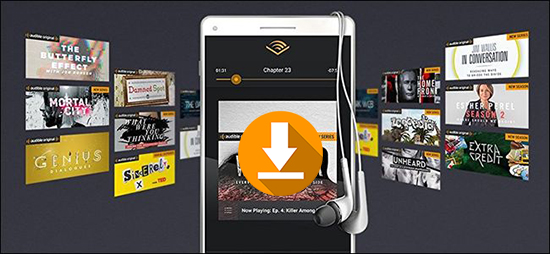 Part 1. Purchase Audiobooks from Audible Before Downloading
Can you download audiobooks from Audible.com? The answer could be positive, only if you have the rights to access to Audible store freely. There are two methods for your choice to get the download option. One is to use the 30-day Audible free trial to get free audiobooks and access to Audible library to download free Audible books. Once the trail expires, you need to continue Audible subscription for $14.95 every month. The other is to purchase audiobooks individually on Audible one by one. Now, let's see how to buy Audible audio books.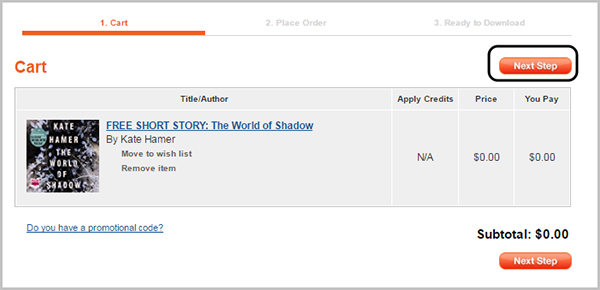 Step 1. Navigate to Audible site via web browser and sing in with your Amazon account. If you don't have one, please create an account firstly.
Step 2. There is a search box in Audible, you can use it to discover target audiobooks. Or you can use site navigation by classification to find audio books.
Step 3. Once found out, please select it and add it to Audible shopping cart by clicking the 'Add to Cart' button.
Step 4. Please enter to shopping cart and click the 'Next Step' to open the order page, in which you need to type in your credit card. And then hit on the 'Complete Purchase' to buy one audiobook.
When purchased successfully, audiobooks will be ready to download. You can refer to the follow complete steps to download and play Audible audiobooks on Mac, Windows, iOS, and any other devices.
Part 2. How to Download Audible Books to PC / Mac
When it comes to downloading Audible files to your computer, it depends on which operating system you are running. In general, getting audio books on Mac could be easier than on Windows computer. You just need to click once to download Audible books on Mac, while you are required to install official Audible Manager app to meet this goal. But the good thing is that this way offers three destination folders to import Audible books, including iTunes, Windows Media Player or AudibleManager player.
Download and Play Audible Books on Mac
Step 1. Go to Audible website on your Mac computer and navigate to Library Page. Please hit on the My Books option to launch the order list.
Step 2. In the Audible library, there is a complete list covered all audiobooks purchased from Audible store. There is a Download button at each audio books.
Step 3. Please click the Download icon, Audible books will start downloading to iTunes or the Finder on your Mac and then you can play Audible AA/AAX books offline on Mac.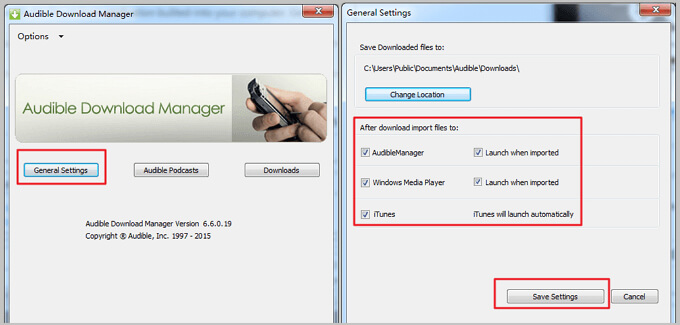 Download and Play Audible Books to PC
Step 1. Please install Audible Download Manager on your PC firstly. If you have downloaded it already, please skip to next step.
Step 2. Open Audible Download Manager and hit on the General Settings option to choose the target destination folder by checking the mark next to the media player.
Step 3. Go to Audible website -> Library Page -> My Books tab and select audio books that you'd like to download.
Step 4.While clicking on the Download button, Audible Download Manager will start downloading process to download Audible files to destination folder on Windows.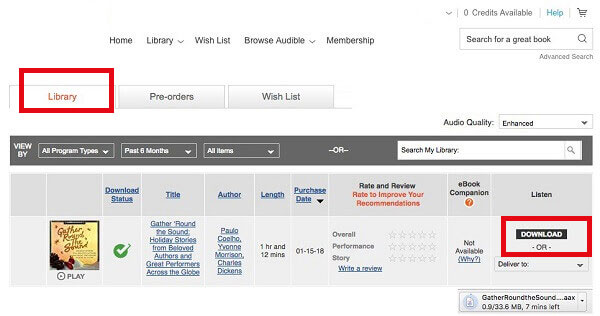 Part 3. How to Download and Play Audible Books on iPhone/Android
Audible offers the official Audible app for iOS and Android, with which Audible users can download books from Audible on mobile devices directly. Since the steps on Android and iOS devices are every similar, here, we will take iOS as example to show you how to download audiobooks from Audible on iPhone. If you would like to get the detail guide for Android, you can visit the following source page: How to Play Audible Auidobooks on Android.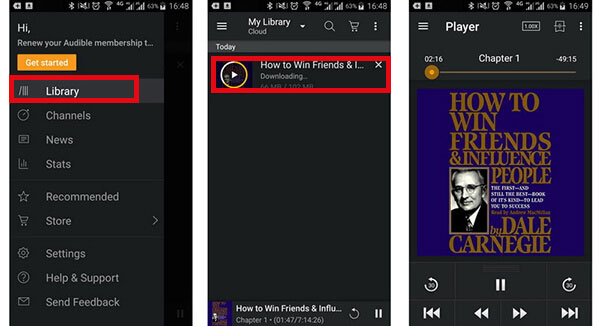 Step 1. Open App Store on your iOS device and type Audible on the search box to get Audible app and install it.
Step 2. Launch it and sing in you Audible account used to subscribe Audible plan. Tap the My Library at the bottom of the screen and choose Cloud tab in your library.
Step 3. All bought audiobooks are in the list. There is a down arrow at each audio book. And you can simply touch it to download an audiobook.
Note: If there is no download tab, which means that this Audible title has been already downloaded to your device. Besides, if you don't see any audio file in the 'Cloud' tab, please refresh your Audible library by trying the 'Refresh' function.
More Tips: Download Audible Audiobooks as MP3 for All Devices
From the above tutorial, 'how do I download books on Audible' on computer or mobile devices couldn't be a question. But you are still unable to listen to Audible books on any device because Audible files are encoded in protected AA/AAX format, which can be recognized by authorized devices. You can't play Audible books on MP3 player, even for some Android devices.
To listen to Audible audio books on more different devices, the best way could be to download Audible books as MP3 files. Here, we can meet AudFree Audible Audiobook Converter to convert Audible AA/AAX to MP3 with ID3 tags kept while removing DRM protection from audiobook files. Besides, it supports for splitting Audible audiobooks by chapters or fixed times frames.
There is a detailed tutorial to guide you how to get Audible MP3 files: How to Convert Audible to MP3. If you can't make the final decision, you can download and install the free trial version to test its performance by touching the download button below. Anyway, now you can play Audible audiobooks offline on any device without problem.