Audiobook lovers will be very familiar with Audible, the world's best producer and retailer of audiobooks. As you may know, Audible audiobooks are protected by digital rights management, which brings unavoidable reading restrictions. In this case, various free Audible converters have appeared on the market, and inAudible software is one of them.
In fact, inAudible converter is an effective tool specifically for converting Audible AAX to MP3, which is favored by many users. Therefore, this article will focus on the main features and tutorials on using inAudible audiobook converter. Moreover, in order to prevent inAudible from not working, we have also found the best inAudible Audible converter alternative for your reference.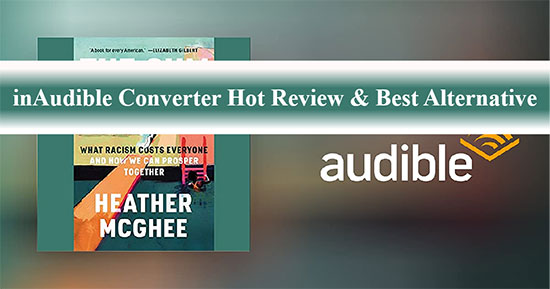 Part 1. What Is inAudible Software
Actually, inAudible is a free open source project on GitHub developed specifically to remove Audible AAX format restrictions. It is capable of converting Audible books to MP3, WAV, AAC, etc. for Windows and Mac computers. During the conversion process, it will keep the original metadata and ID3 tags of the audiobooks intact, including covers, titles, chapters, etc.
Key Features of inAudible Software
📢 Free Audible Audiobook Converter
inAudible program is a free tool that allows you to convert Audible audiobooks.
📢 Convert Audible AA/AAX Audiobooks to MP3, M4B, AAC, etc.
With inAudible software, you can convert Audible books to a range of formats, including MP3, M4B, AAC, and more. This gives you the flexibility to listen to your audiobooks on any device or platform you choose.
📢 Split Large Audible Audiobooks into Smaller Chapter Segments
It allows you to split large Audible audiobooks by chapter sections, which makes it easier for you to manage your audiobooks and find the specific parts you want to listen to.
📢 Preserve Audible Books' Metadata Information and ID3 Tags
When you convert your Audible books with inAudible converter, the tool will preserve the metadata information and ID3 tags associated with the original files.
📢 Support Editing Metadata for Audiobooks
In addition to retaining metadata information and ID3 tags, inAudible also allows you to edit this information. In this case, you can customize the audiobook's metadata to suit your preferences.
📢 Windows Version Supports Batch Conversion and CD Ripping
The Windows version of inAudible supports batch conversion, which means you can convert multiple audiobooks at once. Additionally, it supports CD ripping, allowing you to easily convert your CDs to digital audio files.
Risks of Using inAudible Audible Converter
⛔️ Security Risk: Downloading and installing third-party software like inAudible Audible Converter may expose your computer and data to security threats like malware, viruses, or spyware.
⛔️ Quality Loss: Converting Audible audiobooks using inAudible may result in a loss of quality, including decreased audio quality or missing chapters.
⛔️ Infrequent updates: This software is not updated often, especially the Mac version.
⛔️ Difficult to use: Its interface is a bit complicated and difficult to use for novices.
Part 2. How to Download inAudible Converter
If you don't mind the drawbacks of inAudible Audible converter and still want to download it, there are several options available for you to choose from. You can download it from GitHub, torrent sites, or cloud storage. Each method has its own advantages and disadvantages, so it's important to choose the one that's right for you. Here's a closer look at each option.
From GitHub
inAudible is available for download on GitHub, a popular platform for open-source software. To download inAudible from GitHub, simply navigate to the inAudible Audible converter repository and select either the Mac version v0.09 or the Windows version v1.702 - v1.97.
From Torrent Sites
Torrent sites allow users to share files with one another, and many popular software programs are available for download through these sites, including inAudible. However, it's important to be careful when downloading from torrent sites, as some files may contain viruses or malware. Make sure you have a reliable antivirus program installed on your computer, then click on the download link below.
inAudible software 1.97 for Windows
inAudible software 0.09 for Mac
From Cloud Storage
Finally, you can also download inAudible Audible converter from cloud storage services like Google Drive or Dropbox. This option is convenient if you don't want to download the software directly to your computer, or if you want to share the software with others. Simply navigate to the link below.
Part 3. How to Use inAudible to Convert AAX to MP3
Although there is no official website for inAudible, you can download it using the methods mentioned above. Once you have successfully installed inAudible audiobook converter, it's time to use it to convert Audible AAX to MP3 by following the instructions below.
On Windows
Step 1. After getting the inAudible converter downloaded on your Windows computer, launch it.
Step 2. Then go to File > Open > Audible/M4B to load Audible books.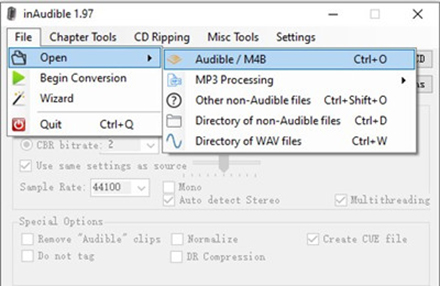 Step 3. Select the output file location of Audible book, after that set the output type and audio settings of the audiobook.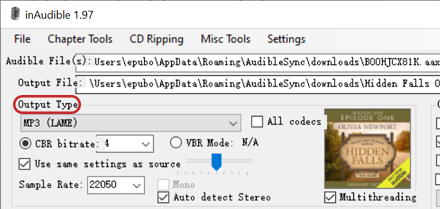 Step 4. If you want to use inAudible to split the chapters of the Audible book, you just need to click the Adjust Chapters button to make the relevant settings.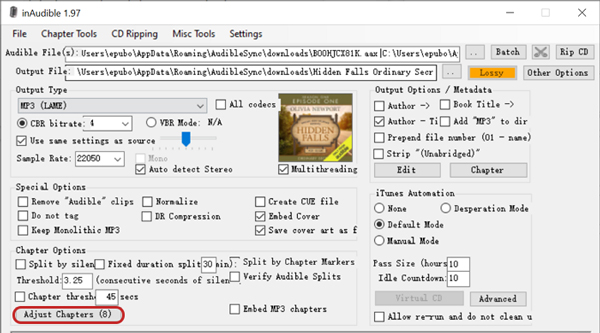 Step 5. Finally click the Begin Conversion button to start converting Audible files.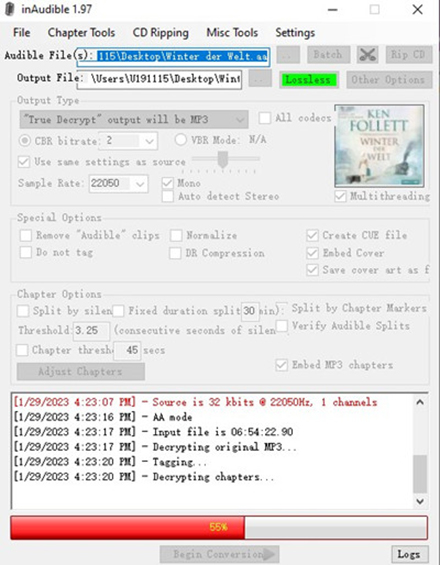 On Mac
Step 1. Run the inAudible software and press the three-dot button next to the input field to import the Audible AAX file.
Step 2. Click on the Transcode option to select the Audible output format you need, then determine the location of the output folder.
Step 3. Now, click the Begin Conversion button to convert Audible books to the target format.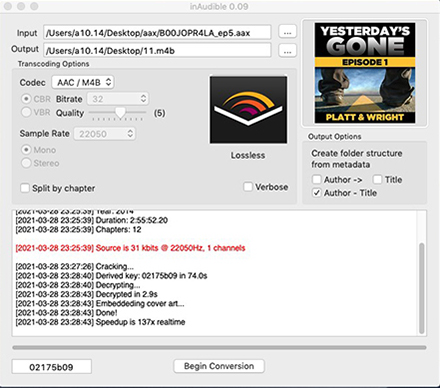 Part 4. Best Alternative to inAudible Software - AudFree Auditior
Some users will have doubts about the function of inAudible convert AAX to MP3 because inAudible audiobook converter has stopped upgrading. On this condition, it is necessary to find an alternative to inAudible. For your convenience, we have tested many Audible converters on the market, and finally AudFree Audible Converter came out on top.
Why do we call it the best alternative to inAudible software? Because it has all the advantages of inAudible software and improves on its disadvantages. For example, AudFree Audible AA/AAX Converter has the ability to convert Audible to MP3, FLAC, WAV, M4A, etc. at 30X faster speed. With the user-friendly interface and simple operation, you can download Audible books to your computer locally without any quality loss.
As for the ID3 tags and metadata information of Audible books, it is fully capable of retaining them intact. If you want to split Audible books into chapters in an ideal way, it is also very good at it. So, this convenient all-in-one tool is a complete replacement for inAudible when the inAudible software is not working well.
AudFree Audible Audiobook Converter
How to Convert AAX to MP3 via AudFree Auditior
Step 1

Add Audible Books to AudFree Auditior

Run AudFree Auditior on your computer, after that click the first "Add" button on the main page to import your Audible book file. Also, you can drag and drop the target Audible file into the conversion window directly.
Step 2

Set Audible Output Format to MP3

In order to customize the output format of Audible audiobooks, you can click on the "Format" icon in the bottom right corner. Here, you can set the output format to MP3, WAV, M4A, etc. If you want to customize other Audible parameters, like audio channels, bit rate, sample rate, you can set them in this window.
Step 3

Download and Convert Audible AAX to MP3

Simply press the "Convert" button at the bottom right corner and it will start downloading and converting Audible books according to your previous settings. Generally, you can tap the "File" icon to navigate to the downloaded Audible file. Then you have the freedom to transfer and play Audible on any device without any limitation.
Part 5. Comparison of inAudible Converter and AudFree Auditior
To get a more complete picture of the differences between inAudible software and AudFree Auditior, we have made the following table to compare them from different aspects.
| | inAudible Converter | AudFree Auditior |
| --- | --- | --- |
| Supported OS | Windows/Mac | Windows/Mac |
| Supported Input Audio | Audible AA/AAX Audiobooks | Audible AA/AAX Books, Apple Music, iTunes M4P Songs and Audiobooks, Common Audio Tracks |
| Output Format | MP3, M4B, AAC, WAV | MP3, FLAC, WAV, AAC, M4A, M4B |
| Conversion Speed | 1X | 30X |
| Require iTunes | ✔ | ❌ |
| ID3 Tags & Metadata | ✔ | ✔ |
| Set Parameters | ✔ | ✔ |
| Update | ❌ | ✔ |
| Lossless Quality | ❌ | ✔ |
| Security | ❌ | ✔ |
| Rating | ⭐⭐⭐ | ⭐⭐⭐⭐⭐ |
Conclusion: Is inAudible Worth It
inAudible is a popular tool used for converting Audible audiobooks from AAX to MP3 format. The software has several key features, including batch conversion, chapter splitting, and metadata editing. However, downloading the software from untrusted sources may expose your computer to malware or viruses.
If you are looking for a safer tool, AudFree Audible Converter is a great option. It offers additional features such as lossless conversion and faster conversion speed, making it a great choice for anyone who wants to convert Audible audiobooks to MP3 with ease.