Streaming music is becoming more and more popular all over the world. If you're a hi-fi enthusiast, you have plenty of options like Tidal, Qobuz, and more. They lead the way when it comes to music quality. But audiophiles are hesitant to choose Tidal or Qobuz. If you also have this question, read on and get a detailed comparison of Qobuz vs. Tidal.

Part 1. Qobuz vs Tidal: Comparison Table
Both Tidal and Qobuz are good platforms for listening to high-res music. But they also have some differences in terms of pricing, music quality, and more. Check out the quick Tidal vs. Qobuz comparison.
Qobuz
Tidal
Launch Date
2007
2014
Audio Quality
MP3: 320kbps
CD: FLAC, 16-bit/44.1kHz
Hi-Res: 24-bit/192kHz
Standard: AAC, 160 kbps
HiFi: FLAC, 16-bit/44.1kHz
Master: MQA, Hi-Res 2304-9126kbps
Price
Studio: $10.83/month
Sublime: $15.00/month
Free
HiFi: $9.99/month
HiFi Plus: $19.99/month
Music Library
over 100 million tracks (60 million CD-quality tracks and 424,000 Hi-Res audio tracks)
over 100 million tracks and 650,000 music videos (25,000 songs in high-resolution quality)
Compatibility
Windows, Mac, Android, iOS app and web player
Windows, Mac, Android, iOS app and web player
Availability
Available in 18 countries
Available in more than 52 countries
Music Discovery
Recommends base on high-resolution tracks in various genres and new music releases
More recommendations
Free Plan
✘
✔
Part 2. Tidal vs Qobuz: Side-by-Side Differences
1. Overview
Tidal is an American audio subscription service owned by Jay Z, launched in 2014. On Tidal, you can find music, audiobooks, podcasts, music videos, and more. It is available in over 61 countries around the world, which makes it a great choice for people across the globe.
Qobuz is a French music streaming service. Founded in 2007, it is one of the oldest online music streaming platforms. Initially, the service was only available in a few overseas markets, including the Netherlands, UK, Germany, Italy and Spain. Now the company is expanding its service to more countries, including the US. Now, Qobuz is available in 18 countries.
2. Sound Quality
When it comes to Qobuz vs Tidal sound quality, you should consider two main factors. The bit rate in "Kbps" represents the number of bits of sound in one second. Another key factor is the audio format, which can be lossless or lossy. Fortunately, both Qoduz and Tidal offer FLAC lossless format. But Tidal also offers the MQA format. In comparison, the MQA format is considered a smaller file size with the same quality as the FLAC format.
Qobuz offers MP3 at 320 Kbps, CD quality at 16-bit/44.1 kHz, and high-resolution audio at 24-bit/up to 192 kHz.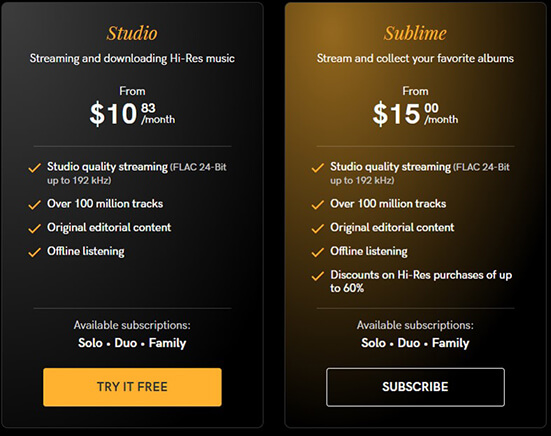 Tidal offers 160Kbps in standard AAC quality, 1,411Kbps in FLAC lossless quality, and 2,304 to 9,216 Kbps in Master MQA high-res quality.

It's worth mentioning that you need a high-quality audio output device to truly enjoy High-Ref and Hi-Fi audio files. Otherwise, you may hear no difference between MP3 audio files and Hi-Fi. Note that downloading higher-quality sound files takes more space than standard MP3 320Kbps files.
3. Pricing
Qobuz has two main subscription plans, Studio for $10.83 per month and Sublime for $15 per month. They both offer three tiers, including Solo, Duo, and Family. Before you subscribe to them, you can enjoy a 30-day free trial.
| Qobuz Pricing | Studio | Sublime |
| --- | --- | --- |
| Solo (1 account) | $12.99/month; $10.83/month (paid annually) | $15.00/month (paid annually) |
| Duo (2 accounts) | $17.99/month; $14.99/month (paid annually) | $22.49/month (paid annually) |
| Family (6 accounts) | $21.90/month; $17.99/month (paid annually) | $29.17/month (paid annually) |
Similar to Qobuz, Tidal also has two subscription plans, HiFi and HiFi Plus. HiFi plans start at $9.99 per month, while HiFi Plus starts at $19.99 per month. Tidal also has a free plan that allows you to access all of Tidal's music library with some ads. However, only the two paid plans allow you to listen to music offline. (Tips: You can use AudFree Tidal Music Converter to download Tidal music for offline playback without HiFi/HiFi Plus.)
| Tidal Pricing | Individual | Student | Family | Military | First Responders |
| --- | --- | --- | --- | --- | --- |
| HiFi | $9.99/month | $4.99/month | $14.99/month | $5.99/month | $5.99/month |
| HiFi Plus | $19.99/month | $9.99/month | $29.99/month | $11.99/month | $11.99/month |
In terms of price, Qobuz's Studio plan is cheaper than Tidal HiFi. However, if you just need to stream music, Tidal's free plan is a good option. It gives users access to its lowest sound quality (up to 160 kbps) and the entire Tidal music catalog.
4. Library
Qobuz has more than 100 million tracks, including 60 million CD-quality tracks and 424,000 Hi-Res audio tracks. It's good for enjoying high-resolution music. But you can't find podcasts, audiobooks, and other types of content on Qobuz.
As for Tidal, it offers over 100 million tracks and 650,000 music videos in its music library. Users can find music in Tidal sections like Albums, Explore, and more. Plus, it offers over 25,000 songs in high-resolution quality. Users can access the newest and oldest exclusive interviews with their favorite artists, and more.
So, Qobuz vs Tidal catalog data, Tidal has a larger library for users. If you want to listen to more types of songs, podcasts, and audiobooks and watch music videos, then you can choose Tidal. If you're an audiophile and want to stream high-res tracks, you can go to Qobuz.
5. Compatibility
When it comes to Qobuz compatibility with Tidal, they both have a lot of options. They have apps for Windows, macOS, Android, iOS, and a web player version.
Not only that, but you can also install these apps on your Apple TV, Roku or other digital devices. But Tidal clearly has partnerships with more partners. Plenty of Hi-Fi companies have Tidal. But only a few companies stream to Qobuz, such as Sony, Linn, etc. However, Qobuz allows users to stream music from Qubuz using Google Chromecast.
Note: Streaming music services have copyright protection for their music, which restricts them to listen to it only on their official apps. So, if you want to play Tidal music on some devices without the Tidal app, it will be a bit difficult. Thankfully, you can use AudFree Tidal Music Converter to transfer Tidal music to MP3, FLAC, WAV, AAC, M4A and M4B with 100% lossless quality. Then you can freely import the converted Tidal music files to any device for listening.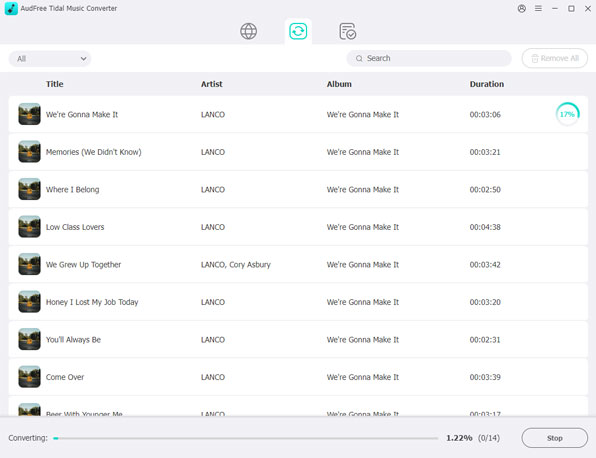 Tips: How to Play Tidal on Any Incompatible Devices
Step 1. Download, install, and open AudFree Tidal Music Converter on your Windows/Mac computer.
Step 2. Drag and drop songs from Tidal to this software. Or you can copy and paste the song's link into the top 'address box' and click '+' to load songs.
Step 3. The default output format is MP3 and it's supported by most devices. If you want to change it, go to the 'menu' icon and then choose 'Preferences' > 'Convert'. Then you can also alter the sample rate, bit rate, and so on.
Step 4. Click on 'Convert' at the bottom right to start the conversion process. Once completed, you can find the plain Tidal music files in 'history'.
Step 5. Now you can listen to Tidal music offline without Tidal HiFi/HiFi Plus. You can also move these well-converted Tidal songs to other devices that don't support Tidal for free listening.
6. Music Discovery
On Qobuz, there is a "Discover" section that displays playlists across genres and similar albums based on the category you selected when signing up. There's also a "News" section that discusses recent gossip and other happenings in the music industry.
However, Qobuz's recommends only based on high-resolution tracks in various genres and new music releases. This might be a problem for some subscribers who want to have custom playlists of their favorite artists, bands, genres, and more.

On the other hand, Tidal recommends personalized playlists for users based on what they like to listen to. In addition, Tidal also comes with categories like "Recently Played", "Mixed For You", "New Albums Added Since You", and "Suggestions". These categories help subscribers discover new music based on their preferences. These algorithmically personalized tracks ensure Tidal subscribers have access to the music content they actually want to hear.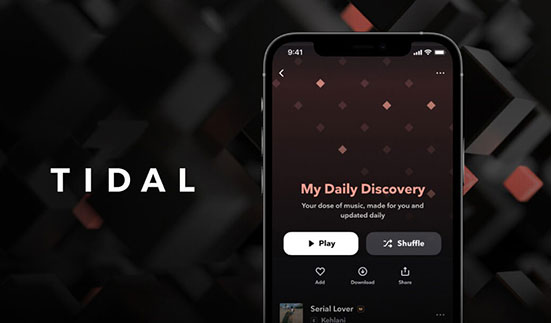 For these reasons, Tidal wins when it comes to Tidal vs Qobuz music discovery.
Part 3. Which Is Better, Qobuz or Tidal?
Actually, the answer to this question ultimately depends on individual needs. If you're an audiophile and enjoy listening to Hi-Res tracks, both Tidal and Qobuz are good choices. But it's clear that Qobuz is cheaper than Tidal and has a larger library of high-res tracks.
So, if you're an audiophile and love hi-res music, go for Qobuz. Tidal, on the other hand, has more podcasts, music videos, etc., and better music discovery features.
Anyway, we hope this Qobuz vs Tidal comparison was helpful to you. By the way, AudFree Tidal Converter is a great tool to help you listen to Tidal music. It allows downloading Tidal music even without a paid Tidal subscription. You can use it to listen to your favorite Tidal music anytime, anywhere.