Spotify is a world famous music streaming platform that offers free and Premium services. For Spotify Premium users, you have the right to enjoy uninterrupted music through an expensive monthly fee. But for free users, you have to put up with pop-up ads from time to time, which is very annoying.
In this case, Spotify ad blocker comes as a timely solution to the immediate confusion. Its purpose is simple, that is, to remove ads from Spotify so that you can enjoy smooth and ad-free music. There are so many ad blocker for Spotify on the web that you can't make a choice right away. For your convenience, this article lists the 6 best Spotify ad blockers for Windows, Mac, iOS and Android for you to choose from.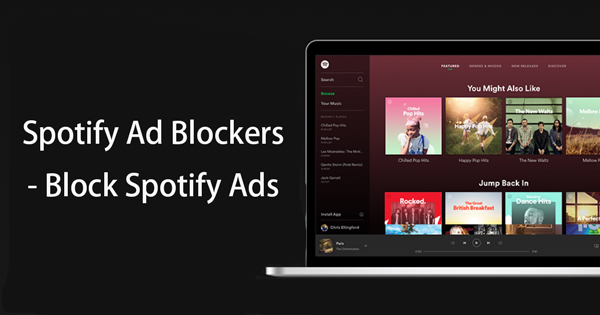 Top 1. Spotify Ad Blocker for Mac & Windows - AudFree SpoDable
When it comes to best ad blocker for Spotify, AudFree Spotify Music Converter has to be on the top of the list. In fact, it is a Spotify solution for Windows and Mac users. Its main working principle is to download Spotify Music to computer locally for all Spotify users. This way, whether you are a Spotify free or Premium user, you are free to block ads on Spotify.
What's more, it has the ability to convert Spotify to MP3, AAC, FLAC, M4A and other popular formats. In turn, you can play Spotify Music on any device and player offline without any problem. With the assistance of this professional Spotify ad skipper, you get rid of all the unwanted visual ads that appear every now and then and spoil the continuity of your favorite tunes and songs.
How to Block Spotify Ads for Mac & Windows
Step 1

Import Spotify Songs to AudFree SpoDable

First of all, install and run AudFree SpoDable on your Mac or Windows computer, then drag and drop the target Spotify songs onto the tool's main interface directly. Likewise, you can copy and paste the Spotify Music link into the search bar at the top and press the Add button nearby.
Step 2

Edit Spotify Music Output Format and Parameters

Press the menu bar on the top right corner and select Preferences to open the conversion window. At this point, you can start to set Spotify Music output format, such as MP3, WAV, AAC, etc. If needed, you can also set other audio parameters manually in this step, including audio channels and bit rate.
Step 3

Block Spotify Ads without Premium

After the above settings are done, you can hit on the obvious convert button to start the download process. After that, you can view the ad-free Spotify Music on your computer's local folder. In turn, it will be able to play Spotify songs on any device of your preference without worrying about ads.
Top 2. Spotify Ad Blocker Windows - Ezblocker
Ezblocker is a Spotify ad blocker created by Eric Zhang, specifically for Spotify users who have the Windows version. This great ad blocker mainly mutes Spotify ads so that you don't hear them and enjoy the uninterrupted songs.
Ezblocker Spotify does not affect any other sound on your device, it only eliminates the ads that appear while the music is playing. In this event, you can keep listening to Spotify songs without worrying about any ads spoiling your favorite melodies and eventually ruining your mood. No fancy features, it's simply an ad-blocking tool. Let's see how Spotify Ezblocker works for us.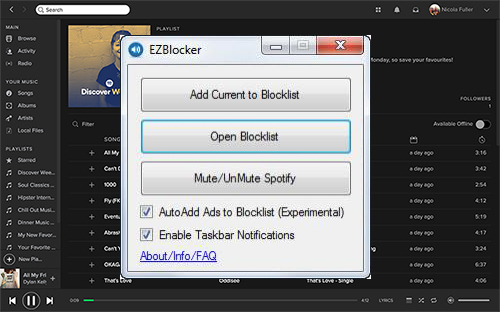 How to Get Rid of Spotify Ads for Windows
Step 1. Download and install EZBlocker to your computer, remember to make sure your computer is running Windows 7/8 or Windows 10/11 and has .NET Framework 4.5+.
Step 2. Allow to run as administrator to complete the installation. Then launch EZBlocker and select the checkboxes next to "Start EZBlocker on Login" and "Start Spotify with EZBlocker".
Step 3. Spotify will automatically load, then EZBlocker will block all Spotify ads in the background once you play your favorite songs on Spotify.
Top 3. Spotify Ad Blocker for Mac - StopAd
Looking for Spotify ad blocker for Mac? Stop your search now because we've found what you need. Try StopAd, an excellent ad blocker developed and designed specifically for Mac users. Moreover, it works even if you are an iOS, Android or Windows user. What's more surprising is that it's a free ad blocker for Spotify to block all annoying Spotify ads.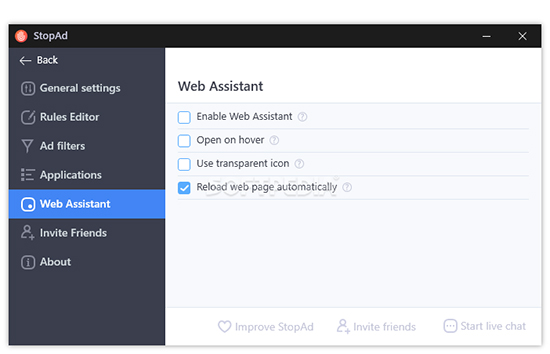 How to Block Ads on Spotify for Mac
Step 1. Download and install StopAd app on your computer from the official website.
Step 2. Run the StopAd app, navigate to "Settings" on the main window and select "Applications" > "Search app" option.
Step 3. Enter Spotify and check the check box next to Spotify, then click Add to filter. After that StopAd will block any ads from appearing while you listen to Spotify Music.
Top 4. Spotify Ad Blocker Chrome - Spotify Ads Remover
Spotify Ads Remover is actually an extension for Google Chrome that blocks Spotify ads while listening to your favorite songs. It is a great option to get rid of ads for those who use Spotify web player. With this Spotify ad blocker chrome, whenever Spotify is ready to play an ad, it will automatically skip it.

How to Mute Spotify Ads for Spotify Web Player
Step 1. Navigate to the Chrome Web Store on your computer and find Spotify Ads Remover.
Step 2. Click on the "Add to Chrome" option to install this extension and then launch the Spotify web player.
Step 3. When you start playing Spotify Music in Spotify web player, all the Spotify ads will be removed by the extension.
Top 5. Spotify Ad Blocker for iOS - Tweakbox
Tweakbox is a wonderful Apps store for iPhone users. Why we call it a great Spotify ad blocker? As a matter of fact, as soon as you download and install the Spotify app from Tweakbox under the Tweaked Apps category, you can get no ads on Spotify and enjoy your favorite Spotify Music without any interference. It's really convenient, isn't it?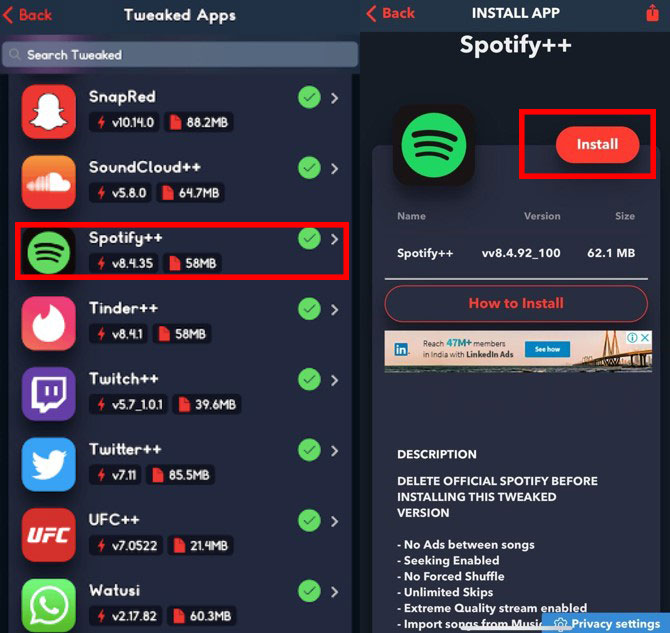 How to Block Spotify Ads for iOS
Step 1. Download and install Tweakbox on your iPhone. After successful installation, run Tweakbox.
Step 2. In the main interface of Tweakbox, you can see three directories Home, Apps and INFO. Here, you need to click on the Apps.
Step 3. You can see many columns for you to download the application, select Tweaked Apps here, then enter Spotify on the next page.
Step 4. After the Spotify software is fully installed, you can log in to your Spotify account and start enjoying ad-free Spotify songs.
Top 6. Spotify Ad Blocker for Android - TutuApp
As for best ad blocker for Spotify Android, you can't miss TutuApp which not only block ads on Spotify for you but also offers Spotify Premium feature for Spotify free users. Android users who like to use Spotify can enjoy ad-free and uninterrupted music with TutuApp. In reality, the app works very similar to Tweakbox, as Spotify downloaded through TutuApp automatically becomes an ad-free website.
Moreover, it is a reliable application that can be used to download more apps other than Spotify. So download the app today, install the new version of the Spotify app in your phone and enjoy Spotify Music without ad interruptions alone or with your loved ones.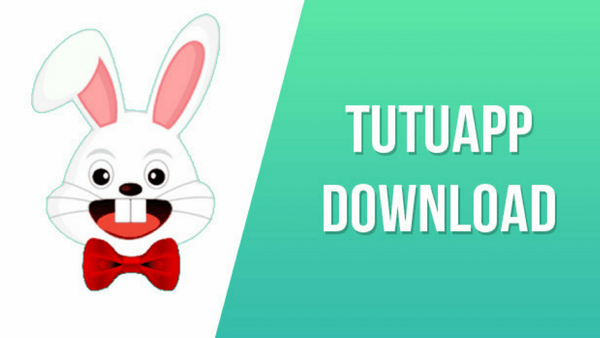 How to Block Ads on Spotify for Android
Step 1. Download and install TutuApp on your Android phone. Once the download is complete, find the Spotify app on the main screen of TutuApp . Or just look for the Spotify app in the search bar.
Step 2. Click the Download button on the introduction page of the Spotify app, after that you can download and install the Spotify app on your phone successfully.
Step 3. When you play the songs you want in the Spotify app, you will be surprised to find that there are no more ads to bother you.
Which Is the Best Spotify Ad Blocker
If you still have trouble deciding which ad blocker for Spotify to choose to block Spotify ads, you can get some insight from the table below as it systematically compares the above-mentioned Spotify ad blockers.
| Spotify Ad Blocker | Supported OS | Way to Get Ad-Free Spotify | Free |
| --- | --- | --- | --- |
| AudFree SpoDable | Windows, Mac | Download Ad-Free Spotify Songs Offline | × |
| Ezblocker | Windows | Mute Spotify Ads | √ |
| StopAd | iOS, Android, Windows, Mac | Block Spotify Ads | × |
| Spotify Ads Remover | Windows, Mac | Block Spotify Ads | √ |
| Tweakbox | iOS | Block Spotify Ads | √ |
| TutuApp | Android | Block Spotify Ads | √ |
In Conclusion
To get uninterrupted Spotify Music, you can refer to the above Spotify ad blockers for Windows, Mac, iOS, and Android devices. Please make the most suitable choice according to your needs. So, what are you waiting for? It's time to download the best Spotify ad blocker to enjoy free, non-stop, ad-free music as you like.