As one of the most popular music streaming services on the Internet, Tidal is a great place for music lovers to listen to high-quality music. However, when we listen to our favorite Tidal songs, the non-skippable ads that pop up every now and then are really annoying. We have to admit that Tidal ads make the perfect listening experience much less enjoyable.
If you are struggling with unbearable Tidal ad song, then you are in the right place. Take it easy, this article will cover the best ways to block Tidal ads for Windows, Mac, Android and iPhone. Needless to say, read on to discover more details.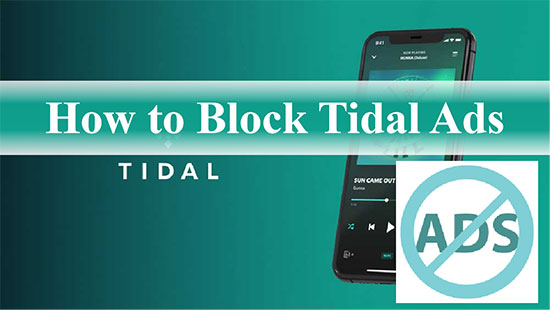 Part 1. How to Block Ads from Tidal without Premium
In fact, Tidal HiFi and HiFi Plus subscribers have the privilege of enjoying Tidal Music without the distraction of ads. What about Tidal free users? If you want to listen to ad-free Tidal Music without spending an expensive subscription fee, here is a professional tool that will be a good helper for you. That is AudFree Tidal Music Downloader, which is carefully designed for all Tidal users, specifically for Tidal Music download and conversion.
This powerful tool has the ability to convert Tidal Music to MP3, FLAC, WAV, etc. on your computer locally. No need to worry about any Tidal quality issues, it will retain all Tidal songs' ID3 tags and metadata information. What's more, it will effortlessly remove ads from Tidal for listening to Tidal Music offline on any desired device and media player. This way, you'll be able to block Tidal ads and play your favorite Tidal songs without subscription.
How to Block Tidal Ads without Premium
Step 1

Add Tidal Music to AudFree Tidable

Run the AudFree Tidal Music Downloader and the Tidal app will open at the same time. At this point, you can select your preferred Tidal song, playlist or album in the Tidal software. After that, click on the three-dot icon and select the 'Share' > 'Copy' button to copy the track link, and paste it into the search bar at the top of the tool. Then remember to press the nearby '+' button to load the song.
Step 2

Set Tidal Output Format and Other Parameters

Tap the top menu bar > Preferences > Convert options to open the settings window. In the pop-up window, you can easily choose the desired Tidal output format such as MP3, FLAC, M4A, etc. Also, it is able to customize audio channels, bit rate, sample rate and other Tidal audio parameters as you want.
Step 3

Block Tidal Ads without Premium

Now, simply press the "Convert" tab and it will start the download and conversion process. Once it is done, you can smoothly locate all the Tidal Music on the target folder of your computer. After that, you have the freedom to enjoy Tidal songs without any ads.
Part 2. How to Remove Ads on Tidal with Premium
Does Tidal have ads? The answer for Tidal paid subscribers is probably no. That's because once you subscribe to Tidal HiFi and HiFi Plus, you can unlock a host of special features, such as ad-free music, offline downloads, unlimited access to hi-fi music, and more. So it seems that subscribing to Tidal is an easy and effective way to block Tidal ads as well.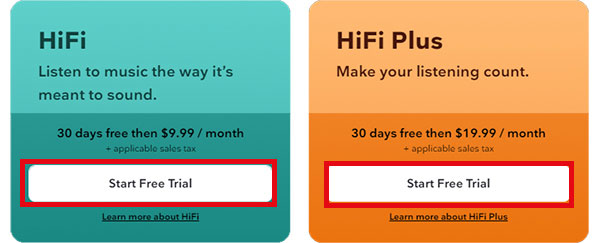 How to Remove Ads from Tidal with Premium
Step 1. Navigate to the Tidal web player or install and launch the Tidal application on your computer.
Step 2. Click the Sign In button and fill in your Tidal account details. If you are a new user, you can simply use your email address to create a new Tidal account.
Step 3. Select the subscription plan you want on the web page, Tidal HiFi or HiFi Plus. After that, enter your payment details to complete the subscription.
Step 4. Now you can start enjoying more exclusive features and ad-free Tidal Music tours.
Part 3. How to Block Tidal Ads on Windows/Mac - Shelblock
Whether we visit Tidal online streaming, or various other web pages, we are inevitably exposed to hundreds of ads that pop up. Now Shelblock can come into play, as it is actually a desktop ad blocker dedicated to blocking ads and website trackers in web browsers and applications.
Of course, when you are ready to listen to some Tidal songs of interest, it is effective in blocking Tidal ads from popping up to improve your music experience. What's more, by default, it will also block ads and websites that are detected as malicious. So it seems that Shelblock is indeed a good Tidal ad blocker on Windows and Mac.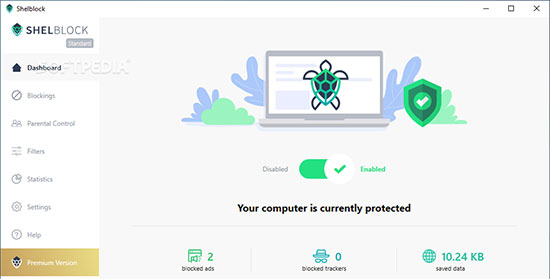 How to Block Tidal Ads on Windows/Mac via Shelblock
Step 1. First, download and install the appropriate version of Shelblock on your Windows or Mac computer.
Step 2. You can start playing any of your favorite Tidal songs on your computer and Shelblock will immediately block any ads.
Step 3. Now you are free to enjoy ad-free Tidal tracks without any difficulty.
Part 4. How to Mute Tidal Ads on Android/iPhone - StopAd
If you're looking for a free and easy way to block all those pesky ads, including Tidal ads, then StopAd would be a good choice. It is designed to remove pop-up ads on Android and iPhone to provide a smooth and satisfying surfing experience. Moreover, it works perfectly on almost all types of popular websites and web pages.
In this way, this free software for smart surfers solves the ad problem that plagues Tidal users. Moreover, it has the advantage of protecting users' private information and thus increasing the security of the Internet. Also, it is very easy to use to automatically block Tidal ads so that songs load more smoothly.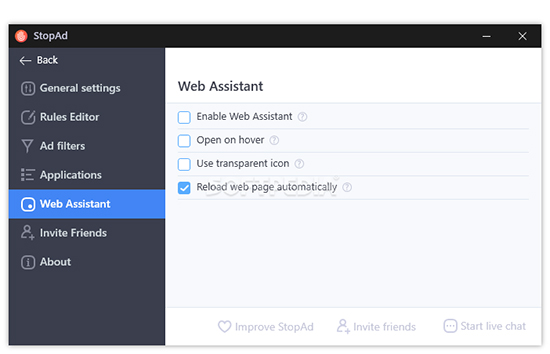 How to Mute Tidal Ads on Android/iPhone via StopAd
Step 1. Install StopAd on your Android or iPhone device, then click to Settings on the StopAd homepage.
Step 2. Please select the "Apps" button and tap the "Search apps" option. At this point, please enter the target Tidal app.
Step 3. Tap the checkbox next to Tidal and select the 'Add to filter' option. StopAd will then block any Tidal ads in real time while you are listening to Tidal Music.
Part 5. FAQs about Blocking Ads from Tidal
Q1: Does Tidal Free Have Ads?
The answer is undoubtedly yes. While Tidal free users can enjoy millions of Tidal Music, playlists, albums and more, the price is hearing annoying ads in between Tidal tracks.
Q2: Is Tidal HiFi Ad-Free?
Yes, Tidal HiFi and HiFi Plus subscribers are entitled to access 100% ad-free Tidal Music. Moreover, they can enjoy unique features such as online listening and unlimited skipping.
Q3: Is It Possible to Skip Tidal Ads?
Without a Tidal HiFi or HiFi Plus account, you won't be able to skip Tidal ads. However, you can try using the AudFree Tidal Music Downloader and Tidal ad blockers mentioned above to download music from Tidal and block Tidal ads from appearing.
Q4: Are Tidal Ad Blockers Illegal?
When you use Tidal ad blocker to block ads from Tidal and only for personal use, then it is legal and reasonable.
Part 6. In Conclusion
In brief, this article presents various effective ways to block ads on Tidal for Windows, Mac, Android and iPhone for you to choose from. It's time to follow your heart and choose the most suitable option. Hopefully, by using the above methods, you can get a better Tidal listening experience.