Spotify is undoubtedly the most popular music streaming service, but sometimes when you play your favorite Spotify songs, you unexpectedly encounter annoying stuttering problem. As many Spotify users have complained, Spotify stuttering issue greatly affects the listening experience. So, what can you do to get Spotify back to smooth state?
Fortunately, here are some common solutions specifically for Spotify stuttering/choppy issue on Windows, Mac, iOS and Android. Also, this article will end with an ultimate method to enjoy Spotify Music forever without any problem.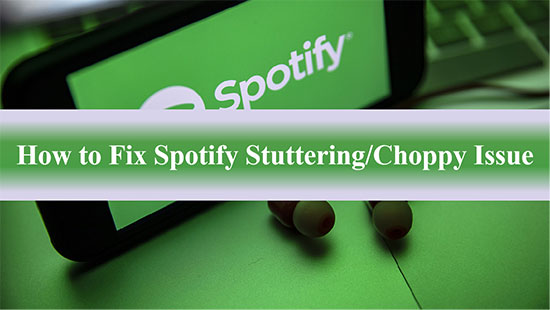 Part 1. Why Is Spotify Stuttering/Choppy
First and foremost, you need to understand the possible reasons why Spotify becomes choppy, which is a prerequisite for solving Spotify stuttering problem. Some of the common causes are described here:
Spotify app has corrupt cache files.
Connection to a bad network.
Low specifications of the computer or phone.
Running on any battery saving option.
Part 2. How to Fix Spotify Stuttering on Windows/Mac
If you are a Window or Mac user, then the solution for Spotify stuttering is waiting for you here. Let's learn how to fix choppy audio on Spotify for Windows 10 or Mac computers.
Fix 1. Check Network Connection Status
In case of poor internet connection, you may find that Spotify takes a long time to load any content, which is also likely to cause stuttering issues. At this point, you need to click on the Internet icon on your Windows 10 computer and then tap Troubleshooting Issues. If it's a Mac computer, you can select System Preferences > Network to check it directly.
Fix 2. Enable Hardware Acceleration
If Spotify is stuttering, you can try enabling Spotify's hardware acceleration feature, which will make the Spotify app run faster. Simply tap the three dots on the top left of the Spotify app, hit the "View" button, and enable hardware acceleration afterwards.
Fix 3. Restart Your Computer and Spotify App
Rebooting your device will resolve any issues with the software currently running, as this clears up common bugs and glitches, and Spotify choppy issue is no exception.
Fix 4. Sign out of Spotify from Anywhere
When you sign in to another Spotify app with the same Spotify account, your Spotify Music will pause. So if someone is using your Spotify elsewhere, then you'll notice Spotify stuttering. Sign out of your Spotify account from anywhere and only sign back into it on your current device.
Fix 5. Reinstall the Spotiy Application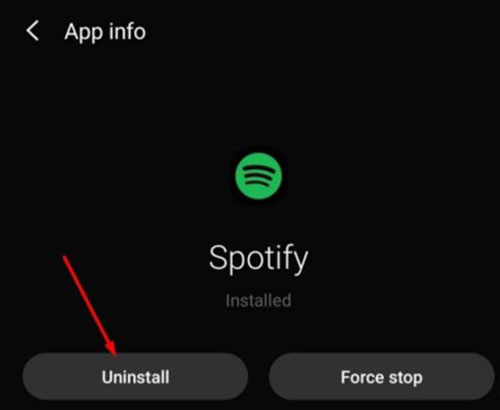 After exhausting all of the above methods to no avail, you may need to uninstall and reinstall Spotify so that you can completely remove Spotify related files from your computer, including any problematic ones.
Part 3. How to Fix Spotify Stuttering on Android/iOS
Fix 1. Delete Spotify's Local Cache
Your Spotify application may be stuttering due to corrupt local cache files. Please click Settings > Storage > Delete Cache option to clear Spotify cache. After that, your Spotify app should run easily and smoothly.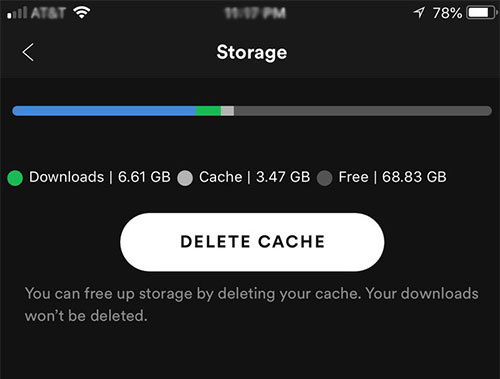 Fix 2. Turn off the Battery Saver Option
While the battery saver option will save some extra battery power, it will also prevent background apps from running at full power. In this way, it will also seem to cause Spotify stuttering issue.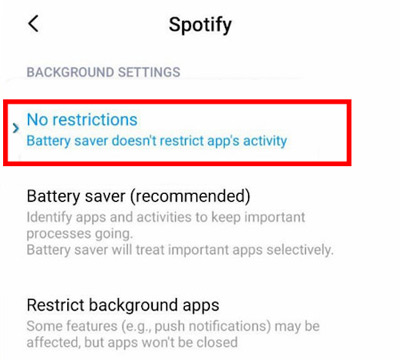 Fix 3. Whitelist the Spotify App
If you put Spotify app in the unmonitored apps category, your phone will no longer set any performance caps on Spotify app. Then you can even use the battery protection option, as whitelisted Spotify app can also run freely. Go to Settings > Device Management > Battery to enable this feature.
Part 4. How to Fix Spotify Stuttering/Choppy Permanently
It's really hard to tell which solution you should use to deal with Spotify stuttering, so instead of troubleshooting it one by one, try this once and for all solution, which is to download Spotify Music as local files. In this case, you can listen to Spotify Music without the Spotify software and thus don't have to worry about any stuttering problem.
Also, in this process, you need the assistance of the best AudFree Spotify Music Converter, as it is specially designed to download and convert Spotify to MP3, FLAC, AAC, WAV and other popular formats. As a result, you get the unprotected Spotify Music files on your computer locally. After that, whenever you listen to Spotify songs, you won't have Spotify choppy issue anymore.
Main Features of AudFree Spotify Music Converter
How to Fix Spotify Stuttering/Choppy Permanently
Step 1

Import Spotify Songs into AudFree SpoDable

Launch AudFree SpoDable from your computer, then drag and drop any Spotify Music you prefer into the conversion window directly. Or copy and paste the links of the songs into the search box, and remember to click the Add button afterwards.
Step 2

Customize Spotify Music Output Format

Please tap Preferences > Convert option on the top right corner. In the settings window, you can convert Spotify Music to common formats like MP3, WAV, AAC. In addition, you are allowed to set other Spotify parameters like audio channels, bit rate, codecs, etc. in this window.
Step 3

Listen to Spotify Music without Stuttering

Finally click the Convert button at the bottom right corner and it will automatically start the downloading and converting process. Once the download is done, you have the freedom to play Spotify Music without worrying about Spotify stuttering all the time.
Part 5. The Verdict
Now, you should already know how to fix Spotify stuttering/choppy on Windows, Mac, iOS and Android devices. By the way, if you'd like to completely eradicate stuttering problem or any other Spotify issue, AudFree Spotify Music Converter is definitely the optimal solution.