"Why does my Spotify say waiting to download?" No matter in the part of iOS or Android forum on Spotify Community, 'Spotify Waiting to Download' issue has been more and more prevalent. When starting to download Spotify songs or select 'Available Offline' on Android or iOS device, Spotify stuck on downloading. Why this happens?
A five-year Spotify user says that his offline playlists say 'Waiting to Download', yet no Spotify tracks even download. The only thing he has done is to update his iPhone OS. What's worse, the download arrow is gray instead of green, which means tracks are even not available online.
By the way, some people fixed this issue by simply uninstalling and installing Spotify app on mobile devices. Yet, the majority of Spotify users are not as lucky as they are. But don't worry. To tackle Spotify not downloading for all users, we did some researches and tests. And we will show you the reasons to this error and introduce all possible solutions to fix it in this article.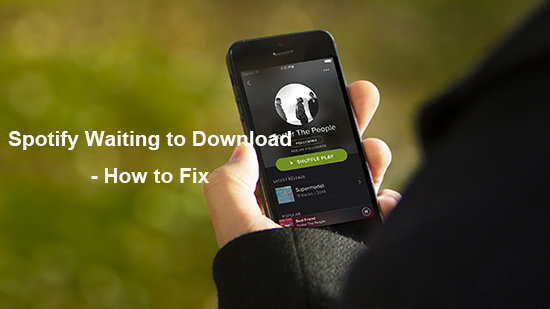 Part 1. Why Does Spotify Say Waiting to Download
Why is Spotify stuck on downloading songs? There are various causes that may lead to this problem. This part will illustrate some of them and you can check them out one by one in detail.
👉1. Your mobile devices may be locked during the Spotify songs downloading process.
👉2. You may reach the download limit of Spotify for each device.
👉3. Maybe you have Firewall, Antivirus, or VPN program on.
👉4. You may connect to an unstable network connection on your device.
👉5. Your device may not have enough space to storage downloaded files.
👉6. Maybe there is a compatibility problem with the Spotify app if you have it updated.
👉7. The expiration of your Spotify Premium subscription will also make Spotify stuck downloading.
👉8. The Offline Mode on Spotify may be enabled.
Part 2. How to Fix Spotify Waiting to Download by Basic Solutions
Now, we had learned the reasons to this problem from the last part. Then let's see how to solve Spotify waiting to download issue. Below are some common fixes that you can try step by step.
#1. Check Your Spotify Premium Plan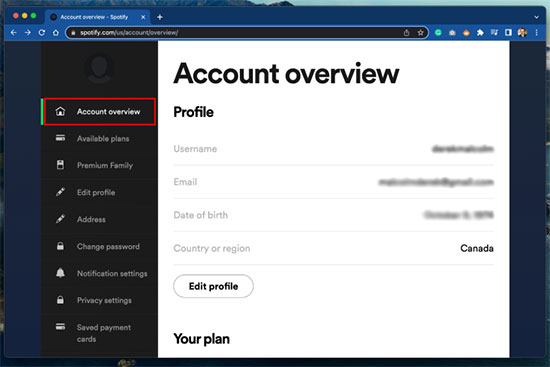 We know that Spotify only allows its premium subscribers to download music for offline listening. So, first, you need to check if your Spotify Premium account is still active or not when meeting Spotify not downloading issue. Or, if you are just a free user of Spotify, then you have to subscribe to its premium service first.
#2. Check Network Connection
To solve Spotify waiting to download issue on mobile devices, please make sure your device is connected to a strong internet network. If not, then reconnect it to WiFi or cellular data. You can also restart the router to reset network before reconnecting.
#3. Check Spotify Downloaded Quantity
It's important to be noted that there is a limitation for downloading Spotify music for offline listening on each device. In general, you can get '9,999 in total' tracks offline on at up to 5 devices if you are subscribing a Spotify Premium account.
Just check whether you have reached the limit. If yes, please delete some downloaded Spotify songs that you don't listen to usually. And then it should become normal again.
#4. Disable Windows Firewall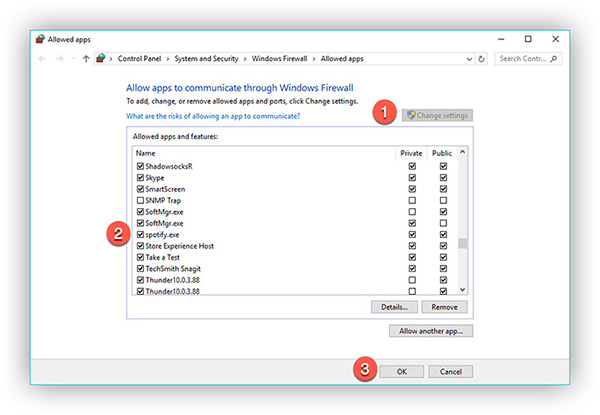 This way is recommended by other users on Spotify community who just disable Firewall. And the 'Available Offline' button is available to download Spotify playlists for offline listening.
Just launch the Windows Firewall on your computer, navigate to 'Allow an app or feature through Windows Firewall'. Then Change Settings' > 'Allow another app...' to choose 'Spotify'. After all steps have done, please open Spotify app to see whether 'Waiting to Download' has disappeared or not.
#5. Uninstall and Reinstall Spotify Music App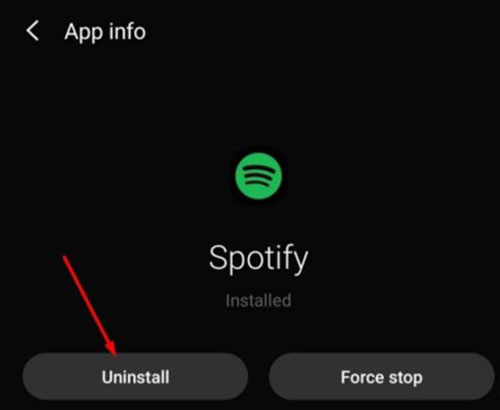 If you use the Spotify app with the old version on your device, then you may get the 'Spotify not downloading' issue. In this case, you should better uninstall the Spotify app you are now using. Later, reinstall it from the app store, google app store or Spotify official website on your Android, iOS, Windows or Mac device.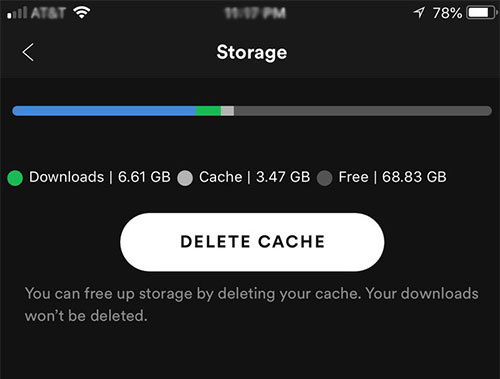 To download content to your device, you need to make sure that your mobile or desktop device has enough storage space. If you face the 'Spotify stuck on waiting to download' problem, then you should go to clear Spotify app cache and free up your device storage space. Later, try to download tracks from Spotify to see if it works well.
#7. Check Spotify Offline Mode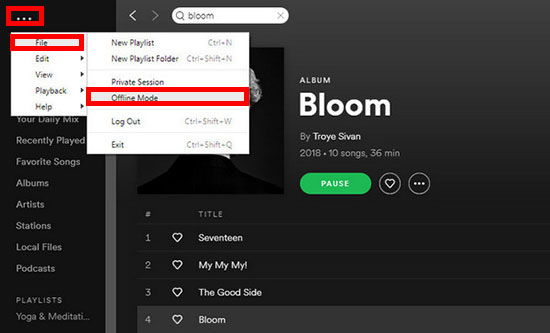 You need to download music from Spotify online. Yet, if you enable the Spotify Offline Mode, then you won't get Spotify songs download well. So, you need to check if you have turned on Offline Mode on Spotify or not. If yes, then go to the Spotify Settings section to disable it and then try downloading music again.
Part 3. How to Solve Spotify Stuck on Waiting to Download - Best Way
If the previous solutions fail, it's time to turn to the alternative powerful method. That's to use the professional AudFree Spotify Downloader. It can help download Spotify files for offline playback on any player and device with your free or premium account on Spotify.
By using this way, there is no download limitation no matter on per device or all devices. Besides, this smart Spotify tool can also convert Spotify to MP3, FLAC, WAV, AAC, M4A and M4B with all ID3 tags kept in converted Spotify files. So, you can transfer Spotify music to not only iOS and Android devices but also other devices that don't support for the installment of Spotify app.
Though it costs a small amount of money, this is an ultimate solution to fix the 'Spotify Not Downloading' issue directly.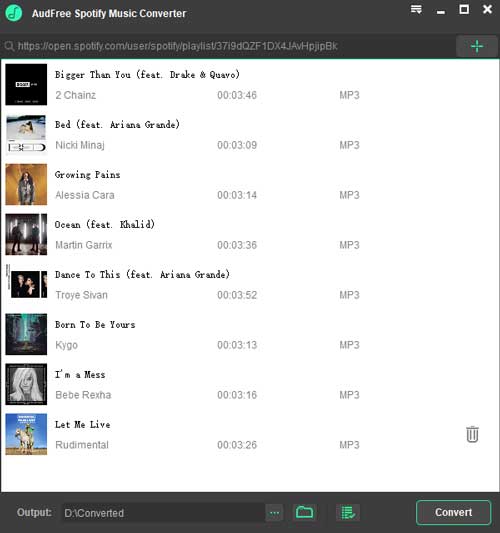 Step 1. Click the above 'Download' button to download AudFree Spotify Music Converter on your Mac or Windows computer.
Step 2. Drag or drop Spotify music or copy the Spotify link to AudFree Spotify Downloader to load them automatically.
Step 3. It's an optional step to customize output settings. Just click the Menu icon > 'Preferences' > 'Convert' to set output format and other audio parameters.
Step 4. After that, click the big 'Convert' button to download and convert Spotify music as local files. Later, just hit the 'history' icon to locate Spotify downloads and then transfer them to Android or iOS devices for offline listening.
💡Tips: If you are using this way to solve Spotify waiting to download on iPhone, please transfer Spotify playlists to iTunes library first. Then you can access offline Spotify files on iOS devices without limitations.
Part 4. In Conclusion
Now, in this post, you know why Spotify not downloading on mobile and desktop devices. And you can follow the steps how to solve this problem. Besides, to avoid this issue, you can use AudFree Spotify Music Converter. With it, you can easily download music from the Spotify app and convert them as local files on your computer. Also, you can save Spotify songs in original quality and full ID3 tags. After that, you can move and play Spotify audio files offline anywhere and anytime without meeting the Spotify stuck on waiting to download issue.