In Reddit and Quora, you may find that some people ask for help as this:
"Why does my Spotify keep pausing after every song unexpectedly?"
"I'm DM hosting people for several hours. My Spotify stops playing every 30 seconds when I am play Spotify music on Discord. Is there a way to disable this?"
In fact, whether you have subscribed to the Spotify Premium plan or not, you will encounter such annoying issues as described above sooner or later, which is quite anticlimactic.
Noticing such cases, we have displayed the most common factors contributing to "Spotify keeps pausing" issues in a bid to help you find what's wrong with your Spotify. On top of that, methods for all devices to stop Spotify from pausing will be presented in this post. Let's get started!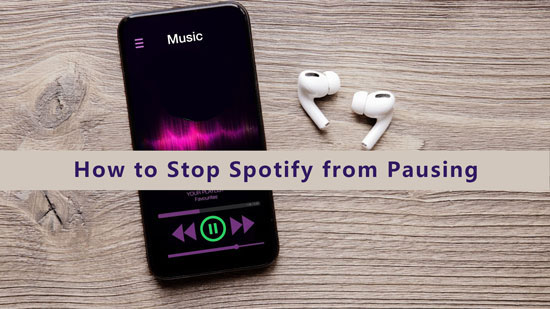 Part 1. Why Does My Spotify Keep Pausing
First, let's figure out specific reasons behind Spotify intermittent pause problem, which facilitates getting suitable troubleshooting later.
1.1 Log onto Your Account on Multiple Active Devices
This music service is intended for private and personal use. To keep in compliance with 'Spotify's Terms & Conditions', the auto pause function will work. Hence, if you forget to sign out of your account on any other devices and meanwhile someone else is streaming Spotify on those devices with your account, Spotify on the current device will pause intermittently.
See Also: How to Play Spotify on Multiple Devices
1.2 Battery Saving Mode/Background Data Restriction Setting is On
Many of you may restrict the internet data or battery power supplied to applications in background. When both saving modes are working, Spotify will be hindered to get sufficient power or internet in background for a smooth streaming experience.
1.3 Excessive or Corrupted Cache Files
Spotify will be overburdened with too many caches or get stuck in pausing intermittently with corrupted cache files.
1.4 Less Cellular Coverage
When you stay in a remote area with less cellular coverage, it is common to run into the Spotify pausing problem if you don't download Spotify music in advance. Streaming on Spotify online is quite difficult without a good Wi-Fi network.
1.5 Corrupt SD Card, HDD, or SSD
A corrupted storage drive such as an SD card, HDD, or SSD will affect the Spotify music you stored into it before, leading to pausing or suffering when you listen to Spotify music.
1.6 Insufficient Storage Space
Insufficient storage space is a common culprit that leaves your devices sluggish. So it should also be responsible for interrupting randomly Spotify playing.
Part 2. How to Get Spotify to Stop Pausing?
After summarizing the main reasons why Spotify keeps pausing issue, we will proceed to teach you how to get Spotify to stop pausing by following relevant methods.
2.1 Spotify Keeps Pausing on Android/iPhone/PC/Mac
For such issues as Spotify not working, updating and restarting the Spotify app and device or reinstalling the Spotify app is the primary but often helpful solution. Before trialing the troubleshooting below, please try to get your Spotify application a fresh install or update renewal as said above.
There are more targeted ways aiming to fix the problem as Spotify keeps pausing.
1) Sign Out Your Account Everywhere
On account of the situation that Spotify does not support using the same account on various devices simultaneously at present. To make sure an uninterrupted streaming experience on Spotify, you are required to sign out from other devices where your Spotify account preserves logging on. Try to stop Spotify from pausing in the following instructions. All instructions should be operated on the Spotify website only.
Step 1. Get into 'Account overview' on Spotify website where you are supported to sign out of your Spotify account everywhere. Alternatively, click on the top-right 'Profile' icon directly on the Spotify app from computers and select 'Account' from the pull-down menu to jump into 'Account overview' on the Spotify website.
Step 2. At the 'Account overview' section, scroll down to the bottom, then you can see the 'Sign out everywhere' option there. Tapping on the button, your Spotify account will be signed out from any other device including the Spotify web player.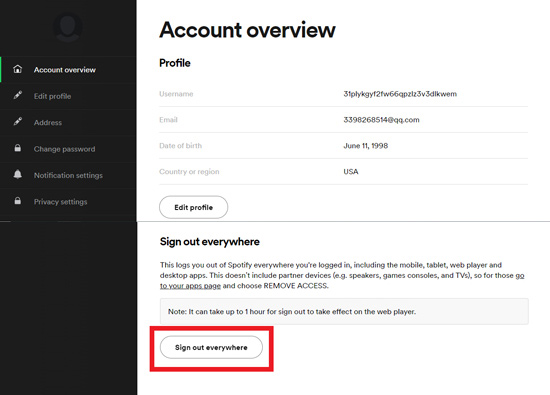 Step 3. Sign on to your account on your smartphone again. Now, your Spotify may behave normally.
2) Change Spotify Password
'Signing out everywhere' doesn't work on Spotify's partner devices such as Sonos devices. Also, sometimes unauthorized parties may get access to your Spotify account. In this case, you need to change your Spotify password on the Spotify website. Please follow these steps:
Step 1. On Spotify's website, choose 'Change password' from the left panel.
Step 2. Type your current password and new password as prompted in the 'Change password' section. Finally, sign onto your Spotify account on the current device.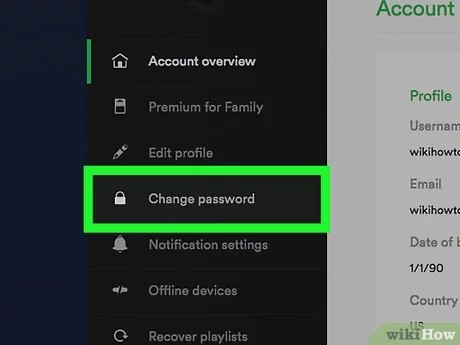 3) Turn Off Background Data Restriction Setting
Fewer data use for Spotify is also a source for Spotify pausing issues. therefore, disable the data saving mode and try to play Spotify music again. Here is a guide for you:
Step 1. Navigate to 'Settings' on mobile and choose 'Apps' from the menu.
Step 2. On the apps list, swipe to the 'Spotify' logo. Then click on the 'Mobile data & Wi-Fi' option where you can toggle off 'Background data' and turn on 'Unrestricted data use' to remove the restriction and for Spotify data used in the background.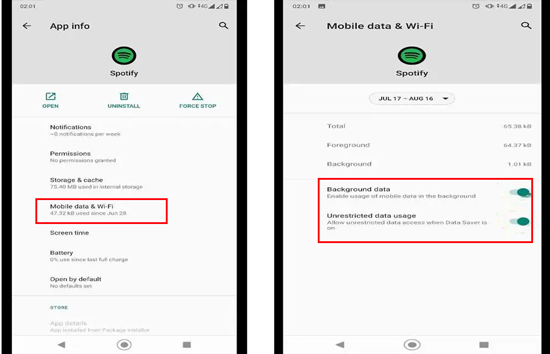 4) Switch Off Low Power Mode
Insufficient power will fail to run the Spotify application smoothly or support Spotify playback without pause. Please read on and disable the low-power mode.
For Android and iPhone:
Step 1. Navigate to the 'Settings' app on your iPhone or Android. Swipe the screen to 'Battery' on Android (or 'Battery & performance' on iPhone) and click it to open a new interface.
Step 2. From the new menu, find 'Power Saving Mode' (or 'Battery Saver' on other mobiles) and switch the right button off.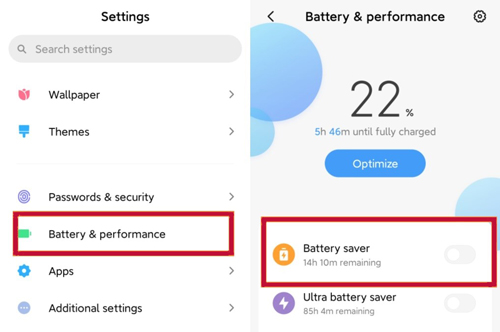 For PC and Mac:
Step 1. Open 'Setting' on your computer and select 'System' where you can access the 'Battery' option.
Step 2. Put your insight on the 'Battery saver' section, and deselect 'Turn battery saver on automatically'.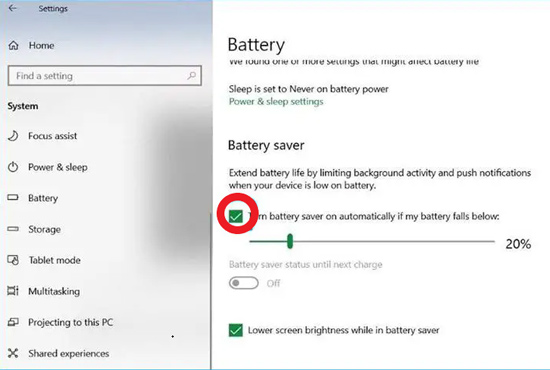 5) Check for a Corrupt SD Card, HDD, or SSD
Corrupted storage drives in a sluggish computer will make Spotify keep pausing. So remove the SD Card, HDD, or SSD from the computer or mobile. Clean the input slot and the SD card contacts. Then insert the SD card again and listen to Spotify again. You can also choose to check if there is any read and write error or bad sector in the storage drive card via a scan tool.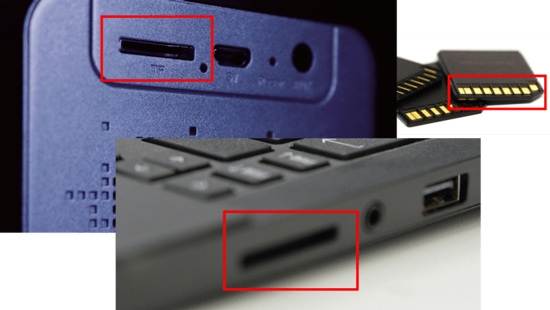 6) Clear Cache Files on Spotify
Clearing Spotify cache is conducive to fluent Spotify playing without any pausing. You can try as follow. On both mobiles and desktops, you can clear Spotify cache data on the 'Setting' menu.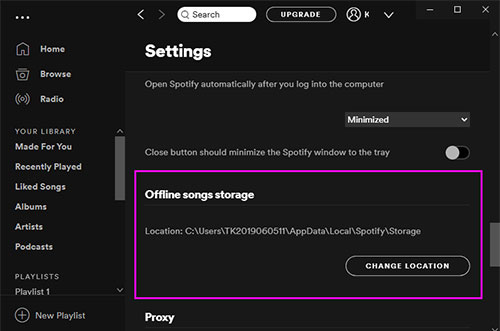 7) Lower Spotify Music Quality
As analyzed in the above 'Part 1' section, lesser cellular coverage in remote regions will make the Spotify app fail to play music and keep pausing randomly. Distinct from turning off the background data restriction setting, in order to cope with such a problem, we recommend you select a lower music quality. It can reduce the demand for internet and smooth Spotify playing. You can operate as following steps:
For Android/iPhone:
Step 1. Open the Spotify app on your Android or iPhone. Tap on the 'Settings' icon towards the top right corner to open the setting menu.
Step 2. Shift your gaze at 'WiFi Streaming' on the 'Audio Quality' section and switch the right button on until it turns green.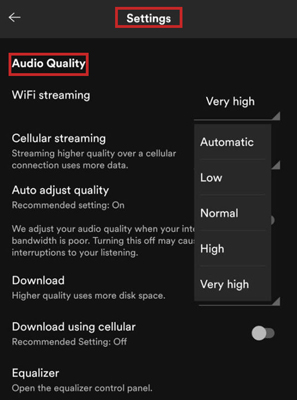 For PC and Mac:
Step 1. Get into the 'Settings' interface on Spotify and scroll down to the 'Audio quality' section.
Step 2. Look at 'Streaming quality' and pull down its right menu. Select 'Low' to lower the Spotify music quality for smoother playing.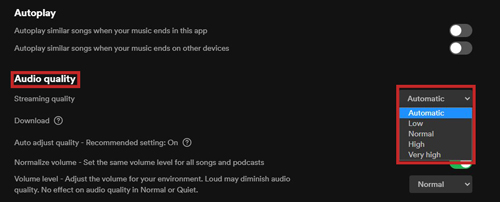 8) Download Spotify Music for Offline Listening
If it is no use to set Spotify audio quality to low, you have to download music directly from Spotify to be listened to if you want to listen to Spotify without persistent pausing or skipping. We also provide a phenomenal method to download Spotify music without premium for offline listening on 'Part 3'.
2.2 How to Stop Spotify from Pausing on Discord
You will find that Spotify playback will stop playing after 30 seconds if you are transmitting your mic in voice chat on discord. Because Spotify will judge that you are sharing and transferring Spotify audio to other people who don't pay for Spotify songs with the DRM mechanism on Spotify. Under this circumstance, you can try to use 'Push-To-Talk' or adjust the voice activity sensitivity for inactivating the mic.
Voice Activity Sensitivity
Step 1. Click on the bottom-left 'Settings' button. Select the 'User Settings' and 'Voice & Video' tabs on your Discord.
Step 2. Choose 'Voice Activity'. Then adjust the sensitivity marker 'Automatically Determine Input Sensitivity' high enough when you keep quiet and leave it low enough when you start to speak.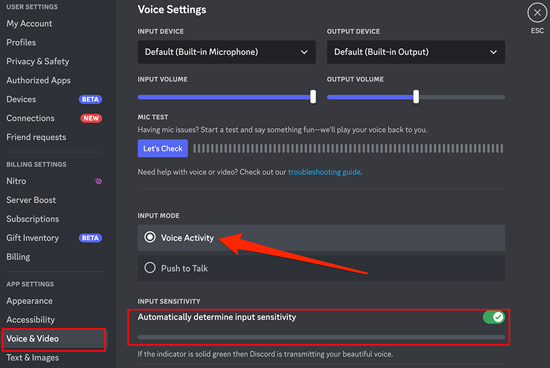 Push-To-Talk
Step 1. On 'Voice & Video' menu, select 'Push-To-Talk' as the input mode.
Step 2. Under the 'SHORTCUT' section, you can access to choose a shortcut button for Push-To-Talk feature by pressing the left keyboard icon.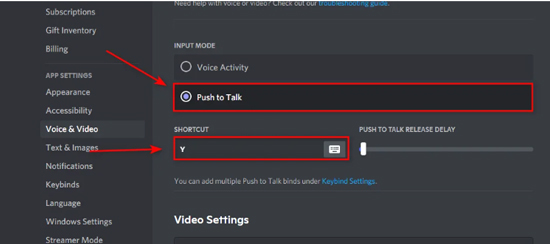 Step 3. Scroll to 'ACTION' on the 'Keybinds' menu. Choose 'Push to Talk (Normal)' or 'Push to Talk (Prority)'. With that, you can turn down other speakers' volume automatically while pressing the required shortcut key.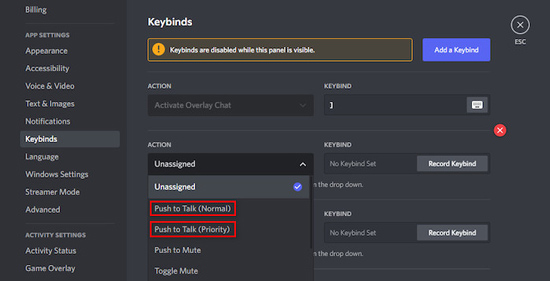 2.3 Spotify Keeps Pausing via Bluetooth
While using your Bluetooth to listen to Spotify, you may also undergo Spotify keeps pausing issues. Apart from those methods above, you should check whether your Bluetooth headphones are malfunctioning.
Step 1. Connect the Bluetooth earphones to your current device. Listen to music on other music services such as Amazon Music, Tidal, etc. to check your Spotify status.
Step 2. Pair your Bluetooth android or Airpods with another device. At the same time, playing songs on Spotify. In this way, you can figure out if there is something wrong with the device or Spotify app.
Step 3. If it is related to Bluetooth, please charge your Bluetooth devices and make sure that your Bluetooth devices are compatible with your mobile to desktop. Then check again as the above steps. Otherwise, you can try the ultimate method below.
Part 3. Ultimate Method on How to Fix Spotify from Pausing
If none tricks above fail to work. Try downloading the music to your device for uninterrupted listening in an area with low cellular coverage. It also works for other reasons that result in Spotify pauses. Without needing to look for reasons and relevant methods one by one, all you need is to install a third-party tool. We would like to introduce AudFree SpoDable.
AudFree Spotify Music Converter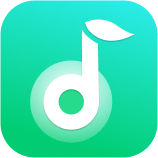 Download all Spotify music as local files
Convert Spotify Songs to MP3, FLAC, WAV, AAC and more
Listen to Spotify Music on any device for offline playback without pause
Keep lossless Spotify audio quality
It is designed to download and convert all Spotify music as local files in multiple popular output formats such as MP3, FLAC, and more. This gadget works with Spotify Free and Spotify Premium plans and is intended for providing a better listening experience, preserving the lossless Spotify sound quality and ID3 tags. Besides, AudFree SpoDable allows its users to play Spotify music on a variety of devices and players whenever they want without such playback issues as Spotify pausing or Spotify no sound problem.
Without further ado, let's explore how to fix Spotify from Pausing with AudFree SpoDable now.
Step 1

Add Spotify Music to AudFree SpoDable

Open AudFree SpoDable on the desktop after installing it. The Spotify app will launch in the meantime. By right-clicking on the Spotify song or tapping the right three-dot '...' icon, you can copy and paste the audio link from Spotify to the converter. Or you can try another way: Drag a playlist from the left menu or a single song directly and drop it into the AudFree SpoDable's window. Then press the right green '+' icon to add files.
Step 2

Set Output Formats and Relevant parameters for Spotify Music

Tap on the toolbar in the top right corner of the gadget to pull down the setting menu. Select the 'Preference' option and click 'Convert' to set output formats such as FLAC, WAV, MP3, M4V, M4B, and AAC. Besides, you can set other parameters such as audio channels, sample rates, bit rates, conversion speed, and others to make a better Spotify audio quality without random pause.
Step 3

Start to Download Spotify Audio Locally

You just need to press the 'Convert' button towards the bottom right corner, then the Spotify audios will be downloaded at a fast speed and saved in a local folder on your computer. Tap the bottom downloading history and double-click one Spotify song from the list, you can enjoy Spotify music offline with any device or player without pausing.
Part 4. More FAQs about Spotify Keeps Pausing
Q1: Why Does My Spotify Keep Pausing at 10 Seconds?
Aside from those potential factors that are mentioned above, it is more likely that the DRM protection mechanism is working, resembling the situation in which Spotify stops playing every 30 seconds. So it requires you to download Spotify songs for offline playback.
Q2: Why Does My Spotify Keep Skipping Songs?
Both Spotify stops playing and Spotify keeps skipping are similar types of Spotify playback issues. You can solve such a problem according to the tricks mentioned earlier.
Part 5. In Conclusion
There are 12 different tricks to fixsuch issue as Spotify keeps pausing. Those methods are also available for other Spotify playback problems. If you don't make sure which factor results in Spotify pause on your device, we recommend using the third-party tool. With AudFree SpoDable, you can download your liked songs from Spotify for free and play them everywhere you like. Also, it works to fix all Spotify playback issues such as Spotify not playing songs. If you have anything else want to know, please leave your words in the comment area.