Featuring open-world freedom, mission-based gameplay, storytelling, and online multiplayer, Grand Theft Auto V has been one of the most popular action-adventure games in adults. Another feature to make it wonderful is custom music. It could be a cool thing to play favorite music using the car's audio system while driving in GTA 5 PC Version.
GTA 5 not only provides kinds of music in the form of genre-based radio stations but also has a custom 'Self Radio' station, which allows users to create a unique radio station with their own digital music files. Then, can we play Spotify on GTA 5 PC? That is what many Spotify users wish for. Today, let's find the answers and the possible ways to listen to Spotify on GTA 5.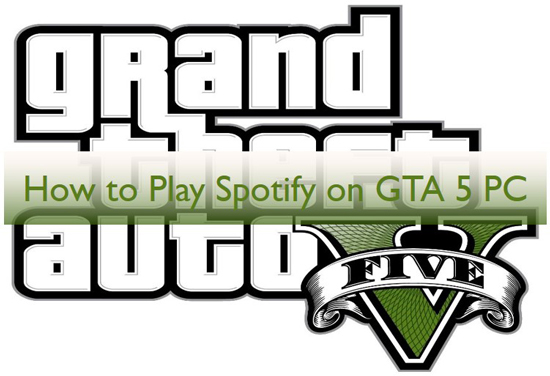 Part 1. Can You Use Spotify in GTA 5 Open PC?
Grand Theft Auto V is one irresistible player that everyone yearns for, to get Spotify tracks on. The game gets thrilling when you naviGTAe the world on foot or by a vehicle while listening to your favorite Spotify playlists. But you may not achieve that in a twinkle of an eye.
It's not a walk-in-the-park to automatically add Spotify music to GTA 5 PC. Several reasons hinder this operation. Spotify isn't integrated into online games, also including GTA 5 PC.
What's more, to add digital music in GTA 5 via the custom "Self Radio" station feature, requires audio files saved in MP3, AAC, M4A, WMA, or WAV formats. But Spotify has encompassed an Ogg Vorbis format in their songs, preventing users from listening to them on other devices.
| | |
| --- | --- |
| Spotify Music Format | Unique Ogg Vorbis |
| GTA Supported Input Audio Formats | MP3, M4A, AAC, WMA, and WAV |
So, here're the reasons! You, therefore, have to first download and convert Spotify playlists to GTA 5 playable formats.
Part 2. Best Way to Get Spotify GTA V Work Together
AudFree Spotify Music Converter comes just in handy to solve the puzzle and let you play Spotify on GTA 5 Open PC. You don't have to be on the 'Premium version' – you get your favorite hits even on a free account for playing in GTA 5. And as you customize your downloaded playlists, it also takes caution to retain 100% originality of the tracks, maintaining the ED3 tags and metadata info.
How to Convert Spotify Music for GTA 5
Follow these steps to unleash your goal. Please download this professional Spotify music converter for GTA 5 PC on your computer in advance. And then, you can use it to convert Spotify music to MP3, or other GTA 5 compatible tracks.
Step 1

Add Spotify songs to AudFree

Launch the AudFree Spotify Music Converter on your PC and the Spotify app will automatically open. Next, open your 'Spotify account' and browse the songs you wish to download and convert. Drag them to the 'AudFree main window. You can also copy the URL of the tracks and paste them into the search bar. Then click the '+' button and load the tracks for download.
Step 2

Customize Spotify songs output for GTA

The next step requires you to customize the output preferences. Hit the 'Menu' bar then choose the 'Preferences' option and finally, hit the 'Convert' option to effect the changes. There are six output formats available for choice. You can choose one of the GTA playable audio formats as the output format. You can change the sample rate, audio bit rate, channel.
Step 3

Download and Convert Spotify songs for GTA 5

Once all the entries are correct, click the 'Convert' button and the tool will commence the download and conversion of your Spotify songs. check them out in the 'Converted' folder from the 'History' icon. Lastly, import the converted Spotify songs to GTA 5 PC for playback.
Part 3. How to Play Spotify on GTA 5 PC while Gaming
Your converted Spotify songs are now readily available. You are able to use custom Spotify music in GTA 5 via the 'Self Radio' function. What remains is how to add your own Spotify music to GTA 5 and then play Spotify on GTA 5 PC. Proven steps are listed to coach you here.
How to Add Your Own Spotify Music to GTA V for PC
Step 1. Launch your PC then go to the 'Documents' partition. Choose 'Rockstar Games' > 'GTA V' > 'User Music' folder.
Step 2. Next, drag the 'Converted' Spotify playlists into the 'User Music' folder. All Spotify music is ready to be played in GTA 5.
Step 3. Now launch GTA 5, load a new game, and pause it. Now, you can incorporate your converted Spotify music.
Step 4. Head to the 'Audio Settings' option, you can do either a 'Quick Scan' or a 'Full Scan' to start scanning for your own Spotify music files. You can do either a 'Quick Scan' or a 'Full Scan'. The quick scan will peruse your songs within a short time. On the other hand, the full scan will search through your entire tracks, populating 99% of them.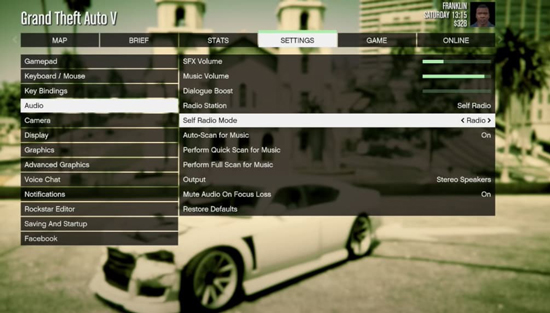 How to Listen to Spotify in GTA 5 while Playing Games
Step 1. Switch to 'Self Radio Mode' where it's indicated 'Radio Station'. There are three options for you to choose to play Spotify music, respectively "Radio", "Random", or "Sequential".
Step 2. Go back to your GTA 5 game and enter a car. Open the radio station selection wheel and select the 'Self Radio' option.
Step 3. Now, you can listen to Spotify music in GTA 5 while playing games. It allows for both multiple and single-player modes.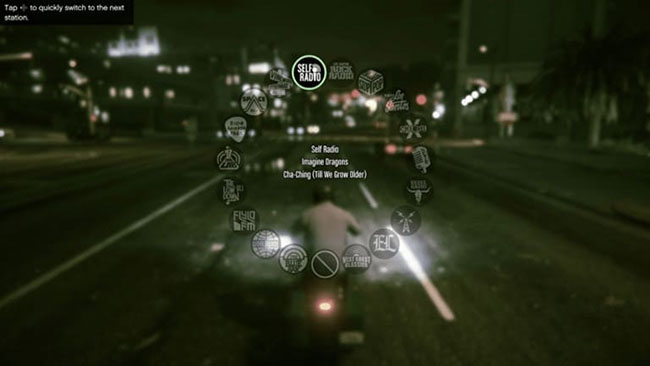 Part 4. How to Use GTA 5 Spotify Radio Mode
Apart from doing Spotify format conversion and adding local Spotify music to GTA 5 for offline listening, you can also try another method to do this. There is a GTA 5 Spotify Radio Mod for installment so that you can use Spotify Web Player to play Spotify music in GTA 5.
But before getting started to introduce the complete guide, it's worth mentioning it's not an official version released by GTA or Spotify. It may be unstable while using it and some unexpected errors will occur. For example, the playback of Spotify music won't be inconsistent with the game. If you can accept it, let's dive right in.
How to Use GTA 5 Spotify Radio Mod
Step 1. Fire up the OpenIV and edit the file: 'mods\update\update.rpf\common\data\dlclist.xml' and add it to the dlclist.xml:dlcpacks:/spotifyradio.
Step 2. Close the OpenIV tool and navigate to the 'Place in GTA Root' folder to choose them and drag them to the root directory of GTA Default location is "C:\Program Files (x86)\Steam\steamapps\common\Grand Theft Auto V" folder.
Step 3. Open Spotify Web Player and browse your favorite Spotify songs. Copy the link and paste it next to DefaultPlaylst= after you launch GTASpotify.ini.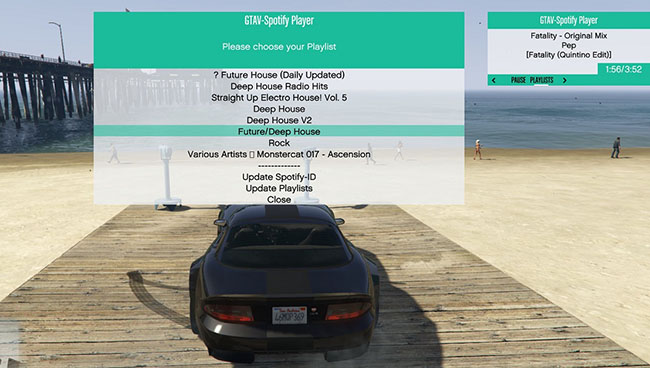 Part 5. How to Play Spotify on GTA 5 for Console Users
GTA 5 was released for the PlayStation 4 and Xbox One for many years. Although the 'Self Radio' station is not available for console versions of games, PlayStation and Xbox One consoles are fully compatible with Spotify. That's to say, there's an official way to play Spotify music in GTA 5 while using Xbox One and PS4. So, how to listen to Spotify music while playing compatible PS5, PS4, and Xbox One games? Let's check out the process.
How to Play Spotify on GTA 5 via PS4/PS5
Step 1. On the media home screen, please choose All apps and find Spotify, click the Download button to download it on your PlayStation.
Step 2. Open it and log in your Spotify account details. And then, click the Link Accounts button.
Step 3. In your GTA 5 games, please press the PS button to enter the control center. You can choose the Music option to play Spotify music on PS4.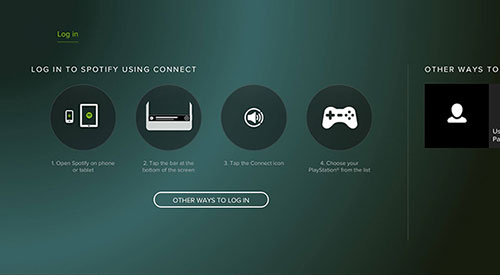 How to Play Spotify on GTA 5 via Xbox One
Step 1. Download Spotify app from the Epic Games Store on your Xbox One. And enter your Spotify name and passwords to link Spotify to Xboe One.
Step 2. Play GTA 5 game using your Xbox One. Press the Xbox button on your controller and it will pop up the Xbox Guide, which allows you to choose Spotify.
Step 3. You can choose faovite playlists or albums to play Spotify on Xbox One. You can also voice control the Spotify with Cortana.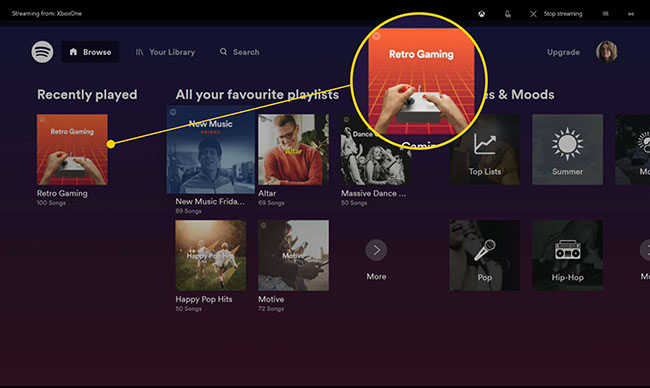 Part 6. In Conclusion
From character selection to vehicle types and other unique skills like driving and computer hacking, GTA 5 PC can't be complete without background music. And there is no better way to kick off this fantastic game other than additional Spotify tracks.
This article has taken care of all your questions and you can now play Spotify on GTA 5 PC as you rock down that game. Thanks to AudFree Spotify Music Converter, it works in fewer steps and at a faster rate with lossless quality.