"I thought I would listen to Spotify songs on my GAT 5 PC but that seems not to be the case. I am wondering what is wrong and wish to know how to play Spotify on GTA 5 PC".
This is what many Spotify users wish for. They want to listen to their favorite songs on multiple devices, but in vain. Grand Theft Auto 5 PC is one irresistible player that everyone yearns for, to get Spotify tracks on. The game gets thrilling when you navigate the world on foot or by vehicle while listening to your favorite Spotify playlists. But you may not achieve that in a twinkle of an eye – you need to go Premium or convert your Spotify songs to playable formats.
But again, it's not a walk-in-the-park to automatically transfer Spotify tracks GAT 5 PC. Several reasons hinder this operation, prompting many users to dig deep into why they can't gain access to Spotify songs on various media players like GAT 5 PC.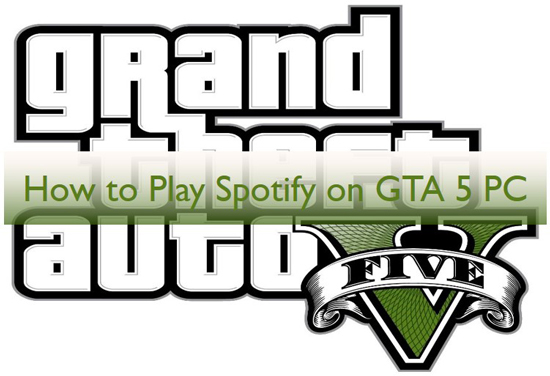 Part 1. Why Won't Spotify Play on GAT 5 Open PC
You may be wondering why playing Spotify songs on GTA 5 PC is an uphill task. Well, Spotify isn't integrated into any media player such as GTA 5 PC. Spotify has encompassed an Ogg Vorbis format in their songs, preventing users from listening to them on other devices. So, here's the deal!
You, therefore, have to first download and convert the playlists to playable formats like FLAC, M4A, MP3, AAC, etc, to listen to them offline and on other players.
Part 2. Download Spotify Music Offline for GAT 5 PC
AudFree Spotify Music Converter comes just in handy to solve the puzzle and let you play Spotify on GAT 5 Open PC. You don't have to be on the 'Premium version' – you get your favorite hits even on a free account. And as you customize your downloaded playlists, it also takes caution to retain 100% originality of the tracks, maintaining the ED3 tags and metadata info.
Follow these steps to unleash your goal. Please download this professional Spotify music converter for GAT 5 PC on your computer in advance.
Step 1

Add Spotify songs to AudFree

Launch the AudFree Spotify Music Converter on your PC and the Spotify app will automatically open. Next, open your 'Spotify account' and browse the songs you wish to download and convert. Drag them to the 'AudFree main window. You can also copy the URL of the tracks and paste them into the search bar. Then click the '+' button and load the tracks for download.
Step 2

Customize Spotify songs output for GTA

The next step requires you to customize the output preferences. Hit the 'Menu' bar then choose the 'Preferences' option and finally, hit the 'Convert' option to effect the changes. You can change the sample rate, audio bit rate, channel, and output format.
Step 3

Download and Convert Spotify songs for GTA 5

Once all the entries are correct, click the 'Convert' button and the tool will commence the download and conversion of your songs. check them out in the 'Converted' folder from the 'History' icon. Lastly, import the converted songs to GAT 5 PC player.
Part 3. How to Import and Play Spotify on GAT 5 PC
Your converted songs are now readily available. What remains is how to play Spotify on GTA 5 PC.
Step 1. Launch your PC then go to the 'Documents' partition. Choose 'Rockstar Games' > 'GTA V' > 'User Music' folder.
Step 2. Next, drag the 'Converted' playlists into the 'User Music' folder, ready to be played.
Step 3. Now launch a new game to incorporate your converted music then head to 'Audio Settings'.
Step 4. Then start scanning for your converted playlist. You can do either a 'Quick Scan' or a 'Full Scan'. The quick scan will peruse your songs within a short time. On the other hand, the full scan will search through your entire tracks, populating 99% of them.
Step 5. Lastly, switch to 'Self Radio' where it's indicated 'Radio Station'. Finally, you can enjoy your converted Spotify playlist whenever the game commences. It allows for both multiple and single-player mode.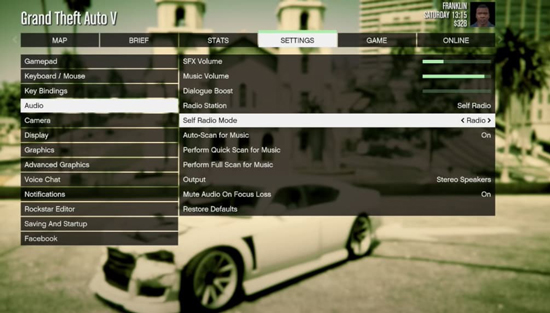 Part 4. In Conclusion
From character selection to vehicle types and other unique skills like driving and computer hacking, GAT 5 PC can't be complete without background music. And there is no better way to kick off this fantastic game other than additional Spotify tracks.
This article has taken care of all your questions and you can now play Spotify through GAT 5 PC as you rock down that game. Thanks to AudFree Spotify Music Converter that works in fewer steps and at a faster rate with lossless quality.